by Stefania Sarrubba
At the beating heart and growling stomach of American culture, diners have often brought their unassuming, nostalgic allure to the silver screen. 
The long hours, the comfort food at inexpensive fares, and the shelter diners offer all year round have turned them into more than just stops for a caffeine fix. Originally built to look like railroad dining cars, these narrow restaurants set the scene — any scene — like no other place. There, Americana is still tangible in its most reassuring form: it flows from the ever-pouring coffee jars, permeates the hearty meals served on colorful tabletops, and radiates from the casual, vibrant decor. And while this version of America may lack nuance, it's up to servers and patrons to tell their tales and add them to the mix.
Diners are great equalizers where characters from all walks of life cross paths, sometimes just for the time of a refill. A bridge paved with pancakes and cups of joe across different genres, stories, and people, diners and their booths guard the secrets of conversations we overhear from the other side of the fourth wall. 
Looking back on many films set across the 50 states, it is hard not to spot one of such humble eateries in even a fleeting sequence. And Sundance Film Festival premieres are no exception, with some of the most iconic diner scenes entering the world via Park City, as you'll see in our round-up below.
(500) Days of Summer (2009 Sundance Film Festival)
The first time Summer (Zooey Deschanel) speaks in Marc Webb's anti-rom com is in a diner. She gets straight to the point: she and Tom (Joseph Gordon-Levitt) need to break up.
Premiered at the Sundance Film Festival in 2009, the film follows a non-linear narrative to chronicle the pair's doomed relationship, which Summer compares to the controversial, destructive romance between Sex Pistol's Sid and Nancy. Except she is Sid in this scenario.
After months of casual dating and miscommunication, Summer's declaration of love for her pancakes is too much for Tom to digest. His now ex-girlfriend seems to be into her breakfast more than she's ever been into him, prompting the protagonist to storm out of the place as she begs him to stay friends. This is yet another scene in this often misconstrued, unromantic tale where Summer makes her views and wants clear, but is ignored and villainized by Tom. (Available to rent and buy on Apple iTunes, Amazon Video, YouTube and other platforms)
Bottle Rocket (1993 Sundance Film Festival)
Wes Anderson's 1992 short movie Bottle Rocket was the inspiration for his feature-length debut of the same name — and they both include scenes in a diner.
The black-and-white, Texas-set short screened at Sundance in 1993. In the first few minutes, viewers get acquainted with aspiring thieves Anthony (Luke Wilson) and Dignan (Owen Wilson) as they pull a practice robbery at the former's family house. Later on, this dynamic duo sit at the counter of a local diner to critique their plan, and admit to having a little crush on the waitress. 
Watching Dignan meticulously reviewing their strengths and weaknesses over sandwiches and sodas, it's impossible not to get glimpses of what will soon become Anderson's signature, subtly humorous dialogue and quirky style. His 1996 movie, supported by the Institute's Screenwriters Lab, also stars the Wilson brothers and features a similar diner sequence, albeit shorter. And no food or drinks on the table this time. (1996's Bottle Rocket is available to stream on HBO Max)
Dinner in America (2020 Sundance Film Festival)
A movie about uncomfortable conversations around small-town dinner tables, Dinner in America doesn't fail to include a diner scene. 
This Sundance Fest us-against-the-world, in-your-face offensive film from director Adam Carter Rehmeier follows on-the-lam punk singer Simon aka John Q (Kyle Gallner) and shy pet store clerk Patty (Emily Skeggs), one awkward meal at the time.
After discovering his bandmates have agreed to open for an "unpunk" band without consulting him, Simon storms into Lou's diner where the other PSYOPS members are having dinner. The owner is annoyed at Simon's defiant attitude and stubborn refusal to order more than a cup of coffee, ending up kicking the band out. 
Bonus scene: Patty and Simon's non-official first date at a burger joint, where they share Hawaiian sandwiches and jumbo fries and make out passionately. It's an empowering moment for Patty: she's learned to use her voice to make her desires clear. "I want you to [kiss me]," she tells Simon, and he obliges, barking at the other patrons to mind their own business. (Available to stream on Hulu)
Little Miss Sunshine (2006 Sundance Film Festival)
This Sundance Festival favorite is an uplifting, unapologetic road dramedy centered around pre-teen Olive Hoover (Abigail Breslin). Set to partake in the Little Miss Sunshine beauty pageant, she travels from New Mexico to California with her dysfunctional family. Their rusted-out van stops for roadside diners, with one scene hitting particularly hard in its criticism of unattainable beauty standards and glorification of thinness.
Early on in the movie by Jonathan Dayton and Valerie Faris, the Hoovers have breakfast in a diner. Olive's controlling, success-obsessed father Richard (Greg Kinnear) fat-shames her for ordering waffles à la mode. It's a heartbreaking sight to witness a little girl realizing, perhaps for the first time, that she might not fit the unrealistic mold that beauty pageants contribute to perpetuating. When the nice waitress brings Olive her chocolate ice cream, she sets it aside, only to change her mind when her accepting relatives cheer her up, in spite of any calorie count. (Available to stream on HBO Max)
On The Count of Three (2021 Sundance Film Festival)
Jerrod Carmichael made his directorial feature debut with On The Count of Three, a dark dramedy about two best friends making a murder-suicide pact. 
This 2021 Sundance premiere kicks off with Val (Carmichael) and Kevin (Christopher Abbott) trying to take their own lives, before vowing to do something memorable ahead of their next and final attempt. And for Kevin, nothing is better to start your last day on earth than a quick diner stop.
Val hates the place, settling on a lonely cup of coffee, while Kevin is gladly feasting on his favorite: the Big Baby Special. His love of this modest diner is tainted by one of his school bullies, now in the military, approaching him with his wife and kid. What follows is an uncomfortable, casually cruel exchange where Kevin becomes, once again, the butt of the joke. As he bottles up his anger, Train's "Drops of Jupiter" plays in the background, making for a jarring contrast. (Available to stream on Hulu)
Promising Young Woman (2020 Sundance Film Festival)
A visually satisfying tale of flawed vengeance and healing, Promising Young Woman is filtered through the gaze of Cassie (Carey Mulligan), who renegotiates her trauma and slowly opens up to "nice guy" Ryan (Bo Burnham). Written and directed by Emerald Fennell, this 2020 Sundance premiere flips the script on rape-revenge stories by way of rom-com tropes and pastel color grading.
Cassie and Ryan's very first date takes place at a 1950s candy-hued diner, where a tabletop jukebox and a pair of tall glasses set the scene for these lovebirds-in-the-making. The dynamic between Mr. Boyfriend-to-be and the closed-off girl is established in this short scene, hinting at a painful setback in Cassie's past.
Sharing fries and Coke, the two rehash their memories of med school, which they attended together years prior. While Ryan has become a successful pediatric surgeon since — as far as "nice guys" go, it doesn't get nicer than this — the brilliant Cassie dropped out, turning her back on the bright future ahead of her. (Available to stream on HBO Max)
Reality Bites (1994 Sundance Film Festival)
Set in Houston, Texas, Ben Stiller's directorial feature debut captures the struggle of Gen X and includes a scene filmed in Downey, California's cult diner Johnie's Broiler.
Opened in the 1950s, the restaurant poses as a diner where protagonist Lelaina (Winona Ryder) and her roommate Vickie (Janeane Garofalo) go to blow off some steam after things get tense with Troy (Ethan Hawke). There, the two friends have a candid heart-to-heart about men and Vickie's HIV health scare. It's an honest moment of bonding in front of two steamy coffee cups, interrupted by a phone call for Lelaina. Her producer boyfriend Michael (Stiller) has rung the diner with some good news: his network wants to buy Lelaina's documentary, much to her delight. The waitress who has taken the call, on the other hand, is less than impressed. (Available to stream on STARZ)
Reservoir Dogs (1992 Sundance Film Festival)
The seven-minute opening scene to Quentin Tarantino's feature debut introduces all of its key players. This 1992 Sundance sensation kicks off in a Los Angeles diner where six anonymous gangsters wrapped in black suits and a father-son boss duo are getting some stamina for the diamond heist they're about to pull.
With dirty plates and lukewarm coffee on the table, the crew doesn't code-talk about their big job, but rather muse over the meaning of Madonna's hits. Twenty years later, Reservoir Dogs remains a tight crime thriller, at times marred by its casual, unjustified sexist and racist references. Yet, it gets at least one thing right: Don't be a Mr. Pink. Tip, always. (Available to stream on HBO Max, DIRECTV, and Cinemax Amazon Channel)
Hard Eight (Sydney) (1996 Sundance Film Festival)
Time is measured in diners in Paul Thomas Anderson's feature debut Hard Eight (formerly known as Sydney), premiered at the Sundance Film Festival in 1996.
The movie is an expansion to the filmmaker's short Cigarettes & Coffee, set almost entirely in a diner and screened at the Festival in 1993. The acclaimed 20-minute film opens with Philip Baker Hall's character stressing the importance of some black coffee and a smoke before diving into any conversation.
All throughout Hard Eight, an older, elegant gambler named Sydney (Hall) visits diners. In the opening scene, the protagonist finds homeless, younger John (John C. Reilly) outside the renowned Jack's Cafe in Sparks, Nevada, and buys him a coffee. The two men suss each other out from across the booth in a breakfast standoff, with Sydney offering to help John go to Las Vegas. As they reach an agreement and head out, the camera zooms in on their cups left on the table. (Available to stream on Prime Video)
The Big Lebowski (1998 Sundance Film Festival)
Diners may not be the first place that comes to mind when thinking of The Big Lebowski, but this 1998 Sundance Film Festival premiere has its fair share of restaurant scenes.
Joel and Ethan Coen craft a mistaken identity bowling black comedy that makes for a deft social satire. It's apparent when Jeffrey 'The Dude' Lebowski (Jeff Bridges) and Vietnam vet Walter (John Goodman) meet in a "family restaurant" to discuss whether the severed toe belongs to the other, wealthy Lebowski's wife, Bunny (Tara Reid). The increasingly absurdist incident quickly turns into a political rant from Walter, who calls on the First Amendment when a waitress simply asks him to lower his voice.
Interestingly, the toe mystery is solved later on in the movie in a different diner. We won't spoil it, but it's safe to say that what seemed like a crucial detail doesn't ultimately matter in the grand scheme of things. But then again, does anything? (Available to stream on Tubi TV)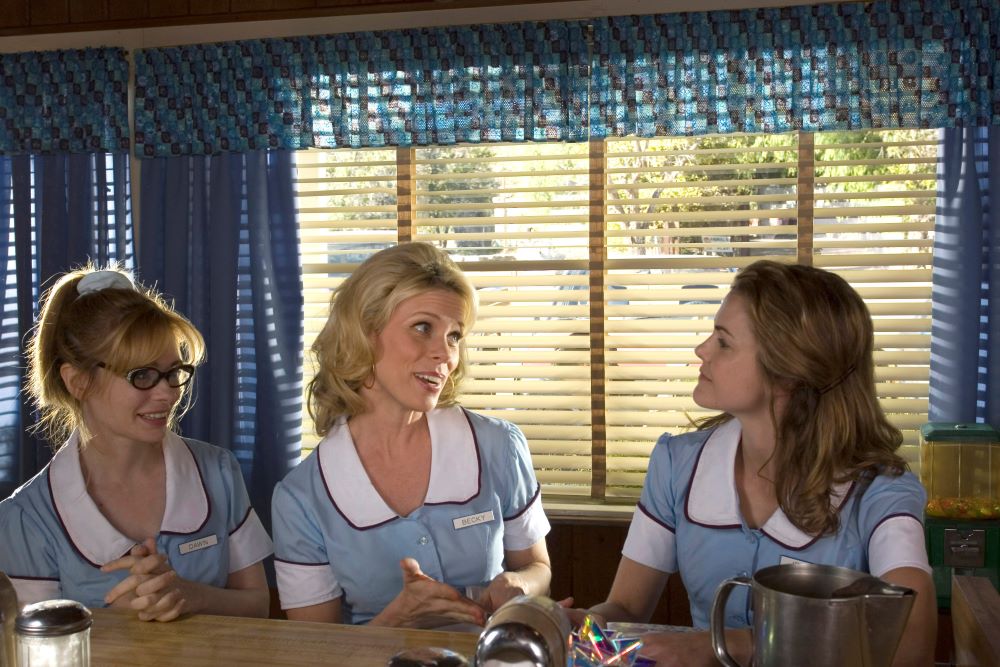 Waitress (2007 Sundance Film Festival)
There are plenty of diner scenes on the menu of this Southern slice-of-life following strong-willed, unexpectedly pregnant pie queen Jenna (Keri Russell), wanting out of an abusive marriage. Clad in her blue uniform and pristine apron, the protagonist waits tables at a local diner, where she bakes bizarrely named, incredibly delicious pies.
Adrienne Shelly's posthumously released Sundance darling is a quaint tale of friendship, also focusing on the bond Jenna strikes with the diner's cranky, older owner Joe (Andy Griffith). As Jenna waits on him, she and Joe connect over secrets and horoscopes, one pie order after another. 
In one scene, the fastidious regular anticipates the diner's Wednesday special: Jenna's Strawberry Chocolate Oasis Pie. As Joe lights up describing the different flavors coming together to create a thing of beauty, Jenna can't help but smile. Perhaps for the first time, she realizes her pies aren't just buttery crusts and mouth-watering fillings: they're the fresh start she deserves. (Available to rent and buy on Apple iTunes, Amazon Video, YouTube, and other platforms)
Wendy (2020 Sundance Film Festival)
In this present-day retelling of J.M. Barrie's ever-popular tale, the diner isn't a cozy place to eat, but a hint at the responsibilities to come — intimate and smothering at once.
The film from director and co-writer Benh Zeitlin trades London for a modest Louisiana eatery. There, toddler Wendy Darling (Devin France) helps her waitress mother Angela (Shay Walker) crack eggs for patrons. As Wendy is promoted to waiting duties just a few years later, she and her brothers can't resist the call of an uncontaminated, supernatural tropical island.
The introduction is a stunningly shot, ASMR–worthy sequence where the diner comes alive in multi-sensorial strokes: the flour pouring onto the kneading board, the bacon rashers sizzling, the translucent, flimsy orders hanging over the kitchen, and a close-up of Wendy's little feet pattering on the countertop. (Available to stream on fuboTV and DIRECTV)
Zola (2020 Sundance Film Festival)
Janicza Bravo's Zola blends genres to tell the "kind of long but full of suspense" story of how the eponymous heroine (Taylour Paige) and fellow stripper Stefani (Riley Keough) fell out.
Inspired by the 2015's Twitter thread by A'ziah 'Zola' King, this twisty comedy opens with a classic rom com meet-cute at the Detroit ranch–themed restaurant where the protagonist works. Zola is having a bad day, but her mood completely changes when a bubbly patron compliments her looks. It's Stefani, perpetually chewing on her bubblegum and accompanied by an older man. 
She later follows Zola into the kitchen, introduces herself as a dancer, and invites her new friend on a Florida adventure. An odyssey, more like, but we'll get there. For now let's just enjoy the sparks flying between the two women in this scene, served by an ethereal score and unequivocally suggesting that their meeting is nothing short of romantic. (Available to stream on fuboTV, DIRECTV and Showtime)