Waitresses, from left, Dawn (Adrienne Shelly), Becky (Cheryl Hines), and Jenna (Keri Russell) share a conversation at the diner.
By Vanessa Zimmer
Adrienne Shelly was a small woman — a dynamo, you might say — who set out to be an actress and a director, and achieved both before dying tragically at age 40. Poised on the brink of a promising directing career, she hadn't yet received word that her film Waitress had been accepted into the 2007 Sundance Film Festival when she was killed.
Almost three months later, Shelly's husband, Andy Ostroy, and the cast were left to celebrate the film and its writer-director as Waitress screened at the January Festival in Park City, Utah. Ostroy was convinced his wife's confident choices and care in helming the film would launch her as one of the major writer-directors of the time. "This was going to be her moment," Ostroy says in a 2021 documentary on Shelly. "How are we here and she's not?"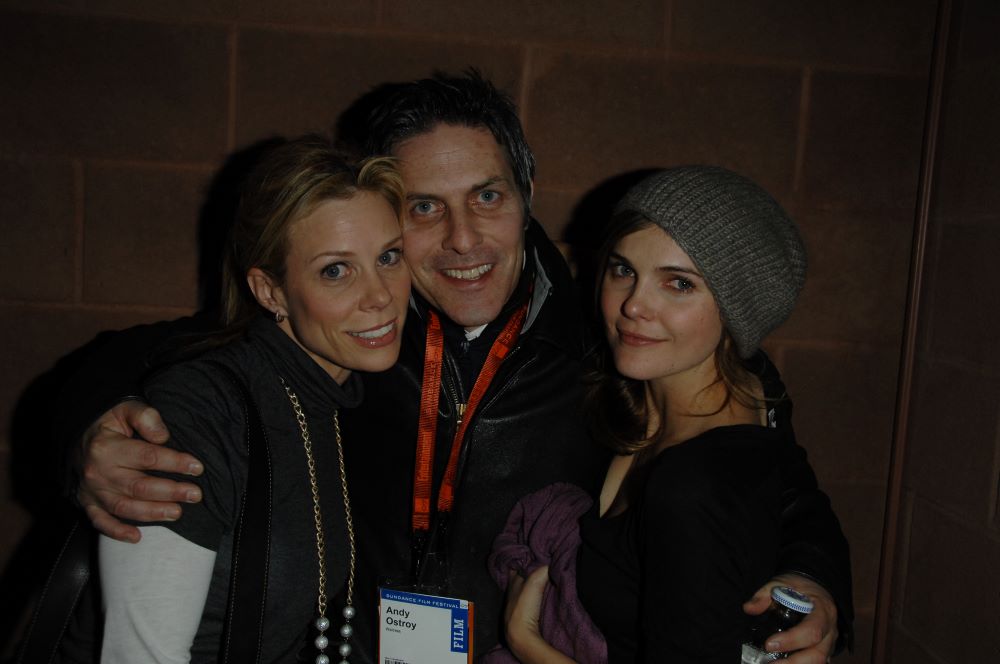 Shelly first emerged in the early 1990s as a talented, recognizable face in independent film. Her acting style attracted the attention of the indie notable Hal Hartley, who cast her in the leads in The Unbelievable Truth and Trust, playing in back-to-back Sundance Film Festivals in 1990 and 1991. Admirers loved her delivery of Hartley's signature fast dialogue and deadpan humor.
Eventually, Shelly decided to try her hand behind the camera. She wrote the script for Waitress while pregnant with her daughter, as she contemplated how her life as an independent filmmaker might change once her family increased by one tiny human. Sophie was born, and Shelly forged ahead with life and her career — "She was the happiest I've ever seen her," Ostroy said later.
Shelly directed and acted in Waitress, a comedy-drama about an unhappily married woman (Keri Russell) with an unplanned pregnancy. Jenna waits tables, along with her friends (Cheryl Hines and Shelly), and creates amazing pies for the local diner, while saving money to leave her jerk of a husband (Jeremy Sisto). Comedy, you ask? But, of course.
"I was going for a tone where you can find what's funny in what's painful," Shelly says in characteristic fashion in Adrienne, a documentary made after her death. "Which has always been my strategy anyway, in life."
Waitress was one of the 2007 Festival's highlights, according to Michelle Satter, founding senior director of artist programs at the Institute, in a press release. "Stories about poor women struggling to survive often make use of a rugged vérité aesthetic, but director Adrienne Shelly boldly defies convention with her radiant and gorgeously stylized feature film," Shari Frilot wrote in the Festival Film Guide, also adding: "Shelly infuses the film with a luminous magical sensibility and an endearing sense of humor. Confident and clear in vision, Waitress makes delicious upside-down cake of the Cinderella myth."
Fox Searchlight bought the distribution rights and Waitress went on to earn $22 million at the box office, and inspired a Broadway musical as well.
On November 1, 2006, Ostroy found his wife hanging in the bathroom of the New York apartment she used as an office. Police originally declared Shelly's death a suicide. But Ostroy stubbornly protested: She had no reason to kill herself.
In the end, Ostroy persuaded law enforcement to investigate. It turned out to be murder.
Shelly had surprised a man attempting to steal money from her office. The 19-year-old, who was  working construction nearby, eventually confessed that he panicked and strangled her, then hung her body to simulate suicide. 
In August 2007, Sundance Institute partnered with The Adrienne Shelly Foundation, started by Ostroy, to award an annual grant to a woman filmmaker coming out of the Institute's Directing Lab. The support is known as The Adrienne Shelly Foundation Women Filmmakers Grant, and in 2009, for instance, it went to Dee Rees, director of Pariah.
Ostroy directed and produced the Adrienne documentary in 2021 to address Shelly's life and work. A clip from the documentary has Ostroy and daughter Sophie together, as he urges her to read something her mother wrote.
"Don't be afraid of dying," reads teenager Sophie. "Be afraid of never living."