The Sundance Institute Indigenous Program champions and provides deep support of Indigenous-created stories on a global scale. From labs and fellowships to screenings and gatherings around the world, the program's offerings are designed in response to the specific needs of Native and Indigenous storytellers. Through our work, we emulate our core values of decolonizing the screen and uplifting the voices of Indigenous artists, recognizing that telling their stories comes with great responsibility and obligation towards Indigenous peoples, communities and their sovereignty.
Indigenous Program Calendar
The Indigenous Program focuses on the specific development of storytellers from Native and Indigenous backgrounds, encompassing feature film and episodic work. Fellows will receive hands-on support from the Institute and advisors, including one-on-one feedback sessions and roundtable discussions.
The 2023 Sundance Film Festival Indigenous Film Tour is a 78-minute program of two films directed by Indigenous filmmakers selected from the 2023 Sundance Film Festival. The tour features I AM HOME by Kymon Greyhorse and Gush by Fox Maxy, giving new audiences a taste of what the Festival's Indigenous filmmakers have to offer. This year, the tour will be available to watch in June 2023 in person at various of our partner venues throughout the country. Find a venue near you and register for the events on the partner websites. Screenings are supported by Andrew W. Mellon Foundation.
Vibes With The Tribes, Detroit, MI

Autry Museum – Los Angeles, CA

Cinedoom x Tulsa Artist Fellowship – Tulsa, OK

Cinedoom – Santa Fe, NM

Honolulu Museum of Art

– Honolulu, HI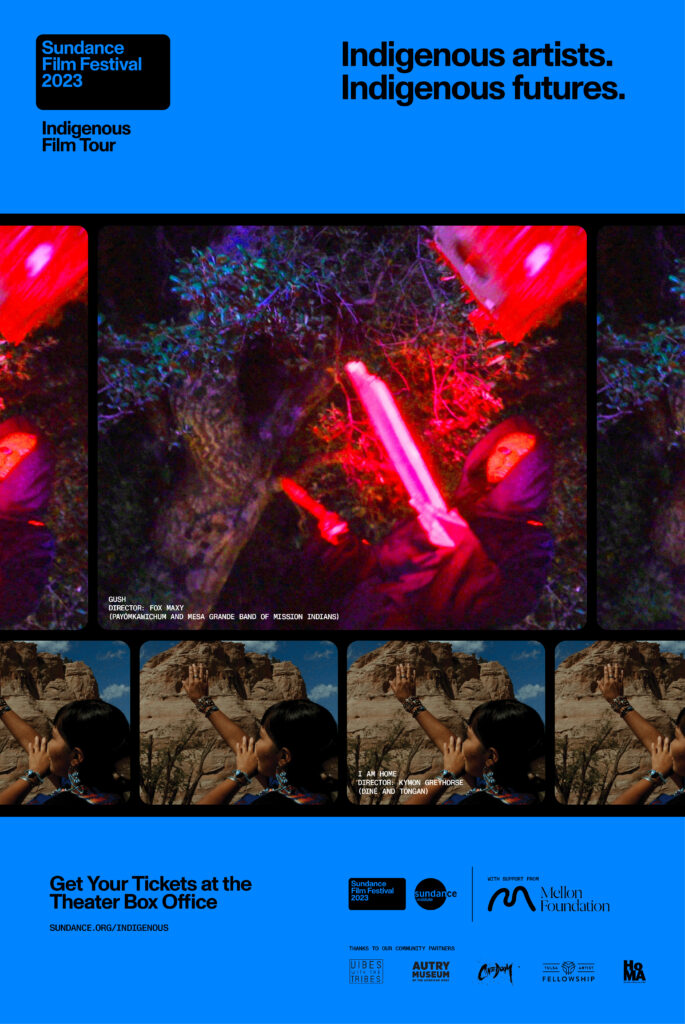 I AM HOME / U.S.A. (Director and Screenwriter: Kymon Greyhorse, Diné and Tongan. Producers: JoJo Threehairs, Ernest Hill)
As time goes on and the world around us shifts, we adapt and change. Although we might look different, deep down we are still the same. We are made from Mother Earth – mud, wood, love, and patience. Cast: Tiara Folsom.
Gush / U.S.A (Director, Screenwriter, and Producer: Fox Maxy, Payómkawichum and Mesa Grande Band of Mission Indians)
An embodied rumination of both male and female power, healing and haunting, all within an apocalyptic world. A transformation that courses through unknown terror to untamed collective joy. Cast: Michel Sayegh, Ruth Fish, Sergio Mejia, Littlebear Sanchez, No'aash Iswut Peltier, Suavitel Paper. 
Support for the Indigenous Program
The Andrew W. Mellon Foundation
W.K. Kellogg Foundation
John D. and Catherine T. MacArthur Foundation
WarnerMedia
Academy of Motion Picture Arts and Sciences
Nia Tero Foundation
Indigenous Screen Office
SAGindie
New Zealand Film Commission
Jenifer and Jeffrey Westphal
Indigenous Media Initiatives
Felix Culpa
Sarah Luther
Susan Shilliday
A look inside our Indigenous Program Labs and Intensives