Mary J. Blige (on left, in front seat of the wagon) was nominated for an Oscar for her performance in "Mudbound," which played the 2017 Sundance Film Festival.
By Vanessa Zimmer
In the fall of the year, after the crops are in, families and friends celebrate the harvest. That is the nature of the agrarian side of our society. We grow the food. We share the food. We enjoy one another's company.
Around campfires and tables across the world, as we gather to feed our hungry bellies and nourish our social souls, it is a good time to recognize the farmers who grow and raise the world's food. Through the years, the declining family farm has been a bountiful subject for independent film — a topic ripe (you might say) for experiences both lovely and heartwarming and heartbreakingly sad. 
Not all of the following films are readily available for streaming, but each and every one has something meaningful to say about the trials and tribulations of farming.
For movie night, consider the recent Minari, a sweet, award-winning film about a Korean man's American dream to own a farm, or Mudbound, a gut-wrenching post-war story. On the other end of the scale, for pure giggles, check out Shaun the Sheep.
Water and Power (1990 Sundance Film Festival) — A poetic account of the changes in California's Owens Valley, this experimental documentary visually follows the area from the days it flourished with farms and ranches. Water has since been diverted, leaving this land about 260 miles north of Los Angeles dry and deserted. Pat O'Neill's film won the Grand Jury Prize at the Festival.
The Last Harvest (La Ultima Siembra) (1992 Sundance Film Festival) —  Chauqui (Patricio Contreras) wants to return to the old ways of his people, working the land in Argentina. He finds a job at a cattle ranch and persuades the owner to allow him to plant a small patch of corn. However, when the owner's son returns home with an agricultural degree and a plan to grow tobacco, Chauqui and the cattlemen both face rejection. Directed by Miguel Pereira.
Troublesome Creek: A Midwestern (1996 Sundance Film Festival) — Co-director Jeanne Jordan tells the emotional story of her family's Iowa farm, as a new regional bank calls in the family's $200,000 debt. To keep the farm, family members attempt to sell off everything but the bare essentials. "Though this is a personal account of one family's struggle, the universality of the story is what makes this film an unforgettable event," Lisa Viola wrote in the Festival Film Guide. "Beautifully filmed over the course of a year and a half, Troublesome Creek uses the changing seasons to reflect the evolving situation for the Jordan family." Winner of the Festival's Grand Jury Prize and Audience Award, both in the documentary category, and nominated for a Best Documentary Oscar.
My Father's Garden (1996 Sundance Film Festival) — Fred Kirschenmann left his position as a university professor to rescue the North Dakota farm owned by his family for three generations. As he helped transform the damaged land from chemical farming to organic methods, he became a leader in the movement. Director Miranda Smith includes recollections of her own father taking pride in experimenting with fertilizers and pesticides he thought would improve his Florida orange farm. "Smith's personal story — and its devastating conclusion — endow Kirschenmann's tale with astonishing emotional resonance and emphasize the universal nature of his cause," Lisanne Skyler wrote in the Festival Film Guide. "My Father's Garden is a haunting depiction of the deceptiveness of modern technology and its threat to the future of the American farm."
The Land Girls (1998 Sundance Film Festival) — Three young women (Catherine McCormack, Rachel Weisz, and Anne Friel) serve their country during World War II as part of a (now) little-known government program in England that allowed women to work the farms while the men marched with the troops. For these three, it is a life-changing experience. Directed by David Leland, adapted from the Angela Huth novel of the same name.
El Valley Centro (2000 Sundance Film Festival) — Experimental filmmaker James Benning focuses a meditative lens on central California, which, with the help of immigrant labor, provides a quarter of our country's food. The food is hauled away by train for delivery across the nation. "Employing natural sound and contemplative proscenium shots, Benning skillfully composes a series of pure and majestic images that at once evoke a sense of nostalgic splendor as well as deliver a subtle, yet penetrating, political commentary," programmer Shari Frilot wrote in the Festival Film Guide.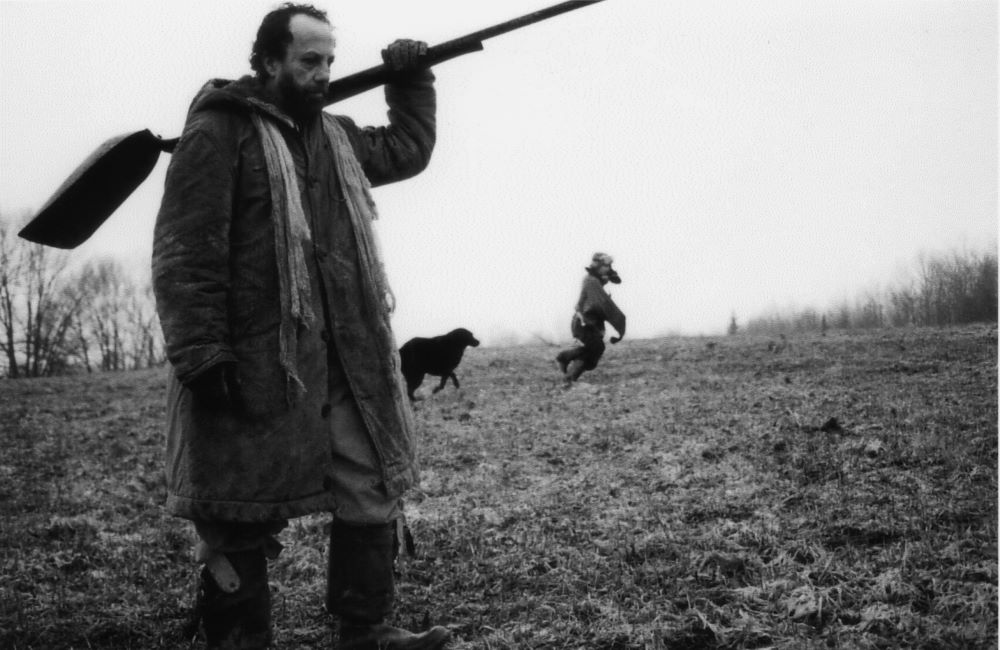 WAR (2004 Sundance Film Festival) — Jake Mahaffy spent four years filming among the disappearing family farms of northwestern Pennsylvania, capturing a look that programmer Mike Plante found reminiscent of the Civil War photography of Matthew Brady. The fictional story focuses on a farmer and his son, a door-to-door preacher, and a junk man — all struggling to survive a dying way of life.
Dirt! The Movie (2009 Sundance Film Festival) — Why does "dirt" have such a pejorative connotation? As this documentary shows, we should grant it our reverence. "[D]irectors Bill Benenson and Gene Rosow employ a colorful combination of animation, vignettes, and personal accounts from farmers, physicists, church leaders, children, wine critics, anthropologists, and activists to learn about dirt — where it comes from, how we regard (or disregard) it, how it sustains us, the way it has become endangered, and what we can do about it," wrote programmer Shari Frilot. Available on Tubi.
Old Partner (Wonangsori) (2009 Sundance Film Festival) — For 40 years, Mr. Lee and his ox have plowed the fields and hauled firewood on a South Korean farm. Their bones and bodies are old and creaky. Still, the ox gingerly carts Mr. Lee to town and stands by as Mr. Lee pulls weeds. Mr. Lee, in turn, gathers special treats and hand-feeds them to his ox. "A charming, heartbreaking, existential buddy tale, Old Partner conveys the almost-mystical inextricability of humans and nature," wrote Caroline Libresco in the Festival Film Guide.
The Moo Man (2013 Sundance Film Festival) — English dairy farmer Stephen Hook keeps the family operation going by staying small, offering home delivery — and naming every one of his cows. Ida, for example, is the cover girl of the herd, the documentary reveals. "It becomes quite clear that Stephen's unconventional and heartwarming friendship with his herd is what really enables the farm to survive," according to the Festival Film Guide. Available on Tubi.  
Young Ones (2014 Sundance Film Festival) — In the not-so-distant future, water is hard to come by, and the daily struggle never relents. Ernest Holm (Michael Shannon) tries to protect his land, but, as it turns out, the boyfriend (Nicholas Hoult) of his daughter (Elle Fanning) has his eye on the farm. Kodi Smit-McPhee stars as Ernest's son. Available on Crackle, Pluto, Plex and Tubi.
Shaun the Sheep (2015 Sundance Festival) — The farm goes up against the big city — and wins! In the appealing stop-motion-style animation introduced by the Wallace & Gromit television series, Shaun and company outsmart the evil Animal Containment man to rescue The Farmer from the city. (Shaun and the flock inadvertently sent him there, but that's beside the point.) It's an adventure that seals the deal: There's no place like the home farm. Available on Amazon Prime and Epix.
Look and See: A Portrait of Wendell Berry (2017 Sundance Film Festival) — From a desk with a view of his rural Kentucky farm, writer and activist Wendell Berry expounded upon a life connected to the land. Laura Dunn's documentary examines the loss of our agrarian culture through his eyes. "In this visually stunning ode to a changing cultural landscape, rare photographs blend with farmers and family members expressing their own stories," Lisa Viola wrote in the Festival Film Guide.
Mudbound (2017 Sundance Film Festival) — In rural Mississippi following World War II, neighboring farm families, one white and one Black — each with returning veterans from the war — struggle with the realities of racism and working the land. "Devastating in its power and authenticity, Mudbound is destined to become a classic," David Courier wrote in the Festival Film Guide. Courier called director Dee Rees' work "extraordinary," in this adaptation of the novel by Hillary Jordan. The film was nominated for four Oscars, including Mary J. Blige for Best Supporting Actress and Rees and Virgil Williams for Best Adapted Screenplay. Available on Netflix.
God's Own Country (2017 Sundance Film Festival) — Johnny has given up college or city work to run his ill father's farm in Yorkshire. He is joined by Georghe, a Romanian migrant worker hired to help during lambing season. "Every gritty, sensual detail springs from authenticity, especially the powerful emotional journey of its young leads played with fierce commitment by Josh O'Connor as Johnny and Alec Secareanu as Georghe," David Courier wrote in the Festival Film Guide. Writer-director Francis Lee won the Festival's Director Award in the world cinema category. Available on Sundance Now, AMC+, and Tubi.
The Biggest Little Farm (2019 Sundance Film Festival) — This charming documentary stars John Chester, Molly Chester, and Todd. Todd, of course, is the couple's rescue dog, and it's because they have promised him a happy life that they move from their Los Angeles apartment to a plot of land outside the city. There, they embark on a dream to build a sustainable farm, and John documents their progress over eight years. "Beautifully filmed to capture the impressive scale of the undertaking and featuring unforgettable characters of both the two- and four-legged variety, The Biggest Little Farm is an inspiring ode to uncompromising idealism and a graceful reminder of the magnificence and resilience of the natural world," Basil Tsiokos wrote in the Festival Film Guide. The film was a Festival Favorite runner-up. Available to rent on Amazon Prime.
Minari (2020 Sundance Film Festival) — This delightful and emotional story of a Korean man (Steven Yeun) who moves his family from the West Coast to rural Arkansas to start a farm captured both the Grand Jury Prize and the Audience Award in the U.S. drama category at the Festival. Writer-director Lee Isaac Chung was inspired by his own experiences growing up. The film was nominated for six Oscars, winning one, Best Supporting Actress for Youn Yuh-jung, who plays the sassy grandmother. Available on Showtime.