Here at the Sundance Institute, we talk a lot about film. Whether it's helping co-workers figure out what to watch this weekend or feeling positively ancient when we hear that a movie from our youth is celebrating a big anniversary, we've got thoughts, feelings, and recommendations for indie film lovers ready to go. Welcome to our regular series where Sundance Institute employees bring our most passionate hot takes about independent cinema to you. This is Personnel Thoughts.
When you first search for Ethan Hawke online, under his name is the simple subheader "American actor." To us, here at the Sundance Institute, we think that this doesn't do the man — and his commitment to the craft of filmmaking — justice. Yes, Hawke has acted within 16 films that have come through the Sundance Film Festival, but he's also a director, a producer, a screenwriter, and a frequent collaborator with other Sundance regulars, not to mention a Festival juror and a panelist several times over! His love of cinema and positive energy are infectious and we're so thrilled to celebrate his birthday this weekend.
We couldn't think of a better way to celebrate 51 years of the charismatic multi-hyphenate than by diving deep into his extensive Sundance filmography to battle over our favorite Ethan Hawke moments. From aging rockstars to scientific geniuses, here are our thoughts on everything Hawke.
Troy Dyer, Reality Bites
Reality Bites is one of my bedrock movies — the kind of film you watch in a formative part of your life that becomes part of your DNA. A huge part of that is Ethan Hawke's character: Troy Dyer. Some people loved My So Called Life's TV bad boy, Jordan Catalano, but Troy was my '90s slacker crush. 
This movie deeply shaped Ethan Hawke's '90s persona — the smart, sensitive, shaggy-haired philosopher man who was often, frankly, kind of a dick. The first male version of the Manic Pixie Dream Girl (perfect opposite the O.G. herself, Winona Ryder).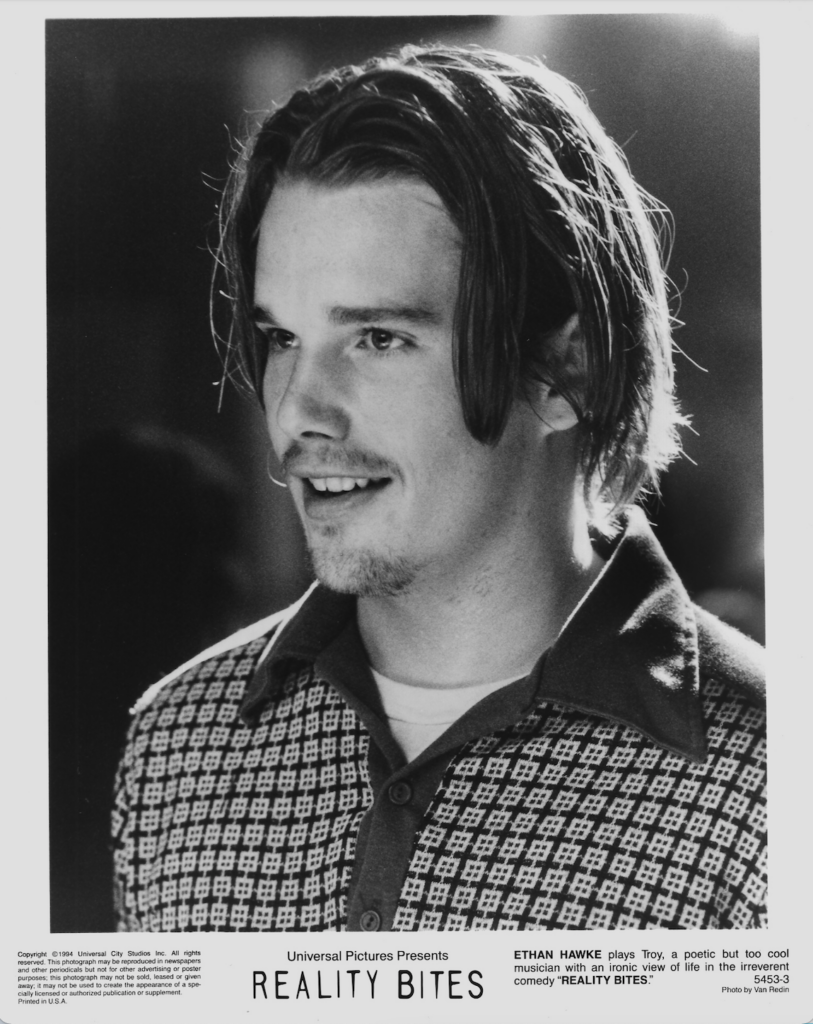 They say that you've grown up when you watch Reality Bites and realize Lelaina (Ryder) should have chosen Michael (Ben Stiller), but on my most recent rewatch it's pretty clear that Michael has no idea who Lelaina is. Whatever happens between Lelaina and Troy, they get each other on a level that Lelaina and Michael never do. And sometimes, especially when you're 22 (and even if you're the valedictorian of your university), you have to choose the person who gets you, even if that relationship is just a ticking time bomb as soon as the credits roll. 
But at least you get to walk away listening to Lisa Loeb's classic, "Stay," thanks to one Mr. Hawke himself. Another reason for us to raise a glass to him on this holiest of independent film nerd days. — Rachel Brethauer, Content Marketing Manager, Sundance Collab
Ray, The Jimmy Show 
After seeing Ethan Hawke in so many great roles, it's hard to say which one I like the most, but his character in The Jimmy Show has to be one of my favorites. We all need a friend like Ray, Jimmy O'Brien's best friend and co-worker at Tops grocery store. Or perhaps you already have a friend like him — the easy-going, silly stoner just trying to get by who is also insanely loyal and supportive, whether you have dreams of being an inventor or a stand-up comedian. And in this film, Jimmy aspired to be both. Ray doesn't question any of those dreams. In fact, he thinks Jimmy's idea of "The Toaster Man" is pretty genius. And although he warns his best friend that being a stand-up comedian is a lot of work, he stands by him nonetheless. 

Throughout the dark comedy, we see Jimmy struggle to make it as a successful comedian and adjust to being a new father and husband. His jokes fail to land and he's stuck working a job that doesn't fulfill him. But his friendship with Ray provides the lightheartedness that makes this movie great, and their bond is sweet and relatable. You can just tell that it's one of those relationships meant to last forever — even when one does something the other doesn't agree with, like smoking nine pounds of reefer everyday or breaking open a few cases of Pabst Blue Ribbon when your boss isn't looking. Stephanie Ornelas, Brand and Editorial Writer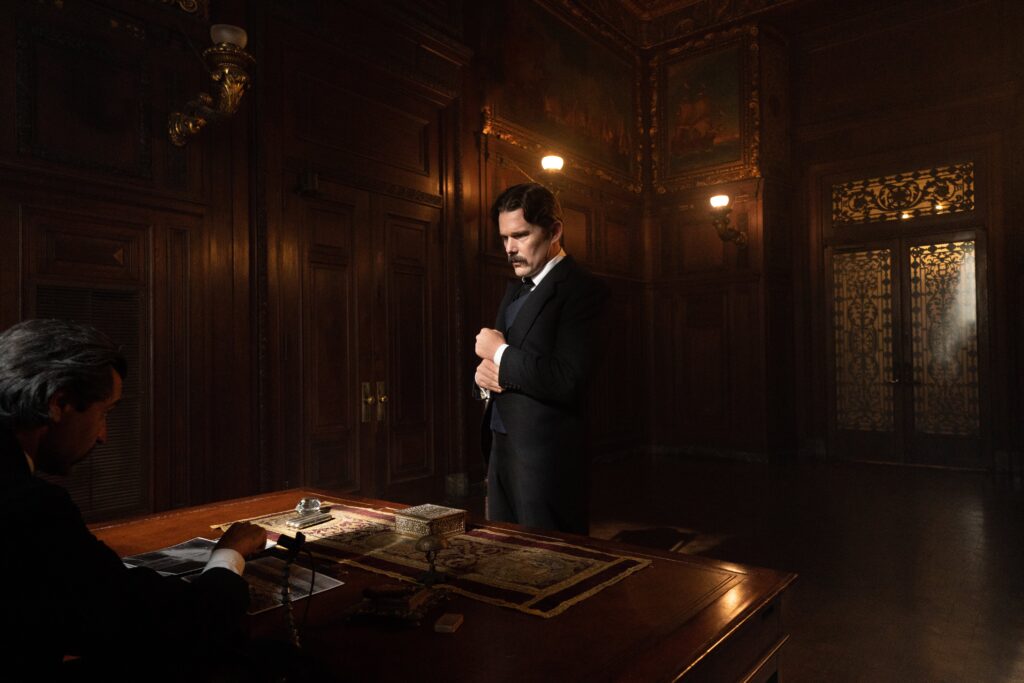 Nikola Tesla, Tesla
Ethan Hawke was so effective in the role of immigrant and scientist Nikola Tesla in the 2020 Sundance Film Festival biopic that it makes one value being merely average-smart rather than Tesla-brilliant.
No question, this 19th-century inventor presented in writer-director Michael Almereyda's Alfred P. Sloan Prize–winning film was a good man, a moral man who wanted to make the world better. He believed his machines would free humanity, send signals around the world, even stop war.
But his tortured soul could not navigate the commercial world, and even less so the one that would allow him to love and be loved. At one point, when accused of living too much inside his head, Tesla responds: "Sometimes it seems all I do is think, days and weeks on end, like my brain is burning. Who can live with that?"
As the story goes, Tesla worked for Thomas Edison (played by Kyle MacLachlan), but left the company when Edison refused to pay Tesla for the invention of a motor that operated on alternating current. Edison never backed down from his claim that alternating current was unsafe and should be shunned, even as Tesla showed otherwise. As Edison prospered and Tesla found solvency rarely accompanied his successes, it became a wound that never scabbed over.
That sadness is countered somewhat by playful moments — like when Edison and Tesla argue a point while plunging their ice cream cones into each other's body — which are quickly disavowed as never having happened. Or when Tesla stands behind a microphone and sings to Tears for Fears' "Everybody Wants to Rule the World." Never mind that the song was released 40-plus years after Tesla's death. 
The late 1800s/early 1900s and present day are mixed to creative effect here. Potential love interest Anne Morgan (Eve Hewson), the daughter of banker and financier J.P. Morgan, emerges at intervals in her period dress to do Google searches on her laptop and to add details and modern analysis. It's an innovative way to tell a historical story.
And Jim Gaffigan, overwhelmingly known today as a successful comedian, plays entrepreneur (and Tesla ally) George Westinghouse with great gusto. The merging of old and new doesn't get any better than that. — Vanessa Zimmer, Assistant Editorial Manager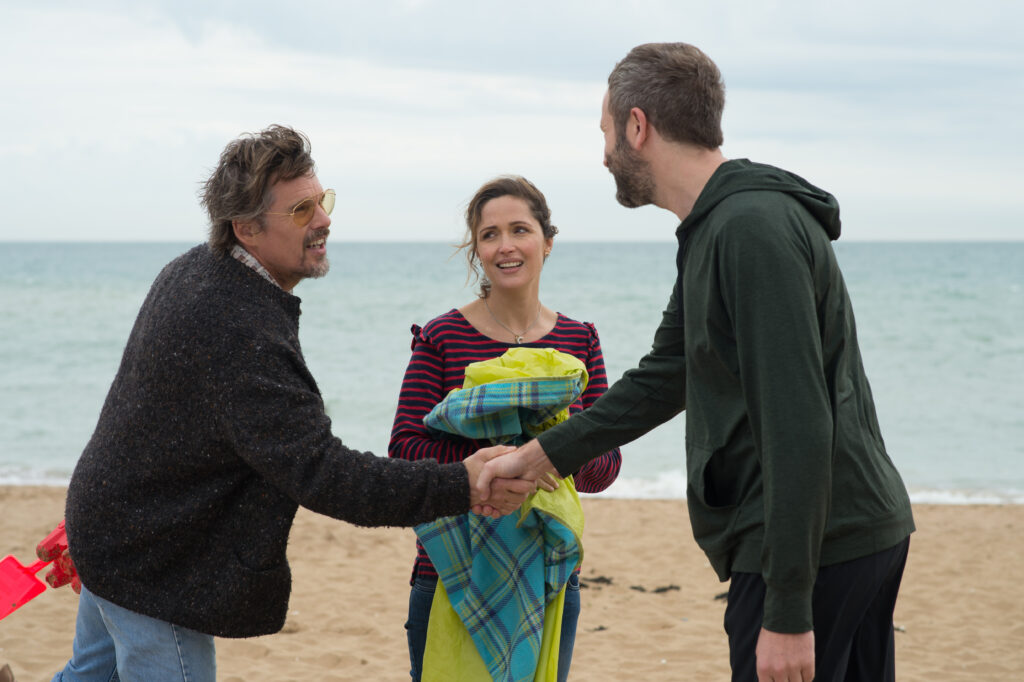 Tucker Crowe, Juliet, Naked
Just as Sundance has grown up over the last 40 years, so has our relationship with the one and only Mr. Ethan Hawke. From his start as the dreamy-yet-flawed boyfriends and best friends, progressing to the charming-yet-flawed husbands, ex-lovers, and more, there's one thing that keeps us transfixed on Hawke as a performer: his ability to reveal fragility and kindness in even the most opposable figures. Yes, his great head of hair is another correct answer to that question, but I digress.
2018's Juliet, Naked is a film that highlights the level of complexity and honesty that Hawke brings to every role — even a quirky rom-com adapted from a Nick Hornby novel. Hawke plays reclusive '90s singer-songwriter Tucker Crowe, arguably the coolest part of a love triangle between Annie (Rose Byrne) and Duncan (Chris O'Dowd), a man who is so obsessed with Crowe's music that he runs a fan site.
Through digital correspondence and honest conversations, Tucker and Annie become confidants and lovers all while navigating the strange reality of his fame and fatherhood due to his rockstar past. Hawke walks the tightrope of mysterious genius and repenting dad so well that you start to think that maybe he is about to drop a brilliant new album soon.
By the time he plays a quiet rendition of "Waterloo Sunset" by The Kinks, you've already fallen in love with him too. — Bailey Pennick, Associate Editorial Director