Wes Anderson hangs a poster for his short film "Bottle Rocket" at the 1993 Sundance Film Festival.
We here at the Sundance Institute have been thinking about our past a lot and realized that it's pretty darn easy to make the case for every single Sundance Film Festival earning the title of Best Ever. So, as we dig in for the upcoming 2023 Festival, we've decided to fight it out in a new series highlighting the tops of each iteration of our indie celebration. 
Check out our first installment here, starting with the Festival 30 years ago, when 141 films were screened in three Park City, Utah, theaters. 
By Vanessa Zimmer
The 1993 Sundance Film Festival was the best Festival ever, in part because a future superstar  director hung his own poster for his soon-to-be noticed short film. And a University of Texas student dared to enter into the competition the $7,000 movie he made in Mexico over break.
Both changed the world of cinema.
Wes Anderson was so unknown 30 years ago that Sundance Institute staff mistook him for a volunteer (one of only 36 that year) when they archived a photo of Anderson hanging a poster during the Festival for his short film playing among the 50 in the Shorts category. 
Anderson's Bottle Rocket short was about some wacky friends — two of them played by a couple of also-unknowns, brothers Owen and Luke Wilson — who plan and carry out a small-scale home burglary. That same year, the Institute supported Anderson at its Screenwriters Lab as he turned the short into a feature-length piece (also with the Wilsons), launching a prolific directing career that has created such significant films as Rushmore, The Royal Tenenbaums, The Grand Budapest Hotel, and Isle of Dogs. 
At the same Festival, student Robert Rodriguez rose from obscurity to runaway success. Festivalgoers crowned his El Mariachi — the story of a mild-mannered traveling mariachi carrying his guitar case being mistaken for a killer toting a guitar case full of weapons — with an audience-favorite award.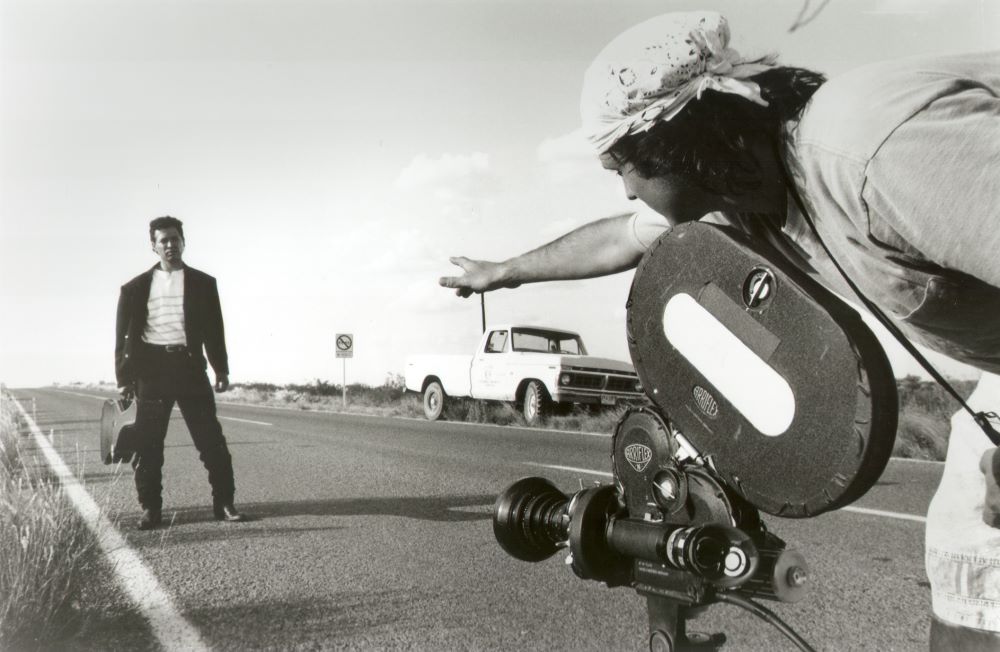 Columbia Pictures spent several times the original $7,000 investment refining Rodriguez's one-man production work before releasing the film, then invited the 24-year-old director to create a sequel (Desperado) with $7 million and hot Hollywood stars Antonio Banderas and Salma Hayek. Another sequel, Once Upon a Time in Mexico, followed, as did the vampire film From Dusk to Dawn, the Spy Kids franchise, collaboration with Sundance alum Quentin Tarantino, and much more. 
Still, those two discoveries were hardly the whole story of the '93 Festival, the mysterious poster for which is pictured here.
In 1993, a New Zealander named Peter Jackson, who 20 years later became known for stories of hobbits, elves, and a wizard, premiered a humorous splatterfest called Dead/Alive. In interviews following the release of the film, Jackson said his over-the-top gore (one scene involving a lawn mower blade meeting zombie flesh!) was intended less as horror than as Monty Python–type comedy. At the time, Jackson preferred making audiences laugh than look away in horror.
Jackson also participated in a panel during the Festival on Neoviolence in the Nineties, in which filmmakers discussed a trend toward depicting violence in film, kicked off in part by Quentin Tarantino's Reservoir Dogs at the 1992 Festival, Man Bites Dog, and the works of John Woo. One purpose of the panel, according to Festival archives, was to point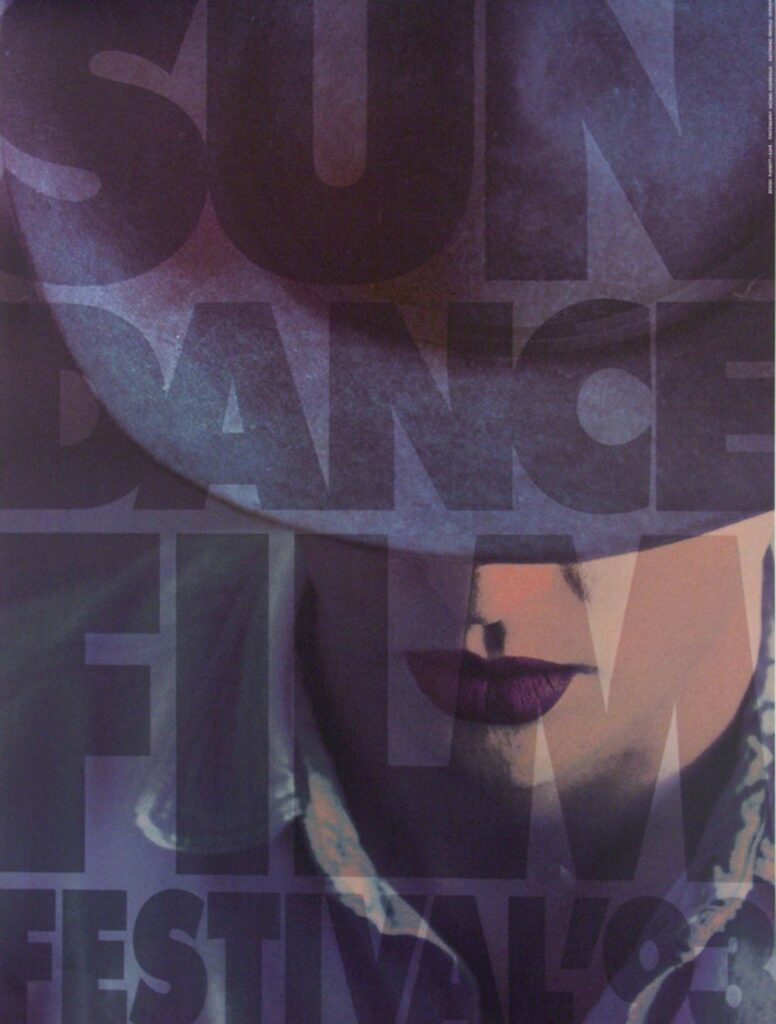 out that not all violence is created equal: "The kind of violence that these films depict, and particularly the nature of realism, are central to an understanding that can transcend the tendency to lump all violence together. Catharsis, horror, morality, genre, victims, bullets and blood, media violence, powerlessness, and rage: it's time to isolate issues and discuss what's really going on in these works."
Also at the 1993 Fest, pioneering experimental filmmaker Barbara Hammer opened the conversation about portraying same-sex lovemaking on the big screen by unveiling her Nitrate Kisses. And long-loved classics like Orlando, Sally Potter's exploration of gender roles over the course of 400 years (with Tilda Swinton's transformative performance as both a woman and a man), and Like Water for Chocolate, on forbidden love, tradition, and the power of food, emerged. Both were adapted from thoughtful books, the first by Virginia Woolf, the second by Laura Esquivel.
Finally, last but certainly not least, these films were recognized with awards in 1993, an unusual year in that it brought ties for Grand Jury Prizes, both in fiction and nonfiction:
Audience Award: Documentary; Filmmaker Trophy: Documentary; and Special Jury Prize: Documentary — Something Within Me, an optimistic and heartwarming story of a South Bronx school that elevated a music curriculum to the same level as math and science. 
Audience Award: Drama — El Mariachi, wherein a mariachi goes on the run after he is misidentified as a similarly attired murderer. Available for rent on Amazon Prime.
Grand Jury Prize: Documentary (tie) and Excellence in Cinematography Award: Documentary — Children of Fate, a story of three generations of a poor and troubled Sicilian family trying to rise above life in a Palermo slum.
Grand Jury Prize: Documentary (tie) and Freedom of Expression Award — Silverlake Life: The View From Here, a devastating real-life account of two gay men living and dying with AIDS. 
Grand Jury Prize: Dramatic (tie) — Public Access, in which a newcomer, via a local cable station, delves beneath the surface of idyllic small-town Middle America.  
Grand Jury Prize: Dramatic (tie) — Ruby in Paradise, an engaging film written and directed by Victor Nunez and featuring an acclaimed performance by newcomer Ashley Judd as a young woman from the hills of Tennessee who looks to reinvent herself in Florida. Available on Amazon Prime and Showtime.
Filmmaker Trophy: Dramatic — Fly by Night, directed by Steve Gomer and conveying the differing backstories and motives of members of an up-and-coming rap group. Available on Tubi.
Excellence in Cinematography Award: Dramatic — An Ambush of Ghosts, a haunting film starring Stephen Dorff as a teen caught between an insane mother and a murderous classmate.
Special Jury Prize: Dramatic — Lillian, a fictional film based on a real-life 57-year-old Black woman (and portrayed by the actual Lillian Foley) who somehow remains loving and calm as she takes care of her grandchild, several foster children, and three elderly patients.
Special Jury Prize for Outstanding Achievement in a First Feature — Just Another Girl on the I.R.T., directed by Leslie Harris, the story of a Black teen woman with take-it-or-leave-it attitude and the determination to get whatever she wants. Available on Brown Sugar and Pluto TV.
Special Jury Recognition — Earth and the American Dream, a documentary with celebrity voice-overs that illustrate humans damaging and destroying our planet. 
Waldo Salt Screenwriting Award — Combination Platter, a look at an illegal Chinese immigrant trying to cope with life in New York City; directed and co-written by Tony Chan.