Maurice and Katia Krafft made it their life's work to document erupting volcanoes and contribute to a scientific understanding of volcanoes.
By Vanessa Zimmer
Sometimes, you just have to let the mystery be. That's what Sara Dosa and her Fire of Love film team have come to understand.
Even today, as the critically acclaimed (and award-winning) 2022 Sundance Film Festival documentary begins streaming on Disney+, Dosa has a multitude of unanswered questions she would love to ask scientists Maurice and Katia Krafft, the French couple who lived and died studying erupting volcanoes.
Dosa and crew delved deeply into the lives of the Kraffts, sorting through mountains of fiery footage, intriguing images of lava flows, and the 19 books they produced that contributed to our understanding of the phenomenon. The devoted couple — to each other and to volcanoes — perished in 1991 at Mount Unzen in Japan, along with 41 others, when the volcano belched a dense gray cloud of burning ash.
Perhaps first and foremost on the list of questions would concern one image for which the film crew could never track down information: "There's this one shot, for example, of Katia and Maurice's expedition to Indonesia in 1971, where Maurice is literally hanging off the side of a crater. And there's a man holding his feet," Dosa marvels over a recent Zoom interview. "And I've never seen this man before in any of their other imagery, and I would love to know, 'Who is that person who literally had, you know, your life in his hands, Maurice? Tell me about him.'" 
Then, there are the more personal aspects. Did the Kraffts have any regrets? Did they lament their decision not to have kids? What were the nuances of their obvious love and playful relationship? "There are so many things I dream of asking Katia and Maurice, and this is something that my entire team talked about constantly," Dosa explains. "We felt like we had such an unrequitedness about our own love of them."
In the end, the crew had to live with the unknowns. "One of the grand themes of the film is about the unknown and, ultimately, that tussle between yearning to know and having to accept the power of the mystery," Dosa laughs. Then she adds wistfully, "We told ourselves, 'OK, we have to accept this mystery of them, and maybe there's a poignancy in that, but I still, yeah, I still yearn to talk with them."
For Dosa, filmmaking is a collaborative affair. It's important for the film team to feel connected, to take pride in the work, for everyone to feel "visible and respected," for the project to be a true labor of love. As they were putting the documentary together, editor Erin Casper moved from New York into Dosa's spare bedroom in her house in Berkeley, California. Editor Jocelyne Chaput, who lives up the hill from Dosa, and producer Shane Boris, based in Los Angeles, were there at all hours.
"So the four of us had this funny little family, just podded up" in the time of COVID in Dosa's small house. "We had a really good time, a lot of laughs, to say the least, a lot of 2-in-the-morning laughs."
The Festival recognized the editors, Casper and Chaput, with the prestigious Jonathan Oppenheim Editing Award — another poignant moment since the late Oppenheim mentored Casper at Sundance institute labs.
Dosa managed to visit Maurice's brother, Bertrand, in October 2021, as the brunt of COVID relented, and she collected more stories. Bertrand and his wife, Elizabeth, sent a bottle of wine from their family's vineyard, which has been in the family for generations, home with Dosa.
The same night that Fire of Love premiered online for Sundance Film Festival audiences in January 2022, Sandbox Films, which executive-produced the film, hosted a friends and family screening in Hollywood. The group opened the bottle of wine and drank a toast to Katia and Maurice. ("We felt like we could conjure our subjects, even though they're on a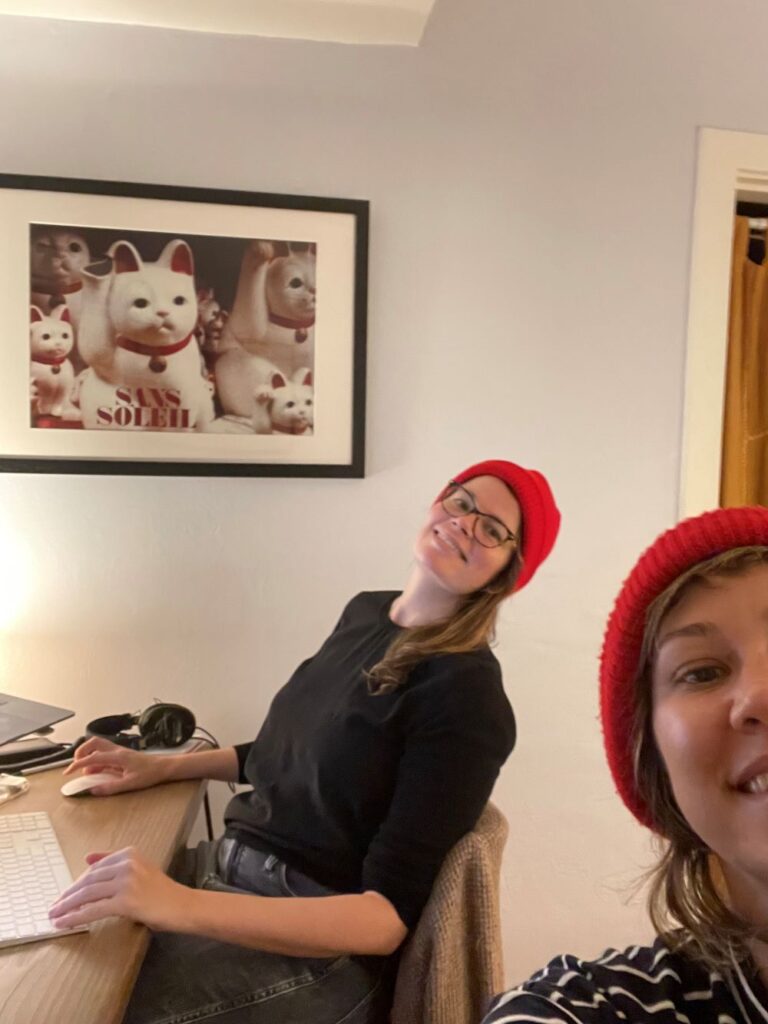 volcano in the sky," Dosa laughs.) Dosa,Casper, Chaput, and producers Ina Fichman and Boris answered questions. 
"We weren't in [Park City's] Egyptian, but I still very much felt the spirit of Sundance, and I was really grateful for that," remembers Dosa.
The documentary was bought by National Geographic and opened theatrically in July. National Geographic has been generous, supporting Dosa in public appearances on the tour. She's been too busy to plan her next project, although she is receiving pitches and mulling over ideas.
For now, Maurice and Katia Kraft — and, yes, their mysteries — still occupy her time and thoughts. That's enough.
"They very much reconciled what was meaningful to them, and it was living in a relationship with each other and volcanoes," Dosa says. "And they knew, 'This is going to kill me, but that's OK, this is what we've decided will make for a meaningful life.' And I, I respect that, and to find such beauty in that kind of choice to live their life."