by Layla Halfhill
With fall now officially upon us and students begrudgingly back to school, it seems a fitting time to reflect upon the cinematic theme of discontented youth. Sundance filmmakers have often centered their movies around youthful nihilism and the tribulations of coming of age — with works that tend to reflect the unique pains of the current era through the eyes and angst of its younger generation. 
Discontented youth — those that find the status quo flawed, oppressive, or otherwise lacking — make for an excellent lens through which to examine larger societal issues. From questioning the wishful optimism of the Reagan era in the '80s and addressing race and gender inequalities through the '90s and '00s, to examining the isolating effects of modern tech on society in more recent years, these youth-centric Sundance movies have moved in sync with each changing decade, as the best art tends to do.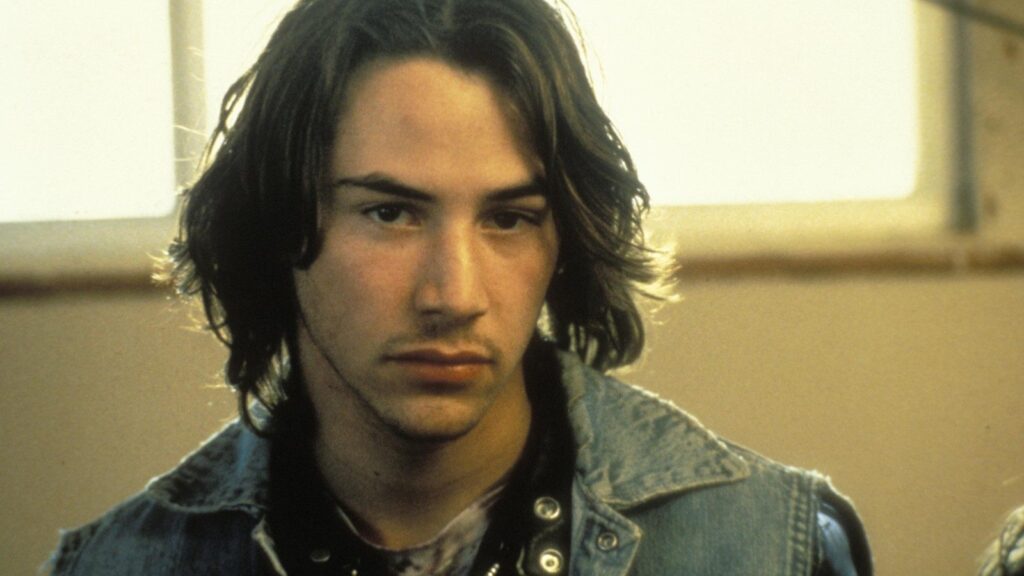 1980s
Take Tim Hunter's bleakly nihilistic River's Edge (1987), which centers around a group of teens (Crispin Glover, Keanu Reeves, and Ione Skye) who are confronted with an awful truth when their friend (Daniel Roebuck) murders his girlfriend and then decides to show them the body. Based on a real-life murder case, its unsettling portrayal of small-town teen apathy led Salon to dub River's Edge "the darkest teen film of all time," the antithesis of Reagen-era optimism.
The Michael Lehmann–directed pitch-black comedy Heathers (1989), takes a scathingly satirical approach to the positive spin of the era and to high school life in general, an effort screenwriter Daniel Waters has said was intended to counter the more idealistic nature of John Hughes' films such as Sixteen Candles and The Breakfast Club. Heathers revolves around a clique of mean girls all named Heather, whose newest member, Veronica (Winona Ryder), can't get on board with their ruthless ways. When Veronica and her new boyfriend J.D. (Christian Slater) poison the lead Heather (Kim Walker) and then stage it as a suicide, it sets off a chain of events that includes murder, and more murder. Veronica sums up the film's darkly subversive approach best as she notes, "Dear Diary, my teenage angst has a body count."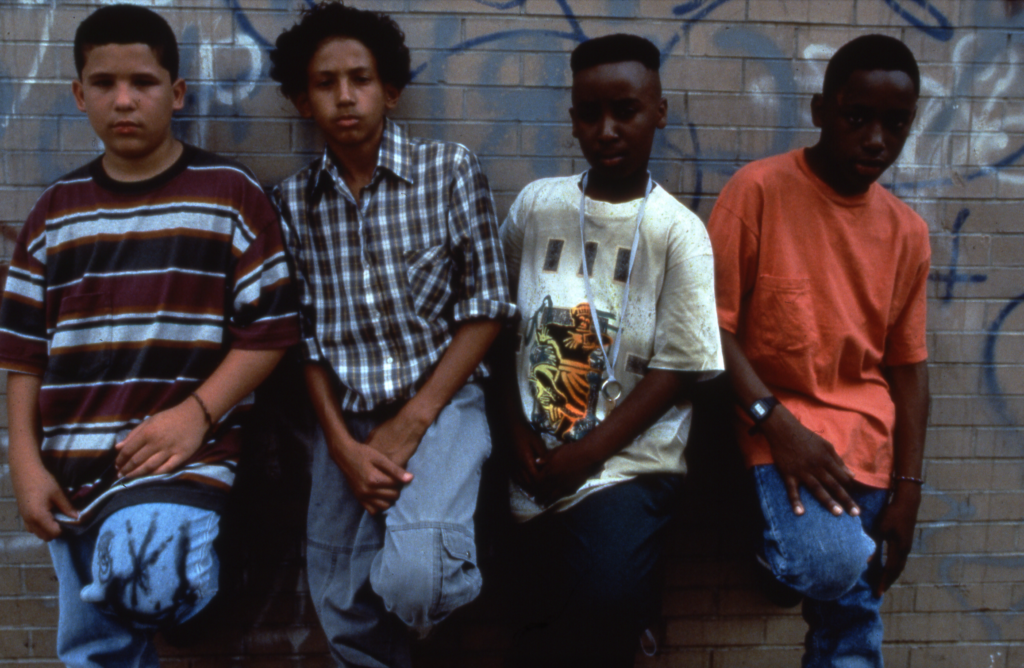 1990s
The '90s ushered in a diverse crop of filmmakers bringing fresh perspectives to the coming-of-age film, including a wave of movies with stories centered around the urban, working class African American experience, such as Matty Rich's Straight Out of Brooklyn (1991), Boaz Yakin's Fresh (1994), and Leslie Harris' Just Another Girl on the I.R.T. (1992), the latter of which stars Ariyan Johnson as Chantal, a brashly confident teen who lives in the projects in Brooklyn and navigates her world with a sense of humor, boldness and vulnerability that was revolutionary on screen at the time. As The New Yorker's Richard Brody has pointed out, "In spotlighting a protagonist who's a young black woman, Harris is also spotlighting a society in which young black women aren't considered, or allowed to be, the protagonists in their own stories."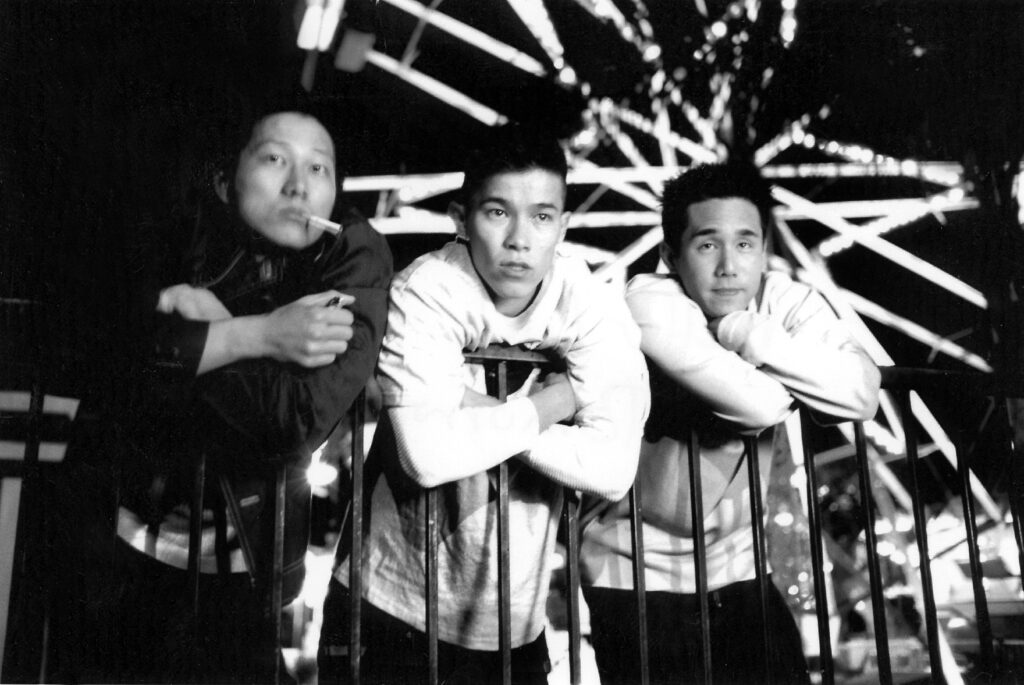 2000s
Moving into the 2000s, Maria Full of Grace (2004) by Joshua Marston and Precious (2009) directed by Lee Daniels, also focus on teen girls from economically disadvantaged backgrounds, in this case both pregnant, who each seek ways out of their situations through self-determination.
Veteran production designer Catherine Hardwicke made her directorial debut with Thirteen (2003), a semi-autobiographical film based loosely on the experiences of its 13-year-old co-writer and star, Nikki Reed. The tale of innocence lost takes a blunt look at the temptations that await young people — particularly in this case young girls — seemingly around every corner as they enter adolescence. Evan Rachel Wood plays the straight-laced young Tracy, who starts dabbling in drugs, sex, and petty crime when she befriends the popular but troubled Evie (Reed), which further disrupts the already rocky relationship Tracy has with her struggling single mother, Mel (Holly Hunter, who won an Academy Award for the role).
Justin Lin broke representational ground with his Better Luck Tomorrow (2002), which focused on a group of overachieving but apathetic Asian American high schoolers in an affluent corner of Orange County, California who turn to crime as a way to alleviate their boredom and elevate their status. When Lin was questioned at the Sundance premiere Q&A about his choice to represent Asian Americans in such an "amoral" way, film critic Roger Ebert stood up and passionately came to Lin's defense, emphatically stating that "Asian American characters have a right to be whoever they want to be."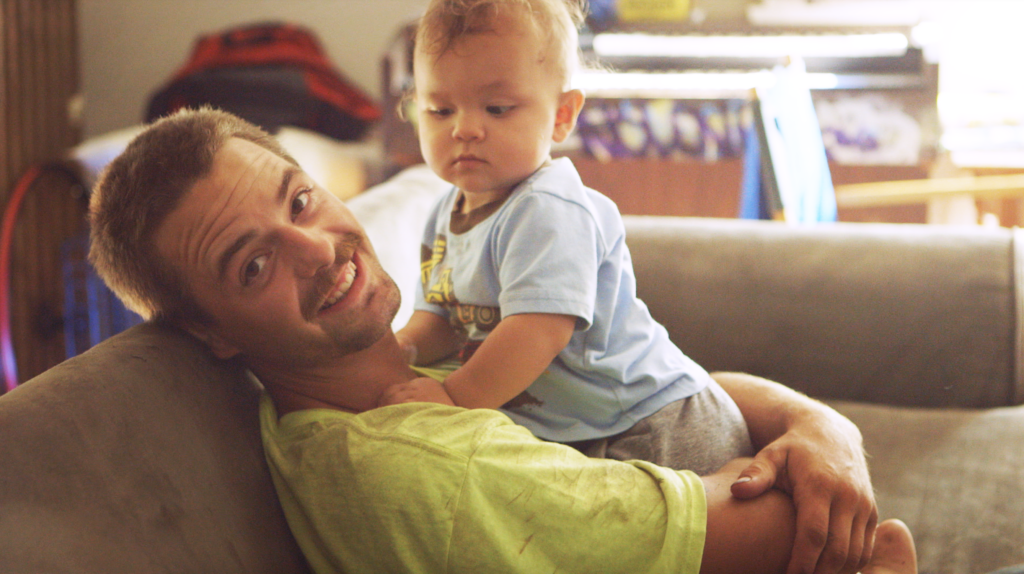 2010s
Justin Simien's provocative satire Dear White People (2014) puts the discussion of race front and center by centering on black and mixed-race students (led by Tessa Thompson) at a majority white Ivy League school questioning the status quo in terms of race and racial identity, opening up a line of dialogue that signaled a wider cultural shift. Simien noted that he hoped the film would "be a force in the culture that keeps bursting the post-racial bubble."
In his intimately personal documentary Minding the Gap (2018), Chinese-American filmmaker Bing Liu chronicles his and his fellow skateboarding friends' experiences coming of age in Rockford, Illinois. Featuring cinema verite–style footage shot over a 10-year period, the film chronicles the boys' turbulent home lives, hopes, fears, dreams and friendships as they navigate growing up as young men in America's Rust Belt.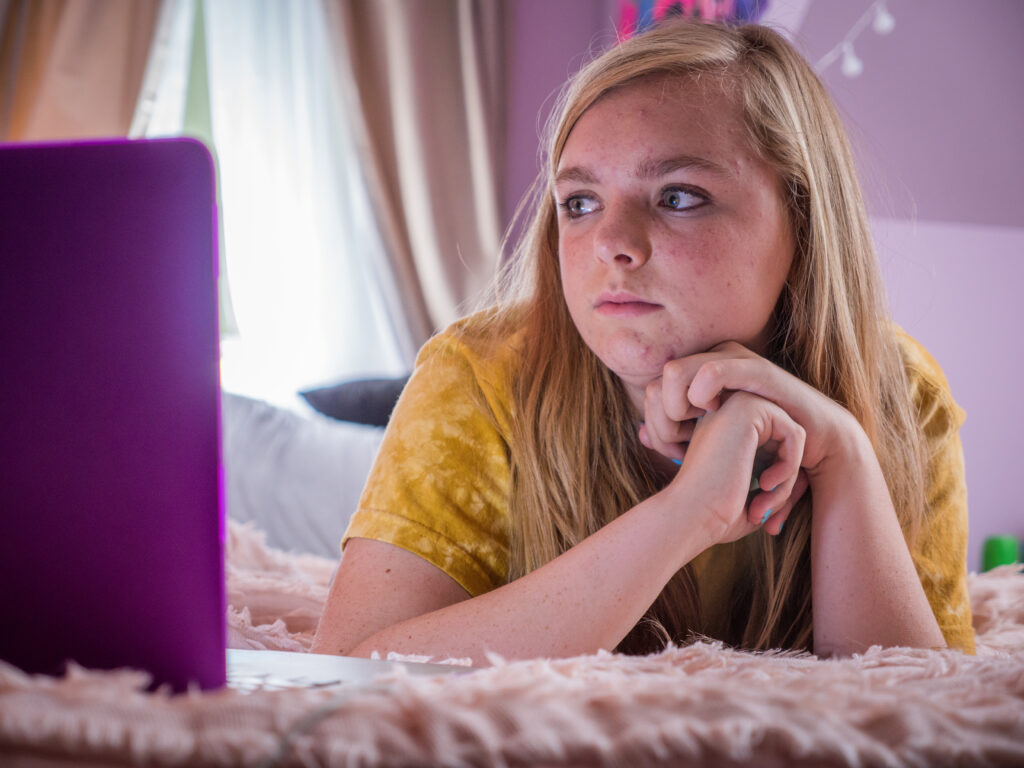 2020s
Moving in the more recent years, the focus on modern tech and its effects on Gen Z has come into play in coming-of-age and youth-centric films.
Eighth Grade (2018) by Bo Burnham, highlights the awkward anxiety of that time period of life in its shy young protagonist Kayla (Elsie Fisher), who starts a YouTube blog in which she signs off with the tag, "Gucci" in an awkward effort to be cool, while the titular character in the pandemic-era John and the Hole (2021) by Pascual Sisto, puts his family in a literal hole in the ground, and has only his drone and a friend he met online as companions. Both of these films touch briefly on the isolation of modern youth, exacerbated by the connected yet lonely nature of the internet. 
Films like We're all Going to the World's Fair (2021) by Jane Schoenbrun and Spree (2020), Eugene Kotlyarenko, paint an even darker picture of today's digitally wired but disconnected generation, the latter a dark comedy satire in which a rideshare driver (Joe Keery) goes on a killing spree in the hopes of going viral, and the former a creepypasta-inspired nightmare told in the language of the internet, about a lonely suburban girl (Anna Cobb) who participates in a online game while interacting with a mysterious middle-aged male whom she only knows as "JLB." 
Where the next batch of filmmakers will go in their explorations of discontented youth is anyone's guess, but you can be sure that the Sundance Institute and Film Festival will continue to feature stories exploring this endlessly fascinating theme as our world continues to evolve.