Fellows, staff, and mentors at the 2023 Directors and Screenwriters Lab.
Dear friends —
We've just completed a magical summer at the Sundance Resort and other beautiful locations, where artists came together to workshop projects and develop brave, risk-taking stories at our signature Sundance Labs. This has always been a part of our year-round work that's near and dear to my heart, and it felt especially timely this year. 
As we speak, our entire country is having a conversation about the vital role of artists in society, and the right of creatives to earn a living from their work. In the midst of this challenging moment for our industry, it was invigorating and inspiring to feel the boundless creative energy of our Sundance fellows and watch new ideas take root. It brought home an essential truth: Supporting artists — creatively, strategically, and financially through grants — has never been more important. We remain committed to the future of Sundance Labs and are proud to stand in solidarity with the WGA and SAG/AFTRA in building a fairer and more equitable future for artists. 
We got a powerful glimpse of that future beginning with the Native Lab in New Mexico, which brought together five Indigenous artists from the U.S., Canada, and New Zealand to work on their narrative feature and episodic pilot scripts. Through cold reads, one-on-ones with lab advisors, and a workshop with director Joan Tewkesbury, participants focused on writing with authenticity and specificity to tell their stories with their own unique Indigenous voice.
At the closing circle of the Directors Lab, one Fellow summed up an experience shared by many who participated: "I have never felt more alive in my life than during the time I spent here at the lab." I couldn't agree more; it was thrilling to experience the intersection of nature and storytelling as we brought eight directors together to workshop their feature projects. Every day was full of creativity, imaginative possibility, and a willingness to try new approaches and push boundaries. It was a special treat to have four alumni — Gina Prince-Bythewood, Rick Famuyiwa, Miguel Arteta, and Ira Sachs — return as advisors, joining Artistic Director Gyula Gazdag and many others who have made a deep commitment to our culture of generosity. We also had a beautiful celebration of Joan Darling and Joan Tewkesbury, who have contributed to our labs for more than 30 years (!) and will continue to support Sundance fellows online.
Next up, we moved into the online Screenwriters Lab, which gave many of our fellows the opportunity to translate their discoveries from the Directors Lab into work on their scripts. Highlights included one-on-one feedback sessions with advisors, an in-depth advisor discussion of unforgettable film endings, and a conversation with Tarell Alvin McCrainey about the writing of the exquisite film Moonlight.
Following the Screenwriters Lab, we hosted five feature documentaries in post-production at the annual Documentary Edit and Story Lab. Artists from the U.S., Jordan, and Palestine set up a makeshift edit room at the Sundance Resort, working intensively with six world-renowned advisors to reimagine and reinvigorate their work. The lab also hosted a track for emerging editors who gained real-world experience working alongside fellows. A few weeks later, the Ignite Lab at MASS MoCA brought together ten filmmakers from ages 18–25 to establish the foundation for what will be a year-long fellowship focused on providing young artists with a robust creative community as they begin their careers.  
We closed out July with our Producers Lab, focusing on holistic producing, sustainability and fostering the essential creative and business partnership between directors and producers. And looking to the Fall, we're excited to support storytellers at our Episodic Lab and Catalyst. 
There were so many memorable moments this summer — from watching scripts come alive for the first time to sitting with our fellows and advisors as they worked through rough cuts of scenes. It was awe-inspiring to witness fellows from all over the country and all around the globe connect across storytelling forms, backgrounds, identities, and experiences. And, of course, we laughed a lot, connected deeply, and enjoyed a safe space that honors creativity and individual voices. 
Thanks so much to our incredible staff, advisors, fellows, crews, actors, volunteers, funders, and partners for your enduring commitment, and for making Sundance such a special and meaningful place for discovery and community. With each moment of resilience and inspiration, each moment of vulnerability, and each thought-provoking insight, it becomes even clearer that these stories need to be told as part of the cultural conversation — and the fiercely talented, independent artists we support have so much to offer our world.
In gratitude,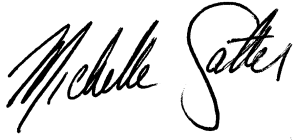 Michelle
P.S. This work is only possible with the generosity of our broader Sundance family, whose financial contributions allow us to continue to preserve this core work and provide life-changing support to artists. To make a donation to Sundance Institute, please click here.
Six images from summer labs. Top row from left to right: 2023 Producers Lab. 2023 Ignite La x Adobe Filmmakers Lab. 2023 Doc Edit Lab. Bottom row from left to right: 2023 Native Filmmakers Lab. 2023 Directors Lab. 2023 Doc edit lab.