Created for independent film and arts enthusiasts, Sundance Circle brings our community of generous supporters together with artists and Institute leadership through premium access to the Sundance Film Festival, monthly digital and in-person events, and opportunities to observe the Sundance artist labs. At the Sundance Film Festival, Sundance Circle patrons receive invitations to private events, access to exclusive passes and tickets, and personal assistance in planning their Festival experience. Throughout the year, they receive opportunities to personally connect with the artists whose work they champion. 
For the upcoming 2022 Sundance Film Festival, Sundance Circle donors will enjoy an elevated experience through exclusive pass and ticket purchase opportunities ahead of the general public, including access to the First Half and Full Festival All Access Passes, both of which are exclusive to our generous donor community and will provide the highest level of access at the Festival. Donors will also receive early and premium access to tickets with priority screening selection. Review the benefits offered to our Sundance Circle donor community below: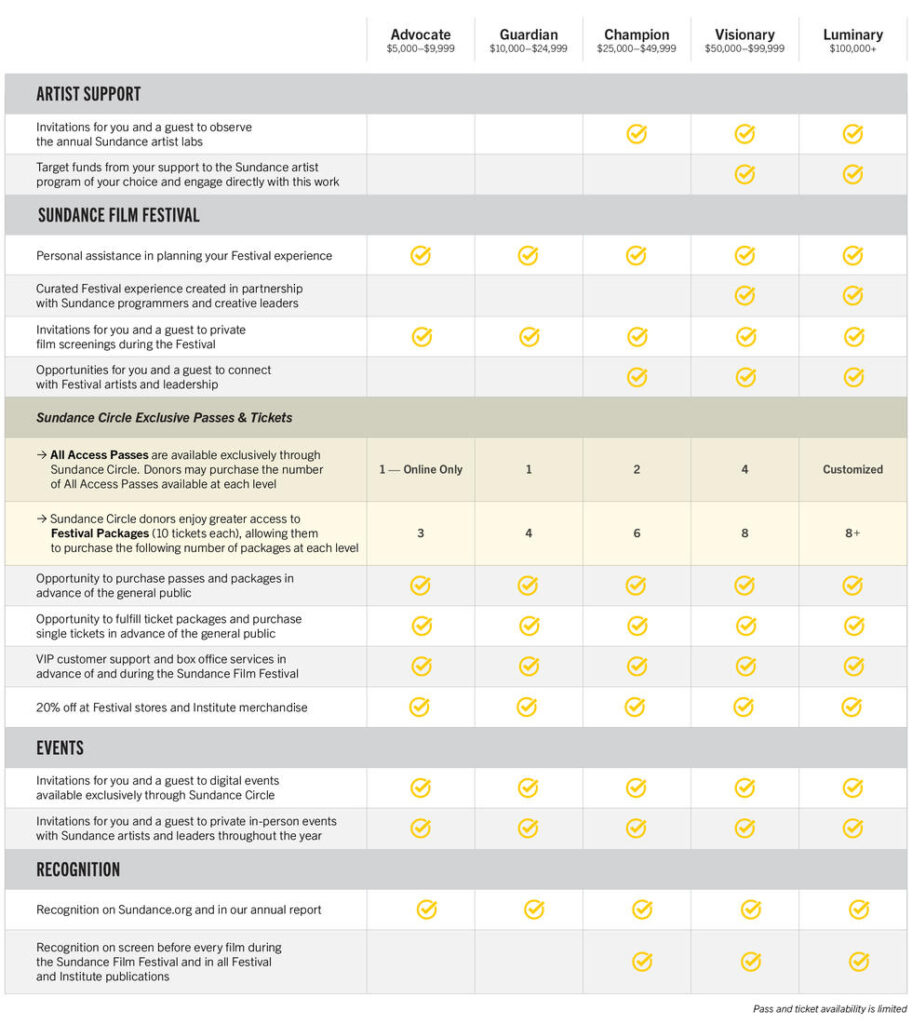 We're thrilled to expand access to passes and tickets as a thank you for donors returning to the Sundance Film Festival. Note: Festival benefits apply only to the 2022 Sundance Film Festival and cannot be replicated for future Festivals.
We would love to chat about your upcoming Festival experience! Please be in touch with us either by phone or email with any questions about supporting Sundance Institute or the Sundance Film Festival.
Sundance Circle Office
(310) 492-2265
sundancecircle@sundance.org
We are pleased to accept donations via mail at:
Sundance Institute
Attn: Accounting, Sundance Circle
PO Box 684429
Park City, UT 84068-4429
All Sundance Circle gifts are recognized on our sundance.org and in our annual report.
We require that all participants attending the Festival — or Festival-sanctioned events — in person in Utah to be fully vaccinated with a COVID-19 vaccine that is approved by the World Health Organization before they travel to attend the Festival. All vaccinations must be completed at least two weeks prior to traveling to the Festival. The CDC notes that being vaccinated greatly reduces your likelihood of contracting or transmitting the COVID-19 virus. Vaccination maintains your own health and safety, and reduces transmission rates within spaces and at events. We will share information on how to provide proof of vaccination closer to the Festival.
Children under 12 are not permitted to attend the 2022 Festival in person due to the current CDC guidelines that do not allow them to be vaccinated.
We require that masks are worn at all times in interior spaces and in queuing lines (this includes outdoor areas such as tents, restrooms, and temporary structures). You will not be allowed to enter these spaces without a mask. We recommend masks be worn in all other outdoor settings. This is an important safety measure that not only benefits you but those around you.