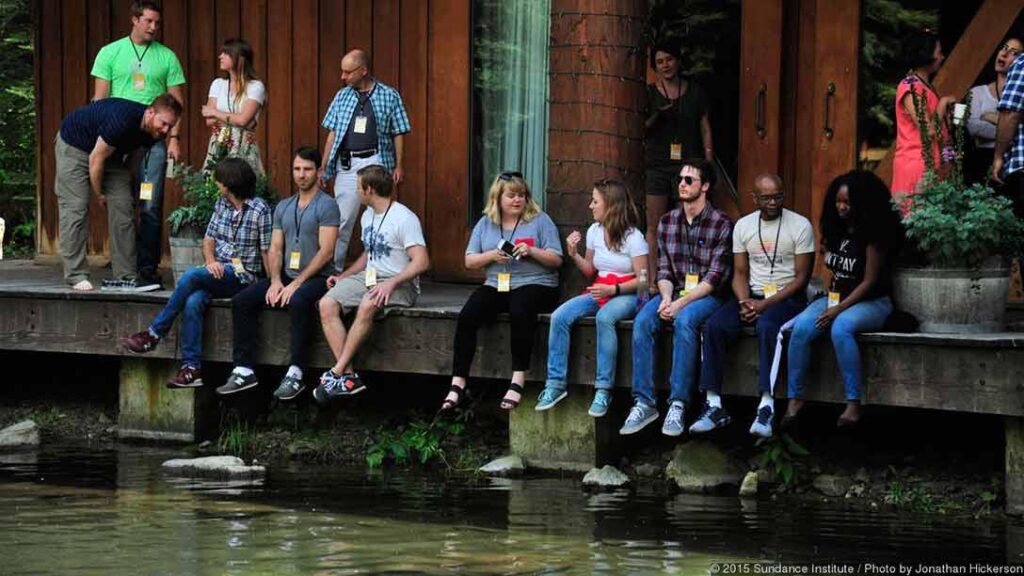 The Sundance Institute Theatre Program advances the work of more than 60 risk-taking theatre artists each year. Through labs and retreats in the U.S. and around the globe—including a one-of-a-kind, multi-year initiative to support artists from the Middle East and North Africa—the program provides playwrights, directors, and composers with the crucial space in between the conception of a new project and its eventual production.
Groundbreaking works supported by the Theatre Program include:
Fun Home—winner of five Tony Awards, including best musical
Appropriate
Circle Mirror Transformation
A Gentleman's Guide to Love and Murder
Indecent
Passing Strange
Skeleton Crew
Spring Awakening
Join the Sundance Institute Theatre Circle to give artists this vital space for reflection and experimentation, for mentorship and cross-cultural dialogue—a safe space for theatre makers to develop the stories that offer new perspectives and have the power to transform our culture.
To join or to learn more about the Sundance Institute Theatre Circle, contact us at giving@sundance.org or (310) 360-1981.
$5,000
Benefits include:
Exclusive start-of-the-season dinner for two, featuring theatre alumni and an overview of the new theatre season
Work-in-progress reading invitation(s)
Intimate evening of theatre and cocktails for two, featuring a current Sundance play, theatre artists, and a curated guest list
Quarterly Sundance Guide to Theatre, including the latest on Sundance-supported work currently on the stage, recommendations from our own Philip Himberg, updates on Theatre Program work, and more.
Opportunity to purchase house tickets for Institute-supported work (subject to availability)
Recognition as a Playwright's Circle donor on Sundance Institute's website and in the Theatre Program lab book
$10,000
Includes all Playwright's Circle benefits plus:
Lunch or dinner with Sundance Theatre Program leadership one on one
Invitation to Theatre Lab at MASS MoCA in December
Recognition as a Director's Circle donor on Sundance Institute's website and in the Theatre Program lab book
Sundance Theatre Producer's Circle
$25,000+
Members of the Sundance Theatre Producer's Circle are key leaders in the Sundance Theatre community. As trusted advisors of the Theatre Program, they have opportunities for high-level engagement throughout the year, including all Director's Circle benefits plus:
The chance to host a dinner attended by Philip Himberg, Christopher Hibma, and high-profile Sundance artists of your choice (up to 10 personal guests; costs covered by donor)
An invitation to the signature annual Sundance Theatre Lab for presentations of new work
Sundance Film Festival VIP ticketing services through the Sundance Circle office