Renata de Lélis stars in The Pink Cloud.
A "graduate" of the 2021 Sundance Film Festival ushers in the first batch of 2022 theatrical releases, giving independent-film fans one more viewing option before the 2022 Festival unleashes a new bounty of inventive cinema on the world.
The Pink Cloud, a Brazilian film that eerily pre-imagined a world in lockdown, releases January 14. It was shot in 2019, well before quarantine became a way of life.
The premise? A young couple who just met at a party end up taking shelter together when a deadly pink cloud settles over their city. Days become weeks, weeks become months, exerting pressure on their tentatively launched relationship.
"Both a delicate exploration of what it means to connect (in) a world we no longer recognize and an unflinchingly honest look at the ways we shape our reality, The Pink Cloud digs deeply into the underbelly of collective loneliness to offer us a way out," our Sundance programmer wrote in our 2021 program guide.
Sundance Film Festival alums opened to the larger world, theatrically and on streaming services, throughout 2021. We likely will be hearing more about many of these titles as awards season approaches. Following is a recap of those releases; click on the month for a list of Sundance-related film releases. Hurry and catch up!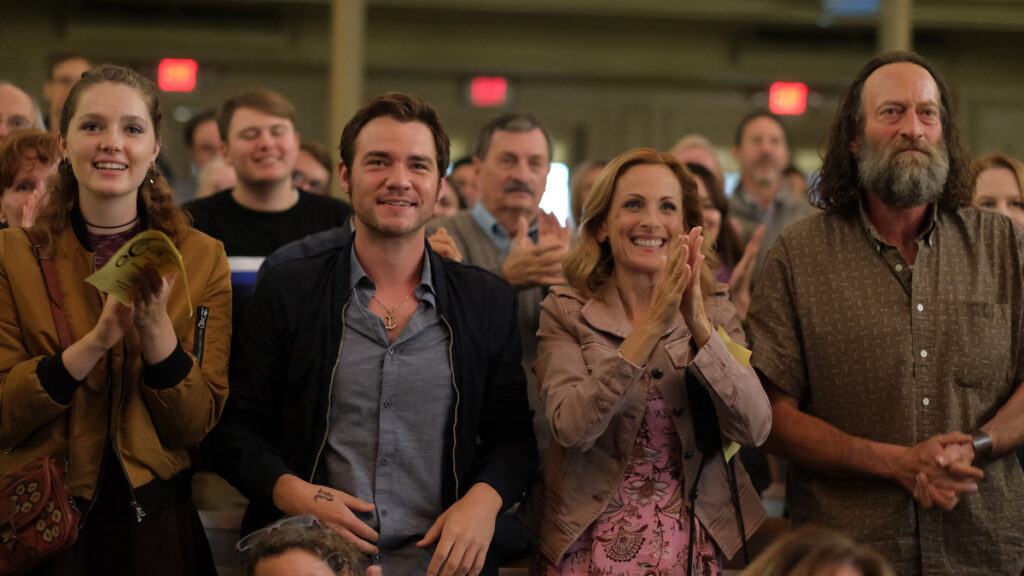 CODA has been mentioned as a contender in awards-season action for 2021 releases.
January and February saw 10 Sundance titles reach mainstream audiences, including Judas and the Black Messiah, based on the real-life betrayal of Fred Hampton, chairman of the Illinois chapter of the Black Panther Party. The film garnered six Oscar nominations, winning two.
March introduced the revenge drama Violation and The Courier, starring the inimitable Benedict Cumberbach, into the world. 
April releases included the award-winning This Is Not A Burial, It's a Resurrection, the story of an 80-year-old woman's fight against building a dam that would flood her homeland.
May saw nine Sundance titles hit screens, including Us Kids, about the mass shooting at Marjory Stoneman Douglas High School in Florida, and James Redford's last film, Amy Tan: Unintended Memoir.
June brought eight Sundance titles to wider audiences, among them I Carry You With Me, the story of an aspiring chef who leaves his love behind in Mexico in search of the American dream. Heidi Ewing's film won the 2020 Festival's NEXT Innovator Award, as well as the NEXT category's audience award.
July also added eight Sundance titles to 2021's filmography, one essentially introducing the history of the 1969 Harlem Cultural Festival, which was overshadowed in the media by the whiter Woodstock Festival. Summer Of Soul (… Or, When The Revolution Could Not Be Televised) won the Audience Award and the Grand Jury Prize, both in the documentary division of the Festival, and it has been shortlisted for an Oscar in the documentary category.
August brought 10 titles to the world spotlight, including CODA, which explored the life of a deaf father, deaf mother, deaf son, and a hearing daughter who loves to sing. The warm and witty drama is now receiving some award-season chatter.
September was another banner month, with eight more Sundance films released, one a dark comedy filmed in black and white, El Planeta; a documentary called My Name Is Pauli Murray, by the same directors who brought us RBG; and Prisoners of the Ghostland, featuring an unhinged performance by Nicolas Cage.
October opened with eight more Sundance titles, including the excruciating (but somehow uplifting) drama of the arranged meeting, in a church, between the parents of a school shooter and the parents of one of the victims. The film is called, simply, Mass.
November saw five heavy hitters in theaters, among them two films featuring heart-driven stories of determined women versus their patriarchal societies. At Sundance, Hive won the Grand Jury Prize in the dramatic section, as well as the Directing Award for Blerta Basholli. Writing with Fire was singled out for a Special Jury Award: Impact for Change in the documentary section. Both films also earned Audience Awards.
December was distinguished in part by the release of Flee, an unusual documentary in that it is animated. Also shortlisted for a documentary Oscar, it tells the survival story of a child refugee from Afghanistan. The four titles also include Jockey, a horse-racing drama that drew a Film Independent Spirit Awards nomination for lead actor Clifton Collins Jr.