By Matthew Eng
Rare is the film that treats addiction as a condition befalling real people, undoing already precarious lives as it disintegrates families, drains bank accounts, and breaks both body and soul. Nearly 20 years after its premiere at the 2004 Sundance Film Festival, Down to the Bone, the feature directorial debut of fiction and documentary filmmaker Debra Granik, sticks in the mind for its sensitive depiction of an upstate New York woman's embattled recovery from drug abuse. Granik's vérité approach is straightforward but never simple, uninterested in stylizing an addict's longings, paranoias, and rock bottoms, instead threading them through the austere circumstances of dead-end jobs, lackluster holidays, impassive intimacies, and topsy-turvy child-rearing. Here, addiction, no matter how consuming or debilitating, is but one of many facts in a given life.
That Down to the Bone continues to haunt is a testament to Granik's gifts as a writer-director but also to her keen eye for casting, which would later lead to the self-effacing breakout turns of Jennifer Lawrence in Winter's Bone (2010 Sundance Film Festival, winner of the U.S. Dramatic Grand Jury Prize and the Waldo Salt Screenwriting Award) and Thomasin McKenzie in Leave No Trace (2018 Sundance Film Festival). Each of Granik's narrative films has pivoted on the muted, magnetic naturalism of unestablished actresses who have since gone on to acclaimed and eclectic careers. This tradition began with Down to the Bone, which lives and breathes by the formidable artistry of its leading lady: Vera Farmiga. Before the actress became a highly sought-after screen talent and a staple of the horror genre, Down to the Bone attested to the depths and intrepidity of Farmiga's talents after years of subordinate parts on stage and screen.
Granik's feature derives from the experiences of Corinne Stralka, a mother and housekeeper from New York's rural Ulster County whose struggle with drug addiction first inspired Granik's short Snake Feed (1998 Sundance Film Festival), in which Stralka plays a version of herself named Irene. In preparation for her performance as Down to the Bone's Irene, Farmiga cleaned houses and hung out with Stralka but strived to find and create the character on her terms. Farmiga drew on aspects of Stralka (such as her barreling walk) when it felt organic but declined to mimic the woman whose own belongings fill up Irene's home and who served, in Granik's words, as a Bressonian "life model" for the film. For further research, Farmiga spent time in a rehab center, getting to know its patients and attending meetings alongside them. The actress populated the film with friends and neighbors from her own community in Ulster County, where she still resides.
Farmiga has assayed dozens of characters since 2004, but for certain viewers, her name will always hark back to the blue-eyed, thousand-yard stare of Down to the Bone's Irene: a wife, mother, and supermarket cashier whom we meet deep in the throes of a years-long cocaine addiction that is depleting her livelihood. Strapped for cash and cut off by her dealer, Irene checks herself into rehab and begins an affair with one of the nurses, Bob (Hugh Dillon), himself a recovering heroin addict.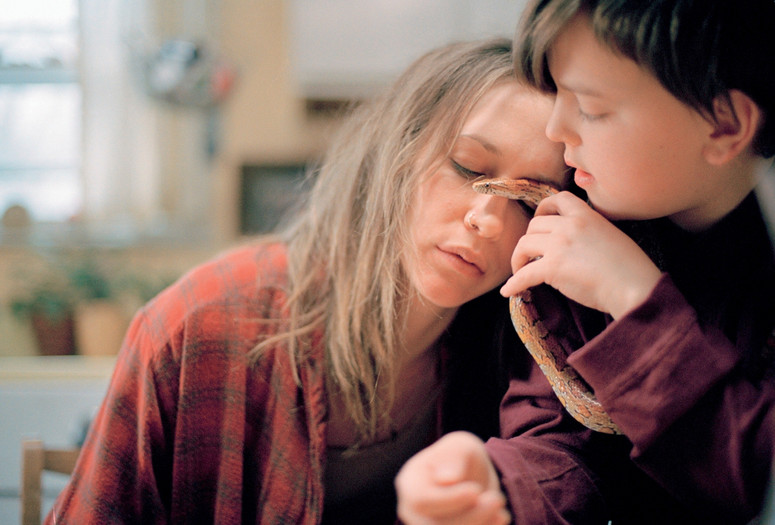 There remains something directly and distinctly piercing about Farmiga's performance, which emits a chest-tightening, uneasy-making, and altogether unsettled singularity that cannot be easily ascribed to the script, which Granik co-wrote in close collaboration with Richard Lieske (a primary presence in Snake Feed), with support from Sundance Institute's 1999 Directors and Screenwriters Labs. This quality instead registers as Farmiga's sui generis mark on the character. The actress seals herself in a cloak of quiet, itchy agitation that makes her scenes feel unusually private, even stolen. Her moods are quicksilver yet bottled up, which makes her rare flashes of outright pique all the more startling in their intensity. But plenty of actors possess and project intensity; what distinguishes Farmiga's work here is how she wields and relinquishes this intensity in a performance that at times resembles a disappearing act.
Irene drifts through her life in a kind of haze. As Farmiga frantically scans groceries, nurses copious cigarettes, picks at frayed jeans while dodging difficult questions from a rehab intake counselor, and whips up a thankless Thanksgiving dinner, she appears at once physically grounded and inwardly inaccessible, palpably somewhere else. This effect is distilled in Farmiga's fogged-glass gaze, which never fails to lend her characters a touch of the uncanny. One wonders how much of the film Irene will spend in hiding from those who surround her on screen — as well as those watching her off it. There is a riveting power to Farmiga's recessiveness that recalls the titular protagonist of actress-filmmaker Barbara Loden's masterpiece Wanda (1970), at whose center is another working-class American woman wandering without direction or desire, wriggling herself out of domestic misery but losing a sense of purpose in the process — or perhaps refusing to divulge any more of herself than she deems necessary.
Like Loden before her, Farmiga is an actress surrendering herself entirely to a role while at the same time retaining a certain indecipherable mystery, an inner world that exists solely in and for the character. And like Lawrence and McKenzie after her, she gives her film the feeling of life being lived rather than scenes being acted. This is the same level of craft exhibited in Farmiga's homemade audition tapes, memorably documented in Lynn Hirschberg's expansive 2006 New York Times Magazine profile, in which the actress explains her process of slipping on costumes, cosmetics, and wigs, fine-tuning accents, and filming herself as she reads various scenes from scripts currently in development, a wholehearted effort to become characters she hopes to play.
As early as Down to the Bone, Farmiga was an actress capable of magnetizing an audience without overexerting herself. She can tease out Irene's unspoken aches and ambivalences using the minutest contortions in a smile or grimace. But it is a testament to the invisibility of Farmiga's technique that, from moment to moment, we forget the actress and see only the character.
Farmiga's performance lays bare the raw profundity of Granik's nuanced treatment of addiction, in which sobriety is the goal if not the solution. Faced with a marriage that has run its course, children who see more than they admit, friends who pay no heed to her recovery, and a hunger she cannot sate, Irene is desperately seeking a reason to get out of bed and greet the day to come — to stay sober, yes, but also to stay alive. Farmiga ensures that Down to the Bone is a story about a woman not just battling her urges but tearing down and rebuilding her life from scratch, finding new ways to contend with her cravings, to know and contain her demons from day to day.
When Irene recommits to sobriety in Down to the Bone's final act, Farmiga emerges from her narcotized trance and engrosses us through different means. In some of the film's most powerful scenes, a newly clean Irene lives playfully and (mostly) peacefully with Bob and her sons. She is a person trying to locate new pleasures and create new contentments while demanding of Bob the same level of honesty and responsibility that she is trying her damnedest to give to others. Throughout these scenes, it is a wonder to watch the clouds clear in Farmiga's eyes. This is not the same portrait of reckless, mind-numbing addiction we have seen earlier in the film, but one of a woman learning to live with herself, without the buffer of drugs. Taken together, these portraits make up the whole of a character with whom Farmiga has seamlessly become one.
Farmiga's ability to recreate the felt gradations of everyday life has distinguished her as an actress for years. Down to the Bone first signaled her steadfast commitment to portraying the sorts of ordinary, underestimated women who have been inconsistently represented in American cinema. (On the basis of 2011's Higher Ground, her underrated directorial debut, this commitment extends behind the camera as well.) Farmiga's artistry clarifies that what we mistake for quiet lives are more often those which have yet to be told with insight and compassion. But Farmiga continues to leave no stone unturned in her quest to make such stories — and such lives — known.