Chloé Zhao poses with the young stars of Songs My Brothers Taught Me, Jashaun St. John and John Reddy.
By Vanessa Zimmer
Anyone who wears sneakers with an evening gown deserves to be heard. That this woman wears sneakers with an evening gown to accept Oscars for Best Director and Best Picture only adds to the conversation.
We're talking about Chloé Zhao, director of 2020's Nomadland, which received three Academy Awards in 2021 — for the performance of lead actor Frances McDormand, as well as the directing award and Best Picture. Zhao was the first Asian woman nominated for Best Director, the first woman of color to win it, and only the second woman ever (Kathryn Bigelow of The Hurt Locker was first) to take home the trophy. (As an aside, Jane Campion made it two women in a row on Sunday, with her win for directing The Power of the Dog. Click here for the rundown of historic wins by Sundance alums this year.)
Zhao has since been allowed passage into the Marvel Cinematic Universe as the director of 2021's Eternals, and her name has been linked to an upcoming Dracula flick with a sci-fi/western vibe.
Still, her roots thread strongly back to the Sundance Institute and the Sundance Film Festival, where she set herself apart with independent movies centered on the American West and featuring nonprofessional actors. 
Zhao shot her first feature film, Songs My Brothers Taught Me, on the Pine Ridge Reservation in South Dakota, telling the story of Johnny, a high school senior who wants to leave the Oglala Sioux reservation, but worries about leaving behind younger sister Jashaun. The two are very close.
Starting in 2012, the project was accepted into screenwriting, directing, and producing labs, among others, at the Institute, and benefited from associated fellowships and grants. "The labs really had been with me, supporting me throughout the whole process, from the screenwriting stage to the Directors Lab. And then when I finished shooting the film, I came back for the… music and sound lab," Zhao says during an interview celebrating the Institute's 40th anniversary. 
"And obviously the film premiered at Sundance as well. So I really felt like my first film is a Sundance baby."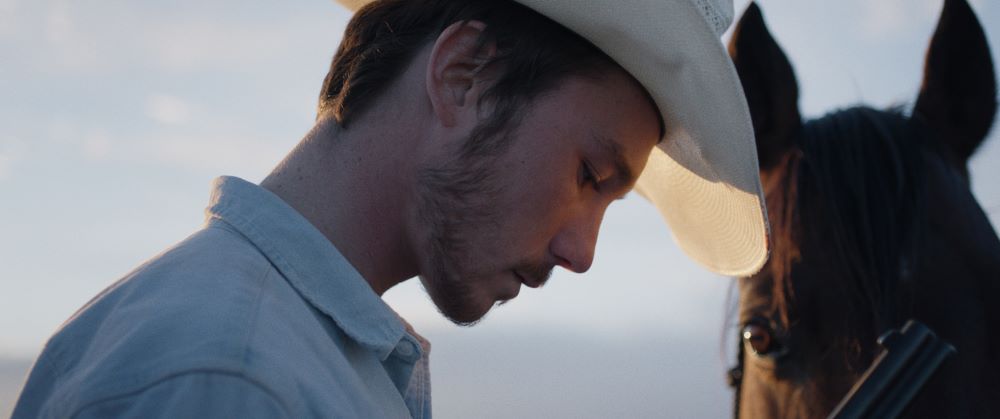 Brady Jandreau in a still from The Rider.
Songs My Brothers Taught Me screened at the 2015 Sundance Film Festival, and Zhao took the young cast to snowy Park City with her. "Seeing them, standing on the stage of Eccles Theater, it was really just an incredible feeling, and seeing such a big audience, and that audience is very supportive as well," she recalls. "And then just walking up and down the street and seeing the cast interacting with the festivalgoers. Yeah, that was a pretty incredible experience. I taught the kids to ski, they went snowboarding for the first time. That was pretty good."
Zhao met Brady Jandreau while on the reservation shooting Songs. A rising rodeo star, Jandreau fractured his skull when thrown from a bronc, and he wound up playing someone much like himself in Zhao's second film. The near-fatal injury, which required inserting a plate in the young man's head, in effect ended his rodeo career and wreaked havoc on his identity. 
The accident inspired Zhao to write The Rider, about a young man struggling to reinvent and redefine himself in light of such an accident. The film premiered at the Cannes Film Festival and won multiple awards on the festival circuit, screening at the 2018 Sundance Film Festival. Jandreau's real-life father and sister play his family members in the movie.
So, yes, Zhao is a writer as well as a director. She wrote the screenplay for Songs My Brother Taught Me and adapted the screenplay for Nomadland from a book by Jessica Bruder. She was one of several co-writers on the Eternals script.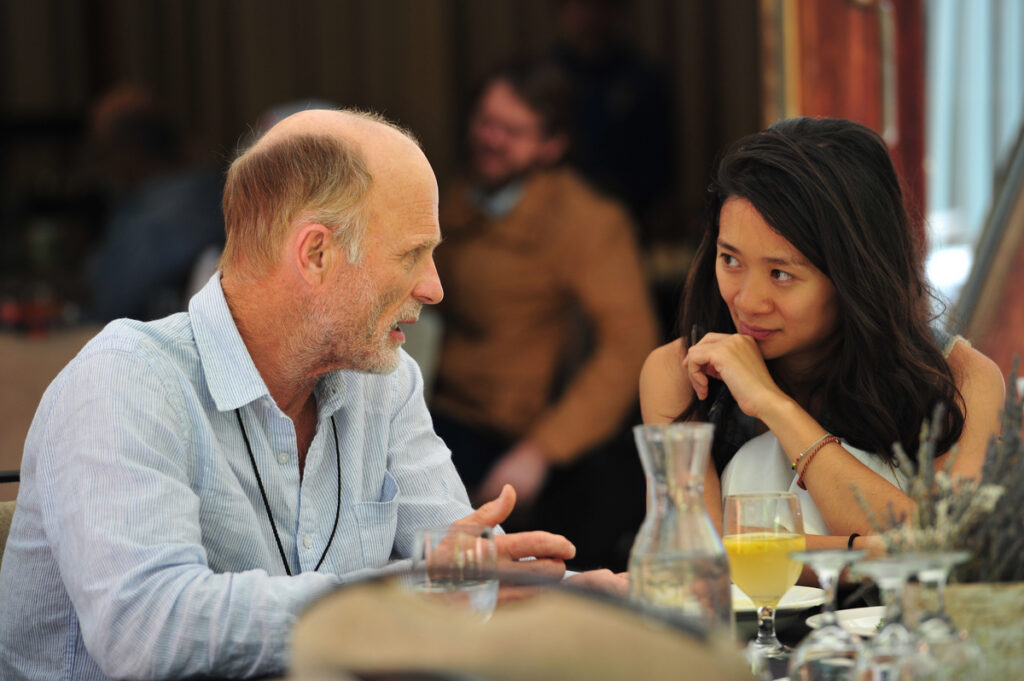 Ed Harris and Chloé Zhao talk business at a Sundance Institute Directors Lab in 2012.
She describes the filmmaking life as that of a loner. "I think, being a filmmaker, we live a really transient lifestyle. We go from film to film, we get close to people and then we say goodbye," Zhao laments.
But, being on the mountain for the multiple labs at the Sundance Institute, secluding herself with other students and advisors, taking time to experiment rather than just plowing through the work — all being vulnerable and making mistakes at various times during the process — the participants became close friends. That eases the aloneness.
"I was able to meet some filmmakers there that… today, even though we're in different stages of our careers, we are able to stay in touch and be supportive of each other," she says. "We know we've had those fun days and nights on the mountains together. And that bond, I think, is hard to replace. So there are a few folks out there in the industry I know that I can just make a call and then we can get together."
In an October 2020 webinar for the Sundance Collab, a department of the Institute that offers online learning for aspiring filmmakers, Zhao said she sees her work as a way to explore and continue learning — about making movies and about life.
"That's why I try to live through the other people that I try to capture on screen, my characters. I try to make sense of who I am through them," she says. "I think when I meet interesting people that have an aspect of who they are that they're struggling with, and it's a question that I have for myself, I use that opportunity to to tell their story, and as a result, I usually walk away with something that can give me a sense of who I might be in that moment. 
"It is almost like making films is a way for me to figure out who I am."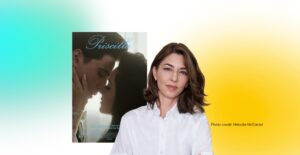 By Stephanie Ornelas  Sundance Collab participants signed in from around the world to listen to Sofia Coppola (Lost in Translation, Marie-Antoinette) talk about her new
Read More »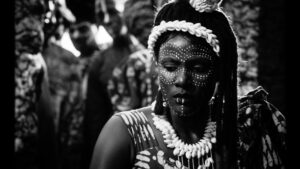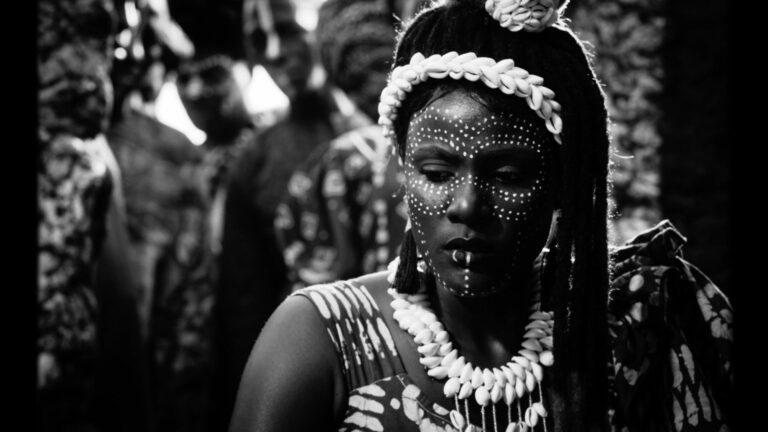 One of the most exciting things about the Sundance Film Festival is having a front-row seat for the bright future of independent filmmaking. While we
Read More »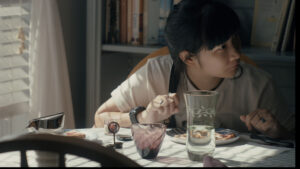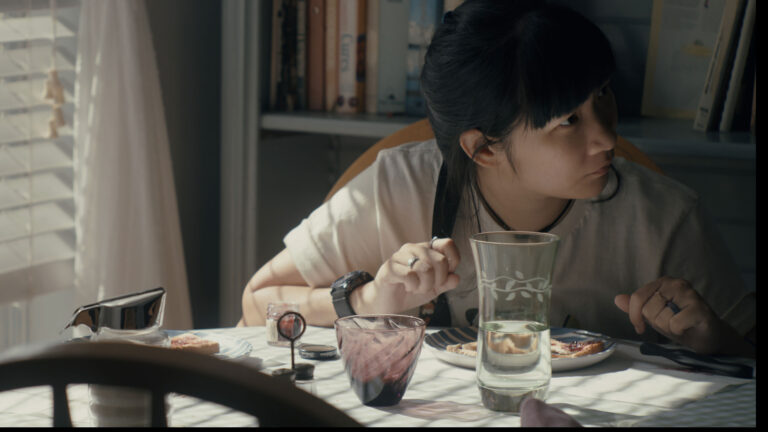 One of the most exciting things about the Sundance Film Festival is having a front-row seat for the bright future of independent filmmaking. While we
Read More »