When it comes to these artists in Jordan Peele's highly-anticipated thriller Nope, we're giving a resounding yes! With the film's release today, we can't help but look back at some of our favorite Nope stars and their journeys through Sundance. 
The film follows OJ and Emerald Haywood, two siblings who live on a California ranch and investigate a series of random falling objects from the sky. Along the way, they cross paths with former child star and documentarian. 
As you examine the list of artists who bring this horror film to life — and before you make your way to theaters to see another one of Peele's spine-chilling projects — let's take a look at the Sundance Film Festival premieres that feature some of the members of this incredible cast.  
Jordan Peele | Director 
Peele is known by many for his award-winning film Get Out, another hair-raising favorite. When Chris meets his girlfriend's parents for the first time, he reads the family's overly accommodating behavior as nervous attempts to deal with their daughter's interracial relationship. But as the weekend progresses, a series of disturbing discoveries leads him to an unimaginable truth. 
The film had its debut at the 2017 Sundance Film Festival and Peele went on to win an Oscar for Best Original Screenplay. If you can't wait to see Nope, you might want to add this film to your weekend watchlist.
Keke Palmer | Emerald Haywood
Palmer plays the fearless and edgy Emerald Haywood, the caretaker of a California horse ranch. Emerald's personality traits are similar to Palmer's character in Alice, the 2022 Sundance Festival premiere. In the film [Alice], Palmer plays an enslaved woman under iron rule by the brutal owner of a rural Georgia plantation. After a violent clash, she flees through the neighboring woods and stumbles onto the unfamiliar sight of a highway, soon discovering the year is actually 1973.
Daniel Kaluuya | OJ Haywood
Before Kaluuya joined the cast for Peele's Nope, the two teamed up for Get Out, where he played the lead Chris Washington. But viewers who love Kaluuya in Nope and Get Out should also check his Oscar-winning performance in Judas and the Black Messiah (2021 Sundance Film Festival). In the film, Kaluuya portrays Fred Hampton, chairman of the Illinois chapter of the Black Panther Party. The film recounts Hampton's legacy and the infiltration of the chapter by FBI informant William O'Neal.
Steven Yeun | Ricky "Jupe" Park
If you want to see more of Yeun after watching him play theme park-owner and former child star Ricky "Jupe" Park, check out Minari, where Yeun plays a devoted father who moves to an Arkansas farm with his family in search of the American dream.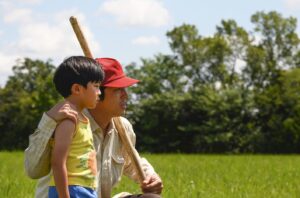 Amidst the challenges of this new reality in the strange and rugged Ozarks, they discover the resilience of family and what truly makes a home.
Yeun's known for his roles in The Walking Dead, Burning, and Okja, but it was his performance in Minari, the 2020 Sundance Film Festival premiere, that made him an Oscar-nominated actor — the first Asian American lead actor to receive an Oscar nominee.
Keith David | Otis Haywood Sr.
David has a solid history with Sundance Institute and Film Festival, having acted in Sundance Film Festival premieres Hallelujah Anyhow (1992 Sundance Film Festival), johns (1996 Sundance Film Festival), and If I Had Known I Was a Genius (2007 Sundance Film Festival). He was also an actor in the 2012 Sundance Institute Theater Lab. Keep these fun facts in mind when you head to theaters to see David play the father of OJ and Emerald Haywood in Nope.