Tilda Swinton plays four roles in Teknolust, that of a biogeneticist and three automatons she creates from her own DNA.
By Vanessa Zimmer
No one does independence quite like Tilda Swinton. 
Inimitably striking in appearance — tall in stature, pale and cool, with delicately sharp features, and up- or side-swept short blond or red hair — Swinton has established herself as an incredibly talented and creative actor, playing roles ranging from an automaton, to a vampire, to a nobleman during the Elizabethan era, to the mathematical genius Ada Lovelace.
Starring with fellow Sundance alum Idris Elba in George Miller's Three Thousand Years of Longing, which opened in theaters August 26, she portrays a scholar matching wits with a genie (Elba) — another unusual plot in a distinctive role in her long and distinguished career.
Part of that career has played out at the Sundance Film Festival. Swinton has acted in an amazing 18 films at the Festival, including her film debut as a painter's model in Caravaggio. She also appeared in a New Frontier presentation at the 2008 Festival — a special single-channel version of Doug Aitken's installation Sleepwalkers at New York's Museum of Modern Art.
In 2003, the British actress served as a juror in the Dramatic Competition at the Festival and, before presenting the Grand Jury Prize (to American Splendor), confessed that she had avoided attending the Festival until three years prior. She had long thought Americans knew nothing about independent film. She was wrong, she added: "Mea culpa, I'm sorry."
You are forgiven, badass goddess Swinton. And onward we go, following Swinton's independent footprint at Sundance. 
Friendship's Death (1988 Sundance Film Festival) — Aliens send a robot representative (Swinton) to Earth on a mission of peace. Instead of landing at MIT, as was the plan, she touches down in Amman, Jordan, during the 1970 riots. A British journalist shelters her in his room, where they engage in fascinating conversations about the human condition. 
Caravaggio (1992 Sundance Film Festival) — Actually made in 1986 but playing the 1992 Festival as part of a British independents collection, Caravaggio was Swinton's film debut. Co-writer and director Derek Jarman created a fictionalized biography of the Italian Renaissance painter, casting Swinton as Lena, one of two models over which the great artist obsessed. The other was Ranuccio, Lena's lover. Available on DVD and Blu-ray.
Edward II (1992 Sundance Film Festival) — Swinton's third Festival film was also with her longtime collaborator Derek Jarman, in a lively, bold, modernized version of Christopher Marlowe's 16th-century tragedy. Swinton played Edward II's wife Isabella, who turns on him when he takes a gay lover and neglects both her and affairs of state. Swinton won Best Actress at the Venice Film Festival for her performance. Available on Freevee, Pluto, Plex and Tubi.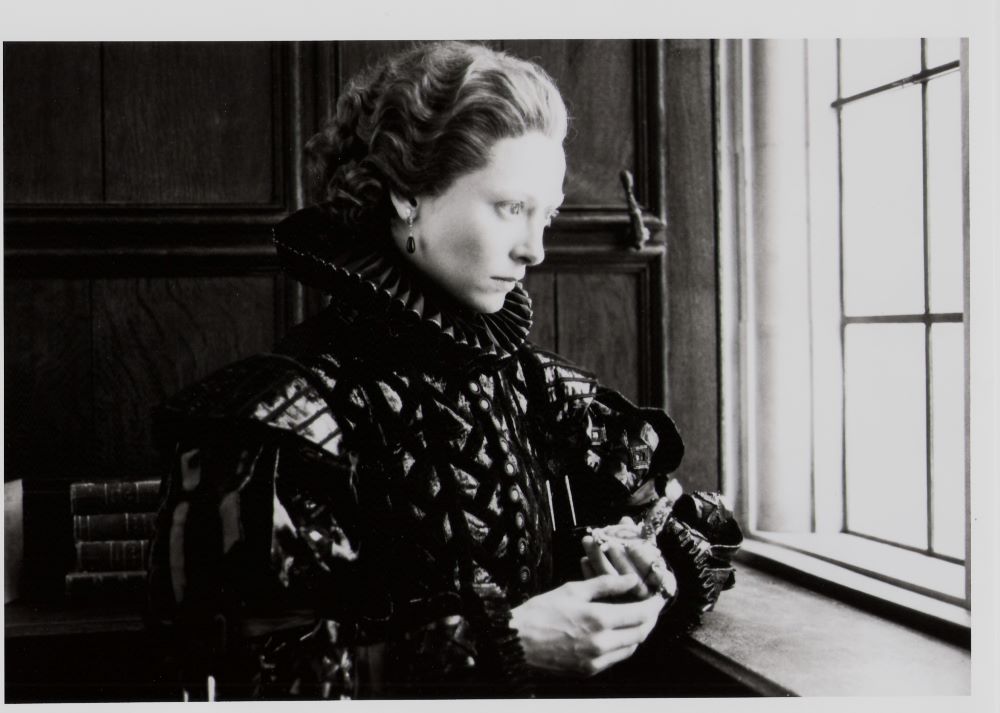 Orlando (1993 Sundance Film Festival) — In this Sally Potter adaptation of a Virginia Woolf novel, Swinton portrays a British nobleman during the Elizabethan period who is commanded by the queen to never grow old. Indeed, he never ages, but he does transform into a woman, as we follow him through the Victorian Era and forward to present day. In the journey, the audience gains a satirical English history lesson. Available on Tubi.
Female Perversions (1996 Sundance Film Festival) — Swinton plays an ambitious attorney with a wreck of a personal life in this film. "Beautifully constructed and imaginatively conceived, this debut film by Susan Streitfeld rides the crest of a brilliant central performance by Tilda Swinton and is a powerfully rich exploration of gender, sexuality, identity, and self-realization," wrote Geoffrey Gilmore in the Festival Film Guide. Available on DVD.
The Box (1997 Sundance Film Festival) — This five-minute short film, a cautionary tale about the mad pace of our lives, features Swinton in a performance described by Sundance programmers as "haunting."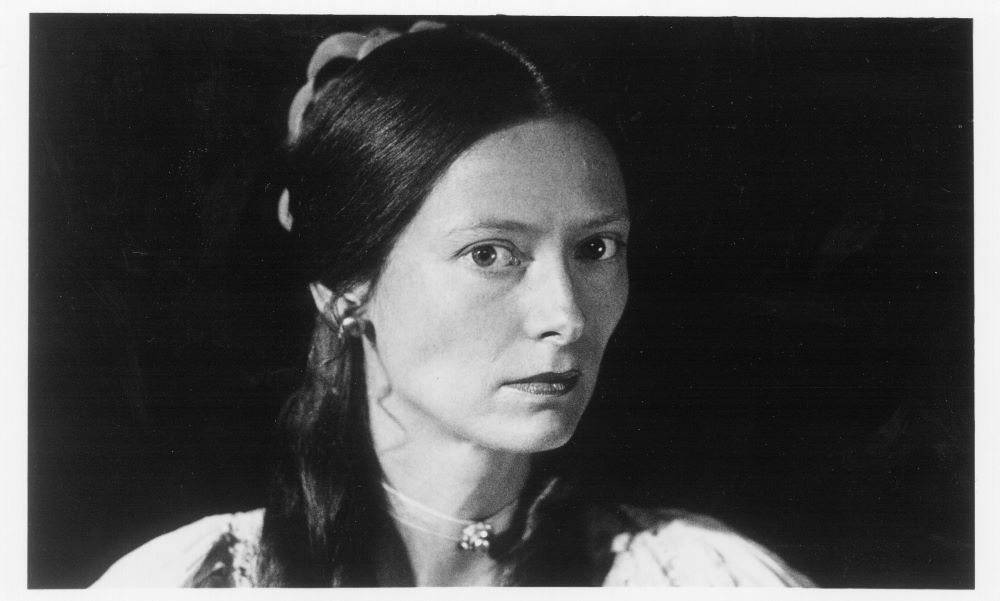 Conceiving Ada (1998 Sundance Film Festival) — A modern-day computer hacker attempts to travel back to the 19th century to contact and bring back Ada Lovelace, the real-life daughter of poet Lord Byron and a mathematical genius considered by some to be the first computer programmer. "Casting the inimitable Tilda Swinton as Ada, [writer-director Lynn] Hershman Leeson creates an aura of magic that plays off of modern computer visions as it reconstructs a past life dominated by love and mathematics," wrote B. Ruby Rich in the Festival Film Guide. Available on DVD.
The War Zone (1999 Sundance Film Festival) — The directorial debut of Tim Roth, The War Zone finds Swinton as the matriarch of a family with a deep, dark secret. The intense performances of Swinton and other cast members create an "inexorably desperate drama that questions the very fabric of family life," according to the Festival Film Guide. Available on Plex and Tubi. 
The Deep End (2001 Sundance Film Festival) — A mother finds the body of the gay lover of her teen son on the beach outside their home — and feverishly sets out to protect her son. "Tilda Swinton turns in an amazing performance as Margaret, the tortured mother. She hides her fear behind a tight-lipped stare while her clear eyes flash a multitude of emotions in an instant," wrote John Cooper in the Festival Film Guide. "As she descends into a world of blackmail and extortion, the fabric of her once self-assured middle-class morality begins to unravel." Available for rent on Amazon Prime.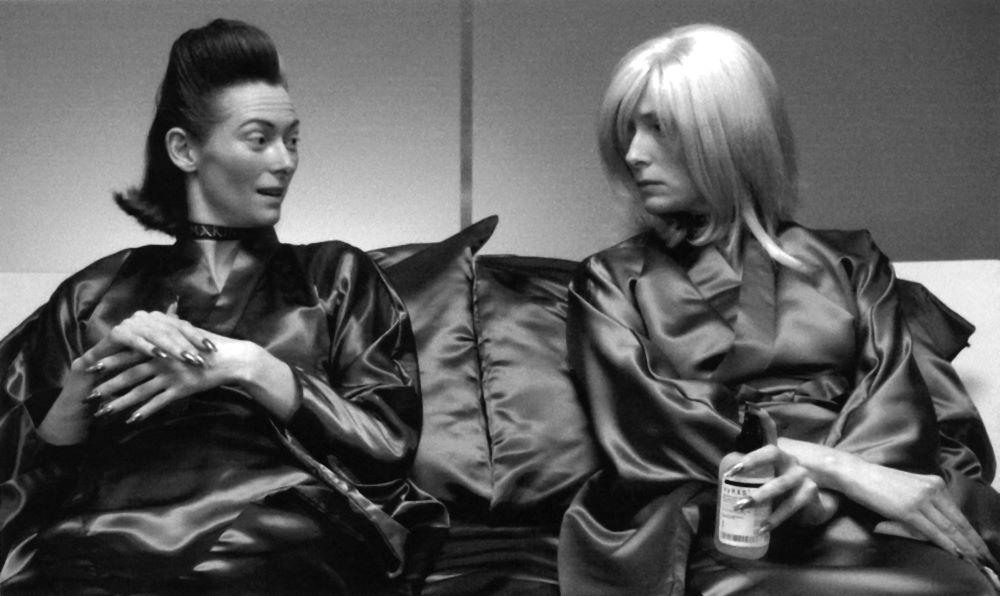 Teknolust (2002 Sundance Film Festival) — Swinton plays four roles in this film, that of biogeneticist Rosetta Stone and three automatons (Ruby, Marine, and Olive) she cloned from her own DNA. It's a comedy/drama/romance that explores the intersection of technology, sex, and love, if there is such a thing. Like Conceiving Ada four years earlier, this film is written and directed by Lynn Hershman Leeson. Available to rent.
In the Company of Women (2004 Sundance Film Festival) — This documentary includes interviews with Swinton and other women actors (like Lili Taylor and Rosie Perez) and directors (like Jodie Foster, Allison Anders, and Lisa Cholodenko) to tell the story of women increasingly contributing to independent cinema beginning in the 1980s and '90s. "From movies about alternative families to beauty and the body, transgressive sexualities, ambition and anger, female artists stretched the cinematic playing field and, by extension, American society," Caroline Libresco wrote in the Festival Film Guide. 
Thumbsucker (2005 Sundance Film Festival) — High school student Justin Cobb isn't addicted to food or drugs; he's addicted to sucking his thumb. And he's determined to stop. He puts ink on his thumb, he tries hypnosis. Then the school psychologist suggests medication. Despite the genuine concern of his mother (Swinton), he tries the meds, and they seem to work. But is bowing to the drug any better than the thumb? Available to rent on Amazon Prime.
Stephanie Daley (2006 Sundance Film Festival) — Psychologist Lydie Crane (Swinton) is hired by the prosecution in the case of Stephanie Daley (Amber Tamblyn), a teen accused of concealing her pregnancy and murdering her baby. Adding to the tension is Crane's own pregnancy and her grief over her previous stillborn baby. "At the core of Hilary Brougher's beautifully executed drama are two dynamic, yet emotionally frail, women, played expertly by two amazing actresses," wrote John Cooper in the Festival Film Guide. Available on Tubi and Roku.
Strange Culture (2007 Sundance Film Festival) — In yet another film with writer-director Lynn Hershman Leeson — an unconventional documentary that uses actors to re-enact and interpret the story — Swinton plays the wife of artist and professor Steve Kurtz. The authorities accuse Kurtz, who has been preparing an art exhibition on the genetic modification of food, of terrorism after searching his home. This is "a sophisticated documentary about post-9/11 paranoia and the risks artists face when their work questions government policies," Shari Frilot wrote in the Festival Film Guide. Available on Tubi.
Derek (2008 Sundance Film Festival) — Swinton's long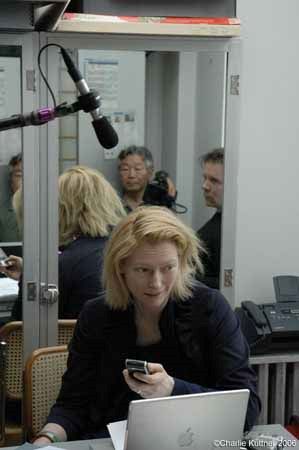 professional association with British director Derek Jarman included appearances in seven of the experimental filmmaker's movies over the course of nine years before he died in 1994 of complications from AIDS. She was Jarman's close friend, as was Isaac Julien, who directed this documentary — according to the Festival Film Guide, assembling "a moving collage of rare home movies, film clips, and interviews, and a cinematic love letter from actress Tilda Swinton. Her input serves as the poetic overlay telling the whole truth about the life Jarman led, and the cultural abyss left by his absence."  
I Am Love (2010 Sundance Film Festival) — Luca Guadagnino directs this lush story of the wealthy Recchi family of Milan, as they prepare to celebrate the birthday of their patriarch. Swinton plays the unfulfilled woman of the house, who moved from Russia to marry into the clan. "Swinton turns in a stunning performance as the central muse of a tale about the irresistible draw of forbidden passion and the bittersweet victory of liberation from the constrictions of wealth and power," wrote Shari Frilot in the Festival Film Guide. Available on Amazon Prime, Plex, Pluto, and Tubi.
Only Lovers Left Alive (2014 Sundance Film Festival) — Two vampire lovers, Eve and Adam (Swinton and Tom Hiddleston), reunite after some time apart — their love affair has endured centuries. But Adam is deeply depressed, to the brink of suicide, over the state of the world. Enter Eve's wild sister Ava (Mia Wasikowska), who makes things worse. "Only Lovers Left Alive is a sublime, cinematic poem of passion and despair seen through the cool shades of a sly, postmodern master director [Jim Jarmusch]," wrote Charlie Reff in the Festival Film Guide. Available on HBO Max.
The Souvenir (2019 Sundance Film Festival) — Julie, a young film student in the 1980s experiences her first love affair, with a mysterious man, in a film that captured the Grand Jury Prize For World Cinema at the Festival. "Though the film features an outstanding supporting cast — including Tilda Swinton and Richard Ayoade — it's Honor Swinton-Byrne's breakout performance as Julie that embodies the film's core: a woman grappling with separating fact from fiction as her ambitions are jeopardized by her first real romance," according to the Festival Film Guide. Which seems a totally appropriate way to end this compilation: Honor Swinton-Byrne is Swinton's daughter. Available on Showtime.