"Divinity" follows two brothers who kidnap the business magnate behind a groundbreaking serum named Divinity, which has corrupted their barren planet.
By Aliese Muhonen
The key to a good thriller? In the words of Alfred Hitchcock, the storied master of classic suspense flicks: "Always make the audience suffer as much as possible." While we don't advocate excessive suffering, there is something masochistically fun about films that keep you on the edge of your seat.
The Sundance Film Festival has a long and proud history of premieres that have shaped the genre, with comedy-suspense-horror mashup American Psycho (2000); nonlinear, neo-noir mystery Memento (2000); and Jordan Peele's genre-bending psychological horror masterpiece Get Out (2017) among the highlights.
If you're the type who thrives on spine-tingling suspense (welcome, fellow human!),
Here's a sampling of the 2023 Festival's brightest fright gems to keep you guessing — and keep you awake long after the credits roll.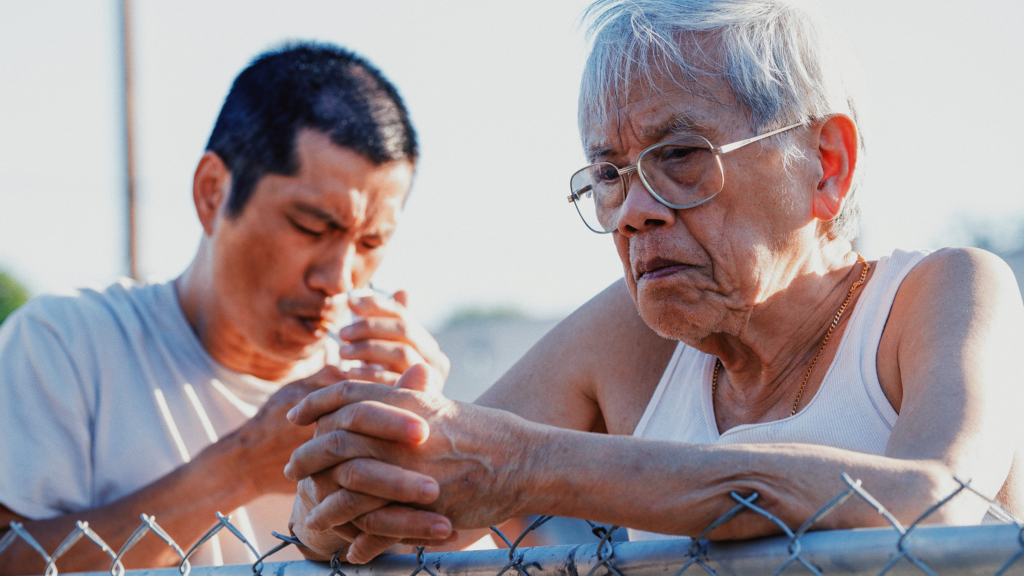 The Accidental Getaway Driver (U.S. Dramatic) — A driver's worst nightmare, this pulse-pounding true story centers around Long, an elderly Vietnamese cab driver in Southern California who inadvertently picks up three escaped convicts. Director Sing J. Lee and actor Hiệp Trần Nghĩa vividly depict not only Long's plight as a hostage, but the nuance of his heartbreaking background and apprehensive bond with one of the convicts. Available in person and online.
birth/rebirth (Midnight)  — In this chilling reimagining of Mary Shelley's Frankenstein, the lives of corpse-obsessed pathologist Rose, single mom and maternity nurse Celie, and Celie's 6-year-old daughter Lila collide with gruesome results and escalating terror. The feature debut of writer-director Laura Moss, birth/rebirth balances fresh explorations of motherhood and creation with the horror of the undead. Available in person.
Cat Person (Premieres)  — Margot initially enjoys her flirtatious texting banter with Robert, whom she met at the art house theater where she works. Never mind that he's 33 years old and she's in college, or that she keeps second-guessing his possible red flags. A psychological nail-biter about modern dating, the film is based on Kristen Roupenian's eponymous and controversial 2017 New Yorker short story. Available in person and online.
Divinity (NEXT)  — A black-and-white sci-fi thrill ride from visionary writer-director-producer Eddie Alcazar, the film follows two brothers who kidnap the business magnate behind a groundbreaking serum named "Divinity," which has corrupted their barren planet. Along the way, an enticing woman and the brothers' own self-discovery lead them to more adventure than they'd intended. Available in person and online.
Fair Play (U.S. Dramatic)  — A tense examination of power and gender dynamics, writer-director Chloe Domont's feature debut follows newly engaged New Yorkers Emily and Luke, who are checking the boxes of 20-something adult prosperity: They're happy, crazy in love, and successful in their careers at a cutthroat hedge fund. But when a sought-after promotion begins to pit the two against each other, their relationship upends in increasingly disturbing ways. Available in person and online.
Infinity Pool (Midnight)  —  James and Em Foster's dreamy getaway at an all-inclusive beach resort goes horribly awry when they are responsible for a fatal accident. But the nightmare has only begun, as they learn of the resort's loopholes for guilty tourists: Pardons, violent hedonism, and surreal horrors abound for those willing to pay the price. Available in person.
Run Rabbit Run (Midnight)  — Celebrating her daughter Mia's seventh birthday, fertility doctor Sarah is disconcerted when an unexpected gift appears at their front door — a rabbit. Though Mia loves it, Sarah's unease increases when Mia begins acting strangely, making Sarah question her beliefs and recall dark events she's tried to forget. Suddenly, a ghost from Sarah's past is as threatening as her daughter's creepy present. Available in person and online.