By Aramide Tinubu
Thirteen begins with a slap across the face. Tracy (Evan Rachel Wood) and her new bestie Evie (Nikki Reed) sit cross-legged in her bedroom, slapping each other forcefully enough to draw blood while huffing compressed air and laughing maniacally at one another. A flurry of rock music pounds away in the background. This depiction of adolescence is not the teen angst previously shown in Hollywood in films like She's All That, Clueless, or even the darker-toned Cruel Intentions. From its opening sequence, it was clear that 2003's Thirteen is a much more sinister window into teen girlhood.
Hollywood has always been fascinated with teen girls. Films like Grease, Sixteen Candles, and Scream dominated the box office in their respective decades. Though these movies dealt with issues like first love, family woes, identity, and newfound freedom, very few were willing to go well below surface-level themes. Grittier topics centered on teen girlhood were reserved for TV shows like Dawson's Creek, Moesha, and My So-Called Life. The longer form allowed more in-depth nuanced experiences of teen girls coming of age. 
When issues like sex, drugs, self-harm, and abuse were unpacked, the teen girls at the center of these stories were typically in their late teens, headed toward their twenties. Catherine Hardwicke's debut feature, Thirteen, changed everything. Girlhood is fleeting, and in our ever-changing world, teen girls are rushing to try and keep up with perceived societal and social expectations.  
Based on the real-life experiences of actress Nikki Reed, who was like a daughter to Hardwicke, Thirteen showcased a brand-new era of girlhood. As cell phones and the internet became more common, teens were exposed to more facets of the world than ever before. Along with the universal desire to fit in, many were desperate to be viewed as grown-up and desirable. Having so much more access to the world also meant that teen girls were turning to new avenues to release various anxieties. Unfortunately, our general understanding of mental health was only beginning to be a more centered topic. Without resources, teens used what was at their fingertips to dull their pain. 
I turned 13 in 2003, the same year Thirteen premiered at the Sundance Film Festival. Bookish but witty, I entered my eighth-grade year at my middle school, determined to escape. Before middle school, I'd spent my entire academic career in a tiny, highly rated elementary school with the same 18 classmates I'd had since kindergarten. Being intelligent and knowledgeable was praised by both my peers and my teachers in my formative years. However, when I wasn't accepted into my dream middle school, I found myself on an hour-long bus ride from my neighborhood, attending a seventh and eighth-grade program that shared the same building as a popular high school on Chicago's South Side. 
While I never had problems making friends, things were different there. Name-brand clothes were vital, fights often broke out, and the massive student body ushered kids who had seen and experienced way more than I had at such a young age. Suddenly, my dark skin complexion mattered, the shows and films my mother didn't allow me to watch became evident, and my eagerness to learn and remain academically focused was deemed awkward and lame. Though I had a handful of friends who moved over from my elementary school with me, I never fully felt accepted in my new environment. For a 13-year-old girl, acceptance is everything. 
In Thirteen, Tracy's experience begins much like my own. Living with a warm and embracing mother, Mel (Holly Hunter), she and her best friend, Noel (Vanessa Hudgens), spend their days listening to music and hanging out. However, while my home life was mainly stable despite my parents' deteriorating marriage, Tracey's parents had split years prior. Mel was a recovering alcoholic whose boyfriend and friends treated her home like a motel, and there was some financial instability.
Tracy sticks out like a sore thumb in her new school. However, unlike her friend Noel who is content to be exactly who she is, Tracy is desperate for the approval of her peers — especially after she's singled out by the most fabulous girl in school, Evie Zamora. 
Earning Evie's approval becomes Tracy's obsession. She begins stealing, experimenting with drugs, engaging in sexual activity, and being horrible to her mother and brother. However, as Hardwicke is careful to highlight, the change in Tracy's behavior isn't solely about her desire to fit in. Many other factors contributed to the disturbing path that Tracy finds herself walking down.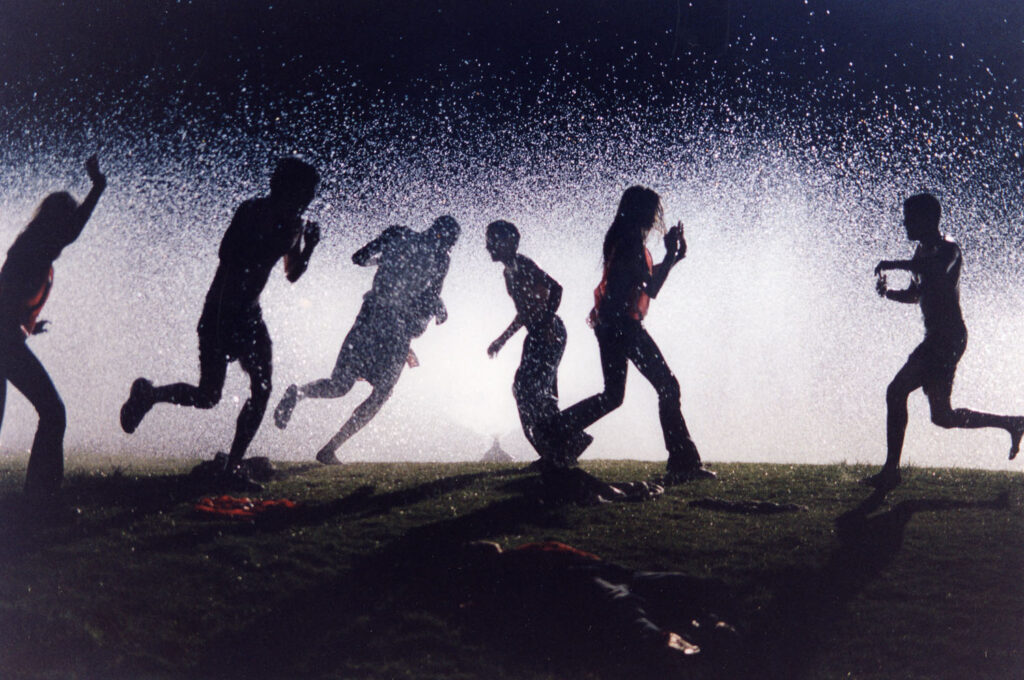 While I was thankful to have protective and very-involved parents who concerned themselves in every aspect of my life, I did act out in middle school. Thankfully, in-school detentions and at-home groundings were enough to redirect me on the right path. Because of the structure of my life, most of my more adult-like experiments began in my 16th year. Moreover, it wasn't until I was away at college living in New York City did I start experimenting with substances or shocking my mother by getting my navel pierced. 
For Tracy, the abandonment of her father, her mother's aloofness, and the constant instability of her home — including the reappearance of her mother's on-again, off-again boyfriend, Brady (Jeremy Sisto) — make her more susceptible to Evie's charms. 
Still, long before, Tracy blindly followed Evie around, ruining her relationships and academic career; she had been self-harming to relieve some of the pressures of her life. Evie's interest in Tracy offered her other outlets from her trauma while creating new wounds, especially as she becomes more skilled in shutting Mel out of her life. 
Twenty years ago, when Thirteen opened in theaters, parents boycotted, and some critics called the film exploitative and terrifying. Despite its controversies, the film offered a sharp dose of reality. With social media and the internet, young people can dwell in different worlds without ever leaving their homes. New technologies provided accessibility that past generations had never experienced. More than that, the film showcased that though parents and their offsprings are separate entities, young people are highly in-tuned with what's happening around them. The actions of adults will undoubtedly affect the children around them, for better or worse. Thirteen was shocking for adults because it forced them to confront their own choices and how those decisions may have altered their children's lives. 
Hardwicke's Thirteen emboldened Hollywood to give a new generation of young women a voice. As much as parents would like to protect their young people from harm, films like Eighth Grade, Lady Bird, Waves, and The Edge of Seventeen prove that girls, in particular, have a lot going on in those formative years. The best thing parents and guardians can offer is a soft but solid place to land and be redirected when they inevitably stumble.