"A Thousand and One," with Teyana Taylor and Aaron Kingsley Adetola, won a Grand Jury Prize at the 2023 Sundance Film Festival.
By Vanessa Zimmer
A half-dozen Sundance Film Festival alums open to wider audiences this month via theatrical or streaming release — including this year's U.S. Dramatic Grand Jury Prize winner about a mother who kidnaps her son and an Oscar-nominated documentary on a Ukrainian orphanage.
The openings of A Thousand and One and A House Made of Splinters, respectively, are highly anticipated with their timely subjects. The other fictional features cover such diverse topics as environmental protections for our oceans, a dark relationship between a 17-year-old and a much older man, and two people who meet by chance and unite for a playful day in London. 
For good measure, we also offer a 2023 Festival documentary on a 20th-century artist born in Japanese-occupied Korea who becomes a pioneer in video art and invents the term "electronic superhighway."
Blueback — Abby (Mia Wasikowska) returns to her seaside childhood home in Australia to care for her ailing environmentalist mother. There, she finds reminders that spark memories of diving among the ocean creatures, the seeds of her own activist lifestyle protecting them, and the bumpy relationship with her strong-willed mother. Praised for its beautiful and mesmerizing cinematography, the 2023 Festival film is based on a novella by Australian writer Tim Winton. The film releases in theaters on March 3.
Palm Trees and Power Lines — Teenage Lea (Lily McInerny) is intrigued when Tom (Jonathan Tucker), a man twice her age, shows romantic interest in her. "Writer-director Jamie Dack's intimate feature debut, adapted from her 2018 short film, is an evocative depiction of the vulnerabilities of adolescence that feels utterly relatable at every step — even as Lea and Tom's association is revealed as something altogether darker than an ill-advised, impetuous romance," according to the Festival Program Guide. Dack won the U.S. Dramatic Directing Award at the 2022 Festival. The film releases in theaters March 3.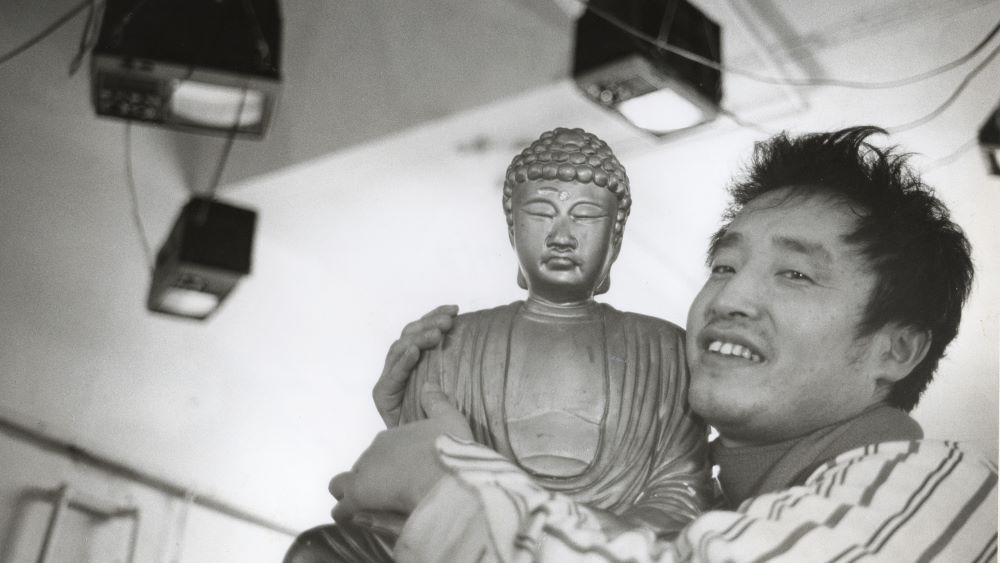 Nam June Paik: Moon is the Oldest TV — Among the most influential artists of the 20th century, Nam June Paik got involved in the experimental art movement called Fluxus, which created new forms of art and performance. Creatively merging technology and art, Paik is considered the father of video art. (He also coined the term "electronic superhighway.") "With Steven Yeun reading Paik's own written words — showcasing the artist's strategic playfulness and immense creativity — Nam June Paik: Moon is the Oldest TV is a celebration of perhaps the most modern artist of all time," according to the 2023 Festival Program Guide. Amanda Kim directed this documentary. The film releases in theaters March 24.
A Thousand and One — Writer-director A.V. Rockwell won the 2023 Festival's U.S. Dramatic Grand Jury Prize with this story of a mother who kidnaps her 6-year-old son from foster care in New York City and sets out to build a life with him. "With a career-defining performance from Teyana Taylor as a mother fiercely committed to make a future for her child, A Thousand and One is an elegant ode to the terribly beautiful power of family as an anchor in an ever-changing world, making us into who we are in ways we can only haltingly understand," according to the Festival Program Guide. The film releases in theaters on March 31.
Rye Lane — Two 20-something Londoners (David Jonsson and Vivian Oparah), heartbroken over separate breakups, meet by chance and embark on a joyful journey around Peckham, the playgrounds, the karaoke bars, and more. Dare they open their hearts again? "For her visually inventive feature debut, director Raine Allen-Miller launches us into a playful and vibrant world, shaping a romantic comedy that celebrates meeting the right person at the wrong time," according to the 2023 Festival Program Guide. The film releases March 31 on Hulu.
A House Made of Splinters — Nominated for a Best Documentary Oscar, this 2022 Festival film tells the heartwarming story of an eastern Ukrainian orphanage that cares. Director Simon Lereng Wilmont explores the effects of conflict on young children and their developing identities. "The burden they carry, not just that of war but also of abandonment and violence, is profound and palpable here," according to the Festival Program Guide. "… Wilmont listens carefully and achieves a striking level of intimacy and urgency that exposes the cycle of dysfunction and systemic failure. These kids don't always have a say, but at least here they have a voice." Wilmont won the World Cinema Documentary Directing Award at the Festival. Deadline announced limited theatrical screenings sometime in March, with specific dates to come. Picked up for broadcast on PBS' POV this summer, the documentary is now available for rent on Amazon Prime, Vudu, Apple TV+, and YouTube TV. 
A restored version of writer-director Darren Aronofsky's 1998 Sundance Film Festival hit Pi stars in a one-night-only screening on (guess when?) March 14, Pi Day, to celebrate its 25th birthday.
The celebration, in select Imax theaters as Pi: The 25th Anniversary Imax Live Pi Day Experience, includes a live Q&A with Aronofsky, cinematographer Matthew Libatique, composer Clint Mansell, actor Sean Gullette, and more, followed by the showing of the restored film.
Aronofsky's first feature film, Pi is a sci-fi psychological thriller about a brilliant but troubled mathematician who becomes obsessed with searching for patterns that will unlock the secrets of the universe. Others attempt to piggyback onto his research for purposes of world financial domination or spiritual understanding.
"Aronofsky has masterfully fused mathematics and theology to create an eerie sci-fi world lying somewhere between Stanley Kubrick and Rod Serling," Trevor Groth wrote in the Festival Program Guide.
The forward-thinking Aronofsky, who won a Dramatic Directing Award at the 1998 Festival, negotiated for the rights to the film to return to him after 25 years. When that happened, he sold the movie to A24, which has remastered the look and sound of the black-and-white film. 
A24 plans to release the film in theaters and digitally later this year, according to The Wrap.