Here at the Sundance Institute, we talk a lot about film. Whether it's helping co-workers figure out what to watch this weekend or feeling positively ancient when we hear that a movie from our youth is celebrating a big anniversary, we've got thoughts, feelings, and recommendations for indie film lovers ready to go. Welcome to our regular series where Sundance Institute employees bring our most passionate hot takes about independent cinema to you. This is Personnel Thoughts.
All right, all right, all right! It's no secret that the Sundance Institute and Film Festival have a few artists and storytellers who are regulars within our hallowed halls. We're looking at you, David Wain, Tamara Jenkins, Jim Jarmusch, Ethan Hawke, and Aubrey Plaza. This weekend, Richard Linklater, one of our most prolific regulars, is having a birthday! 
We couldn't think of a better way to celebrate 62 years of the Austin auteur than by diving deep into his seemingly effortless yet complex Sundance filmography to battle about our favorite Linklater flicks. From Jesse and Céline to Jeff and Sooze, here are our six love letters to the writer-director's history.
Bernie (2011)
Things I love:
Stories about quirky small towns

True crime with unexpected twists (especially if there's a

Texas Monthly feature

about it)

Richard Linklater movies

Which puts Bernie right in my wheelhouse. The tale of Bernie Tiede (Jack Black), a beloved former funeral home director who was arrested for the murder of his companion and employer, 81-year-old Marjorie Nugent (Shirley Maclaine) — a rich and curmudgeonly widow in the town of Carthage, Texas — is most notable for the fact that for nine months after Nugent's death, nobody noticed she was gone. In those months, Tiede freely gave Nugent's money (which she had bequeathed to him in her will) to Carthage residents in need. While Black and Maclaine (and Matthew McConaughey as District Attorney Danny Buck Davidson) are fantastic in their roles, it's the citizens of Carthage that make this a movie a favorite for me. A group of East Texas residents who'd mostly never acted before interrupt the story to catch the audience up on gossip and anecdotes about Bernie, Marjorie and the crime, which makes watching the film feel like a stroll through a real small-town. — Rachel Brethauer, Content Marketing Manager, Sundance Collab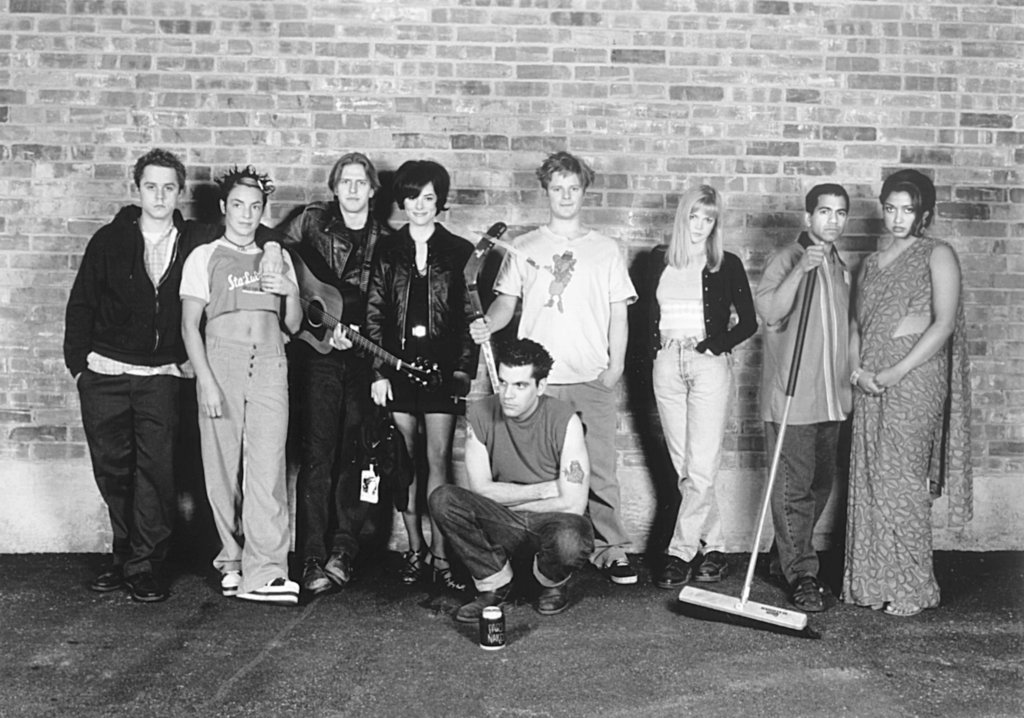 SubUrbia (1997)
Because I tend to admire the underdog, I'm spotlighting Richard Linklater's 1997 Festival film SubUrbia, one of his less popular works. So, let's get this out of the way, right up front: This is a downer movie. It won't lift you up and send you singing and dancing down the street. But it will make you think — about what you've done with your life, about where you live, and how you've treated other people, friends included. All in all, not bad things to examine.
Meshing Linklater's signature hanging-out style with Eric Bogosian's pop-culture writing, SubUrbia is about a group of friends, a few years past high school, who gather regularly outside  the convenience store, smoking, drinking, pontificating, and generally creating mayhem. We've got the thinker (Giovanni Ribisi) and his artsy punk girlfriend (Amie Carey), the brooding bad boy (Nicky Katt), the fragile spirit (Dina Spybey-Waters), and the irrepressible clown and horndog (Steve Zahn). 
Enter Pony (Jayce Bartok), via a stretch limo, a member of the gang who "made it." He escaped their cookie-cutter suburb to become a rock star on the rise. He's not a jerk about it. Still, the emotional fireworks begin.
If you're a product of Middle America — and still living there — you're going to be thinking about this film for a long, long time. — Vanessa Zimmer, Associate Editorial Manager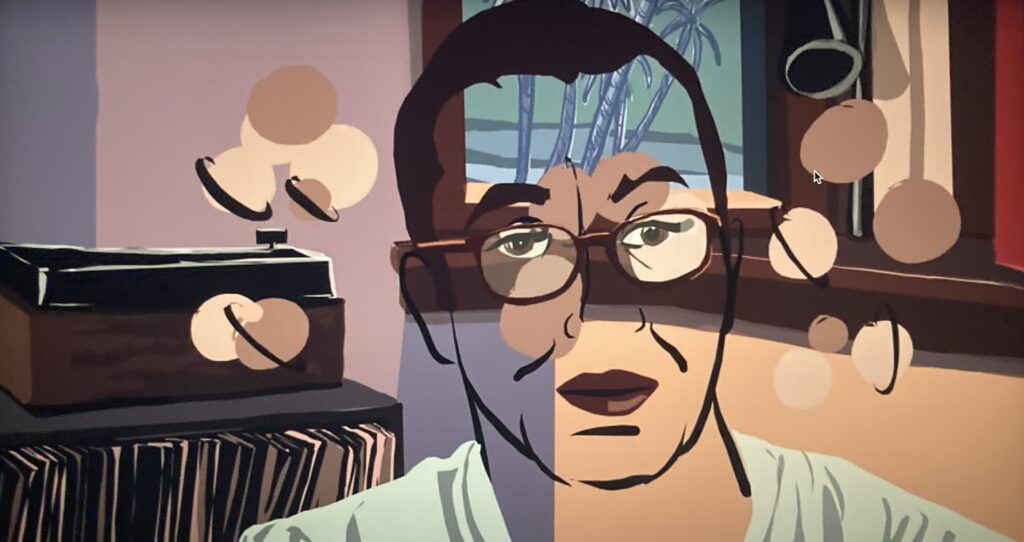 Waking Life (2001)
Floating figures, fish with legs, "Dreamtrak" (a la Amtrak), a monotone earth alien — all part of Richard Linklater's Waking Life, which premiered at the Sundance Film Festival in 2001. 
Gesturing toward surrealism, this animated film stitches together a series of encounters between the nameless main character and others, in the style of a saunter that goes anywhere, nowhere, somewhere. A thick thread of philosophical dialogue persists throughout, nearly begging for a stop-start interaction — to be had in chapters, to pause, replay, skip, rewind, unwind. Scenes rise and fall, ebb and flow, free from the commonplace narrative arc.
When rotoscoping, much of the content within Linklater's frame is subject to the animator's hand. Visual styles twist and morph, allowing for nuanced and fluid details like the appearance and disappearance of Timothy "Speed" Levitch's curly chest hair on the Brooklyn Bridge as he quotes Lorca, proclaiming that "The iguana will bite those who do not dream!" — Jen Neville, ​​Archives & Digital Assets Coordinator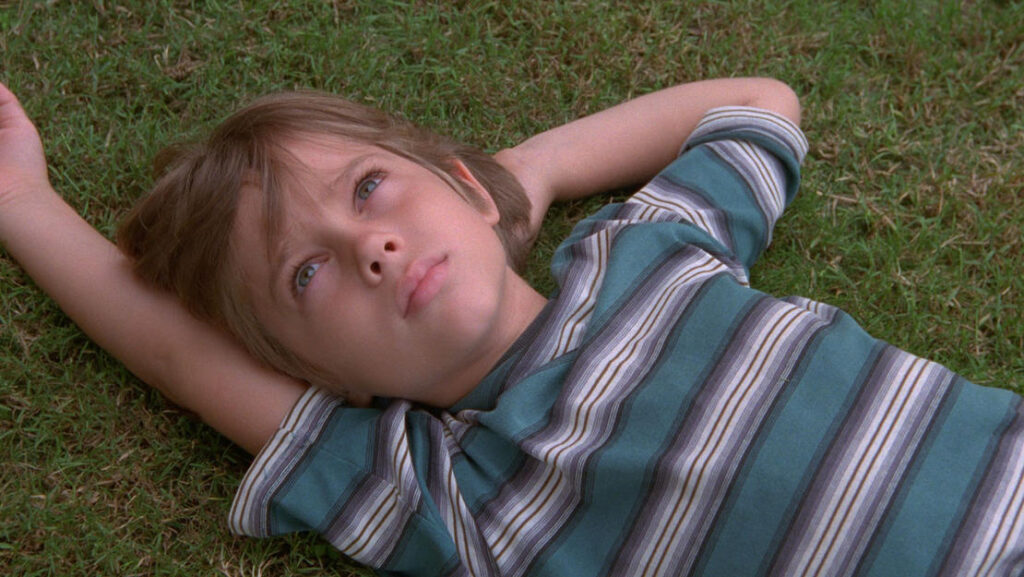 Boyhood (2014)
Eight years ago, I saw Boyhood with a group of friends and I had never witnessed that many guys get choked up during a movie. I later asked my friend what he thought of the film and he said, "It feels like my life just flashed before my eyes in two and a half hours." Over the years, I've talked to so many people — from all walks of life — who feel the same. 
That's why my favorite Richard Linklater movie has to be Boyhood. I love this film for so many reasons. It's highly profound, intimate, and meaningful. But most of all, it's incredibly relatable. We live life through phases, we live through simple moments, and these moments make us. They mold us into the people we don't even realize we've become. 
Mason reminds me so much of my brother. He's sensitive, compassionate, and strong-minded. He keeps on seeking answers, noticing little details and intricacies of life. What's funny to me is that the film is about watching someone come of age, but it wasn't until I saw my own brother grow up — into a college student, husband, and now a devoted father — did I realize that this movie reminds me so much of him. And it took me years after I saw the film to really understand that. 
Through Mason's life, Linklater does an amazing job showing us the small, unimportant yet important moments of our lives that shape us. Through his projects, I truly believe he is never afraid to ask: 'Who are we? and what are we doing here?' This film is groundbreaking because it doesn't just ask the question. It lives it.  — Stephanie Ornelas, Brand & Editorial Writer
Before Sunrise (1995)
Richard Linklater is a man of many talents, but perhaps his greatest is the way he writes and presents his characters. They're charming, conflicted, and, most importantly, authentic. You can't help but feel protective of them because they're true friends and family. It's also impossible not to fall in love with them. From Dazed and Confused's questionable Wooderson to School of Rock's…also questionable Dewey Finn, Linklater knows how to expose the allure and heart of any riff raff he decides to turn his camera lens on. This immediate magnetism is never stronger than in the two perfect leads of his 1995 masterpiece Before Sunrise.
Starting as strangers on a train in Europe, Jesse (peak Ethan Hawke) and Céline (a whimsical Julie Delpy) decide to jump hand-in-hand into an adventure purely out of not wanting to be plagued with the regrets of roads not taken. Right from the get-go the film taps into the stomach flurry of new love and the wistful memories of youthful abandonment. For the next hundred minutes, you wander around Vienna with Jesse and Céline where they talk about everything from book recommendations to confessional fake phone calls. There's no chase scenes or explosive fights, but the conversations are captivating and dreamy. 
By the time the pair are deciding when to rekindle their romance through a simple promise to return (a reminder that cell phones and the internet were not a big thing in 1995), I know that I was checking my calendar to make sure I was free too.  — Bailey Pennick, Associate Editorial Director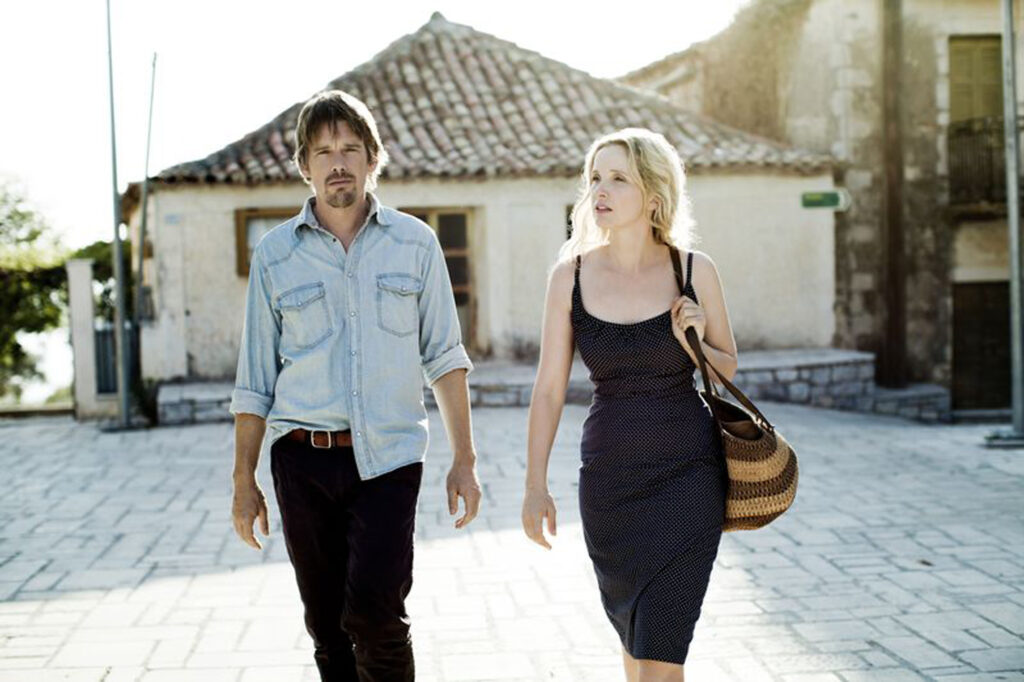 Before Midnight (2013)
The Before series ranks as my all-time favorite films. I have a soft spot for romantic movies, anything to do with exploring time (time traveling, time hopping, nostalgia), and exploring the age old question, "What if?" (a la Sliding Doors). I agree with the common praise that the depiction of courting and love in your 20s and 30s is represented beautifully in the first two films, especially with the improved, meandering dialogue. Before Midnight, however, was a slight but refreshing detour, portraying the issues that can arise once love becomes settled, and familiar. I'm amused and often surprised by learning that there's a bit of a love-hate relationship with this trilogy (does your response reveal your take on romance?). Still, I enjoy rewatching these films every few years or so, layering on my new and different perspectives of life and love. Before Midnight ends on a rather unresolved note, so in addition to rewatching these films, I'm also Googling every few years if there will be a fourth installment (update as of 7/26/22: no news….yet!)  — Angela Bilog, Associate Director, Marketing