[Above: Nia DaCosta and Tessa Thompson at Sundance Institute's 2015 Directors Lab for "Little Woods"]
By Stephanie Ornelas 
For over 40 years, the Sundance Institute Labs have been a crucial stepping stone for the artistic careers of some of the world's most beloved filmmakers. And with the help of the experience gained from the labs, those artists have gone on to create remarkable films that have, in turn, impacted audiences far and wide. Part of Sundance Institute's Feature Film Program, the Directors and Screenwriters Labs are designed to help artists further develop their scripts and find a visual language for their projects, bringing together a cohort comprising experienced advisors and likeminded creators. 
"I can't wait to be back in the dynamic environment of the Directors Lab this summer," says Ilyse McKimmie, Sundance Institute's deputy director, Feature Film Program. "Being a part of such an incredibly creative and generous community of storytellers is a source of inspiration that sustains me throughout the year. There's nowhere else where emerging indie directors can combine practical, hands-on experience with a deep investigation of the art and craft of filmmaking, all in an environment that prizes exploration, risk-taking, and discovery."
As we gear up for this year's Directors Lab (May 30–June 13) and June Screenwriters Lab (June 20–23), we're revisiting how the programs have had a hand in shaping the early careers of some of our favorite artists over the years. We're all familiar with Chloé Zhao's Nomadland and Reinaldo Marcus Green's King Richard, but does everyone know how or when these filmmakers got started? Some of us do. Others might be pleasantly surprised to discover they got their start right here at Sundance Institute. 
Here's what the artists have to say about their experience: 
Chloé Zhao went through Sundance Institute's Directors and Screenwriters Labs in 2012 for Songs My Brothers Taught Me, which premiered at the 2015 Sundance Film Festival. Since then, she's gone on to create captivating films like Eternals and Nomadland, the latter of which nabbed the Academy Award in 2021 for Best Picture.   
"I've met a lot of great friends in that process," says Zhao of her time at the labs. "I'm still in touch with many of them, and to be able to support each other, even beyond the labs, was really incredible. We know we've had those fun days and nights on the mountain together. And that bond is hard to replace. So there are a few folks out there in the industry I know [and] I can just make a call and we can get together because we have gone through that together."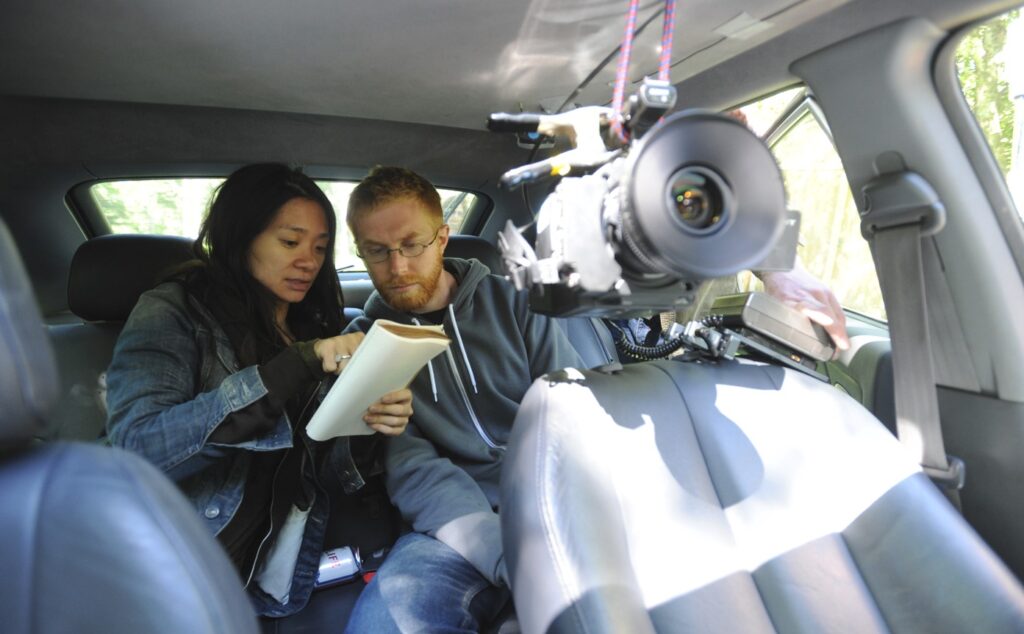 2023 Sundance Film Festival attendees will know Nicole Holofcener's comedy-drama You Hurt My Feelings, which was just released in theaters on May 26, but Holofcener was also a fellow for the 1992 Directors and Screenwriters Labs when she was developing the 1996 cult classic Walking and Talking. The film had its premiere at the 1996 Sundance Film Festival.
"It made me feel like I was a part of something. It really did," she says of the labs. "I did a press conference with Robert Redford, and I've never been more terrified in my whole life. It was scarier than directing a movie. Maybe it's obvious why I was terrified, but he was lovely."
"I got so much out of them. And I remember specific people who were my mentors and how much that meant to me."
Reinaldo Marcus Green recalls his time as a fellow conferring with Robert Redford at the 2017 Directors Lab for Monsters and Men — a project Green also developed as a fellow at the 2016 Screenwriters Intensive: LA.
"Robert Redford actually showed up on my set as well. How amazing is that? You grow up on someone's films and here they are on your set. He asked me something about my script, because we were shooting different scenes from the lab. Then he said, 'What does the mirror mean in your film?' Because we were doing a scene where the actor was looking through it. He was looking at a glass that he couldn't see behind him. And he just was very insightful. It was very thoughtful. Those were amazing experiences."
And Green will never forget the time he almost missed lunch with Redford. The meeting would turn out to be a memory forever fixed in his mind.
"I actually showed up late to my lunch with Robert Redford, and I thought I was going to get kicked off the lab. I remember running to the lab and just being so apologetic. He was so cool about it. … And because we both sort of grew up playing baseball, we were able to really just talk about baseball and share a hot dog. What an amazing experience. As a baseball player and a fan of the legend himself, to sit down and have hot dogs and talk about baseball with Robert Redford — that's a memory that I'll live with for the rest of my life."
    Reinaldo Marcus Green (center in blue) at the 2017 Directors Lab for "Monsters and Men"
Before James Mangold wrote and directed such big films as Indiana Jones and the Dial of Destiny (hitting theaters June 30); Logan; Girl, Interrupted; and Walk the Line; he was a fellow at the 1994 Directors and Screenwriters Labs for Cop Land. And he remembers how important the labs were to him as a young artist who was still learning the ins and outs of being a director and screenwriter.   
"One of the great things about the [Directors] lab in general is that no matter where you're coming in, it's a chance to improve." 
"What the lab provides is a kind of practice session for people with really promising ideas and scripts for features to make the mistakes that they were going to make in the first two weeks of production of their movies in this very loving enclave in the Utah mountains." 
Writer-director Sterlin Harjo went through the 2004 Directors and Screenwriters Labs for his project Four Sheets to the Wind. Three years later, his film would go on to screen at the 2007 Sundance Film Festival. Stressing how important it is to discover artists from all walks of life, he explains, "I would not be here without Sundance, without the outreach that they do and trying to find unique and diverse voices — Native voices specifically. I would have never got an opportunity to do what I do. Now I have a TV show that's coming out on FX [Reservation Dogs] … it all started there with Sundance and being given that opportunity. I think that it's important the voices that Sundance finds aren't in Hollywood or New York. [They find] the people that are on the outskirts. That's what I think they do best. That's why I'm here."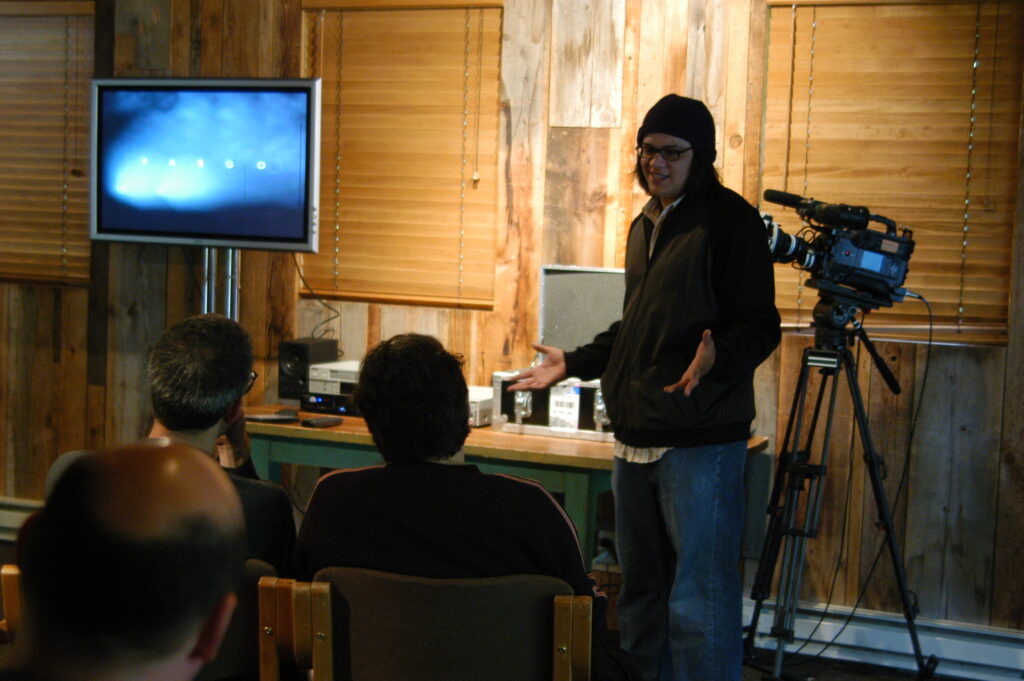 Nia DaCosta's time as a fellow during the 2015 Directors and Screenwriters Labs had a huge hand in the production of her film.  
"The Directors Lab was particularly special for me because I met Tessa Thompson and Luke Kirby there, who both went on to be in my feature film Little Woods, which I was workshopping at the lab. So that was hugely gratifying after the fact to have met the people that I realized should be in the film."
"You get to really experiment and explore. You get to really learn how to defend your ideas, defend your tastes, and your vision."
Nia DaCosta at the 2015 Screenwriters Lab (left) and 2015 Directors Lab (right) for "Little Woods"
Marvel fans gearing up to see Anthony Mackie in the upcoming Captain America: New World Order (coming to theaters May 2024) might be familiar with two Sundance-supported projects he also stars in. Night Catches Us went through the 1999 Directors and Screenwriters Labs and premiered at the 2010 Sundance Film Festival, and in 2004, Mackie went to the Sundance Resort as a resource actor for Half Nelson during the 2004 June Screenwriters Lab. It was there that filmmaking duo Anna Boden and Ryan Fleck (Captain Marvel) workshopped the project with the help of experienced advisors. Half Nelson went on to premiere at the 2006 Sundance Film Festival.
"It's hugely helpful to have a platform where you can be wrong, and out of your wrong and awful creativity comes the greatness that is these projects. No one puts pen to paper and just inks out greatness. A lot of stuff is really crappy. And then from that comes these beautiful words that we, as actors, get to take in and chew on and create character."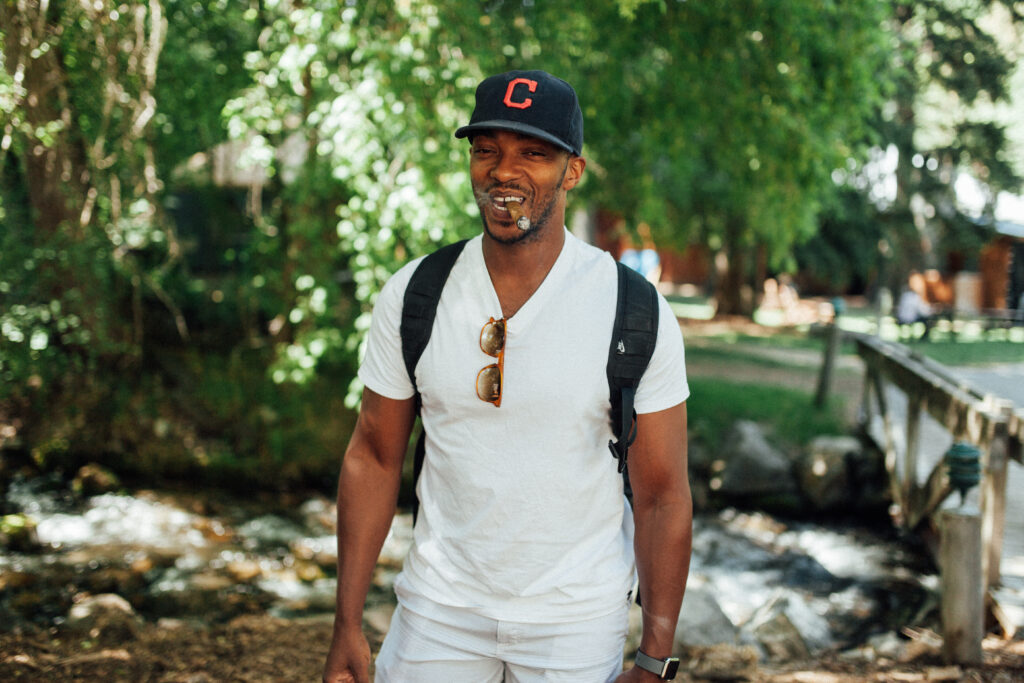 Inspired people inspire people, and the artist programs at Sundance Institute have proven to provide an inspirational environment that has nurtured the careers of filmmakers who went on to create some of the year's most highly anticipated films. As artists like Nia DaCosta and Reinaldo Marcus Green — who were once fellows and went on to be creative advisors themselves — strive to inspire the next wave of independent filmmakers, the labs at Sundance Institute will continue to cultivate space for artists to share that inspiration.    
And keep an eye out for the fellows of the 2023 Sundance Institute Directors and Screenwriters Labs — they could appear in the credits of some major blockbusters in the future:   
Writer-director Hadas Ayalon, In a Minute You'll Be Gone 
Instagram: @hadasayalon
Writer-director Dania Bdeir and co-writer Bane Fakih, Pigeon Wars 
Twitter: @daniabdeir; Instagram: @daniabdeir, @PigeonWars_Film 
Writer-director Rashad Frett and co-writer Lin Que Ayoung, Ricky 
Twitter: @DirectaShad_860; Instagram: @cinerebel860Instagram, @rickythefilm
Writer-director-producer Masami Kawai, Valley of the Tall Grass
Twitter: @masamikyay; Instagram: @masamikyay
Writer-director Gabriela Ortega, Huella 
Instagram: @huellamovie; @bygabrielaortega
Writer-director Audrey Rosenberg, Wild Animals 
Twitter: @audrosenberg; Instagram: @prince_audren
Writer-director Abinash Bikram Shah, Elephants in the Fog 
Instagram: @abinashbikramshah
Writer-director Walter Thompson-Hernández, If I Go Will They Miss Me 
Twitter: @wthdz; Instagram: @mychivas
Writer-director Sean Wang, DìDi (弟弟) 
Twitter: @swangsean; Instagram: @seanswang; Facebook: seanwang1994
Writer-director Farida Zahran, The Leftover Ladies 
Twitter: @zahranfarida; Instagram: @faridazahran_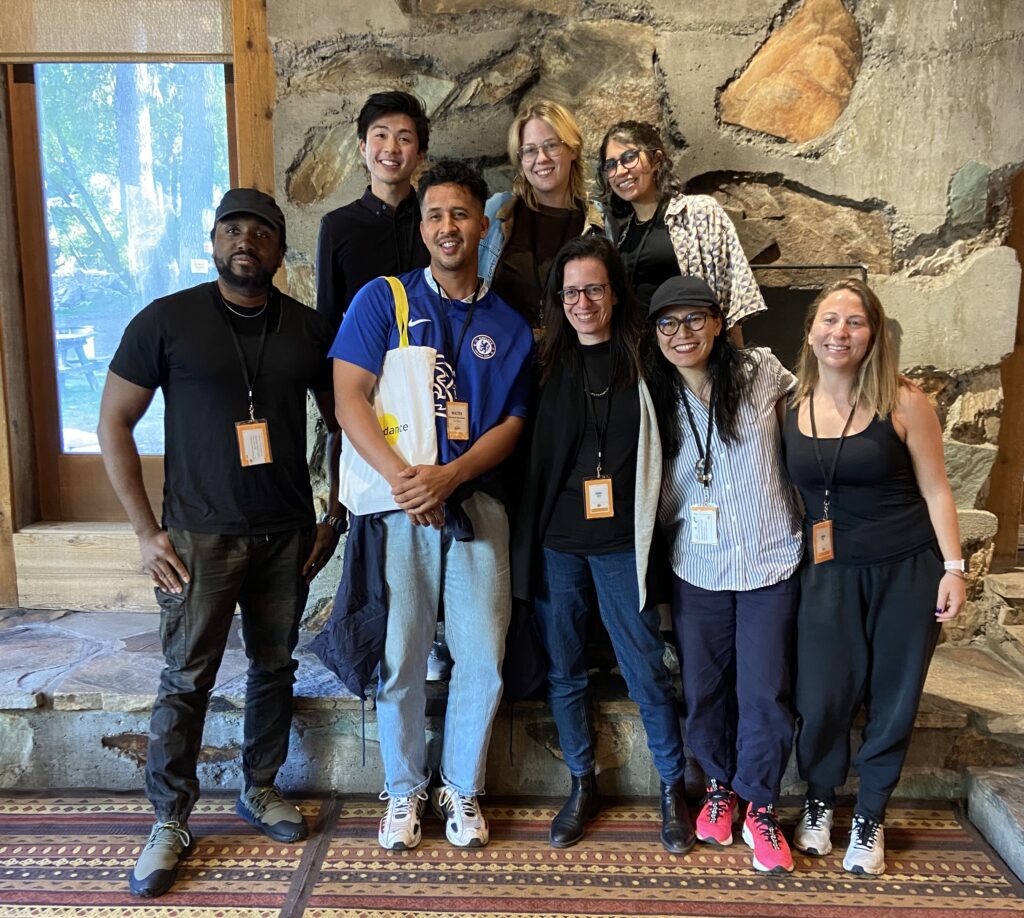 Fellows Sean Wang, Audrey Rosenberg, Farida Zahran (back row), Rashad Frett, Walter Thompson-Hernández, Hadas Ayalon, Masami Kawai, and Dania Bdeir (front row) at the 2023 Directors Lab at the Sundance Resort in Utah