One of the most exciting things about the Sundance Film Festival is having a front-row seat for the bright future of independent filmmaking. While we can learn a lot about the filmmakers from the 2023 Sundance Film Festival through the art that these storytellers share with us, there's always more we can learn about them as people. This year, we decided to get to the bottom of those artistic wells with our Backstory questionnaire!
Belgian actress and singer Veerle Baetens is a self-proclaimed open book. But for her film directorial debut, she chose a story about someone who had closed themselves off from the world. "I wanted to put a spotlight on someone's loneliness and a microphone in front of this person's silence. I met people who have been silenced after having experienced certain events in life that have caused them pain and later on silence themselves as a sort of mechanism of defense. This mechanism is sometimes very difficult to understand for outsiders, also for me," she explains.
An adaptation of Lize Spit's novel The Melting, Baetens' film When It Melts toggles back and forth between adult Eva (Charlotte De Bruyne) in the present day and one scorching summer years ago — the summer during which the vulnerable 13-year-old Eva (Rosa Marchant, winner of the World Cinema Dramatic Special Jury Award: Best Performance at the 2023 Sundance Film Festival) agreed to play a riddle game with her friends that got out of control. "By making this movie, I wanted to get closer to understanding people who have buried their pain deep inside of them where no one can see it and where it silently hollows them out," says Baetens.
Below, discover Baetens' journey from acting to directing, her memories from the casting process, and why stories about quiet people need to be told now.
Describe who you want this film to reach.
It is a universal story that can touch all kinds of people, no matter what age (except young kids) or what their gender is. A lot of people can relate to Eva, her need to be valued, to be loved, her upbringing and experiences in the course of life that prevent her from blooming and becoming a "whole" person.
Why does this story need to be told now?
Because it's a story about someone who can't tell it herself because she's been blown away by a screamingly loud society, a society that often praises the strong and weakens the fragile.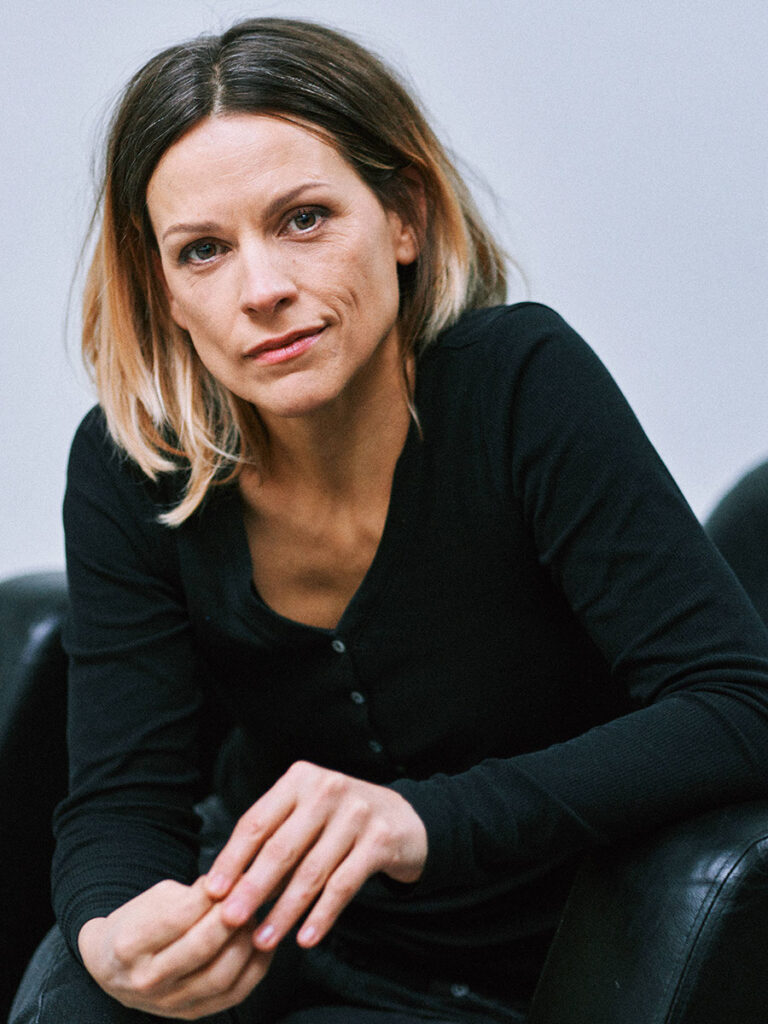 Tell us an anecdote about casting or working with your actors.
When we were casting the young Tess (the sister of our main character, only 8 to 10 years old), one of the participants made a huge impression on us while she was auditioning for this role. She looked slightly older than the others, so we asked her what her age was. She replied that she was 15. The girl became our Eva, the main character of our movie.
When the actress who plays young Eva had shot her last shot —which is also the last shot of the movie — she, together with the adult Eva and the whole crew, went dancing together in the fake snow to the song "Dancing On My Own" by Robyn. It was a moment of great beauty and utter joy.
Your favorite part of making the film? Memories from the process?
The shoot was amazing, something I'd worked toward for such a long time. The energy, the togetherness, the feeling of being part of a big family, I love it. Especially when everyone is motivated, making it possible for the actors to give the best of themselves, supporting me in making a movie that hopefully will touch many hearts.
What was a big challenge you faced while making this film?
There were many challenges, like working with children, treating difficult topics, it being my first film and trying to have everyone on board, following my direction. But the biggest challenge for me was turning the book into a script. I wasn't alone, of course, but the endless going back and forth, trying to find out what exactly you want to talk about, what story you want to tell, felt like a long, winding road with no end. The book is 430 pages long. It has various timelines, a passive main character, and sensitive themes. But after 6 years of hard work, we managed to distill the elements needed to tell the story we wanted to tell. A funny thing was that in the edit room, I realized I was in the same shit all over again. Luckily, it only lasted for 9 months and not 6 years.
Tell us why and how you got into filmmaking. Why do you do it?
When I was 18, I had to decide what I was going to study after finishing high school. I did an entry exam for theater school, and I went to the open days of the RITSC, which is a film school for directors in Brussels. Because I passed the entry exam for theater, I decided to go for acting. From 2013 until 2016, I worked on a television series as a writer, and I felt the next step would be directing. A producer with whom I worked a lot in the past offered me the book with the question of whether I wanted to turn it into a film. I don't know who was the most overconfident, him or me. But I am very grateful for that chance, presenting my first long feature to the world for the first time.
Why is filmmaking important to you? Why is it important to the world?
As an actress, I love digging deep in someone's life that is not mine. I can explore things like relationships, jobs, clothes, and social backgrounds that are not part of my life. As a director, you do this research for every character and the whole community that brings them together. It enriches me enormously as a person. It sometimes feels like anthropological research poured into a story. As a director, you learn a lot, but you can also teach. An audience can change because of a film. They can be purified. They can wise up about certain things. Or they can just have a good time. Movies have the power to drag you away from everyday life. That is magic.
If you weren't a filmmaker, what would you be?
Acting, but that is, of course, part of filmmaking. So I think I would be a teacher, an illustrator, or maybe a singer. Or an adventurer, but that's for the next life.
What is something that all filmmakers should keep in mind in order to be better cinematic storytellers?
No matter how many movies they have made, they all need their time to ripen.
What's the last book you read?
I know I'm very late, but I read The Kite Runner by Khaled Hosseini.
Early bird or night owl?
Early bird
What's your favorite film that has come from the Sundance Institute or Festival?
Little Miss Sunshine, one of my favorite feel-good movies