This Friday, March 31 is Trans Day of Visibility, a day to honor the contributions and existence of our trans community — from artists to colleagues to friends and family. At a time when transness is being vilified, visibility alone is clearly not enough — and indeed not always possible. As champions of preserving artistic expression, we believe that supporting authentic voices yields the ability to broaden our minds: engage, provoke, inspire, and ultimately, connect us. Supporting trans storytelling is critical work we do as a nonprofit all year round at Sundance. Join us in uplifting underrepresented artists by making a donation today here.
One of the most exciting things about starting each year with the Sundance Film Festival is having a front-row seat for the bright future of independent filmmaking. And while we learn a lot from the art that these storytellers share with us, there's always more we can learn about these filmmakers as people. This year, we decided to get to the bottom of those artistic wells with our Backstory questionnaire!
KOKOMO CITY may be the first film D. Smith has ever made, but she's been nurturing her creativity since she was a child. "My imagination has gotten me in a lot of trouble," she says. "I could almost feel or taste whatever I thought. At times I couldn't remember if something truly happened or it was something I had imagined. Having an outlet to now create film is so fulfilling! It's literally a dream come true."
Smith certainly put her creativity to work in KOKOMO CITY (winner of both the NEXT Innovator Award and the Audience Award: NEXT, presented by Adobe at the 2023 Sundance Film Festival), for which she served as director, producer, editor, and cinematographer. The documentary, filmed in stunning black and white, puts the spotlight on four Black transgender sex workers in New York and Georgia. With honesty and humor, the four women each offer insights about their identities as Black women, as trans women, as sex workers, and more, exploring how all the facets of their true selves defy societal expectations.
After its premiere at the 2023 Sundance Film Festival, KOKOMO CITY was acquired by Magnolia Pictures; be on the lookout for its theatrical release later this year. Below, discover why Smith feels her documentary is urgent, how her own transition inspired her to make the film, and what advice she would give to aspiring filmmakers.
What was the biggest inspiration behind the film?
The biggest inspiration behind this film was when I was blackballed from the music industry after 15 years in the game because I decided to transition. I went broke and thought, Is sex work my only option? I've never had to do sex work, but I have a great deal of empathy and respect for the woman that does.
Films are lasting artistic legacies; what do you want yours to say?
I want my legacy to say that I creatively brought people together. I've healed people with my ability. I want people to say that "D. Smith was fearless, a badass, a trailblazer… but a total sweetheart lol."
Describe who you want this film to reach.
I want this film to reach everyone! Mostly people outside of the walls of the LGBT community.
Why does this story need to be told now?
This story needs to be told now because we as Black people need to face the truth about ourselves as a community. We have transgender people in our community. There are men, Black men in our community that love us but live in shame for being anything other than straight. This is URGENT. We can no longer fight the truth about us.
How do you want people to feel after they see your film?
I want all people to feel empowered. Empowered to open their minds and hearts to a fresher narrative. I want people to feel more comfortable when speaking about or to trans people.
Your favorite part of making the film? Memories from the process?
My absolute favorite part of making this film was editing! Going out to eat and drink with a couple of the girls was priceless also!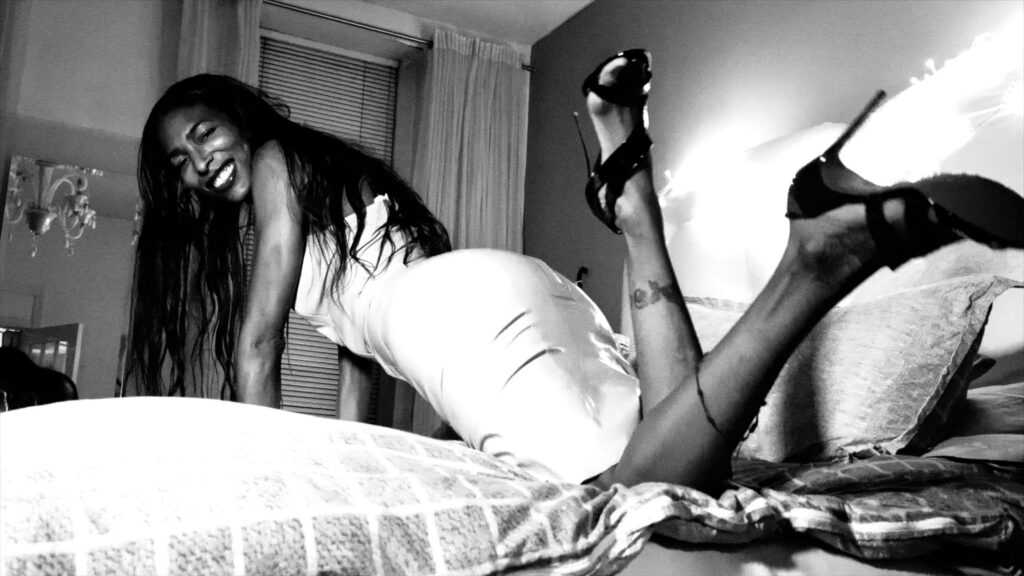 What was a big challenge you faced while making this film?
Shooting b-roll was the most challenging part of making this film! Lol
Driving through the "Hood" with a camera in one hand, trying not to look like a cop, was intense!!! As soon as you pull up on Black people in a car they don't know, everyone is looking at you.
Tell us why and how you got into filmmaking. Why do you do it?
I've been a music producer for 15 years working with the best artists in the industry. After being ousted for being transgender, I was inspired to tell the story of how and why trans women have to do sex work. Usually it's caused by the men that are secretly in love with us.
What is something that all filmmakers should keep in mind in order to be better cinematic storytellers?
Ignoring some of the rules won't kill you!
What three things do you always have in your refrigerator?
Lettuce, jar of pickles, and fruit juice
One thing people don't know about me is _____.
I'm pretty introverted.
Early bird or night owl?
Depends on how good he was. Lol
What's your favorite film that has come from the Sundance Institute or Festival?
Napoleon Dynamite and Precious ughhhhhhhhhhh!!