Distribution Case Study: Thunder Road
SOMEDAY A GROUP OF FILMMAKERS IS GOING TO WIN ONE OF THESE BIG AWARDS AND HAVE THE GUTS TO RELEASE THEIR FILM THEMSELVES. … I NEVER KNEW IT WAS GOING TO BE US."
Buzz swarmed around the short Thunder Road following its 2016 Sundance Film Festival premiere, where it won the Grand Jury Prize. Soon after the festival, director Jim Cummings was approached by both Fullscreen and Topic for multi-short deals. The producing team—then composed of Cummings, Ben Wiessner, and Matt Miller—decided to enter into a deal with Fullscreen for a six-short series and with Topic for a three-short series. To help with the production of these shorts, the team, operating under Matt Miller's LA-based production company, Vanishing Angle, brought on producer Natalie Metzger. The end product turned out to be an anthology of six comedy shorts titled Minutes and a three-short series titled Still Life.
Jim felt this experience and portfolio would be a calling card for stepping into the feature space. At the time he had three scripts—one about a werewolf, one that was a paparazzi thriller, and a feature version of Thunder Road, which he felt was some of his best writing yet. However, during his "water bottle" tour—going to every studio, agency, and production company pitching his ideas—he realized that a breadth of experience and critical acclaim in the shorts world wasn't going to get his feature-length ideas greenlit. At that point, Jim knew he had to take matters into his own hands and make his first feature, Thunder Road, on his own.
The team decides to bring in one more producing partner, Zack Parker, to take point on raising equity for the film. Zack worked in development at AMC for years and loved the concept of Thunder Road after seeing the short at the SXSW Film Festival. In the fall of 2017, the team begins with a Kickstarter campaign using the short as a proof of concept. They end up exceeding their $10,000 goal quickly, raising a total of $36,000. This success convinces six additional investors, who found out about the project through Kickstarter, to come on board, contributing a total of $64,000. Zack and Jim each throw in $50,000 of their own money, bringing the total budget to $200,000. From there, the team sets out to make their micro-budget feature.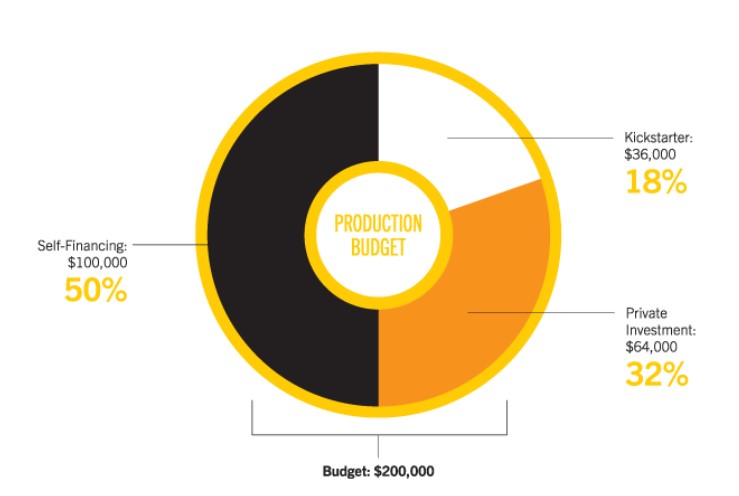 Prior to the finished feature-length film's festival premiere, the Thunder Road team speaks with Sundance Institute's Creative Distribution Initiative about self-distribution, sussing this out as a viable option after witnessing the unfavorable marketplace distribution trends throughout the past year. However, they decide to keep their options open, hoping that a big festival opening will help their chances for a distribution deal.
In 2018, they premiere the finished feature-length film at the SXSW Film Festival and win the Grand Jury Prize. This guarantees them a $100,000 streaming-rights deal through the Amazon Festival Stars program. With the SXSW Film Festival Grand Jury Prize and festival buzz, they feel they have a chance at being offered a good distribution deal from a reputable distributor, but unfortunately, the offers they receive are mediocre at best. Being their own domestic sales agents, they quickly begin to contemplate, "What if we did this ourselves?" They hadn't waited for gatekeepers to give them permission to make the film, so why should distribution be any different? They want to prove that their team can distribute the film on a shoestring budget better than what the traditional distribution deals were offering.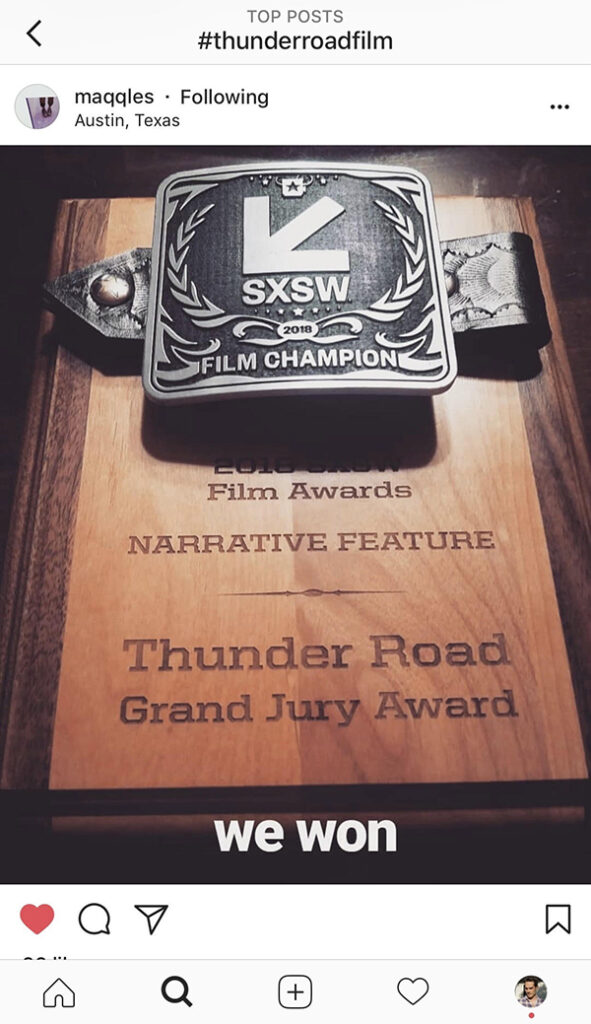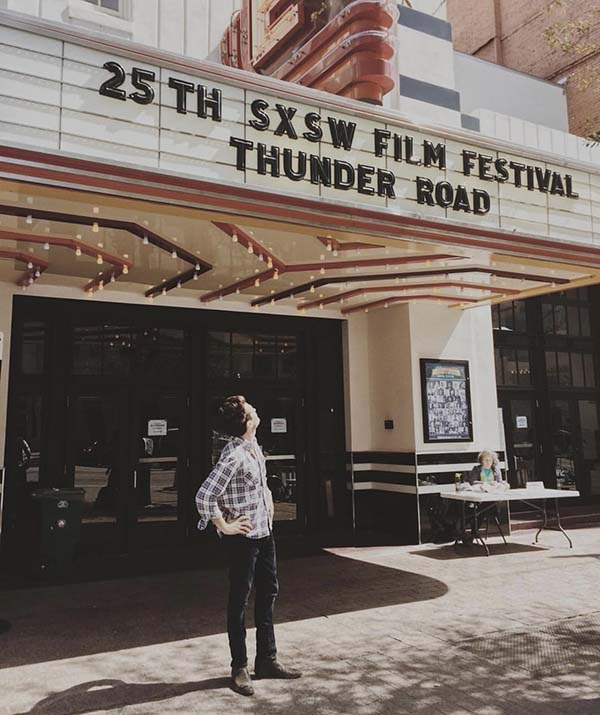 Before making their final decision, they wait for a couple more offers to trickle in to make sure they aren't leaving anything on the table. When the final offers come in, the highest being a $125,000 minimum guarantee for North and South America all rights, the team decides to bet on themselves and take distribution into their own hands. Not only do they feel they can do it better than the traditional distribution model, they want to create a blueprint for other filmmakers, proving they can do it themselves with a fraction of normal indie distribution budgets.
Considering Creative Distribution
In April 2018, shortly after their SXSW Film Festival premiere, the Thunder Road team accepts the Creative Distribution Fellowship. At this time they have also already been accepted into the Association for the Distribution of Independent Cinema (ACID) section at the Cannes Film Festival, a parallel program at the festival organized by France's Association for the Diffusion of Independent Cinema. With solid domestic and international launches in place, and the extra help from Sundance Institute, the filmmakers are ready to jump-start their distribution journey.
Sundance Institute's Creative Distribution Fellowship includes the following:
A guaranteed $33,000 marketing/distribution grant
Consultation and assistance with strategic planning from Sundance Institute's Creative Distribution team
Digital distribution delivery and licensing at a 25 percent reduced rate through Quiver, a part of Premiere Digital
Promotional support from Sundance Institute's marketing team
Connections to leading independent film consultants, vendors, and other distribution and marketing agencies
Setting Distribution Goals
FROM OUR EXPERIENCE AND FROM THE RESEARCH WE HAD DONE, IT SEEMED LIKE WE WOULD BE ABLE TO EMULATE EVERYTHING THAT A DISTRIBUTION COMPANY DOES, DO IT BETTER, AND STILL OWN THE FILM."
The team's overarching goal is to not rely on gatekeepers to determine the worth of Thunder Road. The team wants to show other filmmakers that it's possible to democratize the release of a film. The lean, entrepreneurial team sets out to handle the entire rollout, keeping all work in-house in order to cut down on costs and show that it's possible to take full control of the release of your film. The team uses this main goal to craft five ambitious distribution and marketing goals for the release of Thunder Road.
Distribution Goals:
Make the coolest trailer they possibly can and have it blow up online
Build a wild case study that filmmakers can follow and use to impress investors
Build an audience that they can return to and others can use
Learn a lot about distribution and subsequently educate others
Democratize the release of the film and create a new distribution paradigm
Creating a Release Pattern
The Thunder Road team approaches their release pattern shrewdly and frugally. They want to be fiscally smart. They know theatrical is expensive, so they decide to only explore this avenue if they can find a partner who will help keep costs low. They focus their efforts on digital distribution, TVOD through Premiere Digital and SVOD through the SXSW Amazon Festival Stars deal (now defunct), with targeted marketing and foreign sales, leveraging the ACID program and their robust festival run. They also decide to explore DVD, with a deal from boutique distributor Passion River on the table, aiming to explore library sales and the educational market, since their previous work has been taught in film schools before, in addition to the traditional DVD market and Netflix DVD.
Theatrical, only if it doesn't cost additional money
TVOD
SVOD
Foreign sales (using the ACID program as a catalyst)
Festival run
DVD
Thunder Road walks the fine line between comedy and drama. Gauging audience reactions, Jim knows people tend to laugh and cry while watching the film. He thinks about other films that have the same effect and narrows in on a nuanced set of audience targets; Jim describes, "When building an audience for digital ads, you have to input interests and age, so we targeted exclusively adults (because of the cursing in Thunder Road) who like Pixar and This Is Us (because people watch them to laugh and cry), who also like Eastbound & Down (for the raucous Southern comedy), Training Day (for its strong performances and interracial police/friendship story), and Alfonso Cuarón (for his long takes)." The team uses this test audience as a jumping-off point, pairing it with the audience they've already built with their other shorts, amounting to 40,000 followers on Vimeo. This, along with Jim's personal following, gives the team a solid base from which to start experimenting. Ultimately, they believe the best way to discover new audiences will be through social media marketing analytics. They feel it's important not to prescribe at the onset who they think their audience is and keep an open mind and let the data speak for itself.
With four of the team members being a part of the same production company, Vanishing Angle, they're able to handle all aspects of the release themselves while working on other projects through the company for financial stability. The team doesn't pay themselves for the work they're doing for the release, so it's beneficial to have additional income from other projects they're taking on through Vanishing Angle, such as production services for other features and series. It's also beneficial to have a commercial and branded content division, called B13, and an in-house post facility, called DryDock. The team sets out to achieve the release of Thunder Road with a distribution budget just under $70,000, combining the Creative Distribution Initiative grant with the reinvestment of early distribution revenue.
With a diverse array of skills between the five of them, each member of the producing team takes the lead on a different aspect of the release. They're able to leverage the skills they've learned through the multiple projects they've worked on together and separately and apply those to the Thunder Road release. This helps them keep distribution expenses low, by only having to hire one consultant to assist with foreign sales during the distribution process. Having worked together on multiple projects, there's an efficiency already baked into their teamwork that allows them to execute tasks in a timely manner. Through their distribution work on other titles of theirs, such as Too Late, The Grief of Others, and A Bread Factory, they've also built relationships with theatrical exhibitors, festivals, and the press that they're able to tap into, allowing them to find the industry support they need throughout the entire distribution process. In order to build efficiency and spread responsibility evenly throughout the producing team, they tackle the different areas of the release in pairs. As Matt Miller describes, "One of the things we learned to do was handle everything in pairs. That way not everyone was bombarded with every email (or we weren't bombarding others with multiple CCs), but we also had a back-up in case one of us wasn't able to respond quickly."
Leads/Back-Ups:
Jim/Ben—Marketing (Jim also creates all the marketing assets himself)
Natalie/Matt—Press
Ben/Natalie—Jim's personal-engagement schedule
Matt/Ben—Theatrical booking and print trafficking
Jim/Ben—Digital delivery
Ben/Matt—DVD/BluRay delivery
Matt/DryDock
Matt/Natalie—Accounting
Ben/Matt—Foreign sales
Matt/Natalie—Legal (Natalie runs point in production, Matt handles distribution and sales)
To add to this existing knowledge base, the Creative Distribution Initiative holds an advisor summit for the Thunder Road team in May 2018. They speak with marketing consultants Grey Watson and Matt Delman; a theatrical booker, Michael Tuckman; a festival strategist, Leslie Vuchot; and Kickstarter advisors Elise McCave and Liz Cook. These conversations provide them with additional thoughts on how best to craft the most engaging marketing assets, the pros and cons of theatrical releases, and how to maximize a festival strategy.
Setting a Release Pattern
The Thunder Road teams sets out to build a unique but replicable case study to inspire other filmmakers. They map out a distribution strategy that matches the strengths of their in-house team, while being mindful of their miniscule distribution budget. Based on relationships they can leverage and studying their current audience to understand how best they'll reach them, they decide to embark on digital and theatrical releases, as well as a DIY foreign-sales strategy.
Tapping into existing relationships they've formed through Vanishing Angle, the team finds two options that allow them to craft a modest theatrical release, while keeping theatrical costs to a minimum. They first enter into a conversation with the Alamo Drafthouse Cinema theater chain about a week-long run in select Alamo theaters, to take place in early October. (Vanishing Angle had previous films distributed by Alamo Drafthouse Cinemas, so they already had an established relationship.) Then, they're asked to take part in Art House Theater Day on September 23, 2018, which is organized by the Art House Convergence and sees a group of curated independent films play in a select group of 200 theaters across the country. For both of these opportunities, the team is able to build in cost-effective ways of digitally delivering the film and assets to theaters, such as partnering with Eclair to handle the majority of the print trafficking, which enables theaters to digitally book and download DCPs to their services.
Once they commit to being a part of the Art House Theater Day, it's up to the team to reach out to the select group of theaters to arrange bookings and set the terms of the agreement with each theater that decides to play the film. Calling on knowledge from previous releases the team has worked on and speaking with colleagues and advisors, the team decides on a 67/33 split in favor of the theater, with a guarantee of $250. Once Art House Theater Day is set, the team confirms the week-long run with Alamo Drafthouse Cinemas, slated to start October 12. At this time they have nine theaters interested in playing the film—two in San Francisco and one each in Austin, Denver, Raleigh, Houston, Lubbock, Charlottesville, and Yonkers. They also begin receiving interest from other independent theaters outside of the Alamo Drafthouse Cinemas network and aim to schedule these bookings after their initial week-long run at the Alamo theaters.
The late-October digital release of Thunder Road remains the primary focus for the team. They feel this release avenue will reach the widest audience if they pair it with an effective digital-marketing strategy. They work with the aggregator Premiere Digital, through the Creative Distribution Initiative's 25 percent reduced rate, for their TVOD release, with the plan to release on iTunes, Google Play, and Amazon. To pair with their digital release, the team drafts a robust digital-marketing strategy. Capitalizing on the following they've built so far through their previous work, especially Jim's over 20,000 Twitter followers, the team invests most of their distribution budget in the digital marketing of Thunder Road. With Jim's particular affinity for social media promotion, he takes the lead on this part of the release strategy, focusing their digital-marketing spend on four main areas: the trailer release, the theatrical release, the TVOD presales and live date, and their SVOD live date. They aim to launch their presales in mid-September, at the same time that they release their trailer, and to go live with their TVOD sales at the end of October, right after they wrap their theatrical release. Aligning presales with the trailer launch allows them to use one combined spend for these two areas of their release.
Festival and Foreign Sales
As previously mentioned, Thunder Road was accepted into the ACID program at the Cannes Film Festival. Being included in this sidebar brings not only prestige but also an important business opportunity for independent films. The program focuses on pairing films with French distributors before premiering at the Cannes Film Festival, so the distributors can maximize the premiere and use the momentum to encourage a robust theatrical release in France. ACID holds press and distributor screenings in Paris leading up to the Cannes Film Festival, and from these screenings the team receives interest from three distributors. Though it wasn't their biggest offer, the team decides to go with Paname, because they believe in the Thunder Road team. Thunder Road garners a positive reaction from French audiences. Once they realize the potential success they could have in the French marketplace, the team begins to brainstorm ways they can leverage this success to trigger other foreign sales. Just like the other areas of their release strategy, the team sets out to tackle foreign sales on their own. They start by doing cold outreach to international buyers listed in the Cinando buyers guide they receive at the Cannes Film Festival, reaching out to contacts that acquired some of Vanishing Angle's previous films, and using IMDBPro to find distributors who had success with films similar to Thunder Road. This work begins a few ongoing conversations with international buyers, such as in Japan.
Relying heavily on foreign-sales knowledge they've gained through past releases, they then decide to take a strategic look at their festival strategy, focusing on the international festivals interested in Thunder Road that operate as marketplaces and looking to other territories for curatorial cues. This strategy helps them determine which festivals to play, basing their decisions on market opportunity and timing. Their hope is that territories they play in where they receive buzz and market interest will help trigger interest in other markets. At this time, they also begin working with foreign-sales consultant Marta Ravini, in order to help with team bandwidth. In order to accomplish their ambitious foreign-sales strategy, it's helpful for them to bring on a consultant with foreign-sales knowledge to help them divide and conquer the tasks at hand.
They consolidate their foreign festival strategy to focus on the two months right after the French release, between mid-September and mid-November. Thunder Road plays the The Deauville American Film Festival BFI London Film Festival, Athens International Film Festival, Stockholm International Film Festival, CPH PIX, Festival du Nouveau Cinéma, Calgary International Film Festival, Milano Film Festival, Kerry Film Festival, Leiden International Film Festival, São Paulo International Film Festival, and Mar del Plata International Film Festival. This strategy leads to finding a distributor to work with in each of these territories.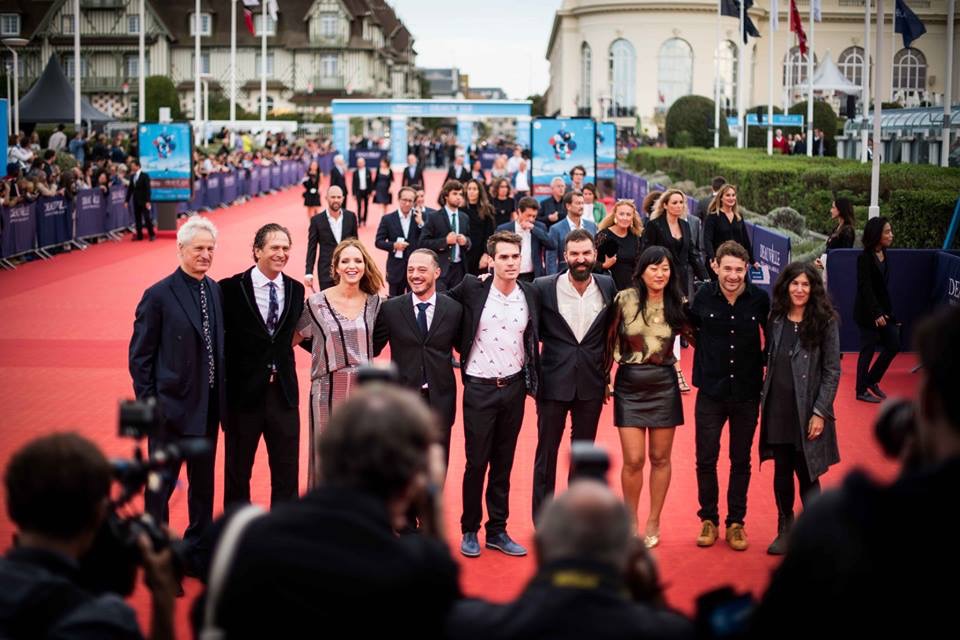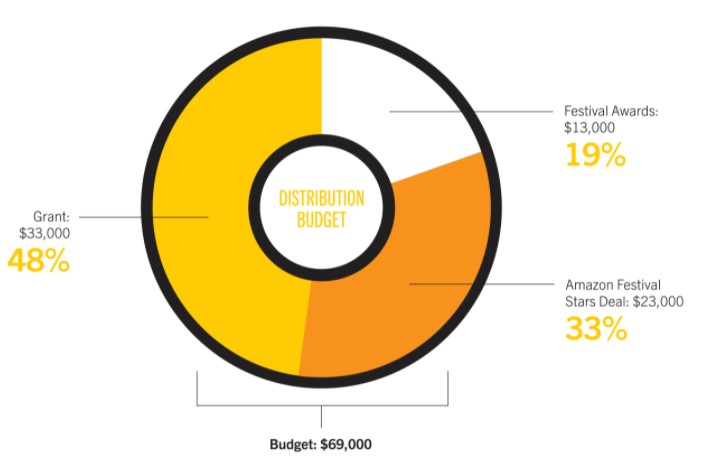 The Thunder Road distribution and marketing budget ends up being just under $70,000—$33,000 from the Creative Distribution Fellowship grant, $13,000 from festival awards, and about $23,000 from the $100,000 they receive up front from the Amazon Festival Stars deal. Aside from the grant, the money that goes into the distribution budget is revenue they receive from the film that they put back into the distribution of the film.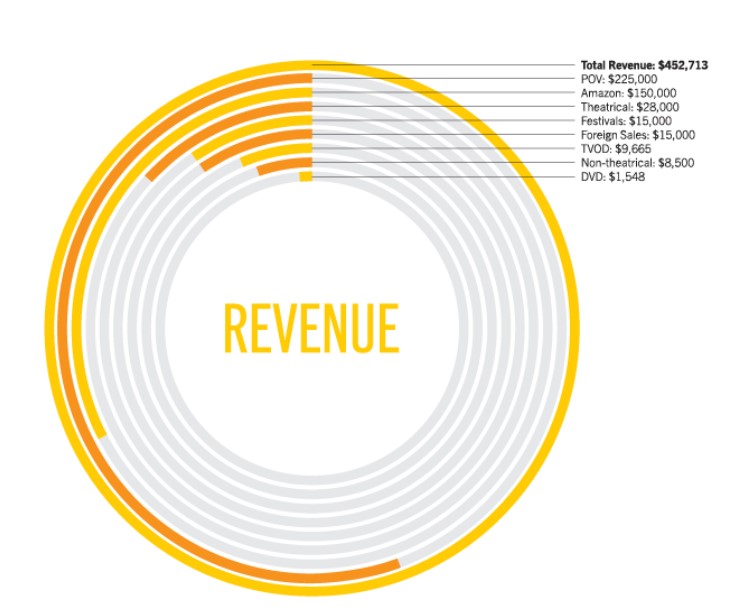 I ASKED ON TWITTER IF THERE WAS ANYONE WHO WOULD BE INTERESTED IN MAKING AN ILLUSTRATED POSTER FOR THE FILM, AND WE HAD SOME AMAZING SUBMISSIONS ALONG WITH UNSOLICITED, INCREDIBLE FAN ART, MANY PIECES WE'VE SINCE LICENSED AND NOW USE AS THE OFFICIAL ARTWORK ALL OVER THE WORLD."
The Thunder Road team thinks outside the box when creating promotional assets on a budget. They decide to give their audience agency in how the film is represented. Jim turns to Twitter to crowdsource the making of the poster, asking fans to submit their ideas. Through this open call, the team finds a fan-art option that they feel is eye-catching and is a unique representation of the film.
With input from the rest of the team, Jim crafts the trailer. He again turns to Twitter to help source music for the trailer. Making a direct appeal to a band he grew up listening to, Jim writes a simple, candid letter to Aphex Twin requesting to use their song "Nanou 2" for the trailer and tweets it out to his network. From this simple outreach, Warp Records kindly messages Jim and Natalie, watches the film, and grants them permission to use the song for the trailer for a modest fee.
With a finished poster and trailer in hand, the team creates a promotional plan for the theatrical and digital release using these key assets. For the trailer release, instead of focusing on finding a media partner for an exclusive release, the team focuses on using social media to promote the film to a large audience. They decide to launch the trailer on social media the same day their TVOD presales go live, on September 4, 2018.
The theatrical release is kicked off in New York at a one-off Rooftop Films screening on August 11, 2018. Jim attends this screening, which ends up selling out. The film screens next on Art House Theater Day on September 23, 2018, screening in 19 theaters across the country, including Athens, Georgia; Winston-Salem, North Carolina; Denver, Colorado; Austin, Texas; Vancouver, British Columbia; and Harrisburg, Pennsylvania. Their best-performing market during this day is Austin, where they shot the film, and a screening in which cast members Kendal Farr and Macon Blair and producer Matt Miller are in attendance.
On October 12, 2018, Thunder Road begins its Alamo Drafthouse Cinemas run, playing in 15 markets total, 12 of which are week-long runs and three are one-off eventized screenings. Producer Ben Wiessner and Jim Cummings attend the Alamo screenings in Yonkers, New York; Brooklyn, New York; Raleigh, North Carolina; Ashburn, Virginia; Charlottesville, Virginia; and Winchester, Virginia. Following this first part of the theatrical release, the film expands to 21 additional art-house theaters not associated with Alamo Drafthouse Cinemas, starting October 19, 2018.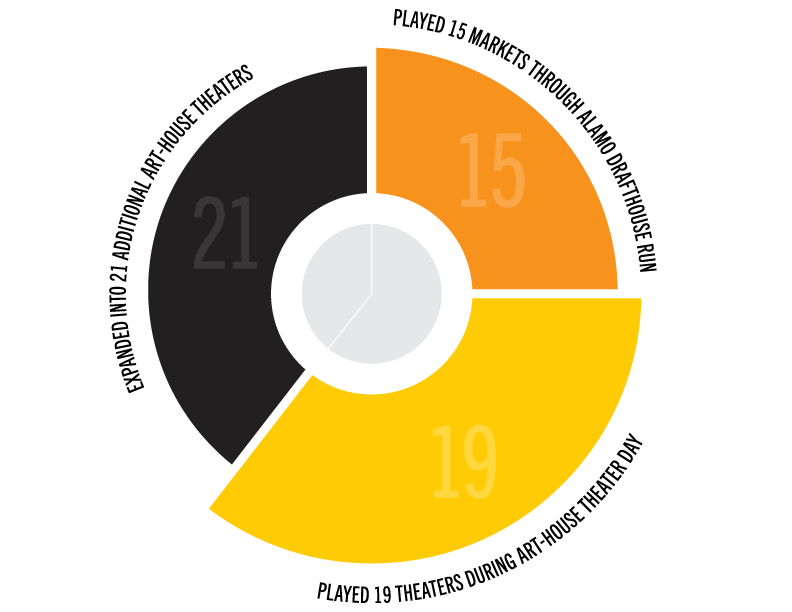 For the Thunder Road TVOD release, the team chooses four platforms—iTunes, Google Play, Amazon Video Direct, and Vimeo on Demand. They work with Premiere Digital through the Creative Distribution Initiative's 25 percent off preferred rate to put the film on iTunes and Google Play, and they upload the film directly to Amazon Video Direct and Vimeo on Demand. Due to the short films they've released in the past, the team has built up a following on Vimeo, which is why they choose to put the film on this platform in addition to the other main players.
They price their TVOD sales at $9.99 and rentals at $4.99. They launch their presales September 4, 2018, and go live with TVOD sales October 30, 2018, following their theatrical release. The team decides to only release TVOD in the U.S., in case other foreign-sales opportunities come along that would like to exploit TVOD sales in their territories. Unfortunately, the territory-change request they put in with Premiere Digital doesn't register properly with Premiere Digital's system, and the film goes live for TVOD sales in all available territories on October 21, 2018. This causes friction with foreign-sales deals they have on the table at this time and causes a spike in piracy. As Jim describes, "Loud, meaningful words were exchanged between our team and Premiere Digital, but it's inevitably going to be pirated—I'm just glad it was full resolution, and it actually got some really wonderful traction from fans who loved it on Letterboxd and Reddit before anyone else had seen it on iTunes!" Due to this mistake, they lose a $40,000 deal with China, take a hit on their IMDb ratings, and have to devote a significant amount of the team's bandwidth to mitigating damages. They also decide to hire the piracy protection company Web Sheriff to monitor and take down any pirated instances of the film on the web.
Thunder Road's eventual success in the French marketplace acts as a catalyst for the rest of their foreign sales. Through their French release with distributor Paname, the film grosses over $500,000 in French theaters alone, signaling marketplace potential to other international territories. The French marketplace operates differently than most territories, mandating that all theatrical titles must wait a year before going on to any other release avenues. The team feels that part of their theatrical success in France is due to France's fascination with an independent view of Americana and that the unique sense of humor present in Thunder Road aligns well with French humor.
Leveraging their success in France and being strategic about their international festival play, the team is able to secure 13 additional foreign-sales deals, including Italy, Japan, Spain, and Canada. The team decides to take smaller minimum guarantees and sometimes no-minimum-guarantee deals that offer better splits on the backend and stronger distribution partners, with the hopes that this approach will make a bigger financial impact on the film over time. Foreign sales, totaling $106,626, end up being the third biggest revenue stream for the team.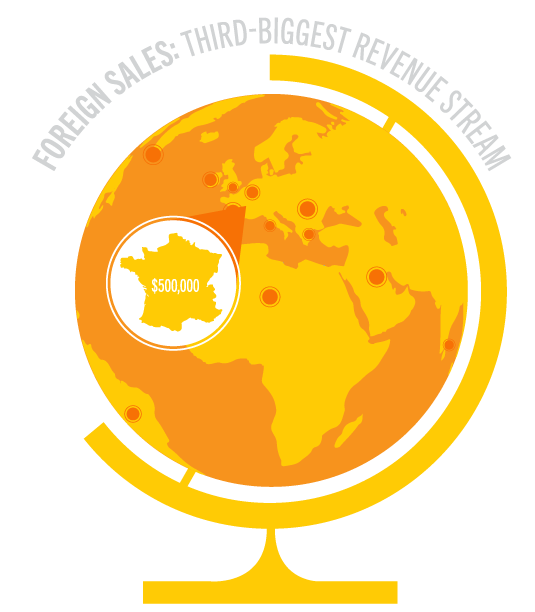 Traditional Press and Marketing
Thanks to the positive press the team garnered following the Thunder Road short-film premiere at the 2016 Sundance Film Festival, the feature is already on the radar of outlets like Variety before it premieres at the SXSW Film Festival. Just like every other area of the Thunder Road release, the team handles PR on their own. They do receive some advice from advisors along the way, like Rachel Walker, but execution and strategy is left up to the team. As Matt explains, "We had Rachel help target very specific outlets we weren't able to get to ourselves."
The team creates a robust press-contact list by combing through press lists they received from major film festivals they received during the past few years. They send press releases to this list, and Natalie manages all incoming inquiries from the outreach. The team is also cognizant of not over-exploiting the film for press at festivals, in order to maximize press buzz for different parts of the release. For example, they ask outlets such as Rolling Stone and the Ringer to hold their reviews until their theatrical release. As Ben explains, "A bigger place like Rolling Stone or The Ringer was only going to write about us once; having those articles come out in the fall when people could pay us for the film made a big difference."
Jim spent years cultivating a large, engaged audience on social media, and because of this he feels strongly that the majority of their marketing spend should be devoted to social media ads and promotion. With little budget to work with for PR, the team focuses on personal relationships and organic buzz to generate meaningful press for the film. Once again, the ACID program at the Cannes Film Festival helps to ignite their successful press streak. Given Thunder Road's popularity with French audiences, the ACID program and their French distributor, Paname, do a significant publicity push for the film, amounting to a number of press hits in the territory, including a cover story in Technikart that states "Jim Cumming cries like a god" and a review in Les Inrockuptibles with the headliner "a bitter comedy that marks the birth of a great director."
A second PR spike happens when the film wins the Grand Prize at the Deauville American Film Festival in September. Leading up to its Deauville premiere, Thunder Road and its inclusion in the festival is featured in the New York Times, and the Grand Prize win is picked up by the Hollywood Reporter and Variety. A week later, on September 20, 2018, following Thunder Road's first week in French theaters, Chris O'Falt releases an article in Indiewire titled "How Self-Distributed 'Thunder Road' Made Its Money Back in One Week." By this time, the film is inching closer to its U.S. theatrical release. To keep the momentum going, the team capitalizes on a couple personal relationships to time two heavy-hitting press pieces to launch in anticipation of their theatrical release—an in-depth piece about the making and release of the film in the Ringer by Sean Fennessey and a four-and-a-half-star review from David Fear in Rolling Stone. Throughout the course of the release, Thunder Road receives 48 press hits (earning it a 97 percent on Rotten Tomatoes).
Jim handles most of the digital-marketing strategy and execution and starts exploring savvy tactics during the Thunder Road SXSW Film Festival premiere. Instead of spending money on a festival PR consultant, the team turns to social media. They run ads that target within a one-mile radius of Variety and Hollywood Reporter's offices in Los Angeles a few days before their festival premiere, which cost a total of $200. They continue to boost these posts up until the day of the premiere. The day following the premiere, Thunder Road is reviewed in Variety, which the team attributes to the targeted social media promotion and being included in this article prior to the SXSW Film Festival.
Jim and the team continue to learn and execute new digital-marketing strategies throughout the course of the release. After their SXSW Film Festival premiere, while the team is strategizing the distribution plan, Jim further refines his digital-marketing plans by running test ads on Facebook for their past films. Once he has a better understanding of how the Facebook ad manager works, Jim reaches out to a "Facebook expert" (like Apple's Genius Bar but for Facebook ads) to schedule a free consultation. During this chat, Jim receives advice on tactics, such as optimizing video content and mobile-ad construction, that helps him craft better-performing ads. He then uses this information to craft an ad strategy for their trailer release and TVOD presales promotion launch.
The team decides to release the trailer on select social media channels the same day TVOD presales go live, on September 4, 2018. They post the trailer to Facebook, Youtube, Vimeo, and Twitter with the headline "In theaters this October/Preorder on iTunes today," with a preorder button on the post. Before this launch, they construct an audience based on specified interests through the Facebook ad builder that targets roughly four million people. The plan is to spend approximately $15,000 of their $68,000 distribution budget on this promotion alone. They craft three different ads for Facebook—one focusing on Google Play users (for Android devices), one for iTunes users (for Apple devices), and the other for all platforms—and allocate $5,000 for each ad.
Once the trailer ads run for a few days, the team creates look-alike audiences, targeting users similar to the top 3 percent of the people who engaged most with the ads. They apply these new audiences to the ads, dropping their cost per result from eight cents down to two cents. They also plan to push the trailer out to other ancillary channels for organic reach, such as other Facebook pages, Reddit, and Mailchimp. The first Reddit post, in September, is less successful than they had hoped. On October 12, 2018, they re-post to Reddit (posting a picture of Jim standing next to the poster at the Raleigh screening, then the next day posting the trailer; both blow up unexpectedly), which increases awareness, with over 2,400 comments left on the Reddit posts. Using Mailchimp, they send a newsletter out to their email list, which includes a built-in trailer-sharing button. The goal with this promotional push is to spark preorder sales to help them land in the bestselling chart and to push awareness for their fall theatrical release. These efforts lead to a significant boost in preorders, increasing them by 150 in the span of two days.
Once this trailer release and preorder promotion plan is executed, the team focuses on promoting the individual theatrical screenings of the film and providing their audience with general updates about the release of the film, including international release partners and dates. They use Facebook and Instagram as the film's primary social media channel, while Jim continues to update his own Twitter following.
As of January, Thunder Road has netted about $510,000 across all platforms: $20,449 through festival fees and awards; $4,940 for Art House Theater Day; $12,345 through the theatrical release; $78,626 through the digital release; $108,653.21 from the Amazon SVOD deal; $11,756 through the DVD release with Passion River; $106,626 through foreign sales and $166,396 through airlines. As this revenue is received Quarterly, the team is on track to pay all of their investors back and will soon begin to profit a little off of this micro-budget indie film. Distribution payouts are often slow to come in, so it will take time for the team to see significant profits. The film continues to generate TVOD and DVD sales, and the team is still in discussions regarding pending foreign-sales deals.
Through its U.S. theatrical release, the film played in over 35 cities. Thunder Road received 73 reviews and features, in such publications as Esquire, Moviemaker magazine, the Los Angeles Times, and Rolling Stone, and garnered over 3,000 Facebook followers. The trailer received over 820,000 views on Youtube and over one million on Facebook. The team has since shot another feature, The Werewolf, with support from a major studio, and has funded another forthcoming project called The Beta Test, made through crowd equity for $350,000.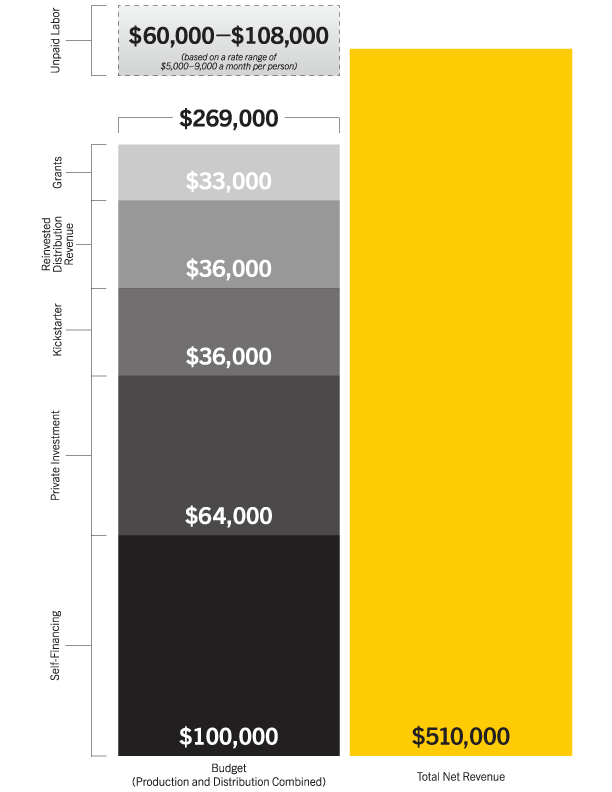 I'D SAY THAT MUCH OF THE WORLD OF FEATURE-FILM DISTRIBUTION, JUST LIKE FEATURE FILMMAKING, IS BASED ON CONVINCING FILMMAKERS THAT THEY ARE TOO INADEQUATE TO DO IT THEMSELVES, AND THE TRICK IS TO NEVER FALL FOR IT. YOU DON'T NEED SOMEONE TO UPLOAD YOUR YOUTUBE VIDEO FOR YOU AND THEN TAKE ALL OF THE CREDIT AND INCOME, SO DON'T LET SOMEONE DISTRIBUTE YOUR FILM."
With a thoughtful, nimble strategy and a predisposition to hard work and hustle, the Thunder Road team was able to execute an extremely successful release and meet their goals. Their trailer went viral, racking up over one million views on YouTube. At the beginning of the release, Jim's Twitter following hovered around 22,000, and it is now over 70,000. This remains an audience the Vanishing Angle team continues to cultivate by inviting them into the process of making their upcoming work; for example, they tapped into this audience for their recent successful crowd-equity funding campaign for their next feature. Because Thunder Road has netted over $300,000, the team has been able to profit off the release of the film after they were able to pay all of their investors back.
With little outside help, the team executed every aspect of distribution and marketing for Thunder Road, proving that if you have the right team and mentality it's possible to truly self-release a film. The creative tactics they embraced along the way came together to create a unique yet replicable case study for fellow filmmakers. The team continues to expand their distribution and marketing knowledge with each release they carry out, and they share this knowledge with their filmmaking community through classes and workshops they host at their offices in Atwater Village, Los Angeles.
THUNDER ROAD FITS THE MOLD OF A SMALL-SCALE FILM WILLED INTO BEING BY DETERMINATION, OBSESSION AND A MODEST BUDGET."
NICOLAS RAPOLD, NEW YORK TIMES
The success of the Thunder Road release is due in large part to the team behind its strategy and execution. It shows the value in having not only an existing team but one that works well together and has a history of working on projects together. Before releasing Thunder Road, the team worked together on multiple projects, honing their skills and getting an idea of the specific area of expertise each member brought to the table. By the time they decided to self-release Thunder Road, the team knew where each person would provide the most value and gave each other the runway to do so.
It's also important to recognize the sustainability Vanishing Angle provided for the team throughout the course of the release. In most cases, filmmakers who decide to self-release their film do not get paid for the work, and this was true for the Thunder Road team. However, through the production company they were able to work on commercials, other features, and marketing for other films that allowed them to generate an income while releasing Thunder Road. Also, Vanishing Angle's creative marketing tactics on Thunder Road and other projects became of interest to a few studios and other filmmakers, which has led them to create a marketing arm of the company called FireShip. Their innovative distribution and foreign-sales strategies have also led them to consult in these areas for a handful of 2019 Sundance Film Festival titles.
As distribution models favor independent filmmakers less and less, it's important filmmakers pay attention to these types of creative-distribution solutions. Forming an agile collective and working on numerous projects together allows for a greater knowledge gain and the ability to find career sustainability by working on numerous projects at a time.
Find a good team and stick with them!
It's possible to handle international sales without a sales agent—if you can find traction in at least one international territory.
Filmmakers can run successful digital-marketing campaigns themselves, though it does help to have an existing fan base as a foundation. Don't be afraid to reach out to the platforms to ask for help, and don't be afraid to test ads on old material before diving into your actual campaign.
U.S. theatrical continues to be a hard revenue-generating market. Always explore ways to eventize your screenings with cast appearances and Q&As, because these will outperform traditional screenings.
If you're wanting a theatrical release for your low-budget independent film, explore ways to cut theatrical costs, such as digital delivery.
Digital marketing isn't all about ads. Find other places to explore, like Reddit, that drive organic engagement.
If you're vetting distributors, ask them what they could do for your film that you can't.
Before diving into self-distribution, think of ways you can keep yourself afloat financially, because oftentimes you will not be paid for that work.
Understand the exact budget it will take to tell your story, and don't succumb to pressure to inflate that number. For Thunder Road, some investors were interested in the film but didn't want to invest in anything under $1 million. It was tough to turn down money, but making the film on a micro budget was ultimately the best financial situation in the long run for the film and its investors.
Appendix: About the Film and Film Team
Synopsis
A police officer faces a personal meltdown following a divorce and the death of his mother.
Advisors

Grey Watson—Trailer guidance
Elise McCave and Liz Cook—Kickstarter
Michael Tuckman—Theatrical booking
Matt Delman—Digital marketing
Leslie Vuchot—Festival strategy

Team Members

Producing Team:

Matt Miller
Zack Parker
Natalie Metzger
Benjamin Wiessner
Jim Cummings

Rachel Walker—PR advisor
Marta Ravani—International sales consultant
Premiere Digital—Digital distribution
Passion River—DVD and educational distribution
Download a PDF of this case study