Distribution Case Study: Columbus
You make the film, you get into a great festival, it's super exciting, you have all of the highs and lows, you have the premiere, it's the best day of your life … and then what?"
Giulia Caruso, Columbus producer
Columbus producers Danielle Renfrew Behrens and Giulia Caruso approach the Sundance Film Festival like most of their peers: hoping for a distribution deal that would enable them to pay their investors back, turn a profit, and reach and inspire audiences. Their film—a lyrical drama by first-time feature writer/director Kogonada, starring John Cho, Haley Lu Richardson, and Parker Posey—premieres in the 2017 Festival's NEXT section.
It is an exciting time for the entire team, especially for Kogonada, making his feature-length debut. Having garnered a cult following through his captivating visual essays, buzz circulates around Kogonada and Columbus leading up to the Festival, and the producers, along with their domestic sales team led by Cinetic Media, are optimistic.
Going into the Festival, the filmmakers hope for a worldwide all-rights deal with an advance in the range of high six figures to $1,000,000, which is not uncommon for an American fiction film premiering at the Sundance Film Festival. For international sales, the Columbus team hires Visit Films in case they only receive domestic all-rights deals. Their preference is to secure a theatrical release in North America, since the team is committed to Kogonada's cinematic vision, but they are willing to consider foregoing a theatrical release if they receive an offer that recoups the film's budget (e.g., a big Netflix buyout). The film was financed entirely through equity for $700,000. To support their Sundance Film Festival premiere, the film team uses nearly $30,000 from their contingency budget to cover PR (publicist and pre-screenings for press), condos for filmmakers and talent, film team travel, ground transportation, and poster printing, bringing their total budget to $730,000.
By the end of the Sundance Film Festival run, Columbus has been seen by nearly every distribution company. Still, despite exemplary reviews and a prominent international premiere at the International Film Festival Rotterdam in February, the best offer the team receives is a North American all-rights distribution deal with a $150,000 advance—far lower than the high-six-figure advance they hoped to receive.
Considering Creative Distribution: Risks and Opportunities
The filmmakers weigh their options: Take the all-rights deal for less than expected or pursue self-distribution?
Alternative distribution often requires the buy-in of investors. The Columbus team is in a favorable position, as the film was financed through Danielle's company, Superlative Films, which is composed of a group of like-minded investors. Having Danielle as an active member of the producing team allows them to streamline their decision-making process as she has a direct line to all investors involved.
The team also has the advantage of Visit Films on board for international sales, which the film has the potential to garner, especially after well-received screenings in Rotterdam and at the European Film Market in Berlin. But unfortunately, there are few meaningful international sales projections available for a unique film by a first-time director without a proven U.S. release. Thus, the team feels they need to prioritize domestic rights for recoupment.
As an alternative to the existing traditional North American distribution offer, the team decides to explore Sundance Institute's Creative Distribution Fellowship, which provides cash grants and resources to filmmakers interested in releasing their films without a distributor in return for transparent information-sharing to benefit other productions.
Sundance Institute's Creative Distribution Fellowship includes:
A guaranteed $100,000 marketing/distribution grant
A $75,000 minimum U.S. SVOD (subscription video-on-demand) deal from either Amazon Prime, Hulu, or Netflix, following theatrical and TVOD (transactional video-on-demand) distribution
Digital distribution delivery and licensing at a 25% reduced rate through Quiver, A Part Of Premiere Digital
Consultation and assistance with strategic planning from Sundance Institute's Creative Distribution team
Promotional support from Sundance Institute's marketing team
Connections to leading independent film consultants, vendors, and other distribution and marketing agencies
Under the existing offer, the team is guaranteed a 10-city theatrical run that would be paid for and marketed by the distributor. However, based on the financial waterfall of a traditional distribution deal, the team doesn't see a clear path to make their budget back.
In going with an all-rights offer, the team wouldn't be in full control of the distribution decisions, including how the film is marketed. But because Kogonada is deeply connected to his films' aesthetics, Danielle and Giulia want to ensure he has a meaningful creative role in the marketing of the film. By releasing the film themselves, the team feels they will be able to control the process better. This control, however, demands a significant time investment. Unlike handing the film over to a distributor, self-distribution requires a substantial commitment from the team for anywhere from 6-18 months.
Here's a breakdown of the decisions the filmmakers were faced with:
Ultimately, the Columbus team uses their distribution offer as motivation for taking the film's distribution into their own hands. They feel the Fellowship gives them the most creative freedom, the most creative control in marketing the film, and potentially the most revenue coming back to the filmmakers' and investors' pockets. Motivated to surpass their initial offer and give the film and the filmmakers a sustainable future, they decide to roll the dice in late February 2017: they reject their domestic all-rights offer to pursue the Creative Distribution Fellowship. As Danielle says, "We love this film and the filmmaker and we were going to lie down on the tracks to make this happen."
Setting Distribution Goals
The first step for the film team in creating an initial distribution plan is to identify clear, attainable goals. Before formalizing these goals in a strategic plan, the team meets in April 2017 at Sundance Institute's LA office to discuss their vision of an ideal release. They identify five primary distribution goals:
Reach their core audience and target other niche groups
Attain financial recoupment and maximize revenue streams
Showcase Kogonada's artistry in his directorial debut
Maintain Kogonada's creative vision throughout the release campaign
Learn as much as possible about independent film distribution in order to aid their future endeavors
Creating an Initial Release Pattern
The team maps out their initial windowing/release strategy, which mirrors a traditional distribution pattern for a domestic release:
1st window: Theatrical release
2nd window: TVOD (iTunes, Google Play, etc.)
3rd window: SVOD (Netflix, Hulu, Amazon)
Lastly, the Columbus team assesses who the audience is for the film. Because of its style and the excellent reviews following its 2017 Sundance Film Festival premiere, they know their target audience is arthouse cinema lovers. The team also feels the fans of Kogonada's work as a visual essayist will be an invested audience group. From there, they explore the overarching themes of the movie and begin to construct additional audience targets. Due to the prominent role modern architecture has in the film, the team imagines there might be interest from the design and architecture community. With Kogonada and John Cho being from Seoul, the team also targets the Korean American community.
Core Audience: Arthouse Cinema goers
Potential Audience Targets:

Existing fan bases of the cast and director
Korean Americans
Design and architecture community
Though creative distribution is often referred to as "self-distribution," it cannot be accomplished by the film team alone. It requires hiring a team of professionals that can support each specific area of a release strategy and help assess the right amount to spend on these areas based on revenue projections from each phase of the release.
The Columbus team starts by identifying the professionals that can support their more traditional release strategy. Based on industry referrals and recommendations from Sundance Institute, the team considers several possible collaborators.
To release theatrically, the team determines that they will need a consultant who can focus on strategy and logistics: contacting independent theater owners and convincing them to book the film, advice on how to market the theatrical release to target specific audiences, and facilitating theatrical deliverables. Michael Tuckman, founder of mTuckman media, a well-known theatrical booker who has experience working on self-released titles, proves to be the right fit.
For marketing, the team brings on consultants in three areas: creative asset creation (posters, trailers, video ads), publicity, and digital marketing.
Assets: They choose Intermission Film, a UK firm, with which Kogonda has a previous working relationship.
Digital Marketing: They select a company called High Council, run by Casey Moore, whose previous experience with The Criterion Collection resonates with their vision.
PR:

Based on Columbus' theatrical markets, they identify Cinetic Marketing in New York and MPRM in Los Angeles.
Because the film is set in Indiana, they also select a regional PR team called Dittoe PR to handle Midwest media outreach and to fully coordinate the Red Carpet premiere in Columbus, IN.
Full fees and consulting terms were not locked until a strategic plan for distribution was completed.
The Distribution Strategy
Setting a Release Pattern
In April 2017, following their initial strategy meeting, the film team strikes preliminary contracts to enlist the expertise of Michael Tuckman and Cinetic Marketing to help create their strategy. Together, they consider windowing options and calculate a low-to-mid-range financial scenario based on a $100,000 P&A budget, with the goal of ensuring maximum returns on minimal fees.
Here is the projected domestic distribution model, based on low-to-mid-range of expectations and a $100,000 P&A Budget:
1. Theatrical revenue: Assuming 10–15 markets and earnings of $7,500 per market, the total box office reaches $94,000. With exhibitor splits of on average 65%, the filmmakers take in $33,000.
2. TVOD (iTunes, Amazon, Google Play, Cable/Satellite): Approximately $100,000 in gross revenue the first year. Because of platform fees, roughly 60% of that gross, $60,000, goes to the filmmakers.
3. SVOD: Expected bid to come in higher than $75,000 for US SVOD rights. Assume $100,000 license fee to the filmmakers.
Total: $33,000 (theatrical) + $60,000 (TVOD) + $100,000 (SVOD) = $193,000 potential net back to film team.

With non-recoupable grant money, this total is already $43,000 above their best all-rights distribution offer.
Balancing Theatrical and Digital Windows
Initially, the team briefly considers releasing the film day-and-date, meaning through TVOD and theaters at the same time. Michael, however, encourages the team to carry out a limited theatrical run before beginning their TVOD release. The initial plan is limited runs in New York and Los Angeles as well as Columbus and Indianapolis, Indiana, before releasing on TVOD platforms. Michael recommends a few more cities to provide their core arthouse-cinema-going audience with as many theatrical viewing opportunities as possible.
In March 2017, they receive some good news that the IFC Center in New York is willing to offer an early August slot. As indicated by the five-month-out offer, premiere dates at the IFC Center—and in New York in general—are highly competitive. This, paired with Michael's strategic aim to avoid competing with bigger independent titles hitting theaters in late fall, convinces the team to open in New York and Los Angeles first in August, prior to other markets.
In April, the team also receives good news that Michael's outreach on behalf of the film to Landmark Theatres results in their willingness to play the film on at least 10 of their screens in places like Los Angeles, San Francisco, Denver, Washington, D.C., Philadelphia, Minneapolis, and Atlanta. But the filmmakers are hesitant at first because of the financial commitment it takes to release in 10 cities, and because working with Landmark Theatres locks them into a mandatory 90-day theatrical window before releasing on any other platforms.
At first, one of the film's investors is reluctant to place limits on the digital release and support the Landmark arrangement, because of prior success with a digital-only release, and considering the more favorable revenue splits offered by digital platforms versus theatrical. For example, if their theatrical performance is slow in the first couple of weeks, they're still locked into the 90-day window, inhibiting their potential to start TVOD sales early. However, once the team learns that a high percentage of first-year TVOD sales happens within the first few weeks of release, they ultimately decide to dive in and work with Landmark, as they see it as the best theatrical release strategy to get Columbus in front of its core, arthouse-going audience.
After the theatrical run, the TVOD goes through the aggregator Quiver, using Sundance Institute's discounted deal.
After the TVOD release, they have their SVOD, through the Fellowship-brokered relationship with either Amazon, Hulu, or Netflix. Each company is given the option to acquire North American streaming rights, for a base cost of $75,000. The filmmakers have the option to negotiate upward if there is competition. The Columbus team works with Cinetic to negotiate the best deal possible. Ultimately, Hulu is the most enthusiastic and offers a license fee considerably more than what the filmmakers were guaranteed through the Fellowship. (Additionally, some time later into the theatrical run and independent of the brokered deal, Netflix makes a low-five-figure offer for Canadian rights.)
The Columbus team uses consultant fees and their associated costs and a sample P&A budget of a similar release pattern to construct their preliminary budget. With the addition of the Landmark bookings, the team calculates that they will need roughly $147,000 in P&A to support their release. Sundance Institute agrees to increase the grant to $137,000 to account for the increased costs associated with the Landmark arrangement, and the remainder of $10,000 is covered by a financial gift from an individual donor.
The team intends to invest a majority of their spend in three areas: PR, theatrical costs/deliverables, and digital marketing. These three areas account for nearly 75% of their P&A budget. Because garnering good press has a significant impact on the success of an independent film's release, the team spends close to 30% of their budget on PR expenses. Theatrical campaigns are expensive and require significant resources. Columbus' theatrical expenses and deliverables account for over 25% of the total budget. The team budgets close to 20% on digital marketing, promoting the film through social media channels to grow their fan base and reach audiences who have a diverse range of viewing habits. The rest of their P&A budget is divided among asset creation, producer fees, print materials, awards submission fees, and cast and filmmaker travel.
Breakdown of P&A Budget Allocation
(based on a final $189,032 P&A budget)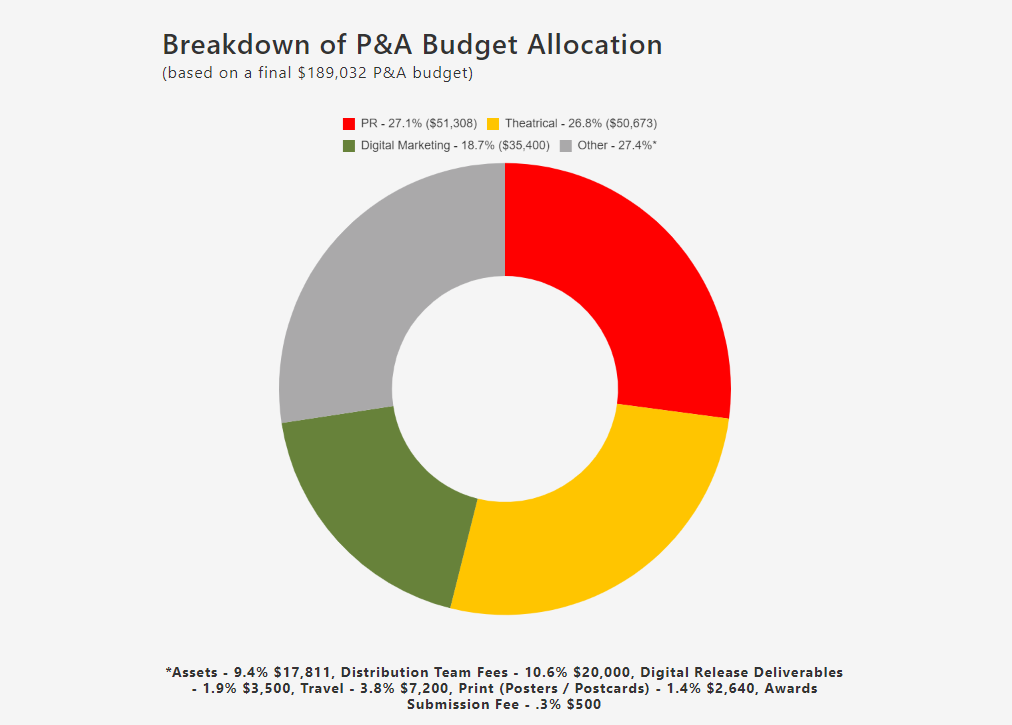 Once the release windowing is mapped out and the preliminary budget is in place, the Columbus team brings on the remainder of their identified consultants to round out their distribution team.
Kogonada was crucial in working with the Intermission team and offering ideas on how to structure [assets]. … It was part of the process to figure out how to work together creatively within the tight budget [and] schedule constraints."
Giulia Caruso, Columbus producer
Intermission Films, a UK firm, creates the film's promotional assets. Giulia and Danielle feel they are a great fit for creating the marketing assets as they know Kogonada's aesthetic preferences. To keep the campaign homogenous, Intermission oversees four main assets: posters, 30-second spots, the website, and the trailer.
The Columbus team starts with the trailer and posters, going through three rounds of edits on each with the Intermission team to reach the final versions. For the poster, they start with 10 ideas and narrow it down to two final versions. Listening to Kogonada's artistic preferences was of utmost importance. "Kogonada was crucial in working with the Intermission team and offering ideas on how to structure [assets]," says Giulia. "It was part of the process to figure out how to work together creatively within the tight budget [and] schedule constraints. They were very open and willing to take notes and engage in the creative conversation and [were] overall amazing partners." The Intermission team also creates two 30-second spots for social media and creates the first iteration of the film website, which they hand off to the Columbus team for further customization and maintenance.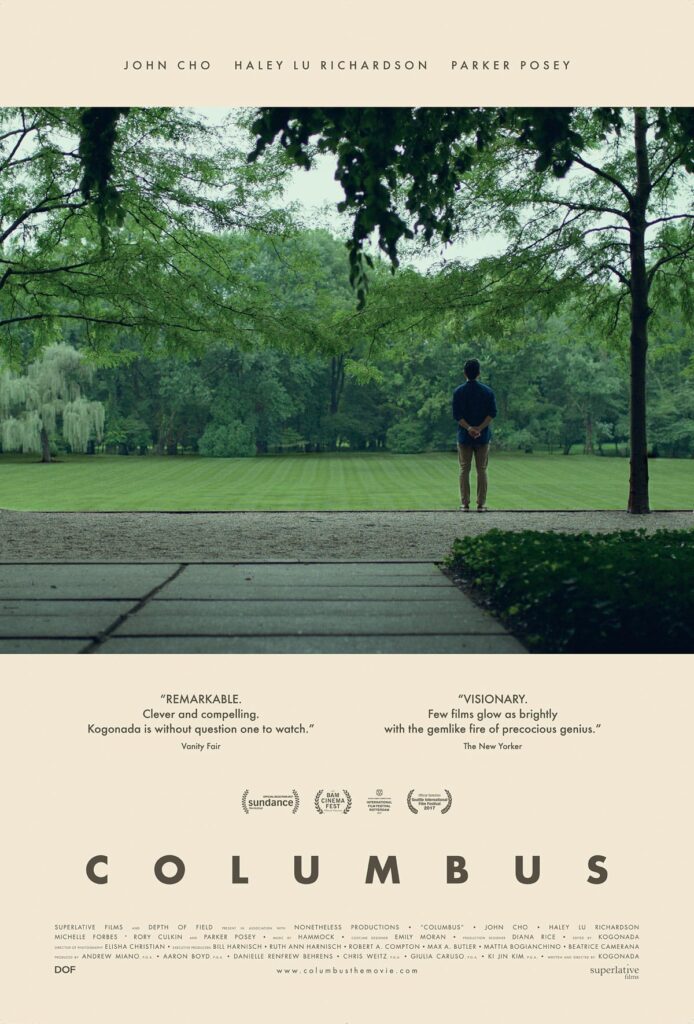 Casey Moore, CEO of High Council, leads Columbus' digital marketing campaign. Having worked briefly with Kogonada in the past during his time at Criterion, the Columbus team feels Casey is the best fit to articulate and maintain the aesthetics of the film throughout the digital marketing campaign.
Having an extensive background as a graphic designer, Casey understands how important cohesive and captivating creative materials are when it comes to promoting a film digitally—it's not just about promoting the film but making sure the creative assets stand out among the noise of the digital sphere. "How do you market a delicate, Ozu-inspired human drama in newsfeeds dominated by ever-brighter, ever-louder ads and content?" says Casey. "My answer was to try not to compete—instead, to let the many beautiful moments of the film and all the wonderful praise it received speak for itself with a modern, uncluttered aesthetic identity and a voice that was honest and grateful." Casey helps brainstorm potential audience targets for digital ad campaigns and crafts all social media creative materials, including images with text overlays and short promotional clips, in-house. Danielle and Giulia regularly review the assets and discuss the strategy behind the digital marketing campaign, making it a collaborative process.
After Columbus premieres in New York and Los Angeles on August 4, the film plays in 13 markets, performing exceptionally well in San Francisco and Washington D.C., and peaking in the film's hometown, Columbus, and Indianapolis, Indiana, on September 1. Cast and crew are in attendance for the New York, Los Angeles, and Columbus screenings. The New York and Indianapolis premieres sell out, and Los Angeles draws a significant crowd. In its opening weekend in New York and Los Angeles, Columbus reaches a per screen average of $13,410, which is significant considering the modest P&A budget. (To provide a comparison, this is approximately the same per screen average as the Sundance title Landline, which was distributed by Amazon, which historically allocates much larger P&A budgets.)
Columbus Opening Weekend Sales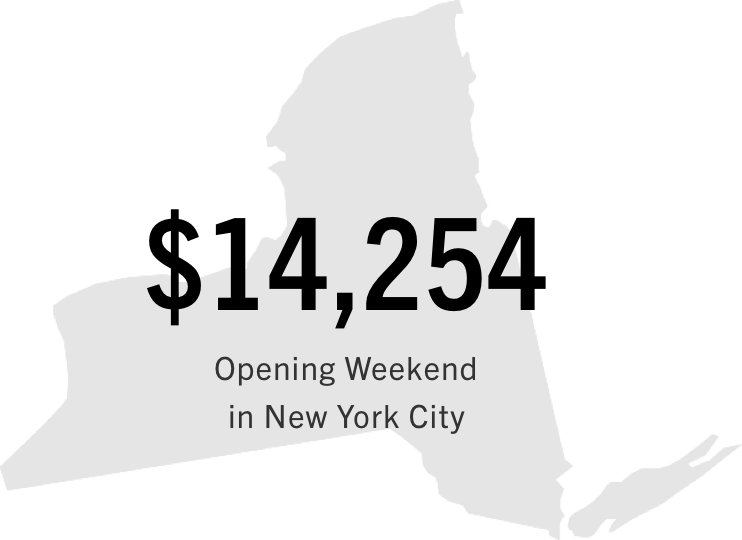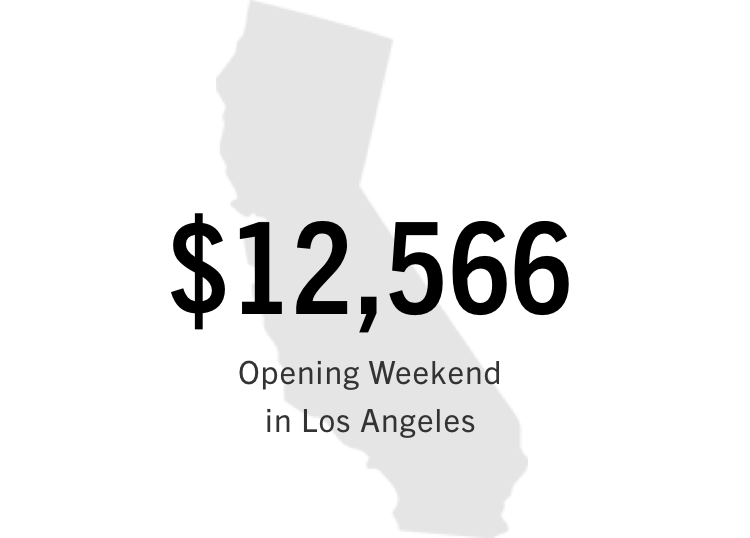 Out of all the premieres, the Columbus, Indiana, showing over the Labor Day weekend is the biggest event in terms of buzz and turnout. To help with cost and event promotion, the film team partners with the Columbus Visitors Center for the premiere. John Cho, Kogonada, and Haley Lu Richardson all show their support by taking part in regional press leading up to the event and attending the premiere and accompanying Q&A. There's a big local party, which many residents attend, including the Mayor of Columbus and the Governor of Indiana. Throughout the theatrical release, Columbus/Indianapolis remains a strong market for the film, and it ends up being their fourth best market overall, which is impressive considering Indianapolis is the 26th ranked market in the country. The Indiana Red Carpet premiere, managed on location by a team of four people from Dittoe PR, turns out to be a great investment of time and resources.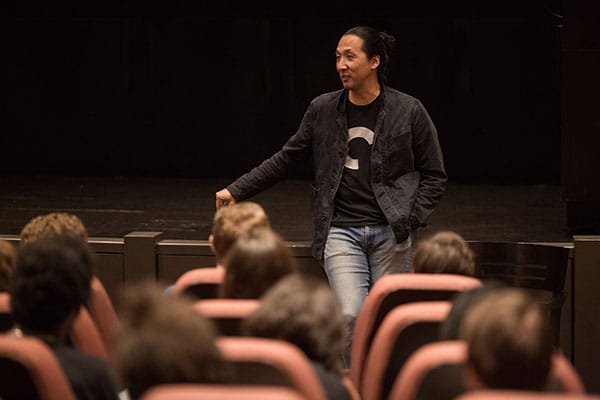 By the end of August, the theatrical release surpasses 40 markets. The additional bookings beyond the specified Landmark theatres are organized by Michael and come from individual exhibitors, or independent theater owners. (This independent theatrical run is promoted through the Arthouse Convergence Network, a collection of allied arthouse cinemas around the world, which are the source of many of these additional booking requests.) Once the film begins its theatrical run and more press rolls in, the team quickly realizes their theatrical run will be bigger than expected.
The film's glowing press is crucial to this boost. The team uses their opening weekend event screenings to push as many reviews and press opportunities as possible. The PR teams focus mostly on the theatrical release, though some publicists help manage press that hits post-release, such as when the film is nominated for Independent Spirit Awards and Gotham Awards, as well as making numerous end-of-year top ten lists. Though the publicity teams expect traction in niche outlets such as Architectural Digest, most of the press for Columbus comes from more traditional outlets such as the New York Times. (For more on the film's press strategy, see the next section.)
With the film's expanded theatrical run comes considerable costs, some of which aren't fully expected. Each theatrical market comes with associated costs such as VPFs, DCPs, posters, and shipping, and there's a wide variety in how different independent cinemas handle these costs.
Coordinating and handling print traffic for the growing theatrical release ends up becoming a big part of the team's work, with two of the team members, Chy Chi and Ki Jin Kim, focusing primarily on these tasks—from coordinating with LaboDigital (the lab that makes copies of the DCPs and handles the duplication and distribution), making sure that all the theaters receive KDMs for their screenings, and directly handling shipment of posters and back-up screening formats such as Blu-rays.
The quick market expansion and numerous holdovers result in budgetary stress, increasing their P&A budget from $147,000 to over $180,000. As of March 2018, VPF fees alone amount to $7,602. DCPs, shipping, and trailer mastering and delivery costs total $9,500.
To accommodate the expansion and lengthy holdovers in theaters like the IFC Center, the team must strategically plan their market expansion. As Michael explains, "We were looking at every market, but we had to target theaters that didn't require print advertising and didn't charge VPFs or allowed us to play on Blu-ray. We knew we had about five weeks to strike both while the film was still hot and before the major Fall titles hit." The added support of $27,000 to transport Kogonada and cast to Q&A screenings and to relieve the financial stress caused by the theatrical expansion was provided by an individual donor.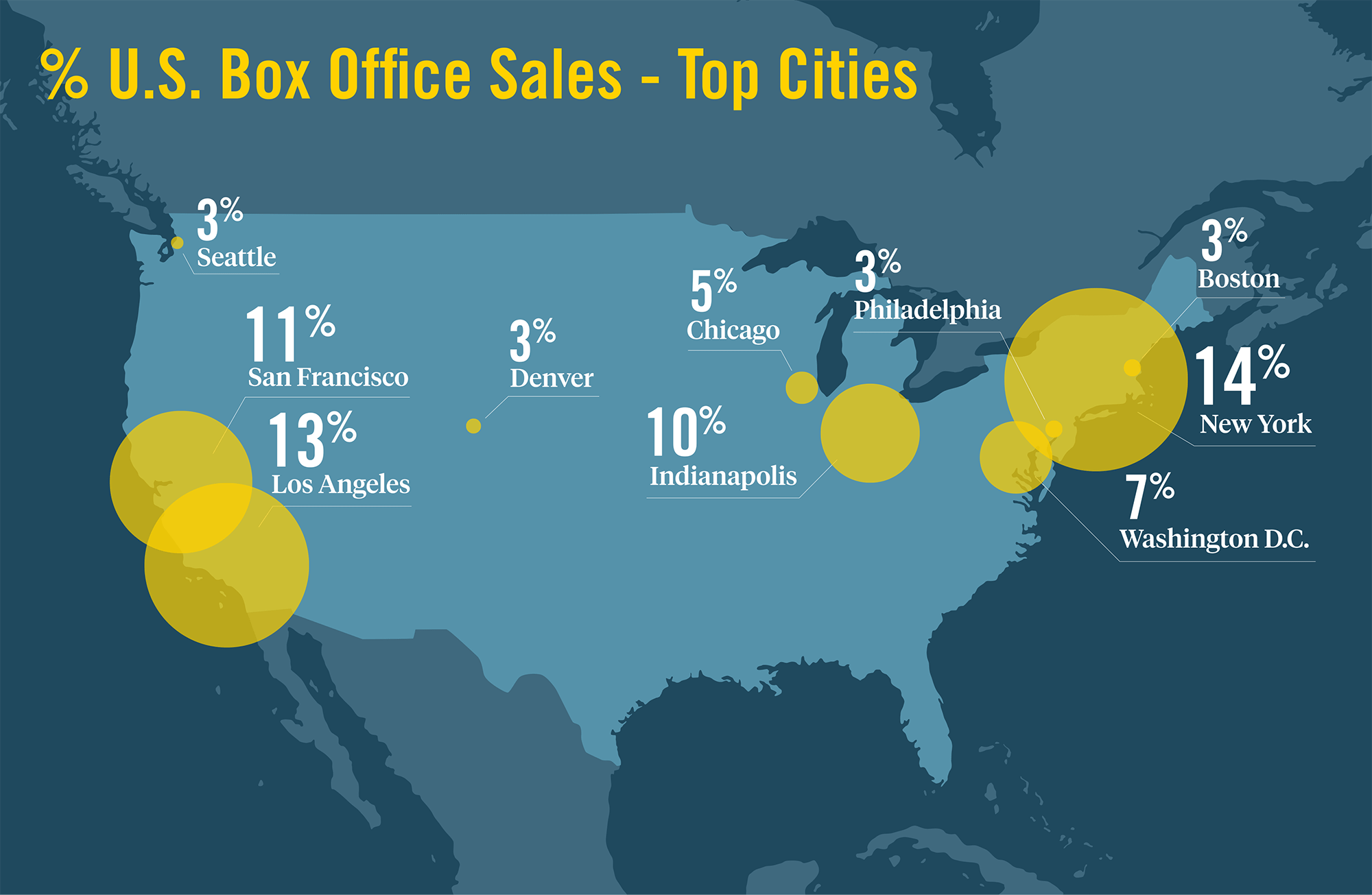 Between the mandatory 90-day window with Landmark Theatres and their December 4 SVOD start date, the Columbus team knows they only have 30 days to push TVOD sales. The film will stay on TVOD platforms indefinitely, but the ability to capitalize on TVOD sales will most likely fall in the 30-day window before its SVOD release. Fortunately, by the time they start their TVOD sales, their theatrical expansion begins to taper off, making it an optimum time to transition to their digital release.
Columbus' digital distribution campaign begins with a presales push on iTunes starting October 15, followed by live sales on iTunes, Google Play, and Amazon Video Direct on November 3, 90 days after their August 4 theatrical start date. Sundance Institute helps the Columbus team secure placement on cable/satellite providers including DIRECTV and InDemand, which services the "movies on demand" content for Comcast, Spectrum, Cox, and other providers.
Traditional Press and Marketing
The Columbus team targets three primary markets for meaningful press opportunities: New York, Los Angeles, and Indiana. New York and Los Angeles are the two biggest media centers for independent arthouse cinema that provide the opportunity to maximize press attention to films, and because of the role that the city of Columbus, Indiana, plays in the film, the team knows it will be important to have a focused press strategy in that region. In addition to Cinetic Marketing covering New York and MPRM tackling the West Coast, a regional PR firm called Dittoe PR focuses on Indiana and other Midwest markets. The latter expense, comparable to the fees charged by the New York and L.A. firms, is covered by a financial gift from an individual donor.
With the great reviews out of the Sundance Film Festival premiere, the Columbus PR consultants are confident they can provide a robust press campaign. However, unlike releases managed by a distribution company, in which the PR agency can lock in actor involvement for specific press engagements, the Columbus team starts working with their PR consultants before they know their exact theatrical premiere date or markets. As a result, close communication, actor flexibility, and thinking outside the box are essential as they pitch press and find opportunities to build a meaningful publicity campaign.
Even though Haley Lu Richardson and John Cho are both working on other projects during the release, they make time for Columbus press engagements. The PR teams also prioritize "think-pieces" about the film's subject matter, themes, and critical acclaim as these don't require talent participation, but still constitute meaningful, thoughtful writing about the film. To create buzz for their theatrical release, Cinetic launches the trailer on June 22 -the same day as their premiere screening at Brooklyn's BAMcinemaFest -as an exclusive with Entertainment Weekly.
For any independent film releasing in today's market, digital marketing is crucial. It's one of the most efficient ways to reach audiences on a mass scale and continue to grow a fan base. Most digital marketing campaigns consist of two components: 1) digital marketing through social media ads and 2) organic content, or promoting the film by posting to your social media channels on a regular basis. Beyond promotional use, social media advertising can also help film teams refine their marketing assets and audience targets. For instance, digital marketers can use ads to test different posters to see which one people engage with the most, or they can use ads to see which communities are most interested in the film.
Casey focuses on two main areas for the digital marketing campaign: the theatrical run and iTunes sales. In between, he keeps the channels active with organic content, posting to Columbus social media accounts—which included Facebook, Twitter and Instagram—on a consistent basis to keep the fans interested and aware of the film's release cycle.
Drawing from the initial audience identification strategy, Casey constructs six audience buckets to test with the first round of ads. During the first two weeks of the theatrical digital ad campaign, he gathers data on the running ads that will help identify and refine the target audience and geo-targeting for the rest of the digital strategy. For example, although modern architecture plays a large role in the film, the ads that target communities with this affinity don't perform well, meaning there is low engagement with the ads and a higher cost per result. They find that their audience target of "Asian celebrity interest" is most effective when geo-targeted to areas with large Asian American populations, such as Seattle, San Francisco, and Los Angeles. They also find that their core audience of arthouse cinema lovers in New York and Los Angeles are one of the most invested audience groups. The chart below shows the initial six audience targets and their average cost per result (cost per click or cost per impression). A higher cost per result usually indicates an ad isn't performing well or isn't resonating with the people who are seeing it.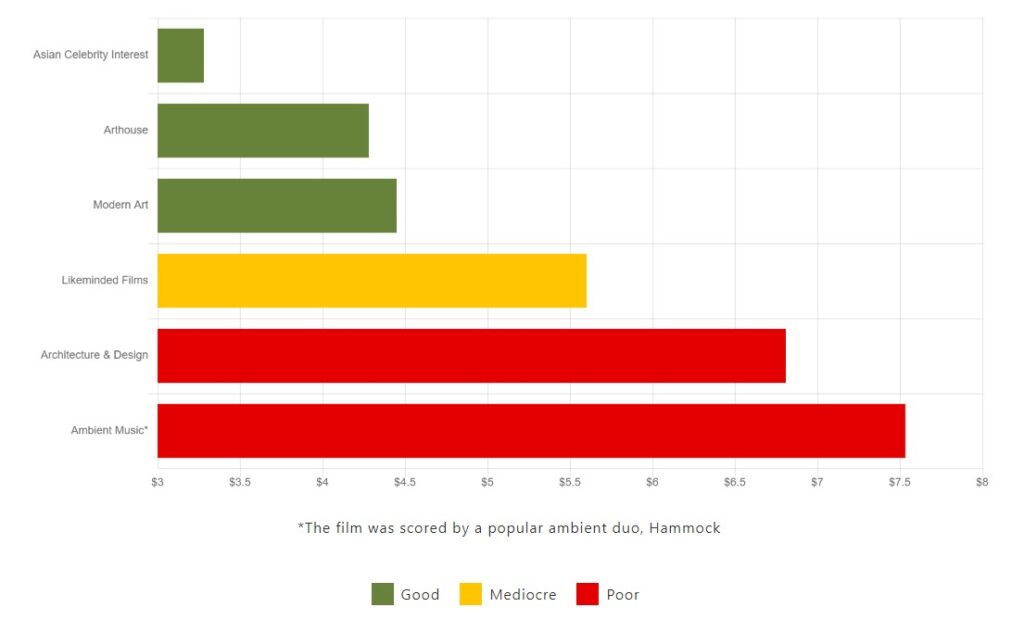 For the iTunes campaign ads, Casey uses two 20-second spots (clips specifically cut for social media use) of behind-the-scenes footage that Koganada crafted. These perform well and make the team realize that video content performs better than still graphics. This is a lightbulb moment for Casey: "Using behind-the-scenes footage helped refresh the campaign," he says. "Kogonada's clips were a respite in people's crowded news feed." Also, having Koganada so integrally involved in the digital marketing is unique, since directors often don't participate in this part of the marketing process. His involvement helps reinvigorate the film's social media profile at the tail end of their digital marketing campaign.
Using behind-the-scenes footage helped refresh the campaign. Kogonada's clips were a respite in people's crowded news feed."
Overall, the Columbus team spends $24,000 on social media ads: $8,000 for their theatrical campaign, $12,000 for their iTunes campaign, and the remaining $4,000 on boosting posts, or putting money behind page posts in order to reach more eyes. Their iTunes campaign reaches 223,008 people, with 630,928 impressions and a total of 9,268 clicks. They grow from under 600 Facebook followers in April 2017 to over 6,000 as of March 2018.
Through outreach conducted by their consultants and Sundance Institute, Columbus receives special digital promotion through a few outlets. iTunes gives the film prime promotion during the course of its digital release: jumbotron placement the day TVOD sales begin and a filmmaker spotlight featuring Kogonada a couple weeks after the transactional release date. In addition, during the 2018 Sundance Film Festival, iTunes features Columbus in a promotional room for select titles from the 2017 Sundance Film Festival. There, the film is available to rent for $0.99 for two weeks, peaking at #17 on the overall iTunes charts. The film is also given social media promotion on Sundance Institute channels at each important juncture of the release campaign.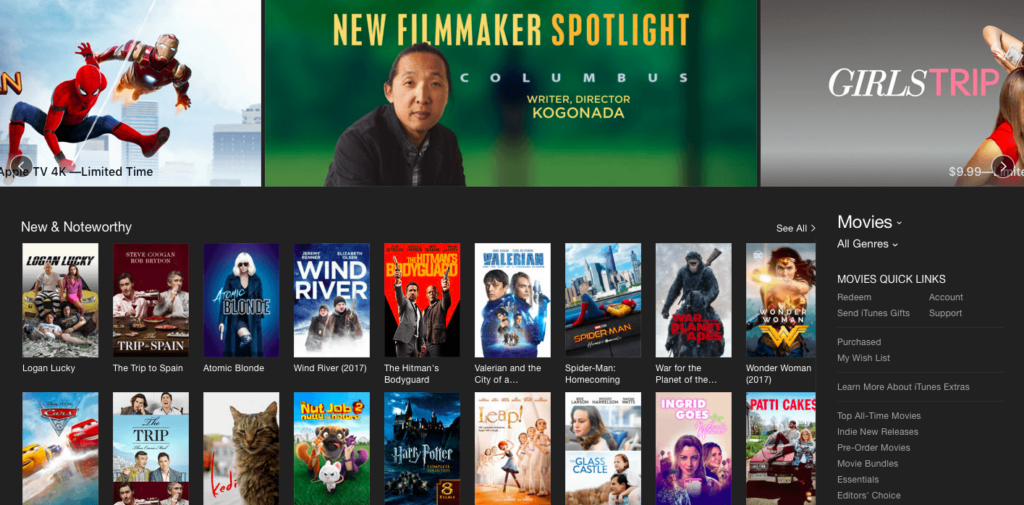 Though there's no way to accurately measure conversion on press, the team felt that their press coverage contributed significantly to their theatrical success, as a large portion of their audience was the arthouse-cinema-loving crowd, who are still greatly influenced by the reviews they read. In a recent study conducted by the Art House Convergence, 47% of arthouse cinema goers surveyed said they learn about new films mainly through print reviews. Columbus' total PR spend was $51,328.
Throughout its release, the film maintained a 98% on Rotten Tomatoes as "Certified Fresh." This is an impressive rating, and it's rare when films can retain a score this high. As of March 2018, the average Rotten Tomatoes score of all the 2017 Sundance Film Festival titles released theatrically is 81%. The verdict is still out on whether or not this has an effect on the financial performance of a film, but the rating likely contributed to the general success of the film. As Michael described, "Columbus was very different than the other films that premiered out of Sundance that got buzz. It's a very reserved, mood-driven, aesthetic-driven film about architecture that didn't look out of place on the arthouse circuit, but somehow felt different than the other indie films premiering around the same time."
Here are some examples of the press Columbus received:
Taking the Lead: John Cho has battled gangs for burgers and gone boldly where no one has before. But now he's trying something new: being a leading man.
Phoebe Reilly – United Mags
Breaking Big: Haley Lu Richardson heads from The Edge of Seventeen to Columbus
Devan Coggan – Entertainment Weekly
Review: Modernism's Promise and an Auspicious Feature Debut in 'Columbus'
Ben Kenigsberg – The New York Times
Michael said that the theatrical release "exceeded our wildest dreams." With an initial 16-market release plan, 10 of which were booked through Landmark Theatres, it was a huge surprise that by the end of their theatrical run the film had opened in over 200 theaters in 78 markets. This expanded theatrical campaign led to pulling in just over $1,000,000 in box office revenue, which is very rare for an independent film with a modest P&A budget.
The team concluded that a multitude of efforts and outreach led to the broad expansion of the theatrical release, including the following:
Michael personally reached out to his network of exhibitors (theater owners), and individual theater inquiries came directly to the team, many through the Arthouse Convergence Network.
Casey ran a condensed two-week theatrical campaign on social media and after that window used information about the campaign (updates, press clippings, premiere photos) as organic content, posting this information to their social media pages to keep their channels active and update their fans about the expansion of the theatrical release.
Their distribution coordinator, Chy Chi, carried out grassroots outreach to modern art and architecture organizations, architecture and design universities, and museums to let them know about the film and ways they could view it.
Lastly, and as reported earlier, stellar press significantly contributed to their theatrical success. As Michael said, "The film [sold] itself more than anything else." Good reviews and interview pieces with Kogonada, John Cho, and Haley Lu Richardson helped connect the film with its audience and boosted awareness.
Columbus made $1,014,533 in domestic box office revenue. New York, Los Angeles, San Francisco, Indianapolis, and Washington, DC, were the top five markets, which accounted for 48% of the total box office. Though typical theatrical splits for smaller independent films hover around 65% in favor of the exhibitor, due to variability in individual theater splits and market performance, the film team was left with roughly 30% of the box office, around $305,000 in net revenue. With independent theatrical distribution, each theater reports and invoices differently and at different times throughout the theatrical release, so it's hard to give an exact percentage split or net revenue amount. New York is a good example of this variance: due to increased real estate and labor costs, their splits can be as high as 75% in favor of the theater. This impacts many independent films because a large portion of their total gross can come from New York. The Columbus team's theatrical costs, which included consultant fees and expenses, Landmark PR costs, VPFs, cast tickets and stylists, DCPs, Blu-rays, and shipping, came to $50,673.
Though they released on multiple platforms (Amazon Video Direct, Google Play, cable/satellite VOD, and iTunes), Columbus' most successful TVOD revenue stream is currently through iTunes. There are a few different reasons why this may be the case. iTunes in general still seems to be the most popular transactional platform. Also, Columbus was given prime promotional placement on iTunes throughout the course of the TVOD release. This type of promotion directly impacts sales by placing the film in front of potential customers rather than them having to search for the title. And because iTunes is one of the most widely adopted TVOD platforms, the Columbus team decided to use their limited TVOD digital marketing dollars on promoting iTunes and mentioned all other platforms through organic posts, not paid ads.
With a mandatory 90-day theatrical window due to booking with Landmark Theatres and an SVOD live date slated 120 days after their theatrical release, Columbus had only a four-week window for TVOD sales before the film would be available for free to Hulu subscribers. Nearly 60% of their iTunes sales, for instance, happened within this four-week window. Close to 20% of their iTunes sales happened when the film was listed for $0.99 rental in the 2018 Sundance Film Festival iTunes promotional room. As of March 2018, since its November 3 release on all TVOD outlets, the film has grossed close to $200,000 in total consumer sales.
It's important to note that as of March 2018, only iTunes and Amazon Video Direct reporting is up to date, as other outlets take much longer to report sales estimates and revenue to Quiver. The Columbus team's net share from these gross sales is currently around $125,000, with the vast majority from iTunes, which also offers a more favorable split to the rights holder—roughly 70%, compared to Amazon Video Direct, which is a 50/50 split.

The following graph breaks down Columbus' iTunes sales by week. Note that nearly 60% of iTunes sales happened within the first four weeks, and sales spiked during iTunes' 2018 Sundance Film Festival promotion in week 12.

Danielle, Giulia, and the rest of the Columbus team have been involved with the release of the film since January 2017. As of March 2018, they're slated to pull in an estimated total of $600,000 in domestic net revenue: $305,000 in theatrical revenue, $170,000 in SVOD license deals, and $125,000 through TVOD, and cable/satellite sales. Reporting and collection from theaters and platforms is still ongoing.
Through foreign sales to most international territories, including Asia, Latin America, and Eastern Europe, as well as a global airline deal brokered by their international sales agent Visit Films, the Columbus team has currently received an additional $65,000 of net revenue, after the sales agent's fees and other splits are taken out.
They spent a total of $189,000 on P&A for the film. Below is a breakdown of what they might have netted working with a North American all-rights distributor in comparison to what they netted with creative distribution.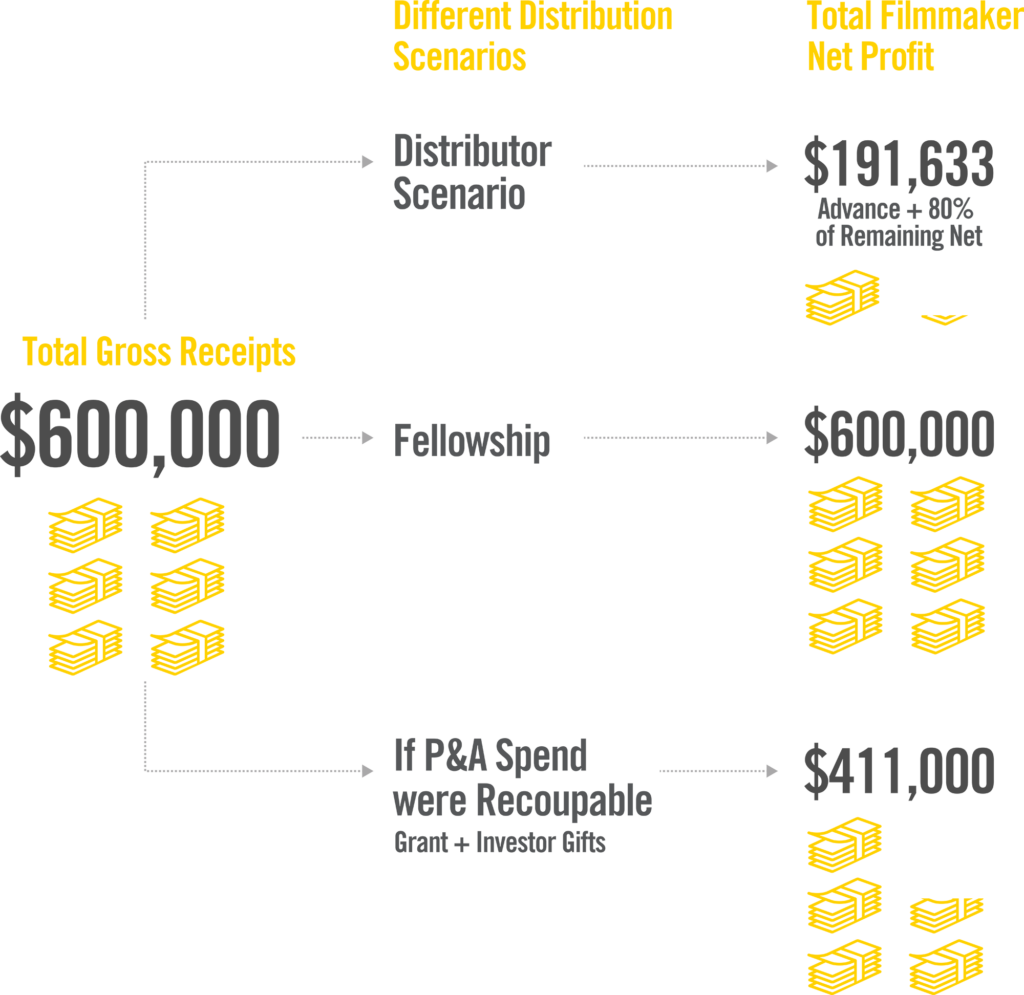 As you can see, the Columbus team has yet to recoup their budget, but they are only $130,000 away as opposed to the approximately $530,000 they would need based on the distributor scenario. Even if the P&A was not a grant and investors were to recoup that spend, self-distribution would still have been more financially beneficial to them. However, it's important to keep in mind that most of the team's year of time spent self-releasing is not included in the final outcome. Giulia was paid a low five-figure fee for the entire duration of the distribution process.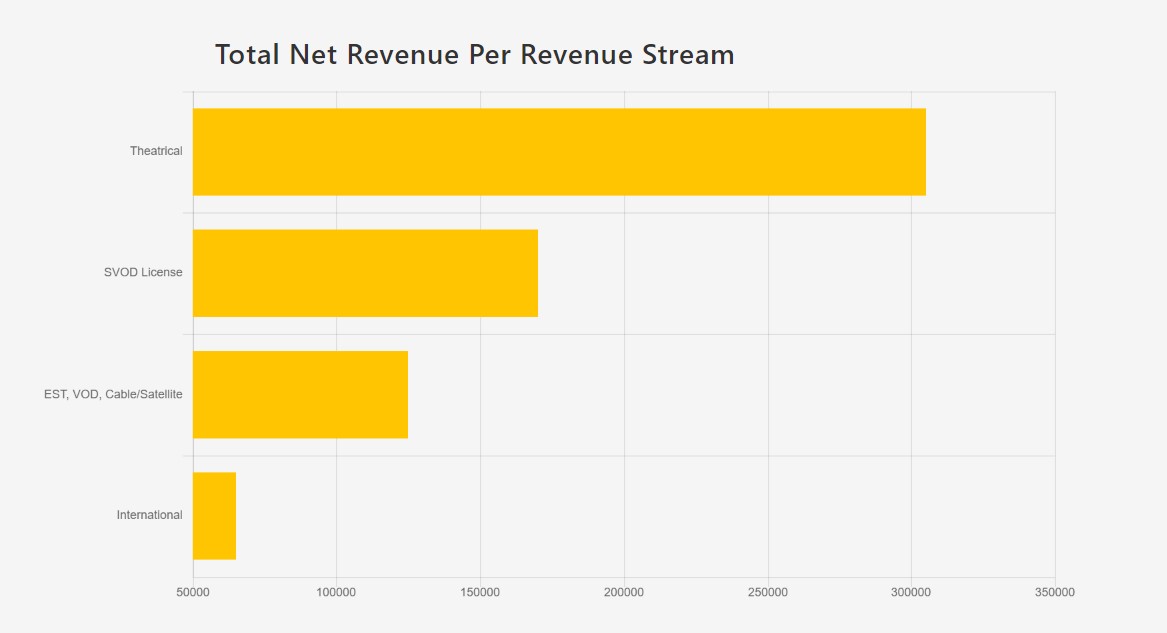 + $305,000 in theatrical revenue
+ $170,000 in SVOD license deals
+ $125,000 through EST, VOD, and cable/satellite sales
+ $65,000 in international sales
– $189,000 in P&A spend
$665,000 in total net revenue to date ($600,000 comprises domestic sales)
* $411,000 if P&A were recoupable
Overall, more than twice as much money came back to the filmmakers in the self-release model as compared with a hypothetical traditional distribution arrangement. Compared to the amount of P&A spend put into the release of the film, Columbus performed exceedingly well at the theatrical box office. However, compared to handing a film over to a distributor, creatively distributing a film takes a significant amount of time and resources. Despite their commitment, the Columbus team is surprised to still be managing the release after a year of involvement.
The Columbus team was concerned about the lack of control with a traditional distribution strategy and were willing to put in the time to release the film themselves. Ultimately it paid off, not just monetarily but through the amount of distribution knowledge they gained. The film team and their consultants identified some crucial takeaways throughout the process. Here are a few:
When Considering Creative Distribution …
If you're thinking about self-distributing your work, start to form relationships early that can help you with the release of your film (such as PR teams, theatrical bookers, digital marketing consultants, and theater owners).
Before you sign any contracts, think about how those deals can potentially affect other areas of your release (e.g., a mandatory theatrical window, holdbacks).
If you're thinking about pursuing creative distribution, think of creative ways to structure agreements (e.g., can you re-appropriate income and reinvest it?).
Understand that it takes a team of people to creatively distribute your film. Make sure the team of people working with you understand the duration of the distribution process; it's almost a full-time job for multiple people. Creative distribution doesn't end after your theatrical or digital release, and someone needs to manage it through to the end.
If you're considering creative distribution, structure your production budget to account for P&A budget and expenses.
For independent releases, theatrical takes a lot of time and resources and provides a modest return in terms of the profit margin, though it does help with press awareness. Columbus is a rare example of theatrical success, as it yielded a 38% profit margin and remains their largest revenue stream.
If you're pursuing a theatrical release, understand the limitations that come along with that windowing.
Independent theaters have different splits and reporting is often vague. Work with your theatrical booker to really understand how each independent theater operates and what their associated costs are.
Do your research and try to get as clear an understanding as possible about the deliverables necessary for your release. Throughout the course of your release, you'll need to provide many different kinds of deliverables, and they're often needed on a fast turnaround and need to be budgeted.
The team noted that if the P&A spend had been recoupable, or if it had been an equity investment rather than grants and gifts, they would have capped their expansion to 50 theaters.
Don't chase after revenue from a wide theatrical release. Unlike Columbus' theatrical success, oftentimes the cost/benefit of a theatrical release shows diminishing returns. Look at comps as well as revenue and cost projections before diving into a wide theatrical release.
Make sure you always budget for contingency—when portions of your release start to do well and expand, you'll need to spend more money.
Working with good PR agencies is expensive; you don't just need one person but a team in multiple markets. If your distribution success relies on good press, make sure you budget accordingly.
Digital Marketing and Promotional Material
For digital marketing campaigns, it pays to think from the beginning about how you're going to keep your channels fresh and engaging. Try out different forms of media to see what works best, and keep rotating creative elements to keep it fresh.
Always take time to capture behind-the-scenes content, because it helps to have this to pull from when promoting the film.
Appendix: About the Film and Film Team
When a renowned architecture scholar falls suddenly ill during a speaking tour, his son Jin (John Cho) finds himself stranded in Columbus, Indiana—a small Midwestern city celebrated for its many significant modernist buildings. Jin strikes up a friendship with Casey (Haley Lu Richardson), a young architecture enthusiast who works at the local library. As their intimacy develops, Jin and Casey explore both the town and their conflicted emotions: Jin's estranged relationship with his father, and Casey's reluctance to leave Columbus and her mother.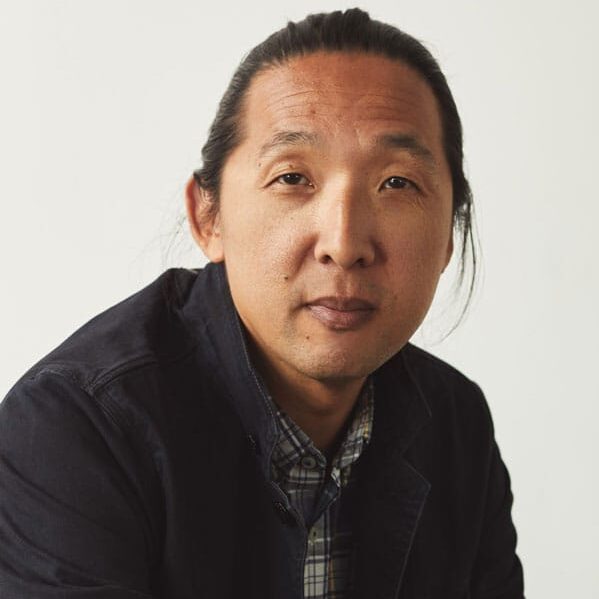 Kogonada is a proud immigrant, born in Seoul and raised in the Midwest. He has been noted by Filmmaker Magazine (25 New Faces of Independent Film) and The New Yorker for his visual work and film criticism commissioned by the Criterion Collection and Sight & Sound. He currently resides in Nashville with his wife and two sons. This is his directorial feature debut.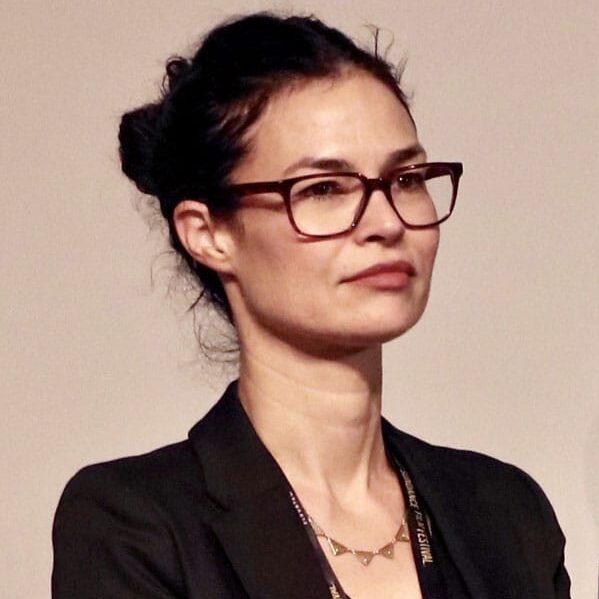 Danielle is the founder of Superlative Films headquartered in Boulder, Colorado. In addition to Columbus, Superlative's titles include Lucky starring beloved character actor Harry Dean Stanton, The House of Tomorrow with Ellen Burstyn and Nick Offerman, Humor Me with Elliott Gould and Jemaine Clement, and Night Comes On which received the NEXT Innovator Award at Sundance 2018. Danielle's other credits include The Queen of Versailles, Kurt Cobain: Montage of Heck, Grandma and Waitress.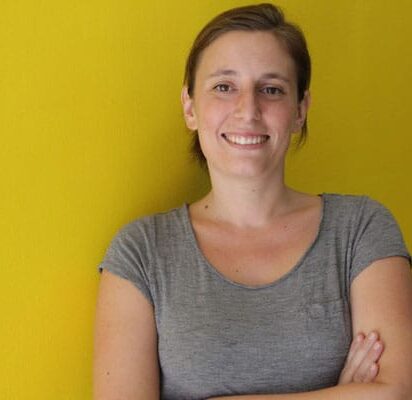 Giulia Caruso is an LA-based Italian producer and founding member of Nonetheless Productions. In 2017 she won a Cassavetes Independent Spirit Award for Andrew Ahn's debut feature SPA NIGHT. Giulia produced content for clients such as Focus Features, MTV, GoPro and Intel – including Ian Samuels' Sundance short film Myrna the Monster, and Rhys Ernst's GLAAD-awarded docuseries We've Been Around.
Columbus Distribution Team