By Katie Small
To say viewers were in shock after the Midnight premiere of Speak No Evil might just be an understatement. Despite the late hour (approximately 12:45 a.m. PST), the Friday night/early Saturday morning post-film Q&A chat was buzzing, with comments pouring in expressing everything from awe to revulsion.
In her introduction to the film, Sundance Institute programmer Ana Souza described Speak No Evil as "one of the most twisted films of this year's Festival." An overwhelming number of viewers chimed in with, "Holy shit."
The film marks Danish director Christian Tafdrup's third feature and first foray into horror. He co-wrote the script with his brother, Mads Tafdrup, and in the Q&A he explains how he drew from personal experience while crafting the story.
Years ago, while on vacation with his girlfriend, Tafdrup encountered an offbeat Dutch couple who invited them to visit their home in Rotterdam. Tafdrup declined, but says the experience sparked his curiosity. "I started imagining what would have happened if we actually went to visit this creepy Dutch couple. And then my brother and I talked about the story and imagined all these funny but also scary situations it could have led to, and we decided, 'What if the worst thing that could happen, actually does happen?'"
So, in the film, a polite Danish family befriends a free-spirited Dutch couple and their son while vacationing in Tuscany; a few months later, the Dutch invite the Danes to visit them at their home in the Netherlands. Unlike Tafdrup and his girlfriend, the Danes in the film nervously oblige, but what starts out as a sweet reunion quickly takes a turn for the worse. Their exceptional Danish manners are repeatedly tested by their erratic and eccentric hosts, who are harboring secret and sinister intentions.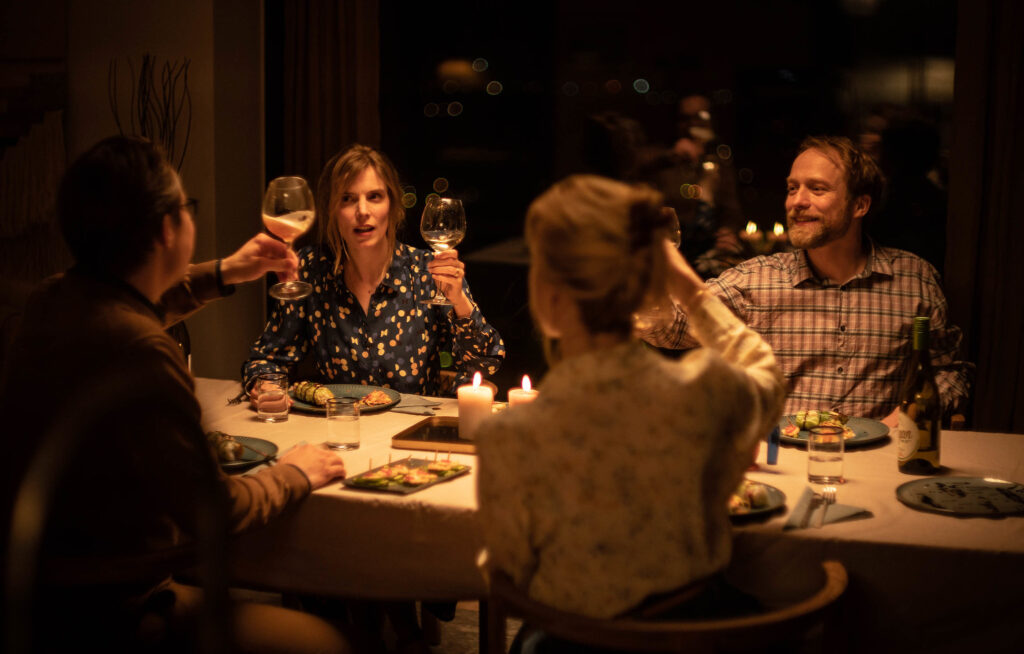 Speak No Evil reflects on contemporary themes of social niceties, setting personal boundaries, and the consequences of communication breakdown, while managing to blend social drama, psychological thriller, and horror to unnerving effect. "In modern horror films like Get Out or Midsommar, they kind of dare to mix genres — it can be both very funny and it can be scary, and it has something to say," Tafdrup explains. "And with this film I didn't just want to scare, I wanted to make a statement about human nature."
Tafdrup described how his controversial ending was met with resistance by potential collaborators: "Several actors who auditioned asked me to rewrite the ending… They wanted a little more hope. And we also struggled to get funding, as funders wanted a little more hope," he continues. "That, of course, caused me to doubt myself, and we tried to write another ending where they were holding hands and suddenly everything in Denmark was beautiful — and it was totally stupid." he laughs.
Tafdrup says the ending is intentionally brutal. "I like to challenge the audience," he explains. "In the process of writing, my brother and I had promised each other to make a disturbing film. […] We shook hands, and agreed to make the most unpleasant experience for an audience, ever."
It seems that they succeeded in their quest. Speak No Evil masterfully builds tension and suspense, with a visual crescendo that is sure to leave a lasting impression. "We don't know if it will divide audiences — and maybe I don't even care about that," Tafdrup muses. "It's ok if you hate it, it's ok if you love it — but what I don't want to do, is please you too much."