Sally Menke was a creative advisor at the 2005 Directors Lab at the Sundance Institute. 
By Vanessa Zimmer
Quentin Tarantino called her his only true collaborator. Filmmaker Joan Sobel called her a "brilliant editor." Sundance Institute co-founder Michelle Satter named her one of the Institute Labs' greatest advisors.
Her name? Sally Menke. Twice-nominated for an Oscar for her editing work with Tarantino, Menke was at the top of her game when she died suddenly in 2010, at age 56. But her legacy has been preserved in her 21 films — including every Tarantino film until her death — and also in an editing fellowship at the Sundance Institute.
Menke worked in the film industry beginning in the early 1980s — editing films such as Cold Feet, The Search for Intelligent LIfe in the Universe, Mulholland Falls, and All the Pretty Horses. Her association with Tarantino started with his very first feature film, Reservoir Dogs, which took the world by storm once it screened at the 1992 Sundance Film Festival.
The story goes that first-time director Tarantino was looking for someone who would work for cheap as an editor on his low-budget film. Menke was amazed by the gritty script and wanted the job, even more so when she heard that Harvey Keitel was involved. She told The Guardian in 2009 that she was hiking in the Rocky Mountains in Canada, saw a phone box, and impulsively decided to call Los Angeles to check her standing. The news was good: "I let out a yell that echoed around the mountain."
As it turns out, Tarantino was equally happy to have her. On the DVD for Grindhouse, a double feature project with director Robert Rodriguez, Tarantino said that when it came to editing with Menke, "It's the true epitome, I guess, of a collaboration because I don't remember what was her idea, what was my idea. We're just right there together."
Their style involved heavy dialogue, bursts of extreme violence, slow motion to heighten the tension, and action in sync with obscure music tracks. "We've become somewhat joined at the hip," Menke told Screen International, also in 2009. "But we differ creatively enough so there's always growth."
Menke edited Tarantino's films — including Pulp Fiction, Jackie Brown, the Kill Bill volumes, Death Proof (Tarantino's portion of the Grindhouse double feature), and Inglourious Basterds. Her work on Pulp Fiction and Inglourious Basterds earned her nominations for Best Editing Oscar, along with a host of other awards.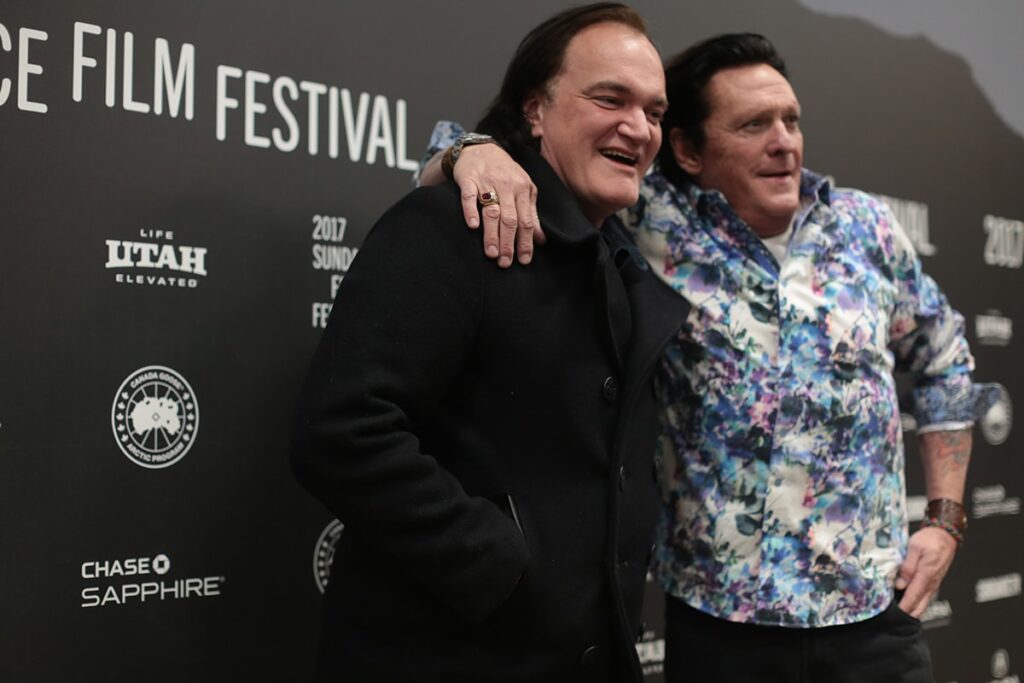 Director Quentin Tarantino and actor Michael Madsen attend the "From the Collection" special 25th anniversary screening of "Reservoir Dogs." at the 2017 Sundance Film Festival.
Photo by Kelly Ann Taub
Sobel, known for editing Nocturnal Animals, among others, assisted Menke on the Kill Bill films and offered high praise in Menke's obituary in the Los Angeles Times, calling her "funny, smart, opinionated, and refreshing." "One thing Sally was supreme at is that she cut for the actor's performance, meaning that what was significant was the emotional aspect of the scene," Sobel was quoted.
Menke and husband Dean Parisot (a former fellow at the Sundance Institute Directing Lab) attended Directors Labs in 2001 and 2005 as creative advisors for the emerging filmmakers accepted into the program. Satter says Menke was "one of the great advisors." "She was kind, clear-minded, generous, and passionate about the creative process," said Satter. "She loved the editing room and spent hours with the fellows who sought her out. She used her own experiences and skills to help the filmmakers bring their visions to life."
On an extremely hot September day in 2010 in Los Angeles, Menke took her black Labrador and a friend on a hike into Griffith Park. Her hiking companion reportedly cut short the trek and returned home, but Menke did not. Her body was found in a rugged area in the wee hours of the following morning, her extremely dehydrated but loyal Lab sitting guard.
Satter paid tribute in a memorial message: "Sally's contribution to Sundance will always be remembered and deeply appreciated. In her passing, we lost a great advisor, but also a good friend, someone who inspired us to love the power of storytelling and to do our very best work. She also reminded us that family and community mattered above all."
Satter fondly remembered that family was so important to Menke that she and Parisot brought their two young children to the Labs, adding their "energy and creativity" to the mix.
Menke's family set up the Sally Menke Memorial Editing Fellowship at the Sundance Institute to honor her. The fellowship, applications for which are taken by invitation or recommendation, supports emerging filmmakers who have edited 1-4 narrative films. The fellow receives a yearlong association with two veteran editors and edits scenes for two directors at the Sundance Directors Lab. Past recipients have included Debbie Berman (Space Chimps, Black November) and Julia Bloch (The Tree of Life, Notorious).
Each year, quiet, behind-the-scenes heroes get some recognition and support at the Institute —  where the art that Menke chose and devoted her life's work to, as well as her love of mentoring, carry on.