By Patty Consolazio
For the Sundance Film Festival, 2023 is about coming together — whether from around the corner or the other corner of the world. In his greeting to Festivalgoers, Sundance Institute president and founder Robert Redford aptly described the event as an "annual gathering of global storytellers." This year's Sundance lineup represents the work of artists from dozens of nations around the world, many of whom engaged in diverse cross-continental partnerships to create their magic. 
Unsurprisingly, this year's Sundance Fest films shining the spotlight on Asian and Pacific Islander heritage are as varied as the region itself, and there's something to transport everyone, whether you're looking to hold your breath in suspense, marvel at the ingenuity of a modern artist, hole up in a hotel room with the captors, or fall in love all over again. 
Jamojaya (Premiere) — An Indonesian rapper heads to Hawai'i to cut an album with a major record label. There, he's forced to contend with the record label's demands as well as his controlling but well-meaning stage dad. Available in person and online. 
Nam June Paik: Moon Is the Oldest TV (U.S. Documentary) — For anyone who appreciates technology art, meet its trailblazing founding father and one of the most influential artists of the 20th century: Nam June Paik. Born in Korea during the Japanese occupation, Paik went on to combine television and video art, revolutionizing image-making in the modern age. Available in person and online. 
The Accidental Getaway Driver (U.S. Dramatic) — Although set in Los Angeles, this story revolves around life experiences of a Vietnamese immigrant, Long. After being taken hostage by bank robbers, Long builds a connection with his captor as he revisits his own past, marred by war, re-education camp, and estrangement from his family. Available in person and online. 
Will You Look At Me (Documentary Short Film) — A Chinese filmmaker returns to his hometown and has an important and long-awaited conversation with his mother. This 20-minute short, along with 6 others, is part of the Documentary Short Film Program. Available in person and online. 

Joyland (Spotlight) — In this film that shines a light on traditional gender roles, societal norms, and discrimination, a Pakistani family hoping for a male heir is devastated at the news that their newly born baby is a girl, while another married family member becomes a dancer at an erotic theater and falls in love with his transgender coworker. Available in person and online.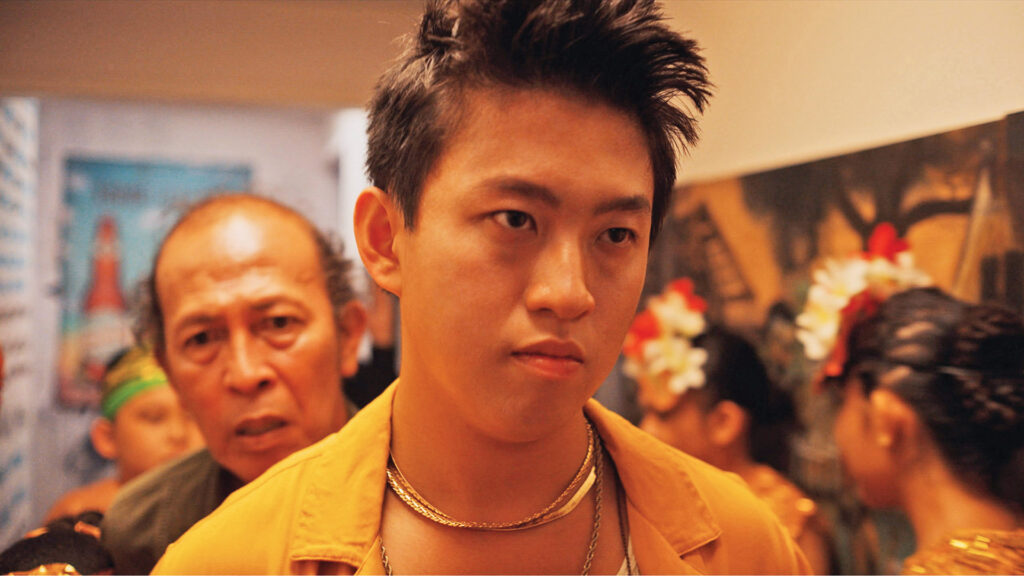 Shortcomings (U.S. Dramatic) – In Randall Park's feature directorial debut, jaded art house movie theater manager and film school dropout Ben (Justin H. Min) spends much of his time pining after unavailable blond women and eating in diners around Berkeley with his best friend. When his girlfriend departs for a three-month internship in New York City, Ben finds himself having to reconcile what he thinks he wants with the reality unfolding before him. A witty script by Adrian Tomine based on his graphic novel of the same name lifts this story about the foibles of being human. Available in person and online.
Aum: The Cult at the End of the World (U.S. Documentary) — Eleven years before a sarin nerve gas killed 14 and injured thousands in the Tokyo subway system, a seemingly harmless yoga school formed under the leadership of a man who claimed to be a reincarnation of Buddha. A behind-the-scenes look at the doomsday cult that grew from this manifestation, this chilling documentary draws from the book on Aum, whose authors appear in the movie. Available in person and online. 
Past Lives (Premiere) — Close childhood sweethearts Nora and Hae Sung separate when Nora's family emigrates from South Korea. Twelve years later, they connect on social media, but another 12 pass before they finally connect for a fateful reunion. Available in person.
Against the Tide (World Documentary) — Two Indigenous fishermen from Bombay's Koli region are like brothers, but their friendship is put to the test when the fish begin to disappear and their clashing fishing methods cause conflict. Available in person and online. 
Beyond Utopia (U.S. Documentary) — What will people risk for freedom? A rare, tense, and breathtaking look at how far people will go to escape tyranny, exploitation, and the threat of death from one of the most oppressive places on Earth. Available in person and online.