The children in a small town in Quebec decide to stage a massive snowball fight over winter break, in "Snowtime!."
By Vanessa Zimmer
Two factions inevitably emerge in a crowd upon the mention of the word "snow." One faction holds dear the beauty of a white landscape and its potential for sliding down steep hills on narrow lengths of wood — and other recreational pleasures. The other faction immediately feels a bone-chilling frost emanate through their bodies, followed by a rising fear of freezing to death.
Both sides are represented in this batch of snow movies from the rosters of the Sundance Film Festival. Stories about the Winter Olympics and the Northern Lights, logically, fall within the pro-snow faction. Getting stuck overnight on a ski resort's chairlift or being pursued across an icy landscape fall within the anti group.
Check through our list of snow movies that have played the Festival, and decide which snow camp you're attracted to.
Picture of Light (1995 Sundance Film Festival) — Director Peter Mettler and his documentary crew ventured to the frozen remote reaches of the Arctic to film the Northern Lights. The journey is not just about the phenomenon of the magnificent, colorful light show, but also the rigors of surviving the frigid temperatures and blowing snow. "Picture of Light is… about extremes: the distance between our world and outer space, the disjunction between civilization and the isolation of a frozen wilderness, and the bitterly cold conditions endured in making this film. It is a haunting journey to a place where we can marvel at one of nature's wonders," wrote Christian Gaines in the Festival Film Guide. Available on Kanopy.
The Myth of Fingerprints (1997 Sundance Film Festival) — A typical American family gathers in the snowy days before Thanksgiving. What follows is the dance between parents and their adult children, and among siblings, as they remember the past and experience the present, and all their incongruities. "There is much that is funny in The Myth of Fingerprints, but you also laugh because there is so much that hits uncomfortably close to home," John Cooper wrote in the Festival Film Guide. The cast includes Blythe Danner, Roy Scheider, Julianne Moore, and Noah Wylie. Available on Tubi.
101 Reykjavik (2001 Sundance Film Festival) — First off, this film is set in Iceland, and its tagline is: "30 degrees below zero, five hours of daylight, what else can you do but get wrecked." So, obviously, you're going to get your icy, snowy fix. The story itself is about 28-year-old Hlynur, who lives with his mother and spends his days playing video games and browsing porn. It's a comedy, and there's also romance and sexual confusion involved. "Hardly a picture postcard for the local tourist board, 101 Reykjavik is a cheeky slice of Iceland," Rebecca Yeldham wrote in the Festival Film Guide. Available on DVD.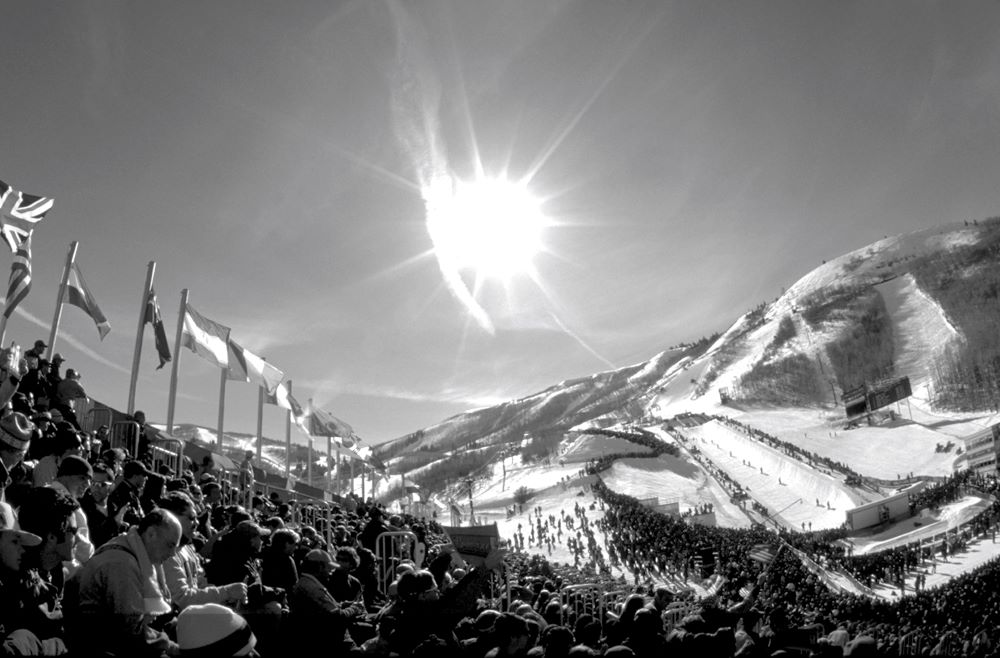 Pipe Dreams (2003 Sundance Film Festival) — Utah director Enzo Mileti followed Park City's hometown heroes, snowboarder Ricky Bower and ski aerialist Joe Pack, in the months preceding and during the 2002 Winter Olympics in Utah, as the two pursued their dreams of gold. As Jim McKay of ABC's Wide World of Sports coined the phrase, they are sure to experience "the thrill of victory and the agony of defeat."
Subject Two (2006 Sundance Film Festival) — In a remote mountain cabin, a doctor recruits an assistant to help him research and test a formula for resurrecting the dead. Not surprisingly, this is a horror film. This turn on the Frankenstein story carries the tagline: Death has its side effects. "Set against the bright, breathtaking world of the snow-peaked Rocky Mountains, this morbid and violent study of life and immortality reminds us we must always be careful what we ask for," wrote Shari Frilot in the Festival Film Guide. Available on Crackle, Freevee, Plex, and Tubi.
Frozen (2010 Sundance Film Festival) — A ski resort shuts down one night, unknowingly leaving three college students stranded on a lift high above the ground. As the night deepens and grows colder, the trio becomes increasingly desperate. "With bone-chilling performances by Kevin Zegers, Shawn Ashmore, and Emma Bell, Frozen continues horror's time-honored tradition of scaring audiences away from their favorite recreational activities," wrote Charlie Reff in the Festival Film Guide. Available on Freevee, Pluto, and Tubi.
On the Ice (2011 Sundance Film Festival) — Iñupiaq teens Qalli and Aivaaq have grown up like brothers in Barrow, Alaska. Their bond is tested when their friend James dies in a tussle gone wrong during a seal hunt. Panicking, they tell those in their small, remote town that James died in an accident. Writer-director Andrew Okpeaha MacLean cast mostly local nonprofessionals in the film. Available to rent on Amazon Prime.
Prairie Love (2011 Sundance Film Festival) — Even in the frozen land of North Dakota, people are looking for love. This love triangle involves a lonely vagrant, a man on a mission to meet his pen-pal girlfriend in a correctional facility, and said pen-pal girlfriend. "The absurdist humor and quirky onscreen oddities make the characters of this grim tale seem strangely lovable," Trevor Groth wrote in the Festival Film Guide. "Brazenly idiosyncratic, Prairie Love takes the love story into uncharted territory." Available on Plex and Tubi.
Snowtime! (2016 Sundance Film Festival) — In this animated film that debuted in the Festival's kids category, the younger set in a small Quebec town decides to divide into two groups and stage a massive snowball fight during winter break. The team that holds the snow fort at the end of break wins the contest. "After days of battle, the conflict escalates to a fever pitch on the final day, with a tragic result that no one could have predicted," Patrick Hubley wrote in the Festival Film Guide. The film is based on the classic Quebecois film La Guerre des Tuques. Available on Crackle, Freevee, Peacock, Plex, Pluto, and Tubi.
A Polar Year (2018 Sundance Film Festival) — Known for making films that explore the territory between documentary and fiction, Frenchman Samuel Collardey spent several months in Tiniteqiilaq, Greenland, before finding Anders Hvidegaard, who became the protagonist of this film. Anders came from Denmark to teach children in this frigid village of 80 people, with not only a different language, but its own, distinctive culture. 
TYREL (2018 Sundance Film Festival)  — Tyler (Jason Mitchell) joins a friend for a party weekend in the snowy Catskills and arrives to find out he's the only Black in this otherwise all-white group of men. He starts to feel uneasy. Writer/director Sebastián Silva uses a handheld camera style to great effect. According to the Festival Film Guide: "Silva casually conjures an undeniable underlying tension: He puts the viewer on edge and makes them fear an almost imperceptible threat." The guide heralded the film as "a timely, provocative, and brilliant observation of the idea of otherness in today's American climate." Available on Hulu, Plex, Pluto, Amazon Prime, and Tubi.
The Lodge (2019 Sundance Film Festival) — Youngsters Aidan and Mia are allied with their mother when their father announces he plans to remarry. But then they find themselves snowed in with their future stepmom at a remote holiday village. Just as the kids start to soften toward her, strange, dangerous things begin to happen. If you haven't guessed, this is a horror film. "[Directors and co-writers] Veronika Franz and Severin Fiala build an overwhelming disquiet from this visceral and stylish film's very first scene, before nestling their claustrophobic thriller within a disorientingly endless snow-filled landscape," reads the Festival Film Guide. Riley Keough plays the fiancee, who experienced an overwhelmingly strict religious upbringing. Available on Hulu.