By Stephanie Ornelas
[Pictured: The Hebrew Hammer, 2005 Sundance Film Festival]
Those who have attended the Sundance Film Festival over the years might remember when Miyubi came to Park City, Utah, in 2017 as part of the Fest's New Frontier category. The VR experience by Felix & Paul Studios tells the story of one year inside a 1980s family — seen through the eyes of a toy robot the kids get for Christmas. Or maybe attendees remember when Franz Kafka's It's A Wonderful Life screened in the Shorts Program in 1995. Peter Capaldi's experimental short was praised as a "lovingly strange film that is a metamorphosis of a Christmas classic," and he later received an Academy Award for Best Live Action Short Film for his project.
These are just two examples of a whole slew of past Sundance Festival and Institute–supported films that are centered around the holidays, from dramatic shorts to romcoms and even horror films. We've put together a helpful list of films for you to dive into just in time for your holiday break. And, depending on the mood you're in, they're all available to watch now.
A crucial piece of holiday planning is what you put on the TV. And let's remember that not all holiday movies share the same sentiment. Whether you want to watch something lighthearted or you're looking to get out some aggression, here are ten films that premiered at the Sundance Festival, and were supported by the Institute, to help you unwind after (or during) a busy holiday:
Gridlock'd (1997 Sundance Film Festival) 
For many, New Year's Eve signifies a new beginning and a time to start fresh. However, Spoon (Tupac Shakur) and Stretch (Tim Roth) are faced with numerous obstacles leading up to the holiday. After Cookie (Thandie Newton), the third part of their performance group, overdoses and lapses into a coma, they decide their New Year's resolution is to get clean and give up drugs. This is the moment when their adventure begins. (Available to stream on Amazon Prime, The Roku Channel, Hulu, and YouTube TV)
Go (1999 Sundance Film Festival)
Through a holiday rave, a boggled drug sting, a road trip to Las Vegas, and one bizarre dinner party, Go spins an urban tale while its characters spin out of control. Tracing three interconnected narratives told over two days and one wild night. Each part of the triplicate story begins at the precise same moment: a shift change in a grocery store in Los Angeles just a few days before Christmas. (Available to stream on Amazon Prime, The Roku Channel, Hulu, and YouTube TV)
The Hebrew Hammer (2003 Sundance Film Festival)
Mordechai Carver (Adam Goldberg) was always teased every holiday season for his Jewish heritage by his gentile peers. That's all about to change now that he's a veteran of the Israeli Defense Forces and fancies himself the Hebrew Hammer, defending his people against those who seek to do harm. His main antagonist is would-be Hanukkah saboteur Damian Claus (Andy Dick) — the evil offspring of Santa Claus (Richard Riehle) himself. (Available to watch for free on Plato TV, Redbox, Amazon Prime, Plex, and Tubi)
Where God Left His Shoes (2005 Screenwriters Lab)
An unemployed boxer (John Leguizamo) and his family have lived in a homeless shelter for months when, on Christmas Eve, word comes that an apartment may be available. The catch is that he must have a job before the end of the day. He hits the streets of New York, with his resentful stepson (David Castro) in tow, to find a job so his family can have a home by Christmas morning. 
Director Salvatore Stabile received support for his film in 2005 through Sundance Institute's Screenwriters Lab (Available to watch on Amazon Prime Video, The Roku Channel, and Sling TV). 
Treevenge (2009 Sundance Film Festival)
If you're in the mood for some holiday horror, check out Jason Eisener's dramatic short film about a group of Christmas trees that plan revenge against the celebrating locals. Eisener received an honorable mention at the 2009 Festival for Short Filmmaking. (Available to watch on YouTube) 
Happy Christmas (2014 Sundance Film Festival)
When careless Jenny arrives in Chicago to live with her older brother and his family, her arrival shakes up their quiet domesticity as her sister-in-law, Kelly, becomes fed up with her immature behavior. With Christmas just around the corner, Jenny and Kelly both realize that they can offer each other the solace and support they've both been craving. (Available to watch on Apple TV, Google Play Movies, Hulu, Pluto TV, and The Roku Channel)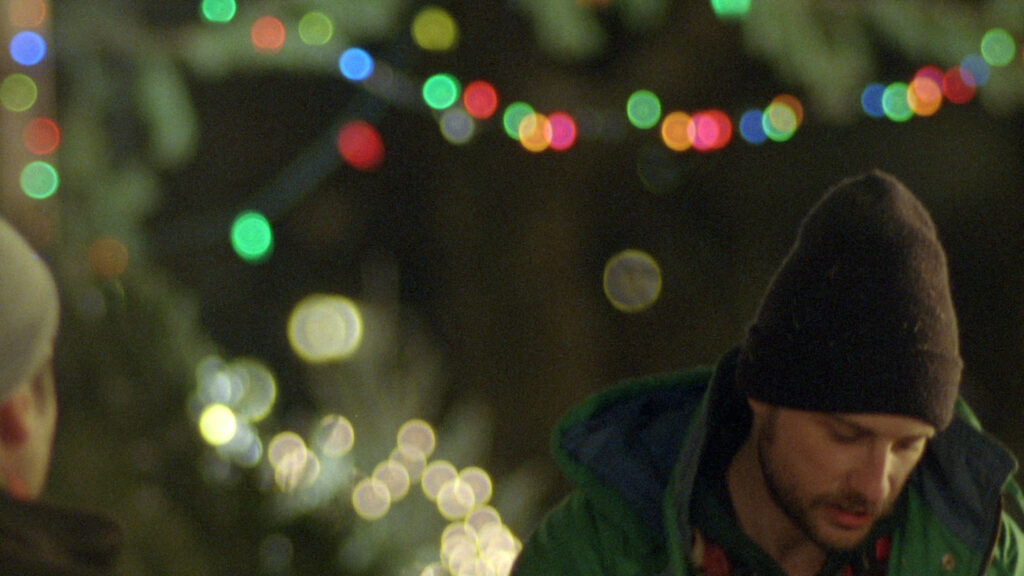 Christmas, Again (2015 Sundance Film Festival) 
For the fifth year in a row, heartbroken Noel returns to New York City to work the night shift at a Christmas tree lot. Devoid of any holiday spirit, he struggles to stay awake during the long, chilly nights. As he slowly spirals into despair, he comes to the aid of a mysterious woman in the park. Her warming presence, along with some eccentric customers at the lot, helps rescue him from further self-destruction. 
Director Charles Poekel received an Artist Services Fellow Grant for his film from Sundance Institute in 2015. (Available to stream on Amazon Prime) 
Tangerine (2015 Sundance Film Festival) 
It's Christmas Eve in Tinseltown, and Sin-Dee is back on the block. Upon hearing that her pimp boyfriend hasn't been faithful during the 28 days she was incarcerated, she and her best friend embark on a mission to get to the bottom of the scandalous rumor. Their adventure leads them through various subcultures of Los Angeles, including an Armenian family dealing with their own repercussions of infidelity. (Available to watch on Apple TV, FuboTV, Hulu, Paramount+, and Google Play)
Blue Christmas (2018 Sundance Film Festival)
On Christmas Eve in a Scottish coastal town, a debt collector goes to work to avoid confronting his wife's worsening psychosis at home. Charlotte Wells' dramatic film screened in the Shorts Program at the 2018 Sundance Film Festival. (Available to watch at charlotte-wells.com) 
Prime Time (2021 Sundance Film Festival)
On New Year's Eve in 1999, an armed man enters a TV studio during a broadcast, takes the host hostage, and makes one demand: to give a message live on air. As the night wears on, he bonds with the hostages in unexpected ways, while those in power fumble to restore order. (Available to stream on Netflix)