PARK CITY, UTAH – JANUARY 22: (L-R) Director Christopher Murray, actor Valentina Véliz and producer Rocio Jadue attend the 2023 Sundance Film Festival "Sorcery" Premiere at The Ray Theatre on January 22, 2023 in Park City, Utah. (Photo by Leon Bennett/Getty Images)
By Aliese Muhonen
"For the Chileans and Germans who arrived, this island is the end of the world," reads the epigraph-like text that opens Sorcery. "For those of us who have been here forever, it's the beginning." 
The island is Chiloé, a sparsely inhabited land steeped in mysterious lore off the coast of Chile, and the text is a declaration from the defendant in the island's real-life witch trial, which took place in 1880.
Loosely based on the events surrounding the trial, Sorcery explores an unsettling chapter in Chiloé's history through the eyes of 13-year-old Indigenous islander named Rosa, who finds her own new beginning despite profound pain and loss. The film premiered January 22 in the World Cinema Dramatic Competition.
It would be easy to mistake Sorcery for a horror movie. Many of the elements are there: a moody, rain-soaked atmosphere; an eerily beautiful and constantly foreboding landscape  (complete with spindly, clawing trees in a dense and misty forest); suspenseful moments and an unsettling score. But this is a drama (albeit an eerie and disturbing one). The real horror lies in the practices of the island's German colonizers.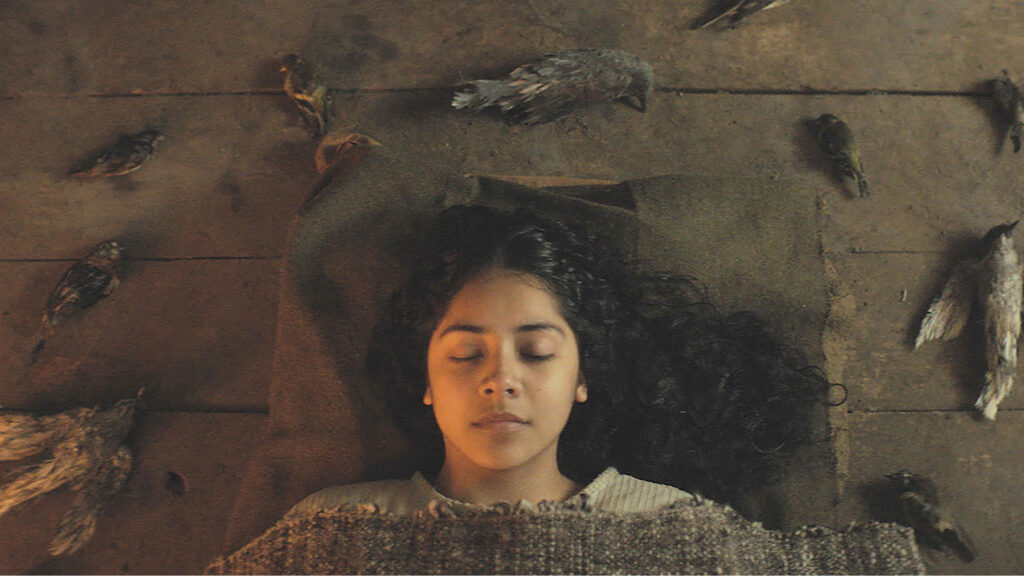 Rosa (Valentina Véliz Caileo) and her father work as servants for a German sheep farmer and his family. She speaks their language and prays their prayers, but that doesn't stop the farmer from brutally murdering her father when his sheep mysteriously die. Unable to obtain justice or a new living situation from the local authorities, Rosa is referred to Mateo (Daniel Antivilo), a gruff but devoted bachelor who leads a witchcraft-practicing, Indigenous vigilante group. Spurred by vengeance and Mateo's sorcery lessons, Rosa has to draw on her people's folkloric and spiritual roots (and sometimes the literal ones from the lichen-coated trees) for the power to save her people. 
Aside from the real-life trial, co-writer and director Christopher Murray says he was fascinated by Chiloé's long history with witchcraft, which he first heard about when his grandmother lived on the island.
"I thought the idea of it was interesting to explore," he explains at the Q&A following the premiere. "Usually in the history of the world, sorcery has been used as a pejorative word." He and co-writer Pablo Paredes sought to examine it "as a means of resistance, self-discovery, and empowerment. I was motivated to tell this story through the eyes of Rosa, and … to see this political aspect of sorcery and this political context of conflict, but also in that intimate way and in a more sincere way."
The audience was impressed with Caileo's subtle, powerful performance — her first as an actress. 
"I realized when I first read that script that she is firm, she is serious, she seems insecure, and I'm the total opposite — I'm extroverted, I'm charismatic, I'm smiling all the time," Caileo says with a laugh. "It was difficult to get into her character because I am so different." She credits her understanding of the role to her own Indigenous background, as a local of Chiloé. "But I'm not super familiar with that ethnic background of mine," she says, "so in that way I could connect myself with Rosa's character, and it was a process of self-discovery for me as well."
Simultaneously a coming-of-age and criticism of colonization, the story also poses questions of revenge and choice. Once Rosa has the power she seeks, what will she do with it? Should she stoop to the level of her oppressors with brutal violence, or seek another course of action?
Like the film's inspiration, Rosa's choice is surprisingly realistic and more emotionally resonant than the horrors around her.