By Moi Santos
This time last year, filmmakers Sam Feder and Yance Ford discussed with me how they bring visibility to the multitude of Trans experiences through their work. The resulting blog post would catalyze my vision of a "trans takeover" at Sundance Institute that would ultimately be nurtured into our first-ever Trans Possibilties Intensive, a three-day virtual program I created, designed, and led, focused on advancing the projects of six Transgender artists of color. 
As of this week, with 46 reported homicides of mostly Black and Latinx women, to date, 2021 is officially the deadliest year on record for Transgender people. Not only does this surpass last year's record, but it also refutes the cretinous and perilous belief that on-screen content doesn't directly translate into real-world harm. Furthermore, it makes evident that awareness and visibility alone aren't enough. And they never have been.
As drivers of culture, we uphold and maintain our responsibility to amplifying and supporting transgender voices and stories, to follow the lead of transgender advocates, to create opportunities for transgender people, and to support transgender storytelling as an agent of cultural change. The Sundance Institute condemns transphobia and cissexism in our communities, and wishes to reiterate that trans people will always have a place in the Sundance community: a place to cultivate their artistic craft, their sense of community, and most importantly, their joy. 
As we end Transgender Awareness Week and lead up to Transgender Day of Remembrance and Resilience, the need for cisgender people to move beyond awareness and into action is imperative, so that trans people are able to live freely, fully, and fearlessly. Now and always. 
Below, StormMiguel Florez, Ava Davis, and Savannah Ward — all current fellows of Sundance Institute's inaugural Trans Possibilities Intensive — speak to the resilience of the trans community, the necessity of trans people telling trans stories, and why we must celebrate Trans Day of Resilience every day. We encourage you to read, watch, and share the following: Beyond the Tipping Point, Disclosure Toolkits, Beyond Representation.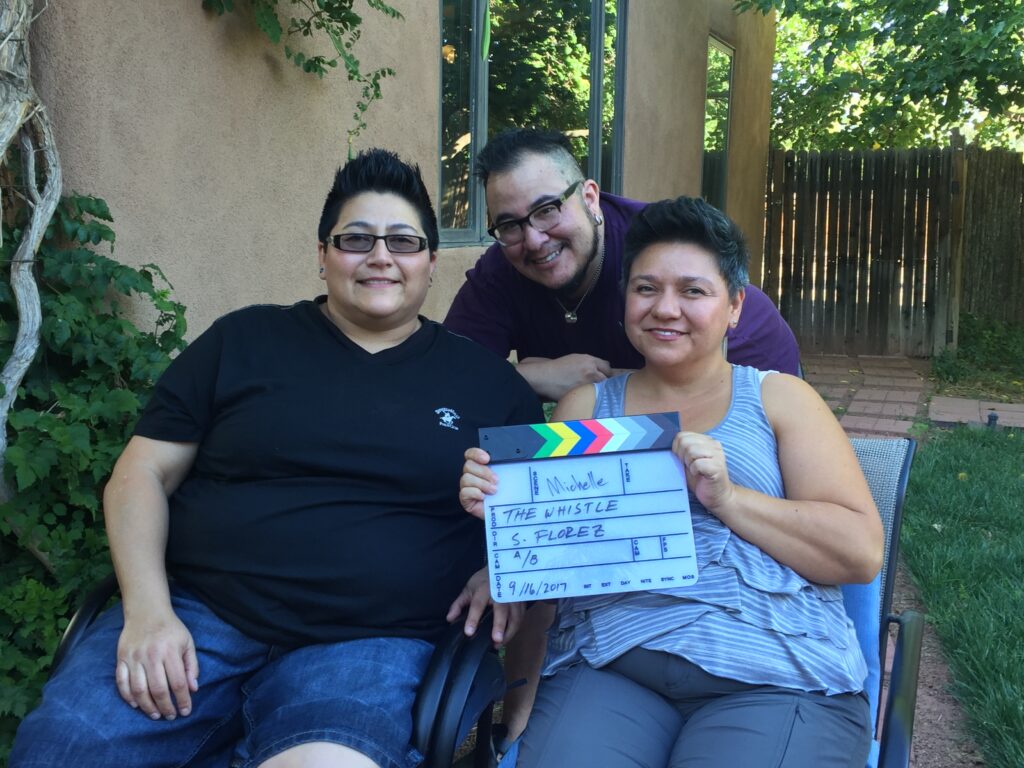 StormMiguel Florez (he/him) is a trans, queer Xicane filmmaker, whose work includes the award-winning documentaries The Whistle (producer/director) and MAJOR! (editor/co-producer). StormMiguel is also an event and media producer, actor, and a lifelong musician. He was a 2020 San Francisco Pride Community grand marshall, and his work has been funded by NALAC (National Association of Latino Arts and Cultures), The San Francisco Arts Commission, and Horizons Foundation. His first acting role was at the tender age of 10 in the made-for-TV movie Police Woman Centerfold. He's originally from Albuquerque, New Mexico, which he very much considers to be his homeland, and has lived in the San Francisco Bay Area for over 24 years. He lives with his partner, filmmaker Annalise Ophelian, and their three chihuahuas.
MOI SANTOS: What does Trans Day of Resilience (or Remembrance) mean to you? How have you commemorated it in the past, and what are you planning to do this year?
STORMMIGUEL FLOREZ: For me, Trans Day of Remembrance is a very important day to observe. I understand why Trans Day of Resilience is necessary, but I also feel like our trans ancestors — especially our recent trans ancestors who died from violence — need our collective energy, grief, and re-commitment to continue the fight. I started observing Trans Day of Remembrance in the early 2000s in San Francisco. I don't remember exactly when, but the things that stand out in my memory are the local women we mourned, like Gwen Araujo, Taja Gabrielle DeJesus, Ruby Rodriguez. I also remember later women who were leaders in community, who attended, led, and held space in those early TDoRs, like Minister Bobbie Jean Baker, Melenie Mahinamalamalama Eleneke, and Jazzie Collins — who were not murdered, but were taken too soon, two of them through medical neglect, which Miss Major Griffin-Gracy has referred to as a "societal killing spree." This is a song that I have sung at past TDoR events. It was written in the 1940s by Lewis Allen (aka Abel Meeropol).
 A 1940s recording by Josh White can be heard here.
To you Beloved Comrade we make this solemn vow
The fight will go on, the fight will still go on
Like you, Beloved Comrade we pledge our bodies now
The fight will go on, the fight will still go on
Rest here in the earth, your work is done
You'll find new birth when we have won
WheN we have won
Sleep well, Beloved Comrade, the fight will just begin
The fight will go on 'til we win, until we win
Rest here in the earth, your work is done
You'll find new birth when we have won
When we have won, sleep well
This song encapsulates the grief and determination I feel when one of our trans siblings is taken too soon.
MS: How is your cinematic language shaped (or not shaped) by your transgender identity? Do any other identities overlap?
SMF: Just about everything I do is shaped by my trans identity, usually by choice and sometimes by necessity. My 2019 documentary The Whistle  is about lesbian youth culture in the '70s and '80s in Albuqueruque, New Mexico. It's a community I was a part of in the '80s long before I really understood that I was trans. While making the film and planning to go back to Albuquerque to film and interview people from that time, I had to use my deadname to reintroduce myself to potential participants who I hadn't seen or talked with in over 20 years. That was difficult and scary. I had to navigate using my deadname (which is the only name some of them had ever known me by) while making it very clear that I don't use that name anymore, and neither should they. 
I also wasn't sure how old-school lesbians from Burque would respond to me being trans. One defining moment was when I held a reunion so that we could film a group of folks who were a part of the culture I was filming and I could introduce myself and talk about the film. I had stationed myself at the door to introduce myself, explain why I was directing this film, and ask people to sign film releases, when these two beautiful butch elders came in and I became extra nervous. I've had experiences of butch lesbians feeling betrayed by myself and other butches who transitioned. 
I introduced myself, told them I was the director of the film, and added that I had been a part of the lesbian community in Albuqueruque back then. They both paused and looked hard at me and one said "So you're transgender?" I said "yes." She then asked if I was on testosterone. I said "yes" kind of holding my breath. Then they both erupted in "Daaaamn, you look good!" and "How does it feel?" 
They both ended up being in the film, and one of them has called me "mijo" ever since. I also ended up being in the film. This isn't the same for every trans person by any means, but I feel very connected to my past and all the ways I have embodied gender and identity. They're all a part of me and inform my art and my politics and my communities.
MS: What are you working on next?
SMF: I'm working on my first narrative film, Welcome to Roswell,  a mockumentary that is a sort of sequel to The Whistle, which was an actual documentary. It's about a middle-aged trans filmmaker (me) who goes to his dad's hometown, Roswell, New Mexico, to come out to his family as trans and film their responses. However, his plans are derailed by his partner's obsession with the 1947 UFO incident that happened just outside of Roswell. I don't want to give too much away, but I'm in development and very excited to cast almost entirely BIPOC trans and queer actors for this project.
MS: What can the public do to support transgender people and the arts?
SMF: Give money to our crowd-source fundraising campaigns, come to our screenings and performances, give money to trans BIPOC-led organizations, correct yourself and others when you/they mispronoun or misgender us, and share resources and opportunities with BIPOC trans people. Know that being a trans ally or accomplice is more important than being recognized as one.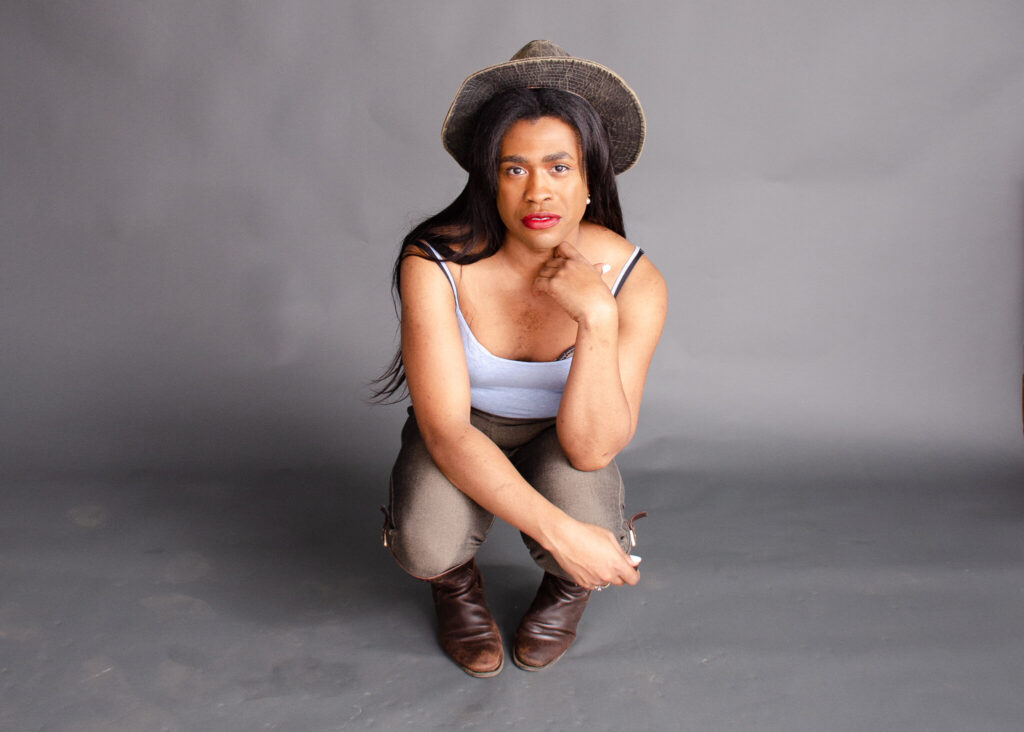 Ava Davis (she/her), also known as the Duchess of Grant Park, is a trans actress,  producer, and writer living in Atlanta, Georgia. She is also an advocate for increasing trans and queer representation, especially that of Black and other minorities. She founded her production company, Studio Vosges, in 2019 with the express purpose of telling the stories of queer and trans (GSM) Black, brown, and beige people. She plans on a six-city tour throughout the state of Georgia in 2022 promoting diversity, access, and inclusion via the Royal Southeastern Independent Film Tour. She holds a bachelor of arts degree in comparative literature, with a focus in art history, film, and creative writing, from the University of Georgia, and has made Atlanta her home, along with her partner, two standard poodles, and ragdoll cat. She is currently working to produce and secure financing for her first feature film, The Waltz.
MOI SANTOS: What does Trans Day of Resilience (or Remembrance) mean to you? How have you commemorated it in the past, and what are you planning to do this year?
AVA DAVIS: TDoR means taking the time to honor those who have died and those who continue to live. Trans people are four times more likely to experience victimization. One out of 2,600 is the murder rate for trans women of color, versus one out of 19,000 for the general population. These are statistics I take with me every time I walk out the front door. Every trans, queer, and nonbinary person takes these statistics with them. Those who we lost were simply living their lives, and the fact that they were killed for doing so makes what those of us who remain do even more important. And most important is that we not only survive but thrive. 
I've only been aware of the Trans Day of Resilience (or Remembrance) for the past two years. And I'm sorry to say that. But I first commemorated the day in 2019 by attending a service held by the city of Atlanta, and led by members of the trans community at Atlanta City Hall. Last year I commemorated the day by listing all the victims on my show, saying their names and a brief bio about them. It was emotionally exhausting to personalize them like that, while also knowing I or someone I know could be one of those people.
And just this year, as I widen the people I know in the trans community, I know someone who lost someone. To hear that news before media outlets reported it was sobering. This year, my friends and I are throwing a Harvest Cabaret, led by and created for queer, trans, and nonbinary people. Trans joy is the greatest act of resistance because it shows us thriving in spite of the obstacles placed before us. It will give us a space to grieve, to mourn, to celebrate, to renew —  to revel in ourselves and our bodies, despite the world swirling around us.
MS: What does resilience mean to you? And is there anyone who has helped you tap into your own resilience (a cultural figure, someone in your own life, etc.)?
AD: Marsha P. Johnson. Fellow queer artists who are much better at pushing the boundaries than I am. Resilience, to me, is coming back again and again. I call upon my ancestors when I think of resilience, and think of how if they were able to endure all that they have and somehow I am the sum product of that, then I can endure. And find a space to thrive. I think Marsha P. Johnson and other trans icons are the epitome of resilience — of people who decided they would rather be fully themselves than anything else. 
MS: How is your cinematic language shaped (or not shaped) by your transgender identity? 
AD: So much of my cinematic language is shaped by my trans identity. Before I even uttered the words "I'm trans," I explored my trans identity by writing a screenplay with a trans protagonist. When one is a minority, one's identity is political, no matter how much one wishes it wasn't. In turn, I think I operate subversively through my cinematic language. 
And that subversion comes from taking what I see to be cinematic tropes or known forms of communication through cinema, and use that to educate people without them realizing they are. Then again, [the purpose of] arts as a whole is to educate each other on what it means to be human. And my art is an attempt to educate others on what it means to be queer, Black, and trans. 
MS: Do any other identities overlap? 
AD: Queer. Black. Middle class. Child of the military. Woman. 
MS: What are you working on next?
AD: The Waltz — part of what I consider a trans trilogy. But The Waltz is a movie that I am absolutely in love with, because it's written with someone like me in mind. It's about a Black trans woman who wants to learn how to waltz and follows her journey on learning it. It pays homage to the romantic comedies I grew up watching, and my love of Beauty and the Beast. And I like to think it's subtly subversive. 
MS: What can the public do to support transgender people and the arts? 
AD: Money. Plain and simple. Find ways to increase access and equity. The poverty rate for trans people is shocking. And for people of color — it is traumatizing to simply read the statistics. So much of our money goes toward surviving that there's little in the budget for thriving. To support transgender people in the arts is to acknowledge that the current structure and setup does not provide access to those who don't have financial means and resources. I think that access can be increased by looking at lottery-type models. But more importantly, it takes a broader conversation of asking the transgender community what can be done to support transgender people in the arts and getting our input of what support can look like.
MS: What do we need to remember on trans day of resilience and every day?
AD: I think, as a queer community, how to stick together, and how to remember not just survive but thrive. There is no need to justify anyone's existence. We have power in the community. And that is why we are resilient.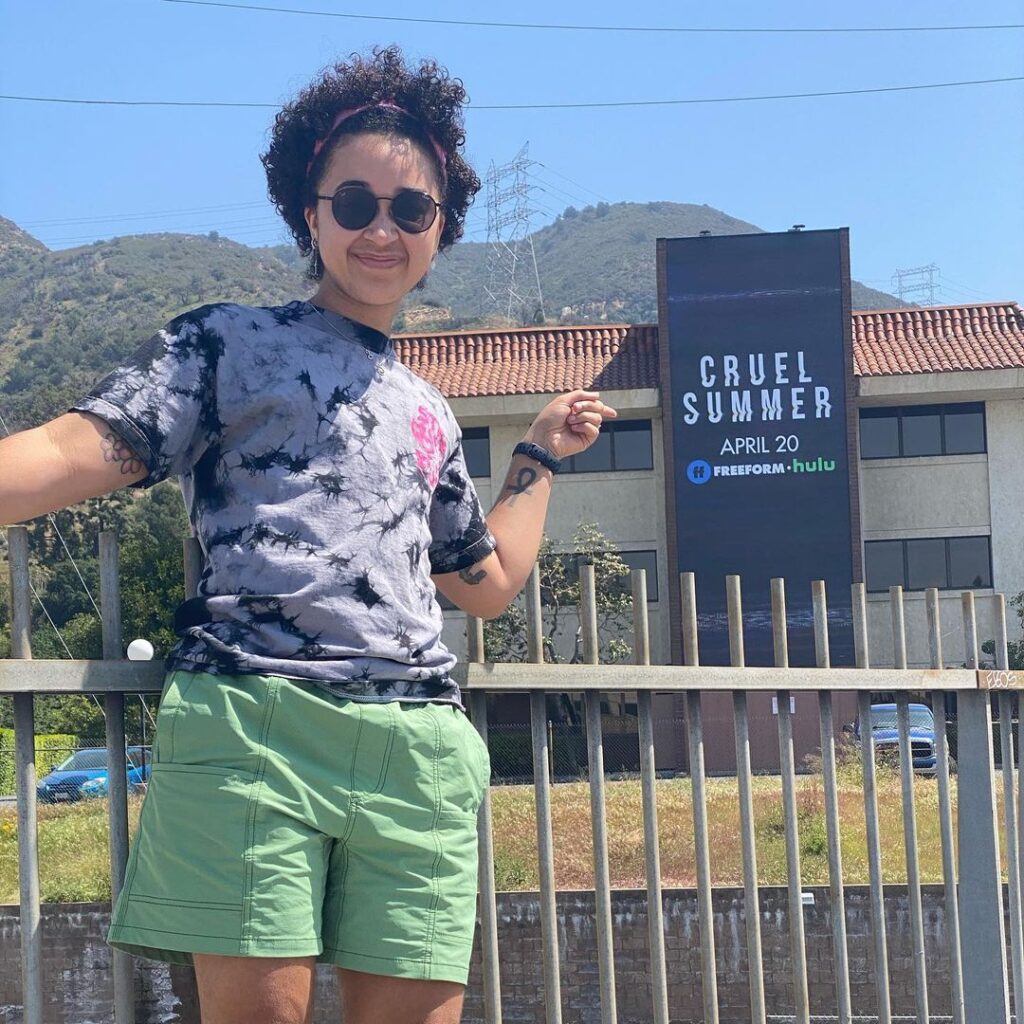 Savannah Ward (they/them) is a Black trans/nonbinary writer and Angeleno who grew up fantasizing about making their mark in Hollywood. Growing up in LA, they went through the whole "Am I going to be a director, writer, actor, or producer?" Finally, in college, they centered themselves on being a storyteller and wanting to write, and now they're doing just that! They're currently an executive story editor on Cruel Summer, the thriller drama series produced by Jessica Biel for Freeform. In their spare time, Savannah writes and produces horror shorts/features because "what is more horrific than being a Black, queer, trans person in America?" Savannah is committed to expanding the transgender community's footprint in Hollywood and championing stories of the "other."
MOI SANTOS: What does Trans Day of Resilience (or Remembrance) mean to you? How have you commemorated it in the past, and what are you planning to do this year?
SAVANNAH WARD: For me, Trans Day of Resilience is a day to celebrate transgender people's power. One of the most influential forces I've ever experienced in my life is change. And change is at the center of the fabric of human existence. Our life consists of constant up- and downhill cycles that seek to teach us about ourselves and the world in which we operate. Since being human comes with a constant up-and-down life cycles that ripples through various parts of our lives, the community that abstractly, I think, best handles this constant metamorphosis, are transgender people. In some ways, I think we're here to be agents of change. That doesn't mean everyone in the community must be forced to use their voice or put themselves on the line. Rather, it's that our very existence lends to the belief that change, whether it's hard or easy, will always lead to a new plane of life. And I think that's really beautiful.
I spend most TDoRs with friends, celebrating our bonds, triumphs, and futures. I'd love to build a bigger tradition of gathering with groups of people and honoring each other's radiance. This year, I'm going to spend Trans Day of Resilience elevating activists, artists, and ancestors who are/have been doing the work!! Despite the community being faced with yet another unprecedented year of violence, we've never been more visible. I hope that slowly but surely, one day, TDoR may be celebrated by others outside the LGBTQ+ community.
MS: How is your cinematic language shaped (or not shaped) by your transgender identity? Do any other identities overlap?
SW: Though my gender identity is one aspect of my intersectional forms that make up my artistry, I consider my cinematic language completely trans. This is because one of the best gifts of being trans is that we're able to master and alchemize the forces of change. And change is at the center of any good story. Transgender people, I think, sometimes become gender detectives to survive our cisheteronormative landscape. This ability not only serves to keep us safe but gives us an ability to see the intricate matrix that seeks to control many parts of our lives. I have always found people of the transgender community to be ahead of the "progressives" and to be leaders of identifying livelihoods that, to most, seem impossible. This is one of the cores of my work: creating worlds, characters, and ideologies that are fully built in love, trust, and abundance as I strive for my work to be consistently informed by abolitionist, feminist, and progressive ideals. This usually takes form through the depiction of my main characters. Following Plato's allegory of the cave, most of my characters begin in some form of darkness or disillusionment. The journey of my work is to help these characters find the real light source and walk out of the cave, leaving their old ways of thinking and lives behind. Which is very similar to the transgender social experience.
MS: What are you working on next?
SW: As I finish up the writers' room I'm currently in, I'm working on a horror script I'm pretty in love with called Meta that I brought into Sundance's Trans Possibilities Intensive. It's a story that I'm extremely passionate to tell, and it doubles as a love letter to the supernatural classics that got me into the horror world when I was a kid. I have another feature in the pipeline that I'm beginning to plot out. It's going to be a sci-fi epic that circles around themes of chaos versus order, and what I hope will speak to the inconsistencies reflected in our government and society today. 
Consistently, in the background of my life, I'm working on myself! I really value spending a big portion of my time healing old patterns and developing myself into a compassionate person. I started EMDR therapy this year, and that's been a life-changing source of restoration that I never thought was possible. The pandemic forced me to take daily self care seriously, so I'm currently working on what I call my "adult routine" which mostly consists of lots of meditation, writing, laundry, cleaning, and cooking for myself. I don't think I'd be where I am today without the years of therapy and unworking learned behaviors that were gifted to me by my family. 
Lastly, I'm really working on getting back into fiction reading. I think high school sucked my love for reading out of me, and I've spent most of the past eight years reading every genre in the nonfiction world. Don't get me wrong, I've learned a lot from reading books like this, but I think I'm ready to step into another person's fantasy world for a little while.  
MS: What can the public do to support transgender people and the arts?
SW: Something I've really been stuck on in terms of what industry can do is that we must begin to depict transgender people as heroes, not villains or victims. Whenever we read, listen to music, or watch film and TV, we're experiencing that form of media from the first perspective. We consider ourselves the heroes of our own stories. So if transpeople are never represented as forms that we can see in ourselves, then it's easier for people to never give transgender people a chance. This means executives, agents, managers, and studios need to understand that data does show that public opinion and attitudes about transgender and gender nonconforming people have direct impacts on rates of violence against these communities. 
With 2021 now becoming the deadliest year for transgender violence, Hollywood should have an urgency to get good transgender representation out into the world. There should be industrywide initiatives to elevate transgender creators, roles, and stories, because I believe, the way Hollywood has historically represented transgender people has contributed to the violence we see in America today. Real support isn't just about supporting the notable trans talent and creators we all know and love, but creating a pipeline that is more accessible to young and new transgender creatives. Organizations like GLAAD and the Transgender Film Center are beginning to identify transgender artists that are looking to develop their craft and become our future storytellers. But this needs to be not just pushed by LGBTQ+ activists — it should be an industrywide standard.
To lean into some sappiness outside of the industry, I think I'd love to see more people welcome transgender people with compassion in their hearts. I don't necessarily believe that you need to fully understand someone to have compassion, and I'd love for all of us to look into our hearts a little more and see how we're all quite similar.