By Vanessa Zimmer
Sundance Film Festival programming manager Ana Souza has a special place in her heart for the audiences who brave the Midnight screenings every January in Park City.
"One of the things I always love doing every Sundance is finding at least one screening I can sit in on — and given how hectic schedules end up being, this was often a Midnight film," Souza said. "As a result, I was lucky to witness a few screenings over the years that felt meaningful and wild."
A bit of background: The Festival's Midnight section, launched in 1991, is populated by a certain breed of film designed for late-night viewing. Think dark and creepy — daring and scary. For example, the iconic inaugural Saw played in the Midnight section back in 2004, as did The Blair Witch Project in 1999.
"The Midnight audiences are reactive, fun, and stay beyond late for Q&As," Souza said. "They are one of my favorite things about Sundance… They embrace everything with a sense of wonder and revelry."
Souza and Charlie Sextro are among the Festival programmers who spend the months leading up to the January event viewing all submissions, selecting the slate of films, and scheduling them. Here are their accounts of memorable reactions to Midnight films.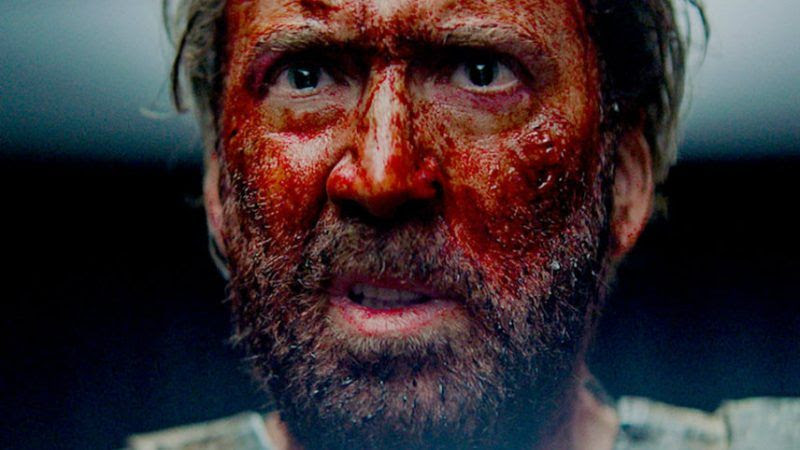 Red Miller fiercely loves Mandy Bloom. When an evil cult and violent biker gang team up to intrude on the couple's lakeside cabin home, Red (Nicolas Cage, in full unhinged mode) arms himself with a crossbow and a battle ax to seek bloody revenge. The film enthralled those at its Library Theater screening during the 2018 Festival.
"The wild energy in the room was palpable throughout; there were bursts of spontaneous applause during the film, especially when things took a turn in the second half," recalled Souza. "And when Nic Cage arrived for the Q&A, he was greeted like a god — with a standing ovation and people clamoring to ask him and Panos (Cosmatos), the director, about their collaboration."
The audience learned Cage had initially auditioned for a villain role. Choosing him to play the lead instead was "historic," said Souza.
A Girl Walks Home Alone at Night
Bad City is a ghost town in Iran, not truly abandoned but teeming with tortured souls, prostitutes, junkies, and pimps. Then a vampire comes along.
Souza was a volunteer at the 2014 Festival when this film screened (and it was actually in the Festival's NEXT category, which showcases bold U.S. features from emerging filmmakers). "The scene where we first realize Sheila Vand's character is a vampire and she attacks Saeed, people screeched, and I remember jumping out of my seat," Souza said.
Often referred to as Iran's first vampire western, A Girl Walks Home Alone at Night was written and directed by Ana Lily Amirpour. It was shot in black and white, proving that blood doesn't have to be red to be horrifying. The film is tense, surreal, and — given that the vampire rides a skateboard — somewhat fun.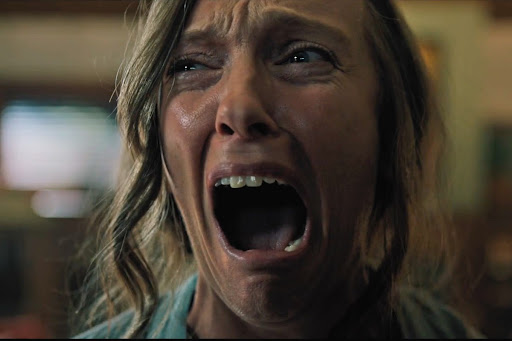 The death of a mentally ill family matriarch launches her daughter Annie (Toni Collette) and family — Annie's husband (Gabriel Byrne) and teenage children (Alex Wolff and Milly Shapiro) — into the depths of a fearsome grief and otherworldly occurrences. The atmosphere of dread and horror builds to a rather shocking, graphic scene that is almost legendary.
That sequence petrified the Sundance audience, say Souza and Sextro. "It's the tip of a very steep iceberg where things get progressively more disturbing from there," said Souza, "and it felt like the birth of an iconic horror voice in Ari Aster."  (Aster followed Hereditary — his debut feature — with the equally shocking and equally critically acclaimed Midsommar in 2019.)
The Salt Lake Tribune reported audible gasps from the audience at the twists and turns, as well as chatter on the shuttle bus about the palpable feeling of dread.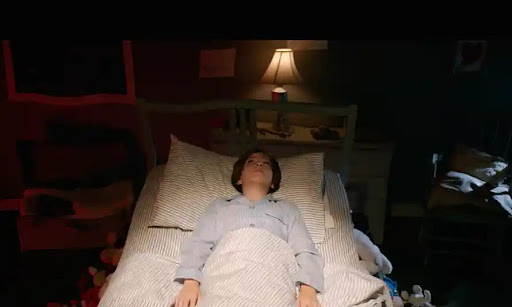 The signature image for this 2015 Festival film is a pillow, with the accompanying tagline "Welcome to the scariest place on Earth." Rodney Ascher's horror documentary (yes, horror documentary, you read that right) re-creates the experiences of people suffering from sleep paralysis. Ascher himself has experienced it — the sensation of lying in bed, being awake and aware but unable to speak or move.
For some people, it doesn't stop there. "I began hearing voices and screams and crying," recalls one woman. "I would hear all the sounds of hell. And that is when the shadow man would come…" A black figure enters the bedroom and slowly, menacingly approaches.
"It's the kind of horror that's worse than like in the movies," says another participant in the documentary.
But maybe the scariest part of the Sundance screening was after the film had ended, at the Q&A, Sextro said, when Asher asked if anyone in the audience had ever experienced sleep paralysis. 
Half of the audience members raised their hands.
Senior programmer Charlie Sextro says these five movies terrified Sundance audiences. Connect the scene with the movie.
The Witch

Haute Tension

The Blair Witch Project

 

Sweetheart

Revenge 
a. A bloody final chase
b. Monster reveal in the ocean
c. Witches floating around a fire
d. Body in the corner in final scene
e. A chainsaw to a car window