Award winner "When You Left Me On That Boulevard" is one of seven shorts featured on the 2023 Sundance Film Festival Short Film Tour.
A slice of the 2023 Sundance Film Festival… at your local art house theater! Whether you're discovering these shorts for the first time or reliving your 2023 Fest experience, the 2023 Sundance Film Festival Short Film Tour is a great way to sample the artistic offerings of this year's Festival and get to know an exciting variety of voices in independent film.
"Each year, we are thrilled to push shorts to new audiences around the country," says Mike Plante, Sundance Institute's senior programmer for short films. "When you want to see emerging filmmakers who are inventing fresh characters, one of the go-to worlds has to be short film. And to be able to work with independent art houses to reach so many communities is the icing on the cake."
The Festival's Short Film Program has long been established as a place to discover talented directors, such as alumni Andrea Arnold, Lake Bell, Damien Chazelle, Destin Daniel Cretton, Debra Granik, Rashaad Ernesto Green, Reinaldo Marcus Green, Todd Haynes, Sterlin Harjo, Sky Hopinka, Shaka King, Dee Rees, Joey Soloway, Taika Waititi, and many others.
This year's tour features a 90-minute theatrical program of seven short films from the 2023 Sundance Film Festival — including two Festival Award winners — with fiction, documentary, and animated shorts from around the world. The tour kicks off June 9 in Austin, Texas, and travels to dozens of cities across the U.S. and beyond. Read more about the featured shorts below, and click here for information on tour dates and theater locations.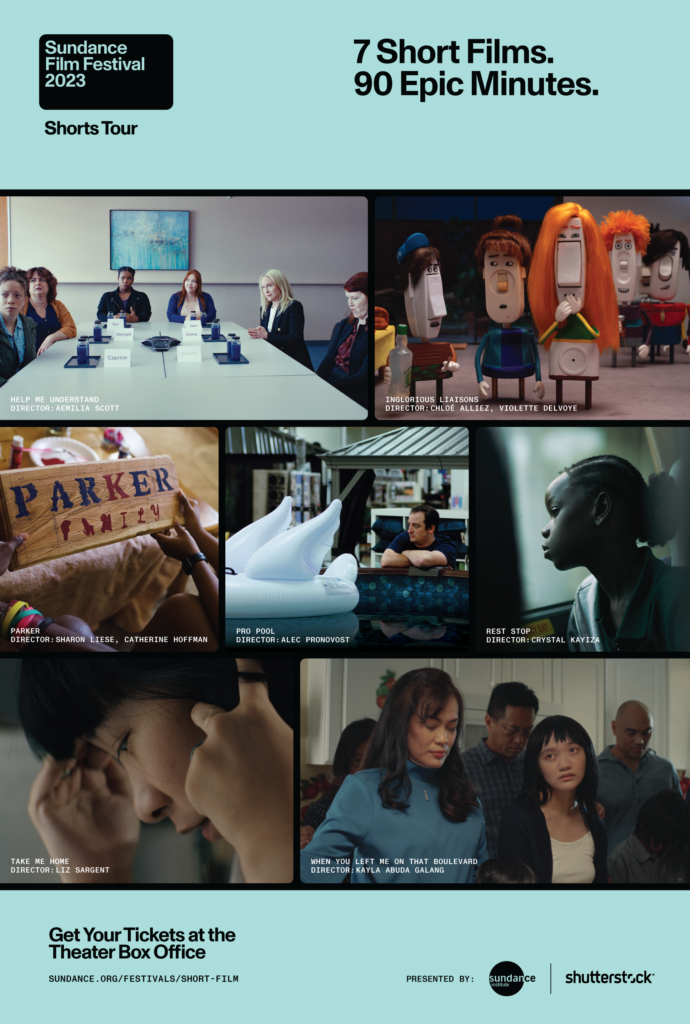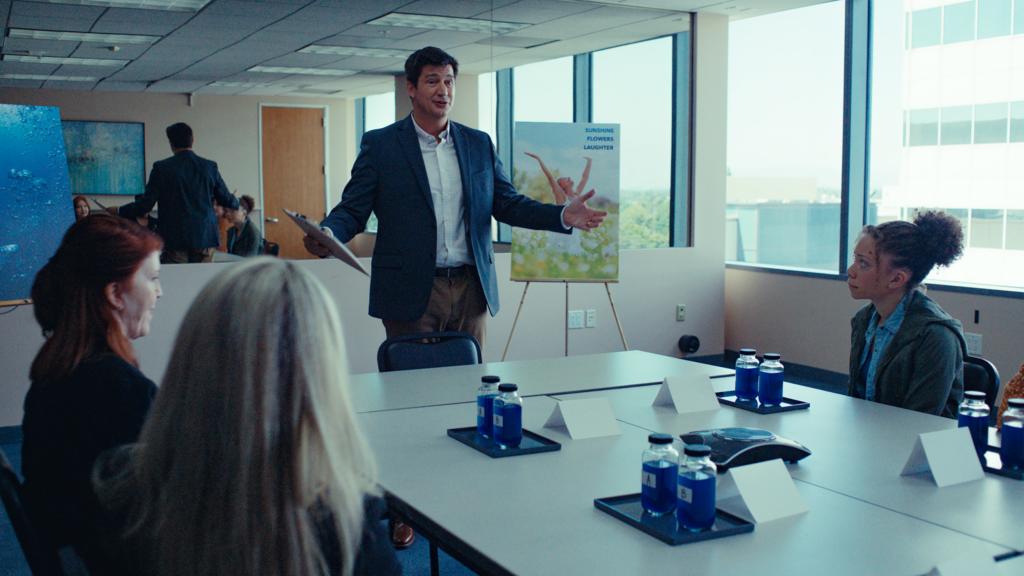 Help Me Understand — United States (Writer-director: Aemilia Scott, Producers: Paul Feig, Laura Fischer, Kesila Childers, Erica Fishman, Amy Geist)
Six women come to a consensus. Fiction. Cast: Dana Powell, Dierdre Friel, Rachael Harris, Nicole Michelle Haskins, Kate Flannery, Ken Marino, Kali Racquel
Inglorious Liaisons — France/Belgium (Writer-directors: Chloé Alliez, Violette Delvoye, Producers: Jean-François Le Corre, Mathieu Courtois, William Henne)
On the night of a big party for Lucie, Maya, and their friends, Jimmy has also come. Everyone knows he is here for Maya, but does she have the same feelings for Jimmy? Fiction/Animation. Cast: Evmorfia Spanoudis, Hélène Bolenge Boteku
Parker — United States (Directors: Catherine Hoffman, Sharon Liese, Producers: Sharon Liese, Funmi Ogunro, Samantha Hake)
Three generations of a Kansas City family are finally unified when they do something that countless other Black Americans could not — choose their own last name. Nonfiction.
Pro Pool — Canada (Writer-director: Alec Pronovost, Producer: Patrick Francke-Sirois)
Newly graduated with a bachelor's degree in history and civilization, Charles-Olivier struggles to find a job in his field and must rely on a clerk position in a pool shop. Feeling down, he navigates his gig as best he can. Fiction. Cast: Louis Carrière, Alexis Martin, Sylvie De Morais, Sébastien Rajotte, Oussama Fares, Louis Girard-Bock
Rest Stop — United States (Writer-director: Crystal Kayiza, Producers: Jalena Keane-Lee, Brit Fryer)
On a bus ride from New York to Oklahoma, Meyi, a young Ugandan-American girl, realizes her place in the world through her mother's ambitious effort to reunite their family. Fiction. Winner of the Short Film Jury Award: U.S. Fiction presented by Shutterstock at the 2023 Sundance Film Festival. Cast: Leeanna E. Tushabe, Alicia Basiima, Khalid Semakula, Robert Wanyama, Margaret Bisase, Olivia Nantongo.
Take Me Home — United States (Writer-director: Liz Sargent, Producer: Minos Papas)
After their mother's death, a cognitively disabled woman and her estranged sister must learn to communicate in order to move forward. Fiction. Cast: Anna Sargent, Jeena Yi, Joan Sargent
When You Left Me On That Boulevard — United States (Writer-director: Kayla Abuda Galang, Producers: Alifya Ali, David Oconer, Udoy Rahim, Samantha Skinner)
Teenager Ly and her cousins get high before a boisterous family Thanksgiving at their auntie's house in southeast San Diego in 2006. Fiction. Winner of the Short Film Grand Jury Prize presented by Shutterstock at the 2023 Sundance Film Festival. Cast: Kailyn Dulay, Melissa Arcaya, Elle Rodriguez, Whitney Agustin, Gina May Gimongala, Allan Wayne Anderson.