GOOD LUCK TO YOU, LEO GRANDE TO OPEN THE FESTIVAL WITH EMMA THOMPSON IN ATTENDANCE
PROGRAMME INCLUDES FEATURE FILMS, SHORT FILMS, SPECIAL EVENTS AND A ROBUST INDUSTRY PROGRAMME. TAKING PLACE AT PICTUREHOUSE CENTRAL, LONDON AND AT CINEMAS ACROSS THE UK, 9–12 JUNE 2022
Picturehouse Central, 25 April 2022 — Sundance Institute and Picturehouse announced today the  programme of feature films, short films and panel discussions for the Sundance Film Festival: London  2022, taking place from 9 to 12 June at Picturehouse Central, presented in association with Adobe.  
The festival will present 12 feature films from the Sundance Film Festival in Park City, Utah, U.S.A.,  selected for London by the Sundance Institute programming team in collaboration with Picturehouse.  The Festival opens on 9 June with the UK premiere of Good Luck To You, Leo Grande, directed by Sundance alumna and Best Director winner (at Sundance Film Festival 2022), Sophie Hyde. Lead actors Emma Thompson and Daryl McCormack are confirmed to attend the premiere on 9 June, with the film also playing at cinemas across the UK as part of the second annual Festival Tour. (The film's UK trailer was launched last week here.) The festival will close four days later on  12 June with the UK premiere screening of British filmmaker Jim Archer's feature Brian and Charles.  The feel-good comedy film stars British actor and comedian David Earl as Brian, a lonely and unlucky inventor who builds an artificial intelligence robot made from odds and ends, including an old washing machine. 
The festival will feature an equal number of male and female directors in this year's film selection (across features and shorts), allowing a range of British, Finnish, French, Australian, Emirati, Indonesian, Canadian, Lebanese and American filmmakers to tell their authentic stories.
Alongside the opening and closing night films, the festival will present a selection of remarkable and  wide-ranging filmmaking. Honk For Jesus. Save Your Soul is an American dark comedy satire written, directed and produced by Adamma Ebo in her directorial debut, and featuring a stellar cast that includes Regina Hall, Sterling K. Brown and Nicole Beharie. Andrew Semans' psychological thriller Resurrection stars Rebecca Hall as Margaret, a woman who balances the demands of a busy career and single parenthood. Her carefully constructed life is upended when an unwelcome shadow from her past, David, played excellently by Tim Roth, returns, forcing her to confront the monster she's evaded for two decades. 
In addition, cinema-goers will be able to take in the impressive and tender A Love Song, directed by Max Walker-Silverman, which tells the story of two childhood sweethearts, now both widowed, reuniting after 40 years apart. Receiving its world premiere at the Festival in 2022, the bold and funny Sharp Stick is Lena Dunham's long-awaited follow up to Tiny Furniture, and follows a naive 26-year-old living on the fringes of Hollywood who begins an affair with her older employer and is thrust into an education on lust, loss and power. Chloe Okuno's debut psychological thriller, Watcher (Official Selection at the Sundance Film Festival 2022 U.S. Dramatic Competition), was shot during the pandemic and stars Maika Monroe as an expat being stalked.
As in previous years, the London edition will provide a strong documentary offering, which this year will be presented by Kia. Sara Dosa's engrossing Fire of Love (winner of the Jonathan Oppenheim Editing Award at the 2022 Sundance Film Festival), follows the lives and careers of Volcanologists Katia and Maurice Krafft and is narrated by Miranda July. British director Ed Perkins' highly anticipated The Princess lets archive footage do the talking in this compelling and uncompromising documentary of Princess Diana's story. Joe Hunting's groundbreaking and immersive debut documentary feature,  We Met in Virtual Reality, takes place entirely within the online platform VRChat. It explores the social relations developed by users of VRChat during the pandemic and how their lives were changed by their time on the platform. Julie Ha and Eugene Yi's documentary,  Free Chol Soo Lee, details a Korean immigrant's wrongful conviction and doubles as a portrait of the brutality of incarceration. The film follows the intense issues that arise when it comes to racial profiling and how the Korean community rallied together to bring one man justice. 
The 2022 Festival continues the Sundance tradition of supporting emerging voices in filmmaking.  In addition to Adamma Ebo, Max Walker-Silverman and Joe Hunting's debut features, the festival will also host Hanna Bergholm's debut Hatching, an inventive Finnish horror. The film follows Tinja, a 12-year-old gymnast desperate to please her mother. After finding a wounded bird in the woods, Tinja brings a strange mop egg home and nurtures it until it hatches. The creature that emerges soon becomes her closest friend and a living nightmare, plunging Tinja into a twisted reality. 
Tabitha Jackson, Sundance Film Festival Director said: "We're excited to be back in London to present a great selection of work from our Utah Festival programme to the wonderful audiences at Picturehouse Central. Alongside some truly original voices and perspectives on the screen, we're looking forward to joining filmmakers and an array of industry players for some illuminating conversations about the present and future possibilities of independent cinema. And there'll be  fun of course.  And cocktails."
Clare Binns, Managing Director Picturehouse Cinemas added: "We are so happy to be hosting Sundance Film Festival: London once again at Picturehouse Central, celebrating and supporting the best independent cinema direct from Sundance Utah. We are delighted to be back together in person with our friends from Sundance US, and are proud to announce a broad and diverse programme, which champions female voices and encourages an inclusive industry landscape. We are excited for audiences to join us for a thrilling offering of films on the big screen, talks and special guest appearances."
Wendy Mitchell, Festival Producer, Sundance Film Festival: London said: "Sundance Film Festival: London is shaping up to be a banner edition. I'm so excited for the film programme the team has curated, which really does have something for everyone – insightful documentaries, moving dramas, thought-provoking horror films, and a great eccentric British comedy. Good Luck to You, Leo Grande is personally one of my favourite films of 2022 and to open the festival with Emma Thompson is such a dream. We can't wait to connect the filmmakers with an in-person audience at Picturehouse Central to share such a wonderful programme."
Following on from the success of last year's Sundance Film Festival London Tour, this year's edition will again see films showing in cinemas across the UK. Three films, led by Good Luck To You, Leo Grande,  will screen at upwards of 30 cinemas across the festival dates of 9-12 June 2022.  The additional films will be announced at a later date. 
Two short film programmes will showcase the work of emerging and established independent  filmmakers as part of the Sundance Film Festival Short Film Tour, including a strand dedicated to UK shorts. 
The festival's first dedicated Industry Programme will run alongside the festival's public screenings and events. During four days of industry-focused talks and events,  this robust strand  will welcome the UK film industry to build their personal networks, understand industry trends, discover new work and share their own unique storytelling passions with other independent filmmakers. Each industry passholder will have exclusive access to more than 15 industry-only events during the festival, including intimate roundtable meetings, keynotes, masterclasses, themed panel discussions and daily networking drinks. The festival is thrilled to welcome iconic US producer Christine Vachon to London to deliver an in-person industry keynote talk.
Festivalgoers will have a special chance to catch an unannounced title with the festival's fourth  Surprise Film. 
Sundance Film Festival: London Ticket Passes are on sale now, with priority booking for Picturehouse Members and Sundance Film Festival Ticket Passholders on sale from 10:00am, 25 April.  General ticket sales will open at 10:00am on 3 May. Tickets can be purchased today with a Sundance Film Festival  ticket pass; buy yours now at picturehouses.com/sundance. Become a Picturehouse Member now at picturehouses.com/membership. 
We are committed to offering a number of screenings and events with deaf and hard of hearing access options during the festival; more details will be published on the website.  
More information will be available at picturehouses.com/sundance. Join the conversation on social  media with #sundancelondon.  
Sundance Film Festival: London 2022 is supported by: Presenting Partner – Adobe. Lead Partner – Kia. Supporting Partners – Argo, State of Utah and XRM. Drinks Partner – MOTH.  Media Partners – Time Out and Scala Radio. Hotel Partner – The Edwardian. 
The Industry Programme partners are: BBC Film, BFI, Dark Matter, DCM, Doc Society, Film4, Film London, Sundance Ignite and Together Films. Media Partner – Screen International. 
FEATURE FILM PROGRAMME — American independent narrative and documentary films that  premiered at the Sundance Film Festival in Park City, Utah, U.S.A.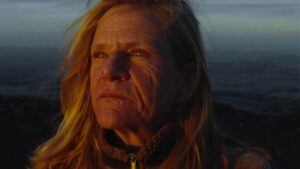 A Love Song / U.S.A (Director/Screenwriter: Max Walker-Silverman) Two childhood sweethearts, both now widowed, share a night by a lake in the mountains.
Principal cast: Dale Dickey, Wes Studi, Michelle Wilson
UK premiere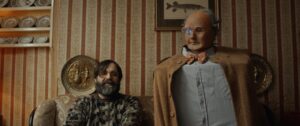 Brian and Charles / United Kingdom (Director: Jim Archer, Screenwriters: David Earl and Chris Hayward) 
Meet Brian – a lonely, luckless inventor who takes on his most ambitious project yet. Enter Charles – Brian's extraordinary masterpiece – an artificially intelligent robot made from odds and ends, including an old washing machine, who has an inexplicable obsession with cabbages. Brian and Charles is a heartwarming and entertaining tale about friendship, family, finding love, and letting go.
Principal cast: David Earl, Chris Hayward, Louise Brealey
UK premiere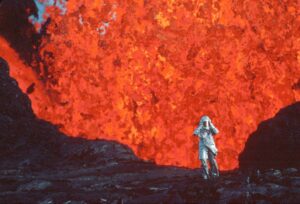 Fire of Love / Canada, U.S.A (Director: Sara Dosa) 
From National Geographic Documentary Films comes the extraordinary love story of intrepid French scientists Katia and Maurice Krafft, who died just as explosively as they lived — capturing the most spectacular imagery ever recorded of their greatest passion: volcanoes.
UK premiere
Winner of the Jonathan Oppenheim Editing Award at the 2022 Sundance Film Festival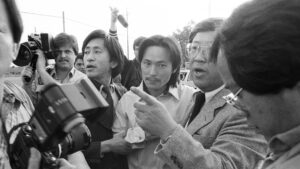 Free Chol Soo Lee / U.S.A (Directors: Julie Ha, Eugene Yi)
In 1970s San Francisco, 20-year-old Korean immigrant Chol Soo Lee is racially profiled and convicted of a Chinatown gang murder. After spending years fighting to survive, investigative journalist K.W. Lee takes a special interest in his case, igniting an unprecedented social justice movement.
UK premiere
Good Luck to You, Leo Grande / United Kingdom (Director: Sophie Hyde, Screenwriter: Katy Brand) 
Good Luck to You, Leo Grande is an uplifting comedy that challenges expectations. Nancy & Leo discover an unexpected bond in this hilarious, heartwarming, sex-positive tale of empowerment and self-discovery.
Principal cast: Emma Thompson, Daryl McCormack, Isabella Laughland
UK premiere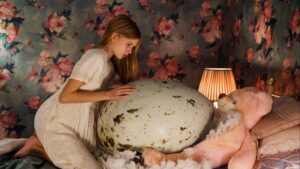 Hatching / Finland (Director: Hanna Bergholm, Screenwriter: Ilja Rautsi) 
Tinja is a 12-year-old gymnast who's desperate to please her image-obsessed mother. After finding a wounded bird in the woods, she brings its strange egg home, nestles it in her bed and nurtures it until it hatches. The creature that emerges soon becomes her closest friend and a living nightmare, plunging Tinja into a twisted reality that her mother refuses to see.
Principal cast: Siiri Solalinna, Sophia Heikkilä, Jani Volanen
UK premiere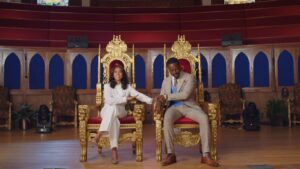 Honk For Jesus. Save Your Soul / U.S.A (Director/Screenwriter: Adamma Ebo)
In Honk for Jesus. Save Your Soul, proud first lady of a Southern Baptist megachurch, Trinitie Childs (Regina Hall), carries immense responsibility on her shoulders. After a scandal involving her husband, Pastor Lee-Curtis Childs (Sterling K. Brown), the church is forced to close temporarily, leaving Trinitie struggling to manage the aftermath. Now Trinitie and Lee-Curtis must rebuild their congregation and reconcile their faith by all means necessary to make the biggest comeback that commodified religion has ever seen.
Principal cast: Regina Hall, Sterling K. Brown
UK premiere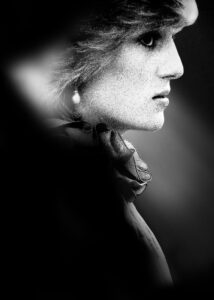 The Princess / United Kingdom (Director: Ed Perkins)
The story of Princess Diana is told exclusively through contemporaneous archive creating a bold and immersive narrative of her life and death. Turning the camera back on ourselves, it also illuminates the profound impact she had and how the public's attitude to the monarchy was, and still is, shaped by these events.
UK premiere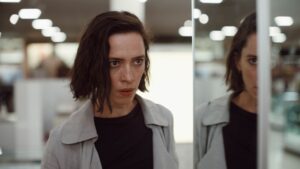 Resurrection / United Kingdom (Director/Screenwriter: Andrew Semans) 
Margaret's life is in order. She is capable, disciplined, and successful. Soon, her teenage daughter, who Margaret raised by herself, will be going off to a fine university, just as Margaret had intended. Everything is under control. That is, until David returns, carrying with him the horrors of Margaret's past.
Principal cast: Rebecca Hall, Tim Roth
UK premiere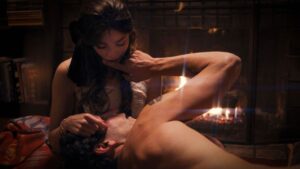 Sharp Stick / U.S.A (Director/Screenwriter: Lena Dunham) 
Sarah Jo is a naive 26-year-old living on the fringes of Hollywood with her mother (longing for money) and sister (longing for exposure). She just longs to be seen. When she begins an affair
with her older employer, she is thrust into an education on sexuality, loss, and power.
Principal cast: Kristine Froseth, Jon Bernthal, Scott Speedman, Lena Dunham, Taylour Paige, Jennifer Jason Leigh
UK premiere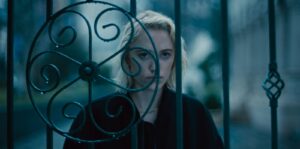 Watcher / U.S.A (Director: Chloe Okuno, Screenwriter: Zack Ford) A young woman moves into a new apartment with her fiancé, only to be tormented by the feeling that she is being stalked by an unseen watcher in an adjacent building.
Principal Cast: Maika Monroe, Karl Glusman, Burn Gorman
UK premiere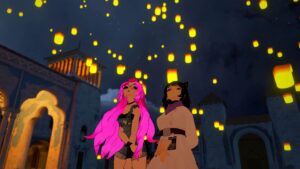 We Met in Virtual Reality / United Kingdom (Director: Joe Hunting) 
Filmed entirely inside the world of VR, this documentary captures the excitement and surprising intimacy of a burgeoning cultural movement, demonstrating the power of online connection in an isolated world. 
UK premiere
SURPRISE FILM – Following on from the last three Surprise Films,  Phyllida Lloyd's Herself, Paul Briganti's dark comedy Greener Grass and Bart Layton's crime flick American Animals, Sundance Film  Festival: London will again feature an unannounced screening.  Details will only be revealed as the opening credits roll. With just one screening, this will be one of the festival's hottest tickets.
SHORT FILM PROGRAMME – Two wide-ranging collections of new short films from the UK and around the world.
Sundance Film Festival Short Film Tour – The 2022 Sundance Film Festival Short Film Tour is a 95-minute theatrical programme of seven short films curated from the 2022 Sundance Film Festival short film programme, including three titles that won Festival awards. Considered the premier showcase for short films and the launchpad for many now-prominent independent filmmakers, the Festival includes fiction, documentary and animation from around the world. Throughout its almost 40 years history, the Festival has always supported short films, providing a platform for both established and new filmmakers to connect with audiences.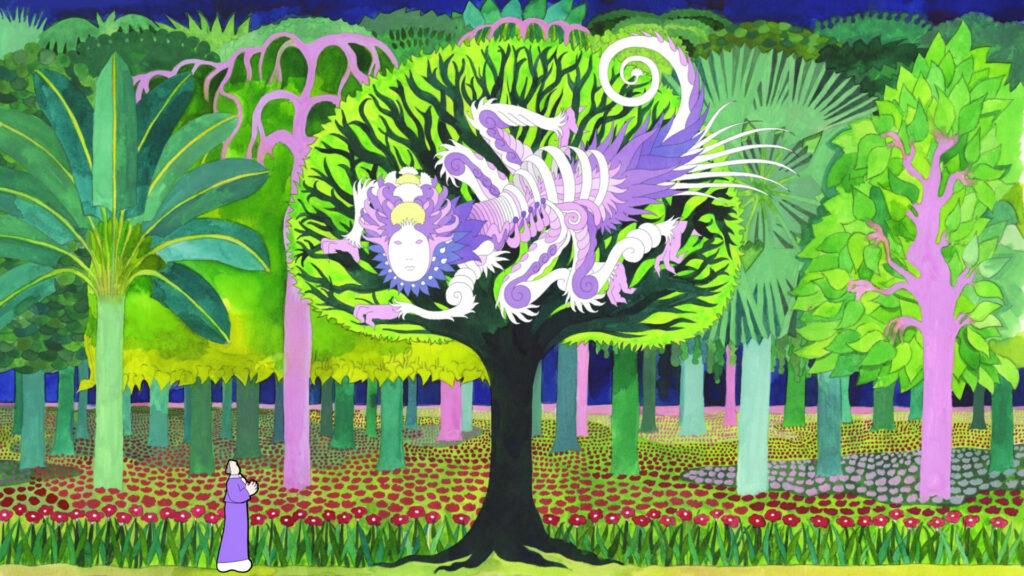 Goodbye Jerome! (Au revoir Jérôme!) / France (Directors and Screenwriters: Gabrielle Selnet, Adam Sillard, Chloé Farr) 
Having just arrived in paradise, Jerome sets out to find his wife Maryline. In the course of his search, he sinks into a surreal and colourful world in which no one seems to be able to help him.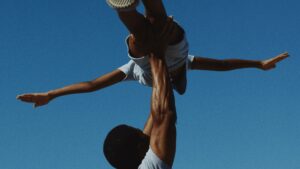 IF I GO WILL THEY MISS ME / U.S.A. (Director and Screenwriter: Walter Thompson-Hernández) 
Lil' Ant is obsessed with Pegasus, the Greek mythological character, since first learning about him at school in Watts, California. He begins to notice imaginary airplane people around his home, and yearns to fly with them. 
Short Film Jury Award: U.S. Fiction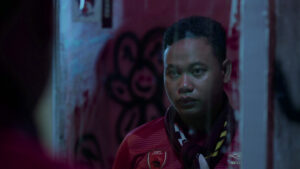 MAKASSAR IS A CITY FOR FOOTBALL FANS / Indonesia, France (Director and Screenwriter: Khozy Rizal) 
In a city where men have to go crazy about football, Akbar has to pretend to love the game in order to prevent rejection from his new college friends.
Jury Prize at the 2021 Sundance Film Festival Asia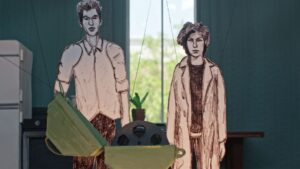 Stranger Than Rotterdam with Sara Driver / U.S.A. (Directors: Lewie Kloster, Noah Kloster, Screenwriter: Sara Driver) 
In 1982, the completion of Jim Jarmusch's sophomore film, Stranger Than Paradise, hinged on producer Sara Driver's willingness and ability to smuggle one of the world's rarest and most controversial films across the Atlantic Ocean.
A Short Film Special Jury Award: Screenwriting
Training Wheels / U.S.A. (Director and Screenwriter: Alison Rich) A socially inept woman rents one man to prepare for another.
Warsha / France, Lebanon (Director and Screenwriter: Dania Bdeir) 
A Syrian migrant working as a crane operator in Beirut volunteers to cover a shift on one of the most dangerous cranes, where he is able to find his freedom.
Sundance 2022 Short Film Jury Award: International Fiction
You Go Girl! / U.S.A. (Director: Shariffa Ali, Screenwriters: Shariffa Ali, Kamilah Long, Courtney Williams) 
Audrey, a New York City comedian who can make a joke of any situation, faces a staggering challenge in the beautiful mountains of Oregon. Can this city woman overcome her fears and rise?
UK Short Film Programme – Each year at Sundance London we highlight some of the amazing talent we see in the Short Film artform, in films either produced in the UK or made by filmmakers based there. This year's programme has an incredible array of voices and ideas, with timely dramas, insightful comedies, visceral animation and stunning non-fiction films. They explore human connection with inventive styles while entertaining you the way only film on the big screen can.
Don't Forget / United Kingdom (Director/Screenwriter: Mika Watkins) 
Don't Forget (or Wasurenaide in Japanese) is a smart and grounded bilingual horror that tells the story of a half-Japanese woman who begins to see her mother's early-onset dementia as a monster that haunts them both.
Egungun / United Kingdom (Director/Screenwriter: Olive Nwosu) 
In search of healing, a young woman returns home to Nigeria, the country of her birth.
Precious Hair and Beauty / United Kingdom (Director/Screenwriter: John Ogunmuyiwa) 
An ode to the mundanity and madness of the high street, told through the window of an African hair salon
Sandstorm / Mulaqat / United Kingdom (Director/Screenwriter: Seemab Gul) 
Zara, a teenage girl, shares a sensual dance video with her virtual boyfriend, who begins to blackmail her into meeting him in person. Will Zara give in to this stranger's increasing demands or will she set herself free?
Soft Animals / United Kingdom (Director: Renee Zhan) 
Two ex-lovers cross paths at a train station.
Some Kind of Intimacy / United Kingdom (Director: Toby Bull)  
In the British countryside, director Toby Bull observes the sheep that live on the land where his parents were buried several years ago. Talking to his brother on the phone, they start a conversation about the means of communication between the animal kingdom, that of the living and that of the dead. An original perspective on bereavement, tackled with humour and tenderness.
Sub Eleven Seconds / United Kingdom (Director: Bafic) 
A rumination on time, loss, and hope, and a poetic imagining of the quest of Sha'Carri Richardson, a young track and field athlete, to achieve her dream of qualifying for the Olympic Games.