Keke Palmer portrays Alice, a slave who escapes into 1973 America, in Alice.
By Vanessa Zimmer
Eight fan favorites at the 2022 Sundance Film Festival open to broader audiences this month.
Amazingly, given that this is not a particularly spooky time of the year, four of the films have horror/thriller/supernatural vibes. One is futuristic. The sixth — a documentary on a legacy linked to I Love Lucy and television in general — is firmly rooted in pop culture. The seventh, also a documentary, is the story of actress Evan Rachel Wood's road to activism in light of alleged abuse at the hands of rocker Marilyn Manson. And the eighth is a 36-minute Oscar-nominated short film.
There's enough variety here in period detail (and otherwise) for a well-rounded March movie marathon. Two films are releasing to theaters, the others on streaming services listed below.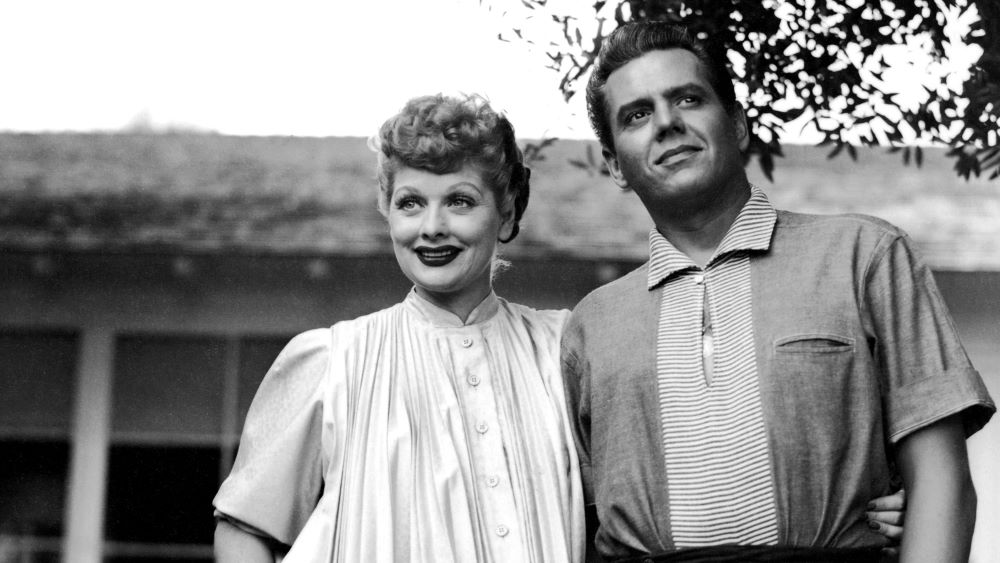 Lucy and Desi — Comedian Lucille Ball and Cuban musician Desi Arnaz meet, fall in love, and become a power couple who change the face of television and entertainment. The film, Amy Poehler's documentary directorial debut, lovingly combines archival footage, interviews, and home movies, tapes and other contributions from the Arnazes' daughter, Lucie Arnaz Luckinbill. Available March 4 on Amazon Prime. 
FRESH — The disturbing newest perils of modern-day dating come to light in this feature film by director Mimi Cave and writer Lauryn Kahn. "Daisy Edgar-Jones captivates as Noa, who defiantly turns her vulnerabilities into strengths, while Sebastian Stan delivers a deliciously wicked performance as the roguish Steve," according to the 2022 Festival Film Guide. Available March 4 on Hulu.
After Yang — When Yang, the family robot bought as a companion and cultural teacher for their adopted Chinese daughter, fails to boot up one morning, Jake (Colin Farrell) embarks on a mission to revive their beloved family member. This quiet sci-fi film, written and directed by Kogonada, won the Alfred P. Sloan Feature Film Prize at the Festival. Limited theatrical release and availability on Showtime on March 4.
Phoenix Rising  — Actress Evan Rachel Woods took her experience as a survivor of  violence and abuse and turned to activism, successfully pushing for passage of The Phoenix Act, legislation that extends the statute of limitations for domestic violence cases in California. Two-part series debuts March 15 and 16 on HBO, and streams on HBO Max beginning March 15.
Alice — Alice (Keke Palmer), a slave on a Georgia plantation, flees into the woods and steps out of the trees — and into 1973, right in the midst of the civil rights movement. Inspired by true accounts of Blacks who were kept in bondage more than 100 years after the end of slavery, writer-director Krystin Ver Linden makes her directorial debut with this powerful film, which also stars Common. Releases in theaters on March 18.
Master —  Three Black women struggle against racism at an elite, predominantly white university in New England, built on the site of a Salem-era gallows. "Writer-director Mariama Diallo's first feature is an ingenious blend of horror, drama, psychological thriller, and social critique," according to the Festival Program Guide. Regina Hall's lead performance was widely praised. Available on Amazon Prime on March 18.
When We Were Bullies — In this Oscar-nominated Festival short, filmmaker Jay Rosenblatt tracks down his fifth-grade classmates and teacher to explore a bullying incident 50 years ago. Available on HBO March 30.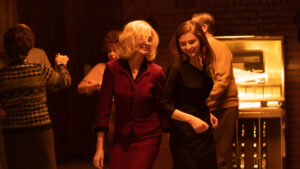 Anne Hathaway and Thomasin McKenzie star in the suspenseful "Eileen," based on the novel of the same name by Ottessa Moshfegh. By Lucy Spicer As
Read More »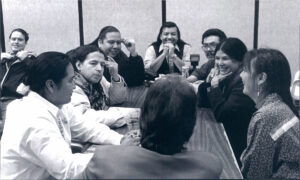 (left of center) Native Cinema curator Stephen Roe Lewis and (center) spiritual leader and storyteller Larry Cesspooch along with the In the Tradition: New Dimensions
Read More »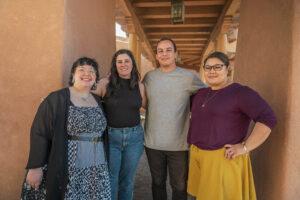 Over the course of Native American Heritage Month, we have highlighted some of the Sundance Institute–supported Indigenous artists, including conversations with Jana Schmieding and Alex
Read More »