Here at the Sundance Institute, we talk a lot about film. Whether it's helping co-workers figure out what to watch this weekend or feeling positively ancient when we hear that a movie from our youth is celebrating a big anniversary, we've got thoughts, feelings, and recommendations for indie film lovers ready to go. Welcome to our regular series where Sundance Institute employees bring our most passionate hot takes about independent cinema to you. This is Personnel Thoughts.
Last month, we dedicated our watercooler debate to the topic of the ultimate Sundance mom. This time we're turning our gaze to the cinematic dads in our lives. And while none of them are perfect (just like in real life), these five characters deserve special recognition.
Who else would teach us about The Beatles after their breakup, how to put on an Arsenal-football-formation-quality strip show, or the importance of friendship? No one, because Sundance fathers know best! 

Below, join our celebration of the quirky and complex film fathers and their lessons that have stayed with us long after the theater lights come up. And if you still need a gift for your dad, we've got you covered there too.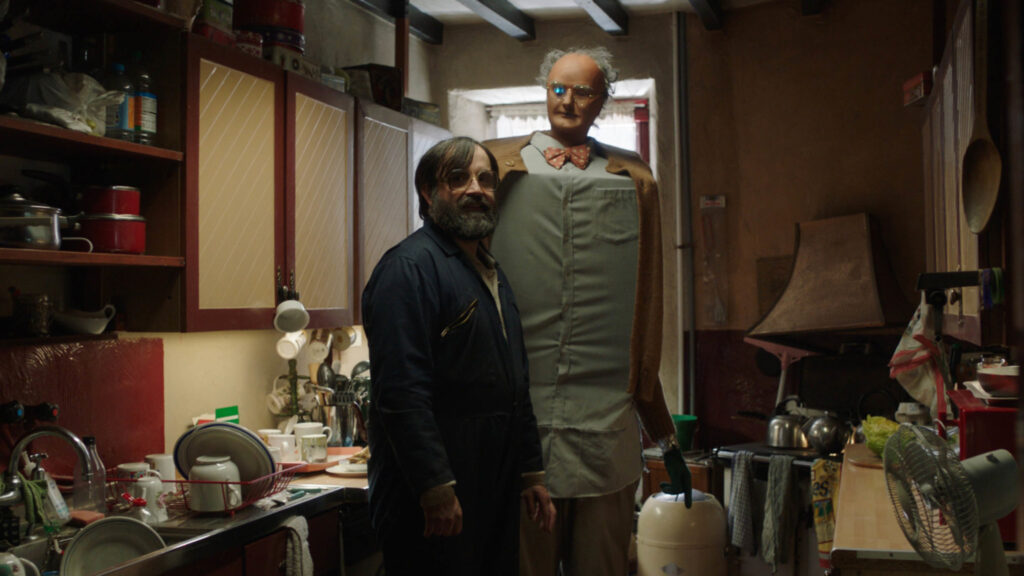 Brian Gittins, Brian and Charles
A dad doesn't need to be a lumberjack of a man, lean and strong, capable of fighting off angry beasts to defend his family. He doesn't need to be a brilliant businessman, financially secure through his ultra-savvy dealings. He doesn't even need to be super-smart, his ideas and projects culminating without fail into absolute successes.
Mostly, he just needs to be more like Brian. That's Brian, of Brian and Charles, whose big eyes magnified behind those thick glasses betray a loving soul and a big heart.
Granted, Brian is not a conventional father figure. He says he created the robot Charles to help around the house and property. He's not honest enough with himself to admit that he's lonely and would like a companion in his simple cottage in a lush Welsh valley.
Once Charles is "born," though, Brian is a giving person, walking hand-in-hand through the countryside with Charles, answering questions like: How far does the outside go? Can birds do what they like? Brian tries to protect Charles from the outside world.
Brian is an inventor whose inventions typically fall flat. But two of his clever creations — not to mention timid Brian himself — rise to the occasion when the going gets tough. Brian becomes fearless when faced with the threat of harm to Charles.
And he finds the strength within himself to see the world as he never has. — Vanessa Zimmer, Associate Editorial Manager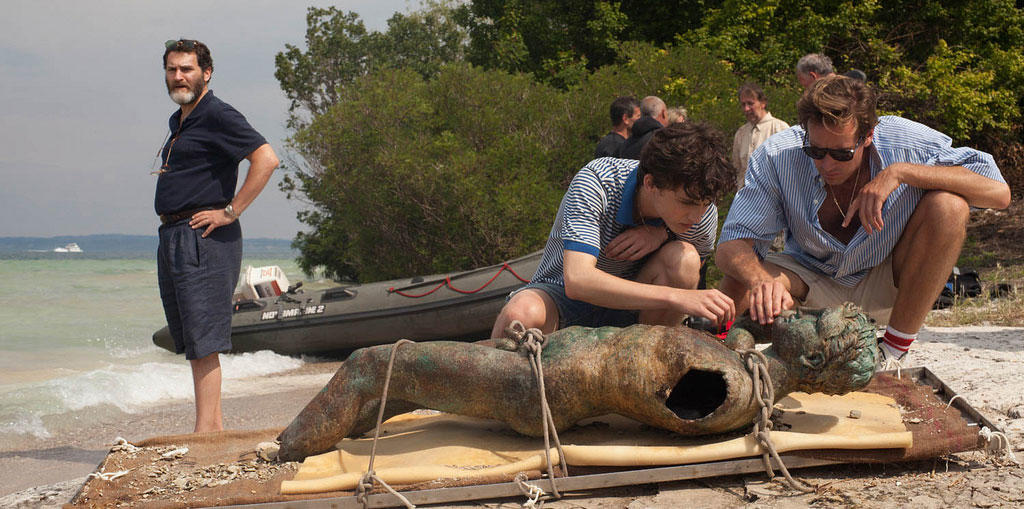 Mr. Perlman, Call Me By Your Name
One of my favorite Sundance dads is Mr. Perlman (Elio's dad) from Call Me By Your Name. Not only is he a professor — one who studies ancient history — he also seems like he has great relationships with his students. That scene where he pulls out the statue from the Mediterranean? BEAUTIFUL. 
At the heart of Elio's relationship to both of his parents is their unconditional acceptance of him lingering under the surface. And that all comes to a head with Elio's dad in his monologue towards the end of the film.
I think there is this trope of the emotionally unavailable father, and what I love so much about Mr. Perlman is that he is the exact opposite of that. Even though he doesn't openly talk to Elio about relationships until that monologue, we always see him in a caring position. Then you see the true emotional maturity, a moment of comfort and solace after heartbreak, not only for Elio, but for the audience as well. That scene always brings me to tears, and I'll never forget that moment where he tells Elio to feel the feelings and not push them down. Ah, such a lovely and touching moment that really gives me chills. — Diana Verde, Coordinator, Marketing
Gary "Gaz" Schofield, The Full Monty
It's hard to explain how much of a cultural behemoth The Full Monty was in the late 1990s. 
This 1997 Sundance Film Festival selection took the world so by storm that Prince Charles even reenacted the unemployment line scene in 1998 during a Prince's Trust event in Sheffield, United Kingdom. 
Wait! ["Hot Stuff" record scratch] Let's start at the beginning. Gaz (Robert Carlyle) is not a good father. One of the thousands of steelworkers put out of work by the closure of Sheffield's famous steel mills, he struggles to make ends meet, including support payments for his son, Nathan. 
That financial insecurity is what drives Gaz to have the idea of creating a strip show. Upon learning how much money a traveling Chippendale's revue makes on a single night's booking at the local Working Men's Club, Gaz decides to start up his own local version. It'll help him clear up the £700 he owes his ex, Mandy, on Nathan's behalf.
Nathan is the age where his dad has started to embarrass him. He struggles with Gaz's dabbling in petty crime and inability to provide for him (especially in comparison to Barry, his mom's middle-class new beau). At the same time, Nathan is also fiercely proud of his ne'er do well pops and his wacky business idea, this thing that lights Gaz up. In an act of great care, Nathan dips into his own savings account to cover the cost of booking the Working Men's Club — against Gaz's protests. 
The Full Monty is a love letter to one man's love for his son. He's not perfect, he'll never be perfect. But he's determined to find ways to care for his son by any means necessary. A truly universal and unifying theme, perfect for Father's Day viewing.  — Rachel Brethauer, Content Marketing Manager, Sundance Collab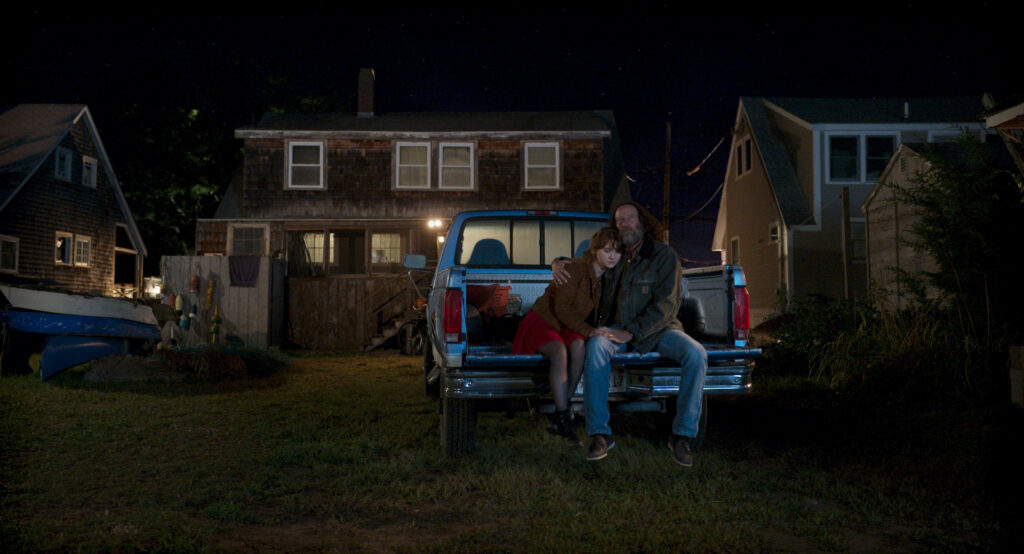 Frank Rossi, CODA
"This is dedicated to the deaf community, the coda community, the disabled community. This is our moment."
Troy Kotsur said this on stage at the 2022 Oscars when he accepted the award for best supporting actor for his role in CODA. His emotional acceptance speech is a video that I often revisit on YouTube.
But that's certainly not the only reason why his character, Frank Rossi, is my favorite Sundance dad. A fisherman who struggles to keep his business going as economic hardships press upon him, Frank is funny, loving, and refreshingly honest.
In an essay she wrote for The Los Angeles Times, director Sian Heder wrote that she found Frank's colorfulness extraordinary. I couldn't agree more. "Troy is the most inventive signer out there. His ability to play with the language is magical. The salty accent I had initially imagined for Frank came alive with Troy's hands."
She hilariously recalls when she wrote the line, "I'd give my left nut to tell them to go screw themselves."
"I had met my match when it came to dirty humor. Troy signed it by hanging the balls in front of his face. Then he yanked off the left one and pulled an invisible pin out of it with his teeth, turning it into a grenade and chucking it over his shoulder in the direction of the fisherman. I was delighted."
But what I love most about Frank is that he has a big heart and he cherishes his family. Sure, there are times where he shows frustration and he has his own struggles with the outside world, but he's not a victim. And I appreciate that Kotsur wanted to make sure the audience understood that too.
"I'm tired of Deaf people being portrayed as a victim," he expressed in an interview  with The Los Angeles Times. "'Oh, hearing people are here to help the poor Deaf person.' This time, in this project, I just want to show this character's a tough guy, a Deaf male who struggles just like anyone else out there who owns a small business. The only thing that's different is the method of communication." — Stephanie Ornelas, Editorial and Brand Writer
Mason Evans Sr., Boyhood
Let's start with the obvious: there's no movie in the world that's like Boyhood. On the surface, Richard Linklater's 2014 masterpiece is a simple coming-of-age story about a kid in Texas navigating the world around him and his parents' divorce. The key difference here, though, is that Boyhood was filmed over the course of 11 years (2002–2014), so you're actually witnessing Mason Evans Jr. (Ellar Coltrane) come of age. It's an arresting and innovative take on a timeless indie film trope that feels more like magic than an insane multi-decade commitment to Linklater's cinematic vision.
At the center of this troupe is a brilliant and captivating performance by Sundance-staple Ethan Hawke. Hawke's Mason Evans Sr. is a charming, but flawed man who is just trying to take his life one step at a time. When Mason Jr. asks his father the super casual question of what the point of "everything" is, Hawke perfectly walks the thin line between profound thought and ultimate realist: "Everything? What's the point? I mean, I sure as shit don't know. Neither does anybody else, okay? We're all just winging it, you know? The good news is you're feeling stuff. And you've got to hold on to that."
"Winging it" to Mason Evans Sr. includes creating an epic mixtape for his son full of music by the members of The Beatles post-breakup, stealing McCain lawn signs from his neighbors ("I'm being patriotic."), and ensuring that his daughter practices safe sex. And while he tries to fight through the silences and separations from his kids throughout their adolescent years, Hawke brings a fragility and unwavering optimism to the role that really brings Mason Sr. to life.
"You don't want the bumpers, life doesn't give you bumpers," Hawke shouts to Mason Jr. after he royally whiffs it at a frame of bowling when he's about 10. I can hear Hawke's voice echo through my head when I feel a bit burnt out and, like Mason Jr., want to rely on those bumpers. Thanks, dad. — Bailey Pennick, Associate Editorial Director