By Vanessa Zimmer
Two bleak films about determined and desperate women were Nia DaCosta's first impression of the Sundance Film Festival more than a decade ago.
First came Frozen River, at the 2008 Festival, about two poor single mothers who take up smuggling immigrants into the U.S. across the frozen St. Lawrence River. Two years later, Winter's Bone introduced Jennifer Lawrence into the world lens as a teenage girl in the Ozark Mountains who tracks her bail-skipping, meth-dealing father to keep her family from going homeless. 
Both films debuted to acclaim, winning the U.S. Drama Grand Jury Prize at the Festival; Winter's Bone also captured the top screenwriting award. DaCosta was inspired.
"I thought [of the Sundance Film Festival] as an American film festival that really emphasized idiosyncratic, interesting, daring American storytelling," DaCosta says. "Those two movies for me, being at that festival, told me a lot about what Sundance stood for. And the way that they showed worlds that we're not used to seeing on screen and amplifying those voices."
No surprise, then, that she would turn to the Sundance Institute in 2015 to help develop Little Woods, her own gritty story of two sisters who survive in their rough North Dakota oil boomtown by operating outside the law. 
In an interview last summer celebrating the Sundance Institute's 40th anniversary, New Yorker DaCosta confided she was doubtful her script would get accepted at the Institute. She graduated from film school at New York University's Tisch School of the Arts, and applied for a Screenwriters Lab. "Everyone else applies every year at the Sundance labs. And then after I graduated, my first year of applying, I was absolutely certain, I knew I wasn't getting in. I was like, obviously, I don't know anyone. I don't have a connection."
She passed the first round, then the second. Before she knew it, she was on the mountain in Utah's Park City, attending her first lab. "And it was a really exciting experience because I got to dig into my writing in a way I hadn't really before, even though I'd spent five years essentially in higher education."
In fact, her project was intriguing enough to get accepted in 12 different programs at the Institute, including the directing lab in 2015. Every workshop and grant provided another building block in her craft, she says, and the Catalyst Forum taught her how to seek out financing so that she could start shooting in 2017.
"The Directors Lab, in particular, was really special…" she says. "Because you get to really experiment and explore. You get to really learn how to defend your ideas, defend your tastes and your vision — while also being given this amazing environment and this amazing community in which to do it all."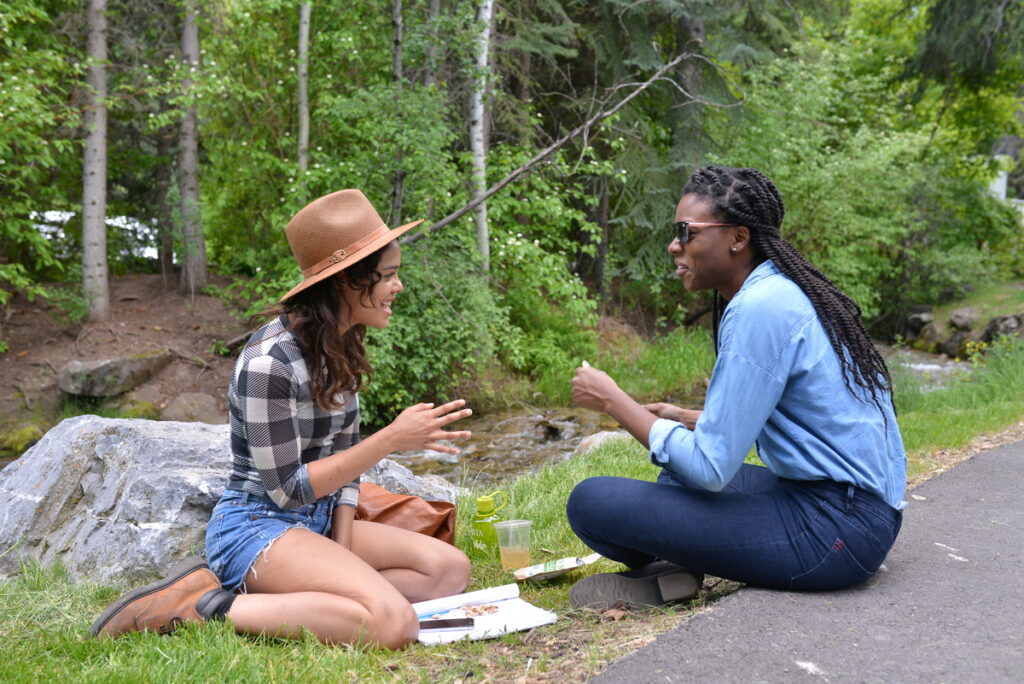 There, she met actors Tessa Thompson and Luke Kirby, who wound up with major roles in Little Woods.
"The environment itself, it's so intense, everyone's really passionate, everyone is doing the thing they love, and it just makes the relationships you develop there that much stronger. And I think that happened with Tessa and I. That's where we first met and we immediately just clicked. And now… she's one of my best friends."
The relationships are super-tight and lend a level of safety that encourages risk-taking: "Having the support system of other filmmakers and also the support of the advisors who come every week and help you through the process of trying to figure out how to shoot a scene, how to block a scene — what scene you should even be workshopping. All of that really helped to solidify what my instincts were and how to follow my instincts.
"And I think for me, I felt I learned more in that month or five weeks during Sundance Directors Lab than I did in four years of film school, to be honest." 
Little Woods was released in 2018, debuting at the Tribeca Film Festival and capturing the Nora Ephron Prize there, and, fittingly, winning Best Narrative Feature at the Fargo Film Festival.
From there, DaCosta has established herself as a director (and writer) to be reckoned with. She co-wrote (with Jordan Peele and Win Rosenfeld) and directed 2021's Candyman — a sequel to the 1992 film about the urban legend of a Black artist who was maimed and murdered by a mob for falling in love with a white woman. The man, with a hook for a hand, haunts his Chicago neighborhood, raining a bloody death on any person who says his name five times in a mirror. The movie debuted at No. 1 on its opening weekend, putting DaCosta in the record books as the first Black woman director to accomplish the feat.
A self-confessed Marvel Comics nerd, DaCosta was then tapped to helm The Marvels, the upcoming 2023 film about superhero Carol Danvers (Brie Larson), also known as Captain Marvel. The role gives her an opportunity to go back to her roots and plumb the depths of the feminine soul.
"I approached these characters as human beings and not necessarily as superheroes," DaCosta told the online magazine Inverse last fall. "I want to know more about Captain Marvel. Who is she? What are her fears? What drives her? How do you actually deal with being the most powerful being in the universe? How does that weigh on you? That's the sort of thing I want to explore." 
DaCosta is the first Black woman — only the fourth woman (including fellow Sundance alum Chloé Zhao) overall — and the youngest person ever to direct a Marvel movie. And to think this bright future and groundbreaking career all began with a spark born from a bleak reality DaCosta glimpsed at the Sundance Film Festival.