By Stephanie Ornelas 
"Indigenous joy is what makes us wake up in the morning. What's the purpose of living if you can't experience joy?" – Kymon Greyhorse, writer-director of I AM HOME 
The 2023 Sundance Film Festival Indigenous Film Tour is underway, and two 2023 Sundance Film Festival artists have the opportunity to share their work with wider audiences. Taking place June 9–30 across five different states, the free tour showcases a 78-minute program comprising Fox Maxy's feature Gush and Kymon Greyhorse's short film I AM HOME. 
Launched in 2021, the Indigenous Film Tour returns this year as an in-person exhibition and a celebration of Native life and art. Greyhorse's project is a three-minute poetic memoir — a colorful love letter to his ancestors and his roots. Meanwhile, Maxy's experimental film acts as a visual diary about survival and self-expression featuring personal archives. As well as embodying powerful Indigenous storytelling, the two films have one important thing in common: They're both projects the respective filmmakers made for themselves. And now the artists' personal experiences are resonating with audiences and communities across the country. 
Ahead of the tour, we were able to talk to Greyhorse and Maxy over Zoom about the inspiration behind their projects and what they hope audiences will get out of watching their films. We're thrilled to share what they had to say. 
It was during the pandemic that Kymon Greyhorse came up with the idea for his short film, which he filmed in a single day in Window Rock, Arizona. 
"I AM HOME started with the feelings of isolation and solitude. At the end of 2021, I think a lot of us were away from family. I was a turtle hiding in my shell," says Greyhorse. "When you stare at the same walls over and over again, you can't help but use your imagination to bring new meaning to your surroundings. I started to think about my purpose in the world, and I started to think, 'Is this feeling, this situation, going to last forever?' Because this is a time when the world was still for once."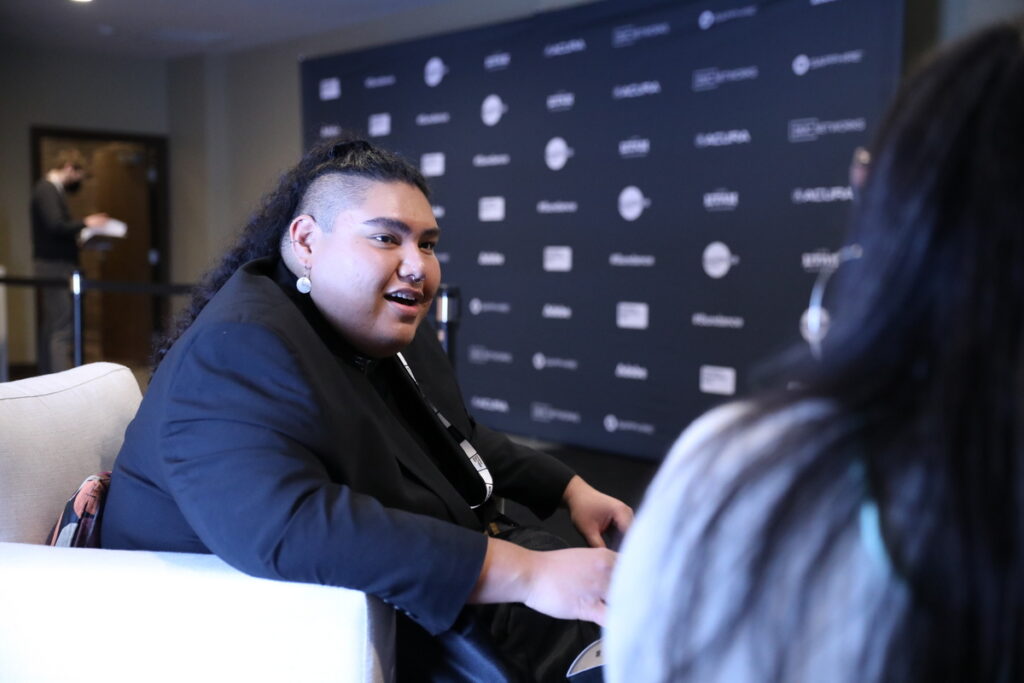 Influenced by watching his mom when he was a child, Greyhorse explains how his ancestors played a huge role in not just his vision behind the film, but the actual film itself. His grandmother provided the film's Diné Bizaad voice-over narration, and other family members constantly brought him inspiration throughout the creative process. 
"My mom always taught me to never dwell in the negative and always focus on what you can change and do for yourself to get out of whatever you're going through because that's the only thing you can control. So I began to think about who I am and all my ancestors that came before me and the people who raised me and loved me. It was the matriarchal figures in my life — my grandma, my mom, my aunties — they truly had the key to what sacrifice and resilience was in my family and what it looked like. I always admired the way they all carried themselves and were always able to provide home and the foundation of home. That was the center of this film." 
"I watched my mom navigate the world and the obstacles with so much strength and confidence," Greyhorse continues. "And I know that that carries over to my voice and film and what intrigues me about being human, being Indigenous, being Polynesian, and the culture that affects the decisions that we make in order to keep moving forward. It's why I'm drawn to storytelling, because storytelling is power, and sometimes it's a power that you can't put into words." 
The decision to use the Indigenous language Diné Bizaad for the narration was a meaningful one for Greyhorse. And having his grandmother narrate the poem just felt right. 
"I'm drawn to stories that challenge me — this being one of them — stories that feel very close to home, pun intended," he laughs. "I felt like the wisdom in her voice would carry a message far beyond just the visuals and what I had written already. I wanted her to have her moment where there was sort of this reverence of the audience to hear her speak and hear the elegance and history and beauty within our language."  
When asked what he hopes the audience will take away from his film, he explains, "I want the audience to feel the love, inspiration, growth, and empowerment that went into this film. It was just for me," Greyhorse continues. "It was something very personal to me that I could look at and be reminded of why I'm doing this. I used it to calm my mind at a time of turmoil and take away self-doubt and reinspire me, and I hope that message comes across to audiences when they watch the film."
For Fox Maxy, inspiration came from multiple sources — both good and bad. Her debut feature-length film, Gush, which had its premiere in the New Frontier section at the 2023 Sundance Film Festival, was partially inspired by Maxy's pain. But that pain ultimately led to her finding joy as an artist and a filmmaker. 
Maxy explains that making the film involved a lot of "trying to feel joy after so many long periods of pain." She was especially inspired by the concept of transmutation. "There's something in the filmmaking process for me — it comes from something ugly, it comes from something horrific, it comes from survival, being a woman but also being in a world with men and finding a balance and a respect between the two … after a time period of disrespect."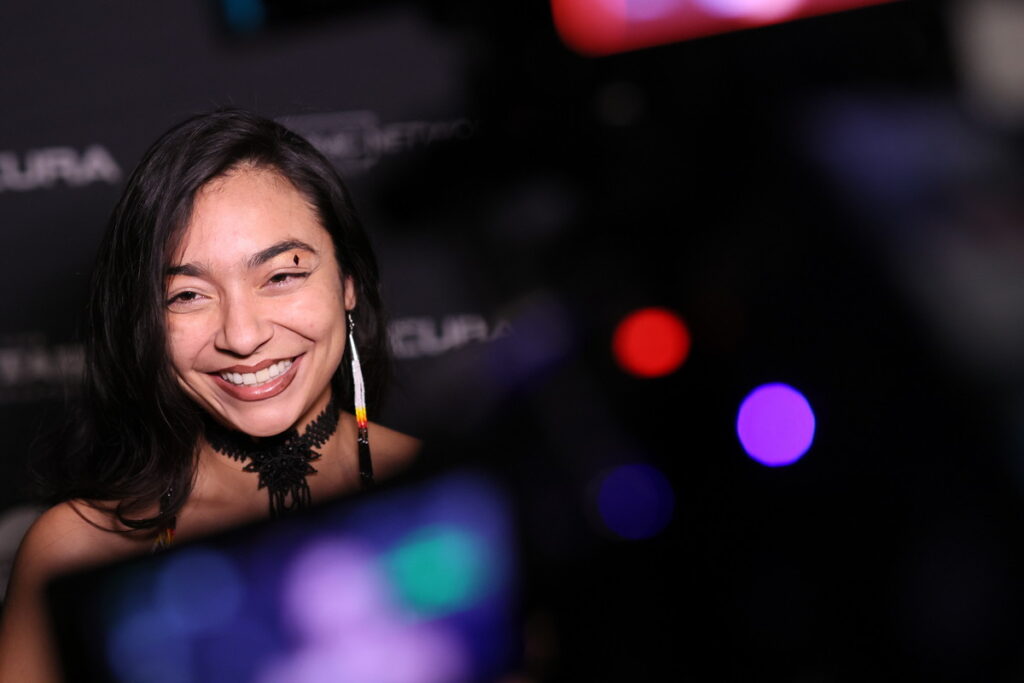 "This was just for me. I didn't have people who [said], 'Please make this movie about something bad that's happened to you,' and that's just the force that is driving me to get it out there. It's a collection of everything, and I've always wanted to make movies." 
"I'm going to express my experiences and also the stories that I want to tell,"she continues. "It's not a documentary; it's performance, it's art, it's freedom of expression. It ranges. And it's important for me to have that range. Being honest — that's all it ever is for me. I gotta be emotionally honest in the making of it because the only reason I'm doing it is for me, so I have to be real with myself."  
Looking back at the two years she spent editing Gush before she submitted the final version to the Sundance Film Festival, Maxy recalls showing early rough cuts of the project around locally in a couple of different settings — including a crowded bar.  
"There were a lot of screens playing games and news, and Gush was in the middle of all of that. And I never would have expected this response, but people were really interested in it and [they] wanted to see more. It engaged a lot of people even in a setting that was so filled with entertainment. Showing your art is a powerful thing." 
Championing Indigenous voices is a crucial part of Sundance Institute's overall mission to uplift independent storytellers. To learn more about how you can support Indigenous artists, explore Sundance Institute's Indigenous Program.