by Bailey Pennick
Progress rarely comes from staying in your comfort zone. To try is to be uncomfortable, but if you make the effort, extraordinary things can happen — like building a new playground for children in need, or, in the case of Oliver Hermanus, taking the helm of a remake of a classic piece of cinema.
"It was a strange journey for me," the director says at the digital premiere of his new film. "I'm from South Africa and to take on this film, which is an adaptation of [Akira] Kurosawa's Ikiru, [with a screenplay] written by Kazuo Ishiguro, is unlike the other films I've worked on" Hermanus, making his Sundance Film Festival debut, worked closely with the Nobel and Booker Prize–winning British author to develop the script and a fresh take on the 1952 Japanese drama about life's true purpose.
"We really didn't speak much about Kurosawa," says Hermaus, elaborating about the pandemic collaboration process with Ishiguro. "We agreed that we were making a particular movie about England and this particular character and time, so we really focused on what we were making instead of being too stressed out by the looming shadow of Kurosawa in the background."
Looming shadow is an apt way to describe the plot and surroundings of Living. Williams (a nuanced and tender Bill Nighy) is the longtime government employee, overseeing London's public works department. His reputation — "a decent chap, a bit on the frosty side" as seen by new public works employee Mr. Wakeling (Alex Sharp) — precedes him before he even steps aboard the morning train. Around the office, gigantic piles of unanswered public works projects eclipse the view of the teammates, nagging ghosts that Williams has spent decades keeping in purgatory with his well-worn but polite catchphrase: "But we can keep it here, it does no harm."
Doing no harm suddenly isn't enough for Williams when he realizes that his lingering illness is terminal and he only has six months to live. Living in 1952 London, our ailing protagonist is a typical stiff-upper-lip Brit: uncomfortable with his emotions and struggling to express himself to his weak-willed son or his employees.
"I'm fascinated by [this] kind of Englishness [of Williams]," shares Nighy. "That kind of reserved, modest behavior… that kind of reticence that is very English." He pauses, thinking about his role and his own experience as an Englishman who grew up in postwar Britain. "My father was that kind of character, and the fact that [my character in this film] is then put into an extreme situation, there are rich pickings there."
This connection, which they forge over long walks and Cary Grant films, is solidified when Williams confides in Margaret about his cancer diagnosis. She implores him to express himself and tell his family, but now that Williams has taken the end of his life into his own hands, no longer "Mr. Zombie," he wants to put his lasting energy in doing good instead of just doing no harm. He stares down the massive shadow of WWII and England's collective trauma by pushing through the discomfort of bureaucracy and getting a playground built for neighborhood families.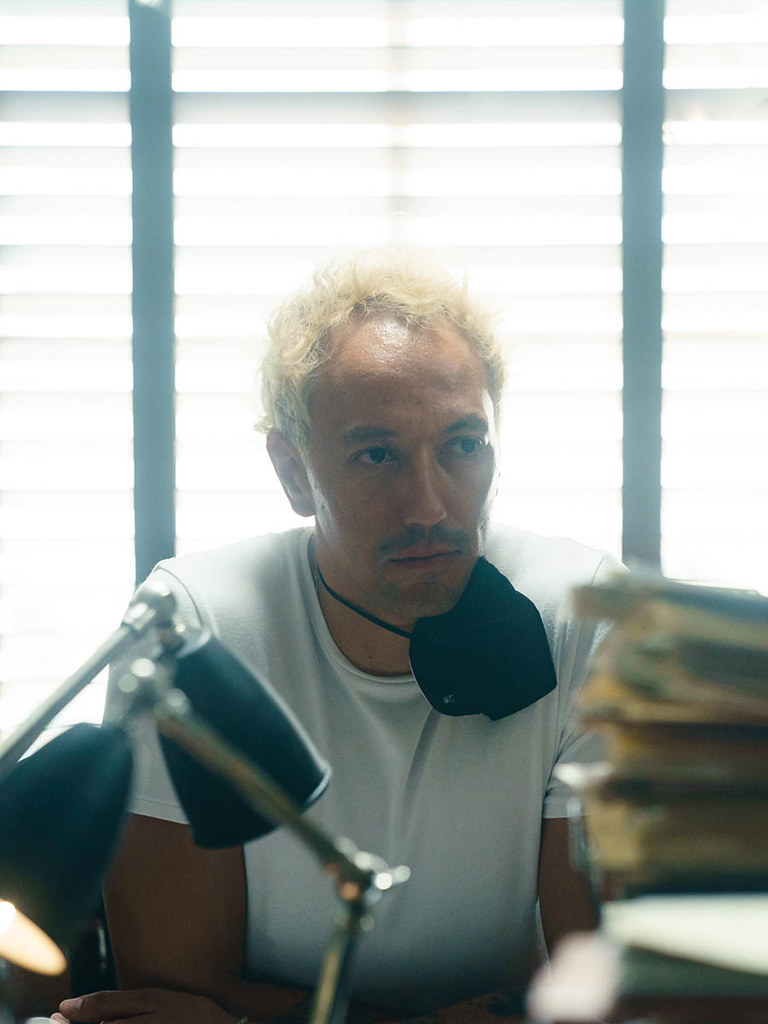 In the end of Living, Williams, himself, becomes the ghost that's haunting the halls of public works and the winding streets of London. His kindness and decency builds a legacy that he didn't ask for — his childhood desire was just to be a "gentleman" — and his spirited push for actual progress casts a dark shadow over the paper pushers in his department who don't heed his warning to live life to the fullest.
The message of Living continues to reverberate with its cast even after its completion. "This film did change me personally and my perspective on life," Wood says. "Because when you're in that world where people are… so present and about connection, it's hard to go back to a world where you've got your phone and you're always thinking about the past and the future, and not about now."
"Speaking as someone who procrastinates at an Olympic level and gets a kick out of not doing things, when I was young we used to pride ourselves on doing absolutely nothing, squandering time," Nighy adds, with his signature sly smirk. "But because of my age, when playing this role, I decided that my new year's resolution has been not to waste a moment of time." He takes a beat and thinks about what it means to be in Living. "It got my attention in a big way."