By Stephanie Ornelas
It's been a remarkable year for Indigenous artists. Native and Indigenous filmmakers were a key part of Robert Redford's vision when he founded the Sundance Institute, and they remain one of the organization's most vibrant and dynamic communities.
Upholding its mission to support these important stories, the 2022 Sundance Film Festival held its Native Forum Celebration, presented by Nia Tero and the Cherokee Nation, where it announced the recipient of the 2022 Merata Mita Fellowship: California filmmaker Fox Maxy (Payómkawichum and Mesa Grande Band of Mission Indians).
Named in honor of the late Māori filmmaker and Sundance Institute alumna Merata Mita, one of the first Māori women to write and direct a dramatic feature film, the fellowship is designed strictly for Indigenous women-identified artists and aspiring filmmakers.
"I'm very grateful to be honored for this opportunity," says Maxy. "Merata [Mita] was a powerful force of a filmmaker and a powerful force of a caretaker. She cared for her family, her land, her culture, and she was fierce about it. I think people tend to want to package things in a neat, pretty, and digestible way, but she was unafraid to show you the good, the bad, and the ugly. I'm someone who doesn't want to hold back either."
Maxy's first feature film, Watertight, features a collection of interviews about mental health and suicide, interrupted by fake commercials, reality TV parodies, animations, and archival footage.
"We're finally able to tell our stories. It's something I would have loved to talk to Merata about. Filmmaking as an art is something that saves me every day. I don't worry about anyone's opinion anymore and that's the biggest force behind my storytelling."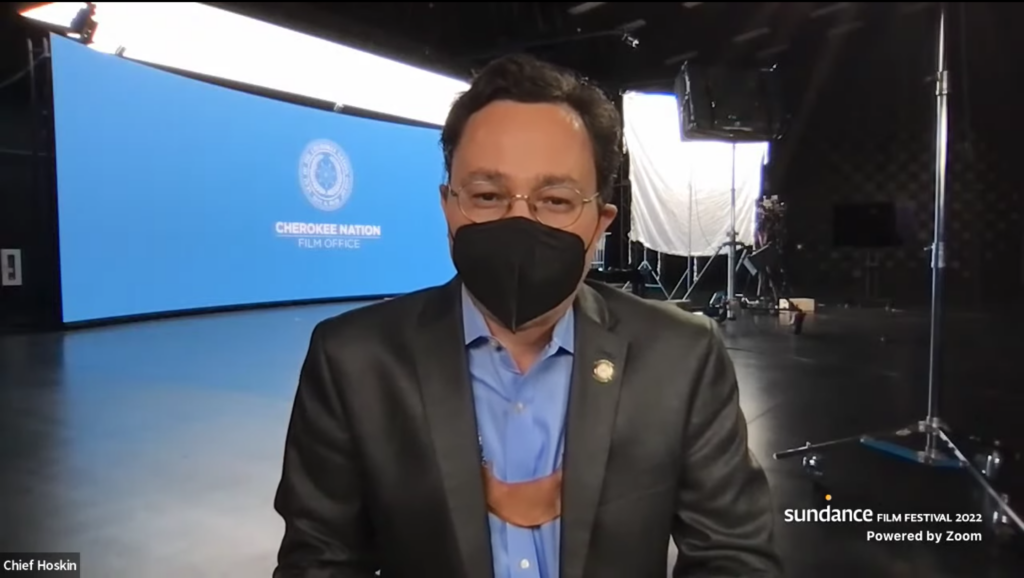 The celebration, moderated by Adam Piron, interim director of the Indigenous Program at the Sundance Institute, kicked off with a remarkable opening blessing by Bart Powakee and the Red Spirit Singers from the Ute Tribal Nation. Viewers then got a chance to hear from Institute Board member Amy Redford and the Sundance Institute CEO, Joana Vicente.
"This program is inflecting our cultural dialogue and has not only fostered a community, but it has created a family of Indigenous filmmakers and artists spanning three generations," says Vicente. "This program has become the model for our outreach and inclusion work across the Institute."
Something incredibly unique about the program is that it's supported by organizations that are also Native-run and led, one being the Cherokee Nation Film Office. The forum welcomed Film Office director Jennifer Loren and Principal Chief Chuck Hoskin Jr. to the virtual stage, where they revealed that the organization will be committing up to one million dollars in annual funding for rebates for films produced within the Cherokee Nation reservation.
"Being part of the film industry is something that's very important to me as chief because I believe in it. I believe in its power and I'm certain it's in the best interest of the Cherokee Nation for us to partner all we can and develop the industry," says Hoskin.
"Partnership has been key to our success. We've developed so many important relationships within the industry and state and local partners, and we want to continue in that spirit."
A breathtaking landscape in northeast Oklahoma, the Cherokee Nation Film Office's 7,000 square-mile reservation will provide many opportunities for Indigenous storytelling.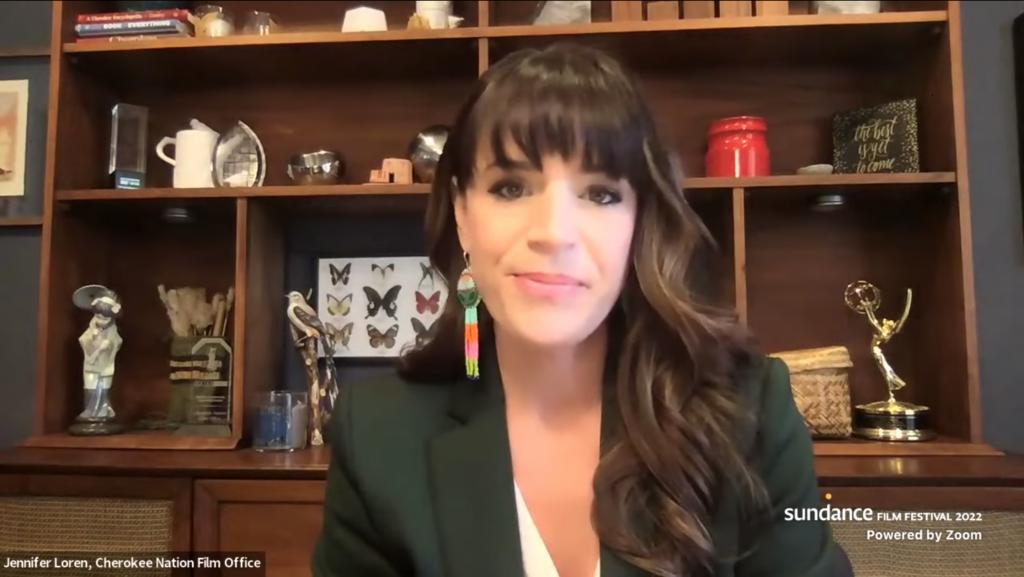 "This incentive will be a powerful tool for the industry and the economic development for the Cherokee Nation. I'm excited at the prospects of bringing more production to our reservation, more opportunities for our people to go to work and develop relationships in the industry."
Since 1994, the Native Forum has become a place for Indigenous artists to gather and share their stories, experiences, and struggles. More importantly, it's designed to build a community.
"We'll always continue to focus on new ways to express ourselves and our art," says Piron. "Throughout this pandemic that continues into the coming year, we have to value our strengths even more as Indigenous people," he adds.
"The resiliency that comes within our culture and our history, as well as the creativity of our artists, needs to be valued too."
The Cherokee Nation Film Incentive is a 20% cash rebate that will incentivize film productions to hire Native writers, casts, and crews, and to use Native-written scripts. Information will be available at https://cherokee.film/