By Vanessa Zimmer
Reinaldo Marcus Green thought he was just being a good brother helping out with a homework assignment. As it turns out, he wound up getting sucked into the world of filmmaking. Witness King Richard, his buzz-generating new film about the rise of tennis legends Serena and Venus Williams under the guidance of their father, played by Will Smith. 
But let's get back to that homework assignment: Rewind a decade or so, when older brother Rashaad Ernesto Green was a film student at New York University Tisch School of Arts and Reinaldo was working a Wall Street job at AIG. On weekends, Reinaldo helped his brother shoot short films for class. 
One in particular, Choices, was shot in Reinaldo's bedroom and featured Reinaldo in a lead role with no dialogue. It cost maybe $2.50 to shoot. Rashaad submitted it to the 2009 Sundance Film Festival, where it was welcomed for a screening.
The younger Green took time off from his Wall Street job to help his brother present the short at the Festival. "My brother says, 'Wrangle cables,' I'm going to do it," the younger Green explains. "I was going to do whatever he asked me to do." 
The New Yorker had no idea where Sundance even existed on the map, but he soon found out that Park City, Utah, was a hotbed of film and talent. "I remember that was the year of Precious. I remember going to a party and seeing Lenny Kravitz and was like, 'That's Lenny Kravitz!' So I [said to Rashaad], 'Bro, what do you do again?' "
The experience made enough of an impression that Green eventually took a self-described "leap of faith" and went to film school himself, also at the NYU Tisch School of Arts. 
Green graduated from cable-wrangling to directing when he took his own short, Stop, to the 2015 Festival. It also was a homework assignment. Although he estimates it cost him $500, pricey compared to his brother's, but amazingly cheap for a film festival–caliber short film.
Stop, about a Black teenager being stopped and frisked by police for no reason, seemed to touch a nerve, drawing interest at other film festivals across the United States. "It was allowing people to sink into a subject matter that was controversial but also of interest, and I just leaned into that feeling," Green said. "I think that the film played over 50 festivals in the middle of the country, and places that I never thought that they would be receptive to this type of filmmaking." That gave Green the confidence to expand the subject matter and develop his first feature.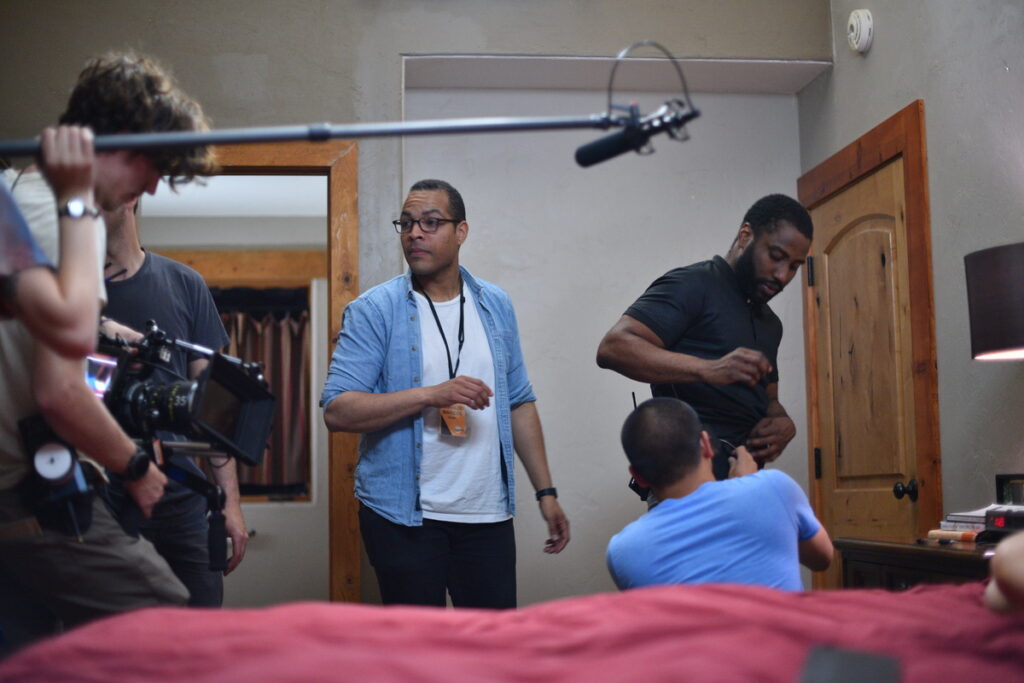 Reinaldo Marcus Green workshopped Monsters and Men in a Sundance Directors Lab.
He took his debut feature script and project plans to Sundance Institute Labs for creative producing, screenwriting, and directing in 2016 and 2017. At the Labs at Utah's Sundance Resort, veteran producers, writers, and directors mentor up-and-coming filmmakers amidst a peaceful retreat high in the mountains.. 
"I didn't do Boy Scouts as a kid," says Green. "We never did sleep-away camp. I never had a sleepover. So Sundance was the longest I'd ever been away from home. And especially to be out in the trees and I'm scared of animals… And they got me out in the middle of nowhere. So it was definitely not only just a Lab experience, but it was a life experience.
"And then, of course, Sundance teaches you that you're on sacred ground, and I think it starts off the week very special because you realize that your art is bigger than you, and that you're representing things that are bigger than you. It really kind of sets a tone for how the week is laid out."
His project, Monsters and Men, possessed an element that made it socially significant: It centered around a police shooting of an unarmed Black man.
Green calls the lab experience "magical," marveling: "You get to workshop and hear your script read out loud. You get to work with actors — and more than just one or two actors in a scene. Three, four, or five at a table. And so you're doing things that you've never done for the first time, and at least you're doing it in practice. You're not doing it on set with everybody watching, and so it's a safe place for you to basically fail. Fail over and over again, and fail up, and eventually things start to click."
He collected pointers from Ed Harris and from Sundance Institute founder Robert Redford, among others.
"I actually showed up late to my lunch with Robert Redford and I thought I was going to get kicked off the Lab," Green recalls. "I was like, 'Oh my God.' All I was looking forward to the whole week was having lunch with Robert Redford. And just the time slipped by. I must've been 15 minutes late, and I remember running to the Lab and just being so apologetic. He was so cool about it. He was like, 'It was no problem.' 
"And because we both sort of grew up playing baseball, we were able to really just talk about baseball and share a hot dog. I mean, it was… What an amazing experience… To sit down and have hot dogs and talk about baseball with Robert Redford. That's a memory that I'll live for the rest of my life."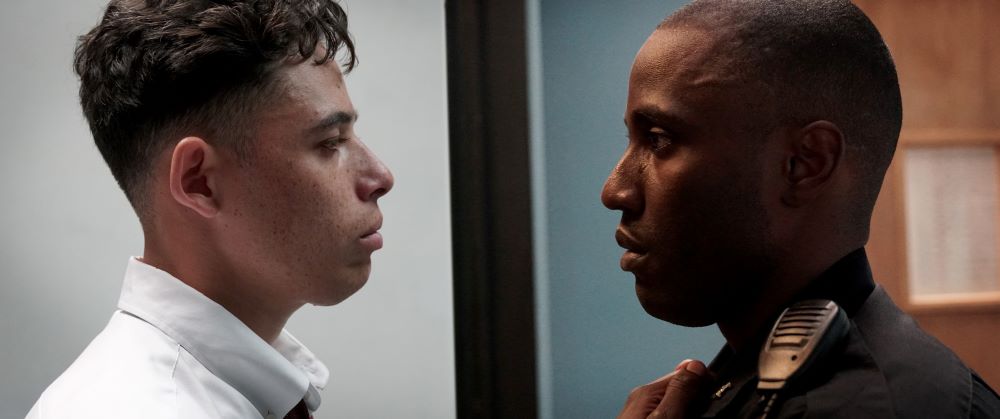 Anthony Ramos and John David Washington appear in  Monsters and Men.  Photo by Alystyre Julian. 
After the labs, Green wanted to hurry the film along. It was a sprint, with only about six weeks to edit the entire film, but Monsters and Men made it to the 2018 Festival. When he got the news his film was accepted, Green jumped on the bed in his Brooklyn apartment and unleashed a triumphant wail.
And that was not even the most jubilant moment. At the Festival, Monsters and Men won the Special Jury Award for Outstanding First Feature in the U.S. drama competition. Other film festivals (and awards) followed. 
Monsters and Men opened to the wider world in September 2018, courtesy of Neon and MoviePass Films, gathering notice for its complex, nuanced approach, exploring the shooting through three outsiders — a bystander who filmed the incident, a Black police officer, and a high school baseball star inspired by the shooting to become politically involved.
The film, as described in a Variety review by Peter Debruge, "attempts a more soft-spoken, empathy-driven approach in hope that audiences who have previously reached their own conclusions will consider other sides of the picture."
As he has added TV credits and the feature Joe Bell to his body of work, Green has also returned to the Sundance Institute labs to mentor other new and emerging filmmakers, helping them overcome the doubts that inevitably set in. He expresses gratitude for the lift the Institute granted him. "I think Sundance is just that little push that people need to just believe in themselves." 
Now he is happy to spend some time paying it forward. He urges filmmakers to stick to their path: "There's something that led you here. Just keep following that, following that gut. Follow that intuition. It can lead you to great places."
That sentiment can also apply to Rashaad Ernesto Green, whose $2.50 homework assignment also launched his career. Green followed up with his first feature film, Gun Hill Road, at the 2011 Festival. His Premature screened at the 2019 Festival, and the elder Green has racked up a multitude of TV credits.
The Green brothers, indeed, have found their way to great places.
The Reinaldo Marcus Green interview was conducted last summer by Sundance Institute staff as part of the Institute's 40th anniversary.