by Bailey Pennick
Rigid.
Rigid is a word that continues to swirl around the live Q&A after the premiere of Jesse Eisenberg's directorial debut, When You Finish Saving the World, which is strange considering how warm and playful the group was. The primary cast (Julianne Moore and Finn Wolfhard) and the producers (Emma Stone and Dave McCary) joined Eisenberg and Sundance Film Festival director of programming Kim Yutani to discuss the tense, yet tender film about family, but they keep just coming back to rigid. Even in the chat, a participant named Laura reaffirmed Eisenberg's use of that word to describe his two lead characters: "Rigid is an understatement. 'I'll be ready in five seconds.' and she leaves at 5.1 seconds."
The she that Laura is referring to is Evelyn Katz, the head of the Spruce Haven domestic shelter in Indiana, played deftly and vulnerably by Moore. The person who hyperbolically said they'd be ready in five seconds is her semi-internet-famous-troubadour teenage son, Ziggy — played by Wolfhard with a sense of fragility and awkwardness that is reminiscent of Eisenberg's past onscreen roles.
So, which one of these characters is the rigid one? Both.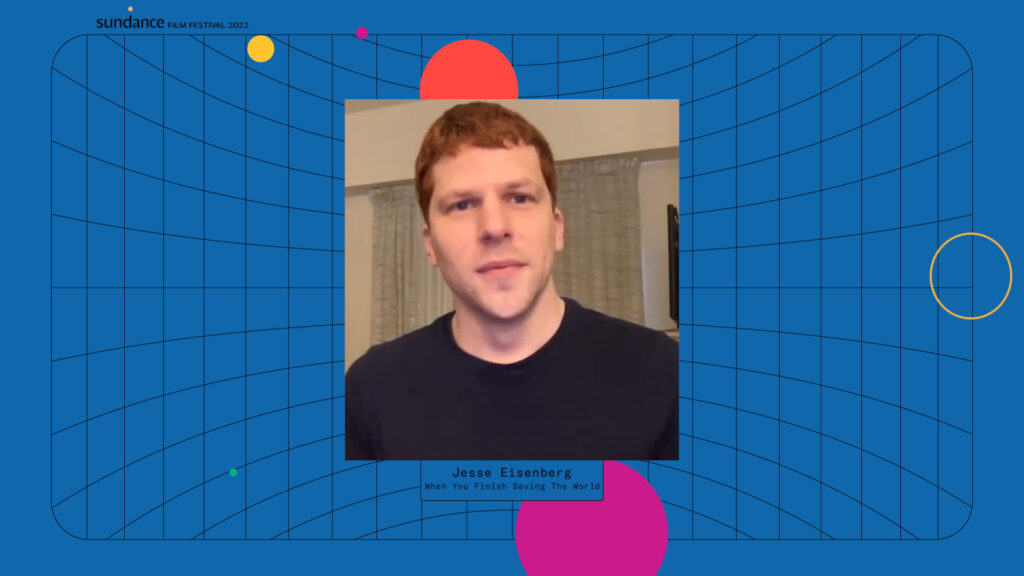 Within the lyrics of one of his songs, Ziggy — @TheRealZiggyKatz on HiHat for all you true fans out there — describes a relationship that perfectly sums up his strained relationship with his mother: "Two high speed cars on parallel streets / Never going to crash, never gonna meet." Right up until the very end of the film, Ziggy and Evelyn are both going at their top speed, trying to connect with someone outside of their comfort zone and make a difference while refusing to leave their lane.
Wolfhard's character wants to impress a politically active girl at his school with his music, but refuses to give up his 20,000 fans across the world (and the money they give him for his vapid love songs). Evelyn wants to help plan a young person's future, but instead of opening up to her own son, she finds a makeshift social work mentee in the kind son of a resident of her shelter. "You see them in their own world as successful and important people," Eisenberg explains. "But when you see them together they just can't see eye-to-eye." Rigid.
What's not rigid, however, is Eisenberg's handling of his own source material (the film is based off of his 2020 Audible drama of the same name). Stone and McCary's production company, Fruit Tree, is set up to shoot films on film and that inspired Eisenberg's textured and "homemade" feel of the film. The serenity of the shots and the sparse locations makes the tension between the Katz family that much more palpable.
"We don't always do what we intend to do," says Moore, with an excited smile on her face talking about this project. "The way [Evelyn] wants to speak to her kid doesn't come out like that!" The group nods in agreement at the thought of how Evelyn and Ziggy snap at each other. "I was so excited to play a character that didn't get it right." And while both characters don't get it right, the performances nail that complex reality of familial relationships. "These two standout lead performances can be aggravating and endearing, from two of the best actors out there today," says Eisenberg, beaming with pride.