Greg Nava (far left) and Anna Thomas attend a Directors Lab at the Sundance Resort in 1981.
By Vanessa Zimmer
Director Greg Nava proudly points out how far he goes back in Sundance Institute history. He was in the first Directors Lab 41 years ago, and his Oscar-nominated screenplay El Norte was among the inaugural projects.
No doubt you've heard of El Norte, a powerful, classic film that brought attention to the plight of Guatemalan refugees with its story of a teenage brother and sister fleeing north to the United States to escape government violence. 
"The thing that I am most proud about that film is that it had a major impact and was instrumental in helping the United States grant… temporary protective status to Mayan refugees from Guatemala, and that resulted in thousands of lives being saved," said Nava in an interview last summer with the Sundance Institute to celebrate the organization's 40th anniversary.
Nava is convinced he might never have made the film without the support of filmmaking professionals at the intensive directing laboratory and workshop. "It was an unbelievable experience," he says. "People say to me, 'Oh, it's so much bigger and better now than when you went there.' But I can't imagine anything being better than what I went through when I was there as a filmmaker.
"I mean, we worked with Robert Redford, Karl Malden, Sydney Pollack, Martin Ritt, Waldo Salt, Ivan Passer, Frank Daniel, Caleb Deschanel. Who gets to work with people of that caliber to help you realize your vision and read your script?"
Passer (Intimate Lighting) advised Nava on working with nonactors. "I used (his methodology) for El Norte, and I've used it ever since. I still have all of the notes that I made from all of these extraordinary people. I still have them. I still refer to them because they were so insightful and so powerful." He also made lifelong friends, as with the late Pollack. It was life-changing.
Daniel, of the Czechoslovakia Film School, taught Nava the incredible value of circular writing: Write the script from back to front, starting with a strong ending. Then rewrite from beginning to end. That's another method Nava — director of such films as A Time of Destiny (1988), My Family (1995), Selena (1997), and Frida (2002) — retained over the years.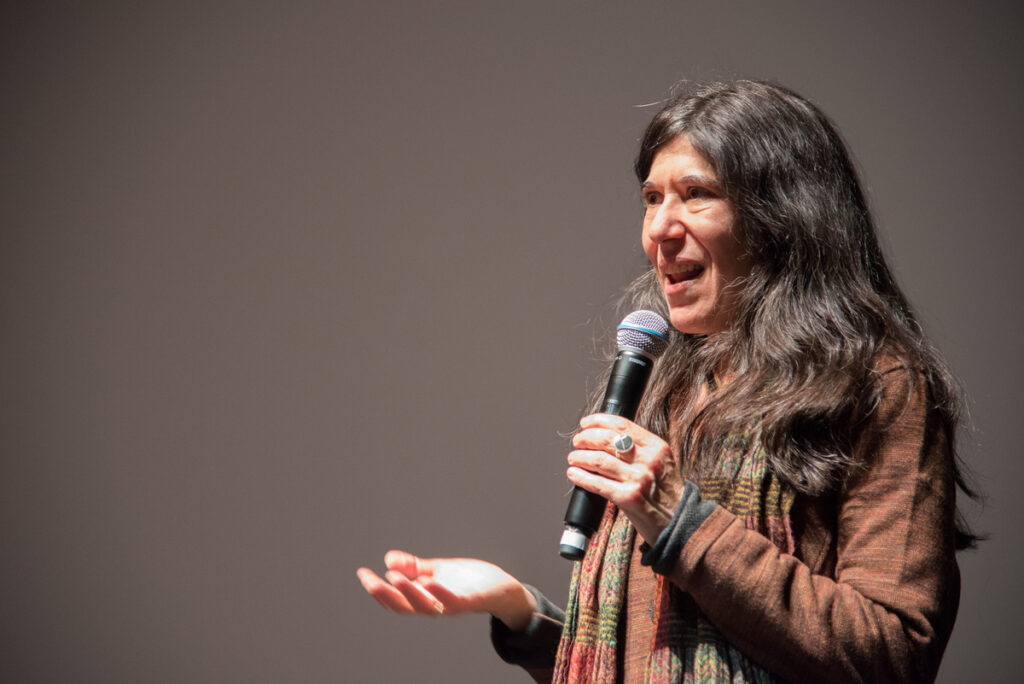 Director Debra Granik addresses a screening audience at the 2018 Sundance Film Festival.
A Summer Job
Summer is the traditional time for the directing and screenwriting labs hosted by the Sundance Institute, where emerging filmmakers work on their projects with the help of a cadre of respected pros. This year, the Directors Lab returns to in-person sessions May 31–June 14 at the all-season Sundance Resort in the Wasatch Mountains of Utah. The Screenwriters Lab follows online June 21–24.
Lab alums speak effusively of the benefits of the sessions. As a film student, Debra Granik remembers submitting a short film called Snake Feed, about a couple battling addiction and poverty. It got accepted, received a good reception, and the Institute asked to see more of her work. "I mean, for an emerging filmmaker to get an invitation to see more, to ask you, 'That short looked like it was maybe part of a larger story. Do you have more of that story?'" Granik muses. "And oh boy, did I. I did."
She took the material mined for that story and developed it at Sundance labs in 1999, inspiring Down to the Bone, a feature-length work that eventually won a directing award and acting award at the 2004 Festival. (We won't even mention her 2010 Winter's Bone, nominated for Oscars for Best Picture and Best Adapted Screenplay, as well as winner of the Grand Jury Prize and the Waldo Salt Screenwriting Award at Sundance. Oh wait, we couldn't help ourselves.)
One of Granik's takeaways from the lab experience was the importance of spending the time to work the material: "It's good and right and OK to rehearse, to change things, to be very porous and malleable."
"The lab makes that space, the lab stresses that," she continues. "The lab trains a cohort of American filmmakers and international filmmakers every year to respect that, and honor that process. And I don't think you can add more to filmmaking history than that, reviving something that was good, and teaching it to up-and-coming makers."
Where It's Safe
It doesn't hurt that the Sundance Resort is a beautiful place, and far from the noise and demands of Hollywood and Los Angeles. Alums describe it as a safe place, among people they can trust.
"I felt very safe to make mistakes, to blow it," says Nicole Holofcener, who took her 1996 film Walking and Talking to screenwriting and directing labs in 1992. "I remember not knowing how to get an actor to do something I wanted them to do, and my mentors giving me advice on what to do… 
"Besides it's really beautiful there, and there's this great hike to a waterfall, and the food's really good, and the people are really nice, and it's nice to get away from my life and be surrounded by emerging filmmakers and the mentors, too. It's just a really nice, creative party."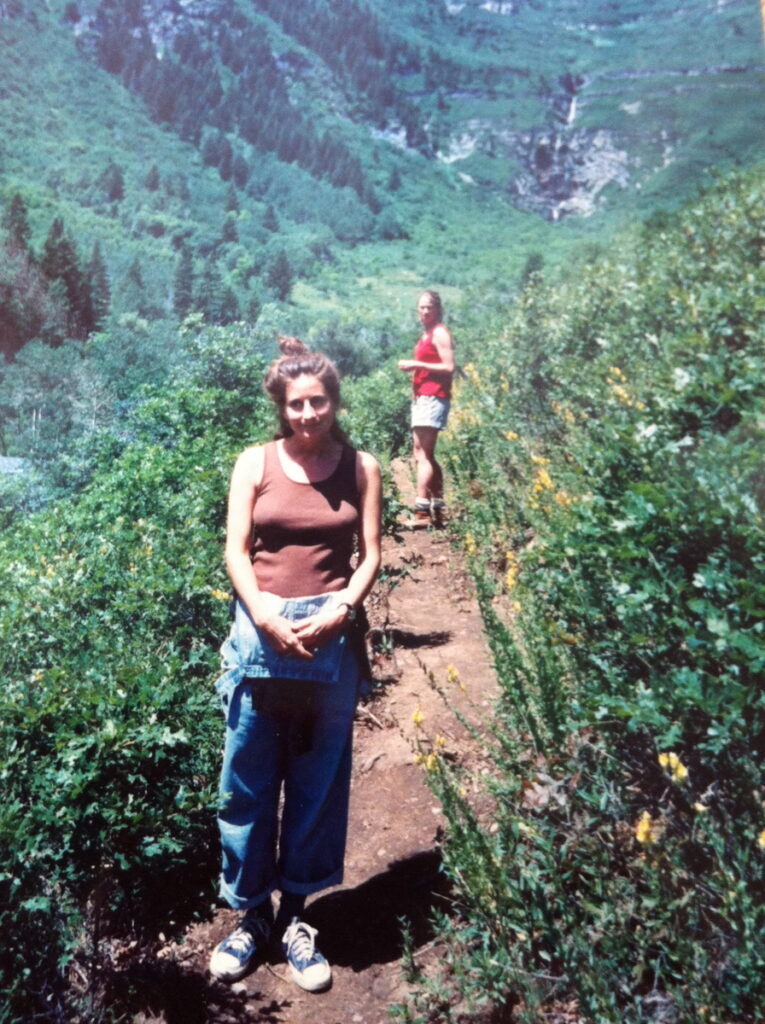 One of the best things, adds James Mangold, is that you learn these "legends" of film that are mentoring the newbies are no different from anyone else. Mangold took his police-corruption story Cop Land to the Labs in 1994. There, Morgan Freeman read all the narration.
"And I can't tell you what it was like to hear the voice of Morgan Freeman reading my writing out loud and to see where things played, and they didn't play, and to hear it out loud. But it is that interaction with people who are so accomplished and yet have taken two, three weeks out of their busy lives to be with you in the mess and the passion of your project. 
"And that investment of love and time and wisdom is something that stays with you, not only for the lessons you learned from each of these instructors about their own point of view about their art, but also knowing them as human beings and understanding that they're not that different than you.
"It suddenly closes this gap in which moviemaking and Hollywood exists over this hill in this faraway land and you're this visitor, to being accepted into a family that includes people who've made some of the most treasured movies you've ever seen."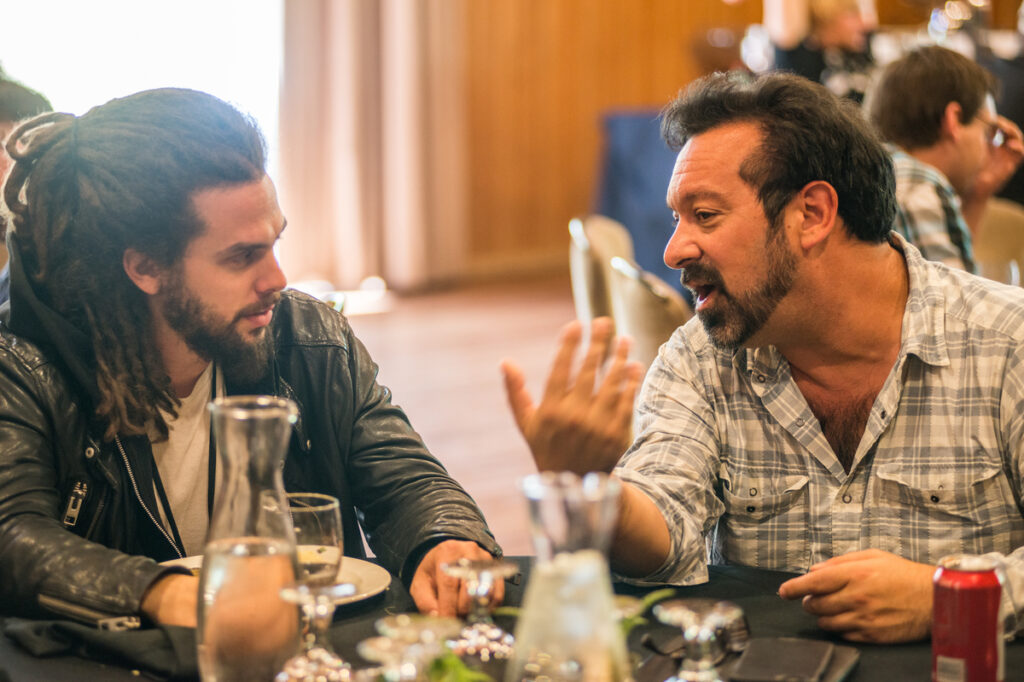 James Mangold (right) grows animated as he discusses a topic at the 2015 Directors Lab. 
So, the newer filmmakers feel safe making the "mistakes that they were going to make in the first two weeks of production of their movies in this very loving enclave in the Utah mountains," Mangold adds. 
The less experienced soon learn that attending a Sundance lab doesn't mean polishing a project, to get it bright and shiny enough to break down Hollywood's doors. "That's never what Sundance is about," says Mangold. "Sundance is about actually making the least polished, most rough, and impulsive exercise of your material to see what's really there, and not trying to impress in terms of glossy production value, but much more in terms of the urgency of the emotions of your project."
It means experimenting, trying new things, getting to the true emotion, the true heart of the story.
Filmmaker Yasmin Elayet attended a 2019 New Frontier Story Lab.
A Little Help From Friends
And sometimes, it simply means giving an emerging filmmaker confidence in her own voice. In 2011, Yasmin Elayet and Jigar Mehta were working on 18 Days in Egypt, conceived as an interactive documentary relying on those inside the country to tell the story of the Egyptian revolution through videos, photos, Tweets, and other media.
But the creative advisors at the lab were telling Elayet there was no strong narrative. She felt depressed, dejected. 
Then, along came filmmaker Laura Poitras (The Oath, Citizenfour): "What she said to us was something like, 'F— what anybody else says, this is your project and your story, and only you know how best to tell it. If this needs to be a participatory platform, then that's what you need to do.' And that was that. Laura Poitras saved 18 Days in Egypt and we went on to make the project the way we intended. The rest is history."
That's the empowerment side of the Sundance Labs — which brings us back to the beginning with Greg Nava and the importance of forming a community of independent filmmakers.
"We're not lone rangers," says Nava. "We are a community. We have to build a community and we have to support each other. Before Sundance and before the independent film movement, all these independent filmmakers… were just lone rangers, working on our own and not getting anywhere.
"And so now, after 40 years, I don't even think you can imagine what the filmmaking community, both in the United States and the world, would be like if Sundance didn't exist. It's changed everything so profoundly that we don't even know what it would be like if it hadn't been there. That's how important it really is."