By Stephanie Ornelas   
"Never forget, South Asians, we have been incredible contributors to film, arts, television, and culture. Just because they — meaning some sort of exec that you've perhaps met with — don't know, doesn't mean you are not valuable and we have not contributed immensely to culture … and it's built on the backs and the ideas of the previous generations."  
From South America to South Africa, award-winning comedian Hasan Minhaj has seen the world. And there's one thing people always tell him, no matter where he travels: We need The Daily Show here. 
"People come up to me and they go, we need a satirical show that can make sense of the chaos that's happening in our country," Minhaj tells Sundance Collab members during the virtual Spotlight Event Hasan Minhaj on Changing the World Through Comedy.  
When Minhaj met with Collab members for the event on May 4, the first question producer of Collab events and moderator Wendy Keeling asked the Sundance alum was, "Why comedy?" She was curious what led him to pursue entertainment as a career. The webinar would turn into a powerful discussion comprising valuable advice, a deep dive into some of the projects that skyrocketed Minhaj's career, and the search for one beloved educator.    
At one point in his life, Minhaj wanted to be a professional basketball player, he tells participants, but his gift of gab kept him off the courts — and probably for the best. Instead, he went on to have an incredible career as a stand-up comedian, writer, producer, political commentator, and actor, presenting the world with projects like Hasan Minhaj: Homecoming King, Patriot Act with Hasan Minhaj, and Hasan Minhaj: The King's Jester. At the start of the session, he credits his high school teacher who saw something special in him — something he didn't see in himself. 
"I was a pretty precocious, rambunctious, troublemaker kid in high school, and I wasn't dangerous or anything, but I would speak up a lot in class. The way I stumbled into comedy was through forensics and speech and debate," says Minhaj. 
"I was talking up quite a bit in computers class. This dates me a little bit, but in the early 2000s, you would take these classes called computers class," Minhaj laughs. It was in that class that a teacher encouraged him to take his disruptive behavior and channel it toward something great.   
"My teacher Miss. Takeuchi — Miss T. — she said, 'Why don't we make a deal? You seem to have an opinion about everything — why don't you join the public speech and debate team … and put this annoying skill that you have, that's a detriment to class, to use?' So, I started doing that, and I started winning regional competitions," says Minhaj. "I didn't realize that that would be a skillset I could turn into a career until I got to college."
"That really was my entry point into having a career in performing. A teacher saw something in me and helped guide me and find something that was inside of me. I owe a lot to Miss T. I'm still trying to find Jan Takeuchi, if anyone here through our network of people can find [her]. She's the reason why I'm here."  
The personal anecdote led Minhaj to encourage viewers to speak up when they see something truly special in someone. 
"You have no idea how important it is to be seen. If you see something in someone, let them know they have a gift, [let them know] 'You have something that is uniquely inside of you that others don't have.' I think we all have that. And it may not be what we want. Like, what I wanted to be was a professional basketball player, but that didn't happen."
While Minhaj may not have made it to the NBA, he has made it to the White House more than once. He also made it to The Daily Show with Jon Stewart as the senior correspondent for four years (2014–2018), something he says was always a dream of his. Minhaj learned from The Daily Show that to be successful in the craft of comedy, it's important to be more than just a comedian. 
"Jon Stewart, Trevor Noah, they're both extremely funny, but them being funny is probably the second- or third-most interesting thing about them. The most interesting thing about them is that they're incredibly intelligent and deeply thoughtful," says Minhaj. 
"And I was thinking, 'How do I show these other parts of myself that you often show at the 9:15 a.m. pitch meeting? Or when you're in conversation with your friends?' And really, what you're trying to show as a performer onstage is, 'Can I be as interesting as I am offstage — or in my private life — onstage? How can I close that gap? How can I feel like there's less of a divide?'"     
Around the same time he began working on The Daily Show, Minhaj was performing at The Moth, a nonprofit performing arts theater and organization in New York. That's where he discovered that comedic storytelling was one way he could connect with his audiences authentically. 
"You have these stories that are both funny but also heartfelt that hit all the human emotions. That was kind of my strong suit," says Minhaj.
Enter Sundance Institute. Minhaj had been workshopping this material in New York, he didn't know yet that his project had the makings of an off-Broadway show when he brought it to Sundance Institute's New Frontier Story Lab in 2014, a lab designed to support artists innovating the form of storytelling through visual art, media, live performance, music, and technology.
"I worked on it with Michelle Satter, and I performed early versions of it with my advisor Sarah Treem, and they got to see the beginnings of what Homecoming King was," he explains.
At the time, his project was called Paint the Town — a film adaptation of Sakoon, Minhaj's one-hour comedy special based on his second-generation experiences as an Indian American. During the six-day lab, Minhaj was able to develop his project and get feedback from experienced advisors at the Sundance Resort in Utah. 
"You may be applying to a lab and are thinking, 'What do I do from there?' I had that same moment when I got offstage in early 2014," Minhaj recalls of finishing the lab. "I remember asking Sarah Treem, who's this amazing playwright and showrunner, 'What's the next step? Who do I call next?' She didn't give me a hard note of, 'You must do this.' She just told me, 'You've got the goods, the story's great, it's funny, it's powerful, it's so timely, it's needed — now you just gotta go execute it.'"   
Minhaj admits he felt frustrated in that moment because he wanted to know exactly what to do next. But, as he would discover when he left Utah and returned home to New York, the path to success is not always straightforward in the entertainment business.  
"Mike Birbiglia and Colin Quinn were putting up their one-man shows at this small theater in New York City called the Cherry Lane Theatre, and it just felt like a sign. I felt, 'That's going to be my next step.'" 
But without a producer for Homecoming King, he needed to find the capital on his own, so Minhaj applied to the Doris Duke Foundation's arts program, where he received the Sundance Institute and Doris Duke Foundation for Islamic Art Grant for $25,000. 
"I wrote this long piece [and said], 'I did the Sundance labs, I have this piece called Homecoming King, and I really want to go off-Broadway,'" recalls Minhaj of his grant proposal. 
"With part of the grant money and part of my own money, I paid the down payment to put up my show at the Cherry Lane Theatre. And the rest is kind of history."      
Homecoming King would go on to reach larger audiences when it was given its own special on Netflix in 2017. Just months before its release, Minhaj hosted the 2017 annual White House Correspondents' Association Dinner — an event he admits he was hesitant to perform at. So he leaned on his friends and mentors in the industry for guidance.   
"It was a super contentious year. I got the call and my mind went to three different places," he recounts. "The first place was, "If [they're] calling me, who passed? Because I'm like the fourth-most famous person on The Daily Show,'" chuckles Minhaj. 
"Then I find out James Corden had passed, and they had asked several other people and they had passed. Funny enough, that became the opening joke: 'Nobody wanted to do this gig, so of course it falls on the hands of an immigrant.'" 
But before accepting the offer, Minhaj reached out to comedian and writer-producer Larry Wilmore for advice. Wilmore had hosted the year before during the Obama presidency, and Minhaj wanted to know if he was stepping out of line by hosting the event.   
"He told me something interesting. He said, 'You can make change outside of the building … or you can make change inside of the building, and both are equal options. You have an opportunity to do something inside of the building, and I think you should do it. And now that you have this microphone, what are you gonna do with it?'"  
"So I decided to go for it, and I was very lucky and privileged to have the opportunity to have a voice and say something because a lot of people don't get that opportunity," says Minhaj. 
Before heading into the Q&A, Keeling asked Minhaj if there was anything he wanted the audience to take away about his career path as well as any encouragement he could offer to future creators.
"Try to use a gift that you uniquely have that only you can uniquely do," Minhaj stresses. 
"When I think about the things that I'm writing and doing next, I'm probably the only person on planet Earth that could do this thing in this moment. I think I would tell that to the Hasan [who] went to the Sundance labs years ago."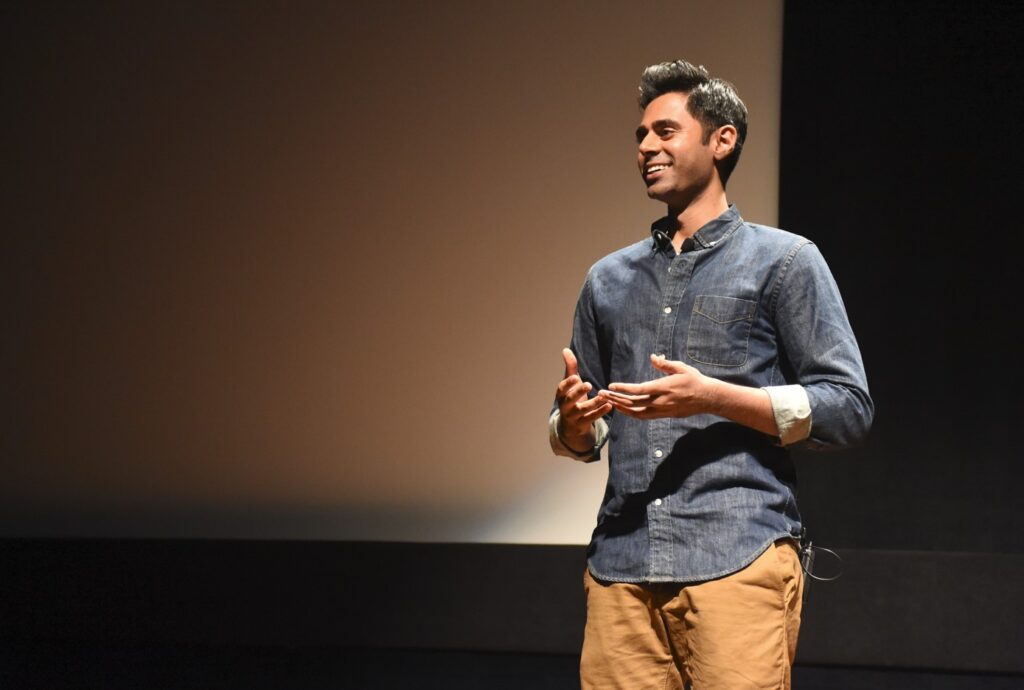 The conversation concluded with an exclusive Q&A that gave Collab members a chance to ask Minhaj burning questions regarding "cancel culture," addressing heavy topics that don't directly impact him, and pushing through doors that sometimes don't open for minorities. To watch a full recording of the discussion and learn more about Hasan Minhaj's approach to comedy, sign up for a Sundance Collab membership.