Robert Redford (left) personally invited Euzhan Palcy to the 1985 Directors Lab at the Sundance Institute.
By Vanessa Zimmer
Robert Redford was so impressed with Euzhan Palcy's 1983 debut Sugar Cane Alley — about natives who live on the Caribbean island of Martinique and eke out a living cutting sugar cane — that he personally invited her to come to his then-new Sundance Institute to workshop her next film.
Fast forward to 2022, as Palcy, 64, prepares to accept an honorary Oscar for her life's work. The writer-director from the French West Indies will accept the award on November 19 at the Academy of Motion Picture Arts and Sciences' 13th Governors Awards in Los Angeles. The Academy praises Palcy as "a pioneering filmmaker whose groundbreaking significance in international cinema is cemented in film history."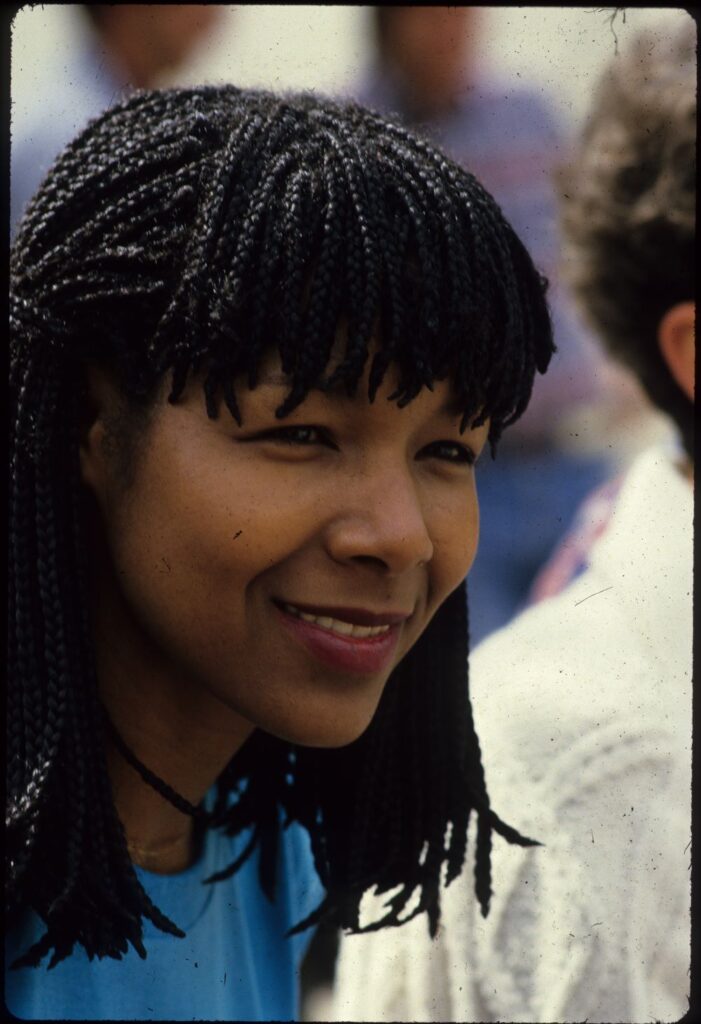 Palcy grew up on the island of Martinique, where she discovered her artistic bent for storytelling and learned about the tools to express it through her job at a local television station. She emerged in the filmmaking industry with her feature-length debut, Sugar Cane Alley, which she adapted from a novel written by Joseph Zobel. The film is set in 1931, when life was particularly harsh under French colonial rule. The natives cut sugar cane for income, but they barely got by.
The story focuses on young José, a smart boy who works and studies hard in an effort to better his life and that of his grandmother.
The film won multiple honors, including a French Cesar Award, the equivalent of the American Oscar, for best first feature film — with Palcy becoming the first Black director awarded the prize. That set the tone for her life's work.
Redford founded the Sundance Institute in 1981 with the mission of encouraging and supporting new, independent voices in the film industry. He welcomed Palcy to the 1985 Filmmakers Lab at Utah's Sundance Resort, where she workshopped an adaptation of the anti-apartheid novel A Dry White Season. 
So determined was Palcy to tell an accurate account of life under segregated rule that, with the help of Nelson Mandela's doctor, she traveled to South Africa, posing as a recording artist looking for choristers. In reality, she secretly interviewed victims of the apartheid government, according to her website. 
Palcy persuaded MGM to hire an all–South African Black cast — and managed to lure Marlon Brando out of retirement to play the role of an anti-apartheid attorney in the film, which also starred Donald Sutherland and Susan Sarandon.
The South African regime banned the film when it came out in 1989. Again, Palcy counted a first — the first Black director to helm a narrative anti-apartheid feature during Mandela's imprisonment of 27 years. A Dry White Season was also the first film directed by a Black woman produced by a major Hollywood studio; it won an Orson Welles award. What's more, she coached Brando to an Oscar nomination.
Two years later, she created the musical fairy tale Siméon (1992), set in Martinique and Paris. Other films followed, including the documentary trilogy Aimé Césaire: A Voice for History (about the poet, playwright, and philosopher from Martinique, 1994), Ruby Bridges (Disney television movie on the young Black girl immortalized in the Norman Rockwell painting as the first to desegregate a New Orleans elementary school, 1998), The Killing Yard (a documentary on the Attica uprising, Showtime, 2001), The Journey of the Dissidents (2006), and The Brides of Bourbon Island (television miniseries, 2007).
The latter two also possess French connections. The Journey of the Dissidents is a documentary about 5,000 young French West Indians who fought in World War II. The Brides of Bourbon Island follows the colonization of Reunion Island during the 17th century. Among her many awards, Palcy holds France's highest recognition, the Legion of Honor, given on behalf of those dissident war veterans. 
Palcy doesn't hide the fact that the road has been long and sometimes difficult, but she continues to encourage other filmmakers to this day: "I would like people to make great movies, and to help them realize that dreams aren't impossible," she recently told Essence magazine. "You will sweat, you will cry, you will get tired, but in the end it's worth it."
Also receiving Governors Awards on November 19 will be actor Michael J. Fox, Australian director Peter Weir, and composer Diane Warren.