Fellows Yo-Yo Lin 林友友 and Valencia James at the Interdisciplinary Lab at MASS MoCA. © 2022 Sundance Institute | Photo by Kaelan Burkett
By Ruthie Doyle
In 2020, the Institute created the Interdisciplinary Program (IDP), a home for artists formerly supported by our Film Music, New Frontier Labs, and Theater programs. The program's design was built on the wisdom of 40 years of Sundance artist development, along with new methodologies and practices for the artists as well as within the Institute.
Unfortunately, to address the financial challenges of the ongoing pandemic, the IDP is also coming to a close at the end of this month. It was a highly successful Institute program, and we want to share some reflections on a few top learnings with our community.
A virtual Art of Practice gathering
The art of practice 
With an "exploded lab" ecosystem, a cultural incubator, the collaboration and generative environment of a Sundance lab was extended across a full year as the Art of Practice Fellowship, involving a larger, more varied group of artists. The Fellowship cohort was a mix of backgrounds, expertise, and career stages, with 90 percent of the artists centered on historically underrepresented or excluded backgrounds. The program identified 65 artists with practices ranging from deepfakes to dramaturgy, biohacking to bass violin, ethnomusicology to engineering.
Incorporating a collaborative approach to artist advisory — along with Sundance artist board members and a quarterly artists advisory board — the fellowship cohort was rounded out by five community leaders selected for their singular voice and excellence in activating their respective communities: Sarah Ellis, Adil Mansoor, Cat Rodriguez, Wesley Taylor, and Xin Xin. (See a full list of the abundance of advisors, fellows, and grantees here.)
Fellow Lauren Lee McCarthy. Fellows Nick Fortugno, Cat Rodríguez, and Yo-Yo Lin 林友友 at the Interdisciplinary Lab at MASS MoCA. © 2022 Sundance Institute | Photo by Kaelan Burkett
Holistic artist support
Fellows in the Art of Practice Fellowship were supported in the whole of their practice, not just one artistic project. Artists told us this was key, and our commissioned field research by Jesse Cameron Alick backed this up. Holistic artist-based support also allowed for multidisciplinary artists to bring their whole creative practice, try new things, and not feel they were undermining their credibility in any one form. 
Art of Practice community leader and theatermaker Adil Mansoor noted: "IDP has helped me articulate the wholeness of my practice. I entered the program in the midst of a major artistic pivot, moving from directing other people's plays to generating my own performance. In the year I was with IDP, I premiered my first solo show, presented a work-in-progress of new material, and attended residencies for multiple new projects. It was in conversations with other IDP artists that I began to articulate patterns and themes emerging in my own work. I'm so thankful to this program for encouraging me to imagine beyond a singular project and really hone my voice as an artist."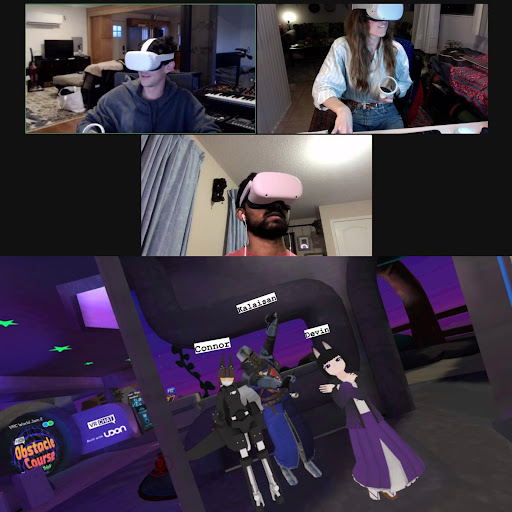 Fellows Devin Ronnenberg, Connor Cook, and Kalaisan Kalaichelvan. photo credit: Connor Cook
Community is the heart and the engine
As our financial-focused virtual gathering facilitator Hadassah Damien noted, resilient community is one form of wealth — social capital that bolsters creative and entrepreneurial pursuits. 
Designed as a closed yearlong creative community, the cohort represented a wide variety of backgrounds and career stages, with the belief that everyone has something to offer in their practice and wisdom now. Besides meaningful creative conversations in person and virtually, artists started hiring each other, collaborating, having dinner parties, and offering support to each others' process while they were working in other fellows' cities. 
"The expert matchmaking led to thoughtful conversation, and in some cases, interesting collaborations with artists who on the surface may have not seen what they had in common,"  noted community leader and artist Wesley Taylor. "I am certain that I have a professional network of artists that I can lean on for years to come. The conditions the IDP created laid the groundwork for familiarity to form deeper bonds, establishing shared values amongst the members. The process of collective world-building among strangers proved to be a powerful exercise as many of the initial intentions came to fruition."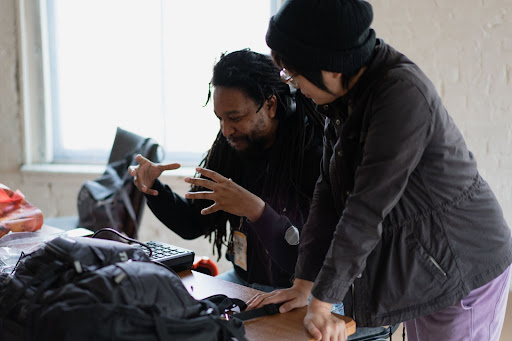 Xin Xin and Wesley Taylor. © 2022 Sundance Institute | Photo by Kaelan Burkett
Design in Co-Creation with Artists
In addition to internal and commissioned research, direct artist and fellow input steered the Art of Practice Fellowship, including an artist advisory board and through regular meetings with fellow community leaders. This model takes time and flexibility, both over the course of the fellowship and especially for the facilitators. 
"As an artist with a background in new media, film, and performance, the Art of Practice Fellowship has been the most invigorating interdisciplinary community I have ever encountered." shared Xin Xin. "Witnessing the ways in which each one of us brought in our own history and ways of knowing to contribute and hold this precious space has been deeply inspiring. The experience of working with the community leaders and the IDP team for an entire year points toward so many pathways to a more creative, generative, and generous future for me."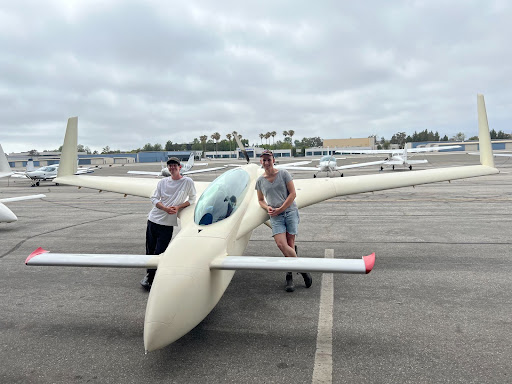 Fellows Devin Ronnenberg and Agnes Borinsky before flight in the plane Devin built! Photo credit: Devin Ronnenberg
Cross-pollination and learning new languages
Limber connective tissue is needed for interdisciplinary practice and may take some warming up, or time to learn new creative language or workflows. Opportunity for creative frictions and cross-pollination can bring inspiration toward new pursuits, or nourish existing practice. 
Interdisciplinarity requires flexibility in the first days of gathering (both in person and virtual) to build a cohort and to merge or understand the possibilities of practical capabilities like technologies and instruments.This time is crucial and needs protecting. For individual projects to move forward, that time must be budgeted in addition to project time.
"IDP is sowing some very important seeds," urged Sundance Artist Board Member and theatermaker Lisa Kron. "The pandemic and racial justice reckoning have destabilized our fields in ways that are going to continue unfolding for years, so offering artists fresh ways to engage in expansive, cross-discipline thinking is very valuable."
"Being thrust into a community of inquisitive minds with unalike practices sparked curiosities," reflected theatermaker Cat Rodriguez. "Being in fellowship fanned the flames. The Art of Practice encouraged us to be inquisitive of each other. We received material support to be in, and give from, whatever space in which we found ourselves, whether known, vulnerable, shifting. We were asked to listen, share, learn, and percolate. In the wake of pandemic isolation and rattling industries, we will have each other as we light out to remake culture and, in many cases, our respective praxes and pathways."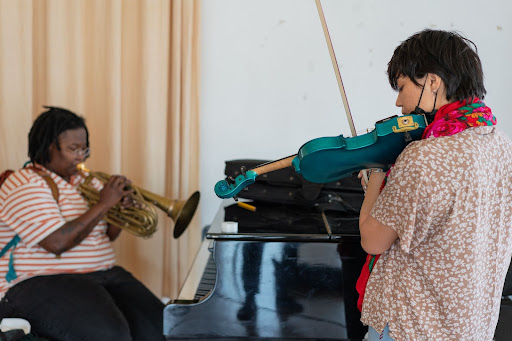 Fellows Chanell Crichlow and Olivia Komahcheet. © 2022 Sundance Institute | Photo by Kaelan Burkett
Early development opportunities are crucial – and dwindling 
There is an incredible opportunity for leadership in shifting times. Trusted institutions need to be able to build on their foundations to be adventurous, to scaffold bold thinking, and they need partners to go on the adventure with them. Vital, future-thinking, and original ideas will not have the space to develop and will not be propelled forward creatively or in the field without this initiative. 
Community leader and Director of Digital Development Sarah Ellis noted, "The future of institutions requires us to think boldly, courageously, and collaboratively. We are best served through our ecosystem of practitioners, producers and audiences. Persistent R&D opportunities and interdisciplinary approaches ensure we are open to new systems, practices and are ambitious with our audiences." 
A healthy creative ecosystem, with artists working in a wide variety of modes and methodologies, is absolutely critical to our cultural climate. This takes time to build, but also has a long-tail return. Like planting trees, the best time to start is 20 years ago, and the second-best time is now. 
Artists are in even greater need of early development opportunities and early/seed funding, which instead are rapidly disappearing. The work of historically underrepresented and excluded artists is most vulnerable. It's imperative to amplify their voices so we don't lose them, and suffer a dulled future.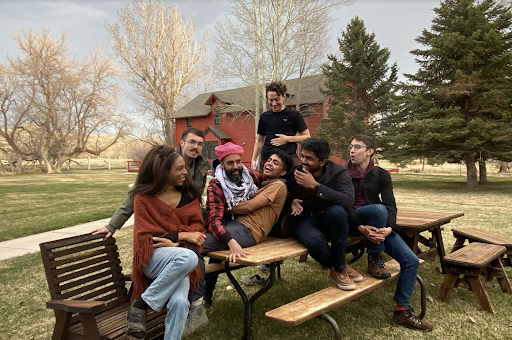 Fellows Sultana Isham, Robert Reid Allan, Shayok Misha Chowdhury, Laia, Ro Haber, Kalaisan Kalaichelvan, and James Harrison Monaco at the Interdisciplinary Ucross Foundation residency. © 2022 Sundance Institute | Photo by Ana Verde.
Looking forward
Independent theater, composing, emerging media, and innovative cross-disciplinary practices remain deeply valuable and essential in shaping culture. With points for future iteration and further development, the Interdisciplinary Program demonstrates a viable framework for holistic artist development, and presents a unique, tested, and flexible leadership opportunity going forward. From springing beyond our borders to bold new partnerships, we believe these learnings will continue to invigorate the cultural sector in meaningful ways.