A still from Stranger Than Rotterdam With Sara Driver, by Lewie Kloster and Noah Kloster, a selection in the Shorts Program.
By Laura Kern
Beneath the surface, some movies shed light on the actual craft of their creation or on how their significance can outweigh the struggles that go into making them. Iconic films over the years have shown both sides: François Truffaut's Day for Night is a love letter to the art form, while Federico Fellini's 8 ½ focuses on the more troubling aspects of the creative process. Tom DiCillo's Living in Oblivion — a premiere at the 1995 Sundance Film Festival — exposes both the joy and terror of shooting an American indie.
For Festival participants also seeking a glimpse behind the scenes of the television process, they can look to Lucy and Desi, Amy Poehler's documentary that chronicles the professional and personal lives of the legendary acting and life partners.
This film, along with the handful of titles in the 2022 Festival lineup mentioned here, pull back the curtain to reveal a little of the magic that goes into bringing stories to life for the screen.
Brainwashed: Sex-Camera-Power (Premieres) — Nina Menkes's eye-opening documentary expands on her touring lecture "Sex and Power: The Visual Language of Oppression," conveying to a larger audience the techniques regularly used in filmmaking that function to objectify women. She asserts that these tricks, involving lighting and camera placement, contribute to the continued gender inequality and sexual mistreatment of women in Hollywood and beyond. Numerous movie clips and stories related by key female players working in the industry support her case.
The Exiles (U.S. Documentary) — Never afraid to speak her mind, Christine Choy, is a most welcome subject for a documentary. The Chinese American professor and politically minded filmmaker touches on the importance and therapeutic effects of making movies, but the main focus of Ben Klein and Violet Columbus's feature debut is the footage Choy shot of Chinese exiles following the Tiananmen Square massacre. That footage was scrapped but is now revisited more than 30 years later to share with the protesters still banished from returning to their homes.
Leonor Will Never Die (World Dramatic) — Leonor Reyes' claim to fame was writing and directing Filipino action films in the '80s. Now retired and struggling to make ends meet, she decides to dust off an abandoned screenplay, but following an accident that puts her into a coma, she finds herself, a la The Purple Rose of Cairo, inside the film. She becomes a player in her own partly written story of a young man seeking revenge for his brother's murder. (What a perfect way to work out plot details!)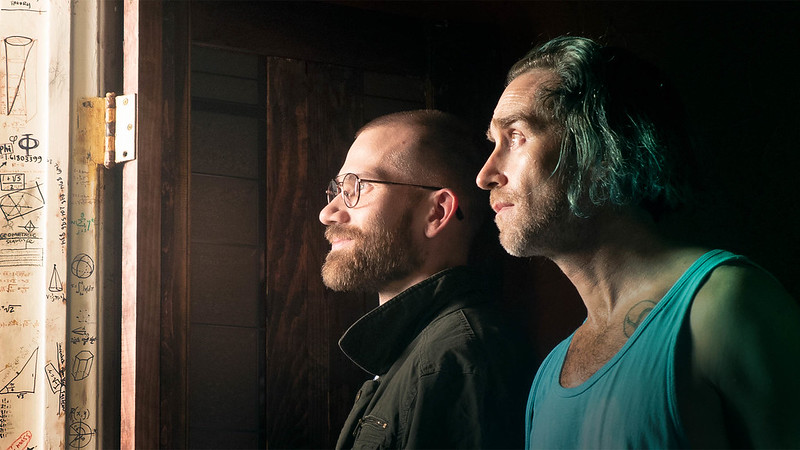 Aaron Moorhead and Justin Benson directed, and star in, Something in the Dirt, in the NEXT section of the Festival.
Something In The Dirt (NEXT) — In filmmaking duo Justin Benson and Aaron Moorhead's latest DIY outing (they serve as the directors, writers, producers, co-editors, and lead actors), two down-on-their-luck new neighbors in Los Angeles discover some head-scratching goings-on in one of their apartments. Over many cigarettes and nerdy chats, they conclude that they might be able to capitalize on the mysterious, potentially supernatural events and set out to capture them on camera by making a documentary.
Stranger Than Rotterdam with Sara Driver (Short Film Program 1) — Using hand-drawn puppet cutouts and cardboard sets, Lewie and Noah Kloster relate the adventures of producer Sara Driver (who also wrote and narrates the film) as she scrambles to get the half-hour version of Jim Jarmusch's Stranger Than Paradise to the 1983 Rotterdam film festival. The 10-minute short is a highly entertaining look at the hoops independent artists often must jump through in order to get their movies made and seen.
Three Minutes – A Lengthening (Spotlight) — Bianca Stigter's documentary demonstrates that messing around with the movie camera can inadvertently result in the creation of vital historical documents. In the case of David Kurtz, a few minutes of 16mm he shot while traveling to his hometown in 1938 turned out to be the only known filmic evidence of Jewish life in Nasielsk, Poland, a year before Nazi occupation. Stigter's meditative film, narrated by Helena Bonham Carter, deconstructs this footage discovered by Kurtz's grandson 71 years later.