Mía Maestro appears in The Cow Who Sang A Song Into The Future by Francisca Alegría, in the World Dramatic Competition.
By Lucy Spicer
Loss is inevitable and inescapable, something everyone will face in their lifetime. It follows that loss would appear frequently on screen, as films are reflections of the humans who make them. The COVID-19 pandemic has forced many to reckon with a prolonged sense of grief, whether they are grieving the loss of loved ones, health, jobs, youth, or faith. But while painful, grief as a universal experience has the power to bind us together. Expressions of grief on film can be cathartic and reassure us that we are not alone.
Below, discover a selection of films from the 2022 lineup that explore themes of grief and loss. Despite the heavy nature of the subjects addressed in these films, they remind us that the grieving process, however long, includes hope and healing.
A Love Song (NEXT) — "Reckon you can still love something that ain't there no more?" Faye (Dale Dickey) poses this question to Lito (Wes Studi), a childhood sweetheart she hasn't seen in decades, when he comes to visit her at a lakeside campsite in the mountains. Faye has been anxiously awaiting his arrival, passing the time by catching crawfish, identifying bird calls, and listening to her radio. When he arrives, Lito and Faye, both widowed, fondly recall old times and tentatively discuss persistent grief. Director Max Walker-Silverman's feature debut is an intimate portrait of human emotion set in the quiet of nature.
Aftershock (U.S. Documentary) — The U.S. has one of the highest maternal mortality rates among industrialized nations, and Black women make up a disproportionately large percentage of that population. Aftershock follows the partners and families of Shamony Gibson and Amber Rose Isaac, two Black women whose deaths from childbirth complications were entirely preventable. Paula Eiselt and Tonya Lewis Lee's documentary juxtaposes accounts of the exploitative nature of gynecology in the U.S. with emotional, uplifting footage of activists, birth workers, and families fighting for institutional change.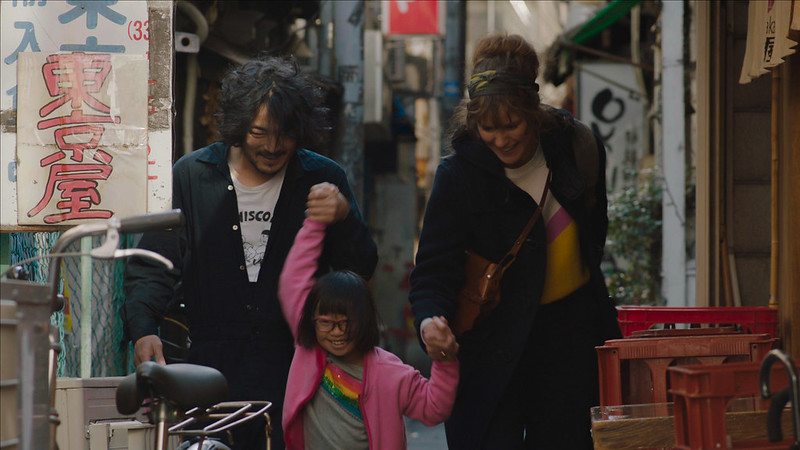 A still from blood by Bradley Rust Gray, in the U.S. Dramatic Competition.
blood (U.S. Dramatic) — Recently widowed photographer Chloe (Carla Juri) travels to Japan, where she reconnects with Toshi (Takashi Ueno), an old friend. As she takes in unfamiliar sights and experiences, Chloe observes the powerful bonds of love between friends and family members, all while she continues to come to terms with her husband's death. Last seen at the Sundance Film Festival in 2016 as the co-writer of Lovesong with collaborator So Yong Kim, director Bradley Rust Gray presents a gentle, meditative film examining how love in its many forms can transcend language barriers, different cultures, and even the pain of loss.
Living (Premieres) — Williams (Bill Nighy) is a veteran civil servant in post-WWII Britain who spends his days surrounded by bureaucratic paperwork. His routine screeches to a halt when he is diagnosed with a fatal illness. He begins to avoid his office and engage in erratic behavior, and he hides the news from his grown son. But Williams' spiral changes course when a former co-worker inspires him to find purpose in a modest building project. Directed by Oliver Hermanus, Living is a reimagining of Akira Kurosawa's film Ikiru (To Live).
The Cow Who Sang A Song Into The Future (World Dramatic) — How do you confront your grief when the person you lost suddenly returns? This is the dilemma facing Cecilia (Leonor Varela) and her family when Cecilia's mother, Magdalena, emerges from a river in southern Chile long after she died. Set in a world of magical realism where animals sing songs about fate, The Cow Who Sang A Song Into The Future is director Francisca Alegría's feature debut. Alegría returns to the Sundance Film Festival following her award-winning short film, And the Whole Sky Fit in the Dead Cow's Eye, in 2017.