Naz Kawakami appears in Every Day in Kaimukī by Alika Tengan.
By Vanessa Zimmer
Basil Tsiokos and his fellow programmers had the pleasure, and the challenge, of planning a mini Sundance Film Festival this year.
They chose eight feature-length films from the 85 accepted into the 2022 Festival program to represent, as Tsiokos puts it, the "breadth and diversity of our lineup," for seven partner locations around the country. The sites (Satellite Screens, if you will), at communities from Winston-Salem, North Carolina, to Seattle, Washington, were selected with an eye toward extending the love of independent film and supporting like-minded arthouse theaters.
"We were very interested, and so were the Satellite Screen venues, about really reflecting the diversity and having an inclusive look at filmmakers and subject matter — meaning there was a great desire to have films coming from creators of color, with characters of color, and stories that deal with different populations," says Tsiokos in a Zoom interview. "It's not just a homogenous look at the world."
Tsiokos thinks the Satellite program, now in its second year, has a promising future.
"It's really about discovering these films and helping shepherd them out into the world in some way. And being able to do so in venues across the country makes a lot of sense for us," he says. "I do know that there's strong support by the venues themselves. They love this program, and people are clamoring to be part of it."
To mirror the Festival proper, the Satellite selections include a hefty percentage of documentaries, a selection from the bold NEXT category, some World Cinema, a couple of films from the competitions, and a genre film.
Here, Tsiokos takes us through the thought process in selecting these films.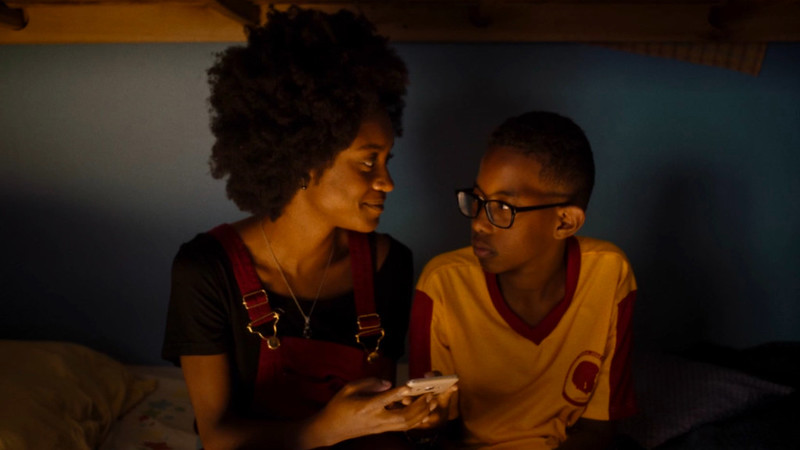 Camilla Souza and Cícero Lucas appear in Marte Um (Mars One) by Gabriel Martins.
Alice — This U.S. Dramatic Competition film filled the need for a genre element. Alice (Keke Palmer) is a slave who escapes a Georgia plantation — and walks into 1973. "On one level, it is this story about race. And it's a story about the legacy of slavery," says Tsiokos. "But it's also an action film, it's also a revenge film, and there's a lot of other really creative and fun ways of this story being told, even though it's dealing with a really heavy… subject matter. But there's a lightness to elements of it that make it just a really fun audience watch." The rapper/actor Common stars opposite Palmer.
Emergency — Also a competitor in the U.S. Dramatic category, this is a story of two Black college students, Kunle and Sean, who, with their Latino friend Carlos, find a white woman passed out on the living room floor. Do they call the police and face potentially life-threatening complications? The feature film is an expansion of a short film that played the Festival in 2018. "[Emergency] shows what Sundance can do in terms of helping artists develop their careers," Tsiokos explains. "It also deals with really important social issues of the time, notably the experience of being a person of color,the interactions with police, and what can spiral out of control from those kinds of interactions. So there are elements there that are really timely. Unfortunately timely."
Every Day in Kaimukī — Naz, a 20-something, has spent his life in O'ahu, Hawaiʻi, skateboarding with his friends and hosting a nightly radio show. Now he's preparing to move to the bustling confines of New York. A film in the NEXT category, known for bold and innovative works, it is basically a character study. "This is just a sweet… lovable film that we fell in love with," says Tsiokos. "This one feels like a Sundance film. It is sweet, honest, earnest, really smart, well-written, well-acted.
Free Chol Soo Lee — This U.S. Documentary is about a young Korean man whose wrongful murder convictionin 1973 sparked an Asian American activist movement. "It's something that exposes a larger audience to a story that they should know, but is just not told anymore," says Tsiokos. "It's a really well-made film as well, but it tells a story that everybody should know — about how this miscarriage of justice against this immigrant, Chol Soo Lee, helped to galvanize a larger sense of Asian American identity, a Pan Asian American grassroots movement, and really mobilized people to become activists and to become engaged with social justice issues."
Honk for Jesus, Save Your Soul — This satire on for-profit religion in the Premieres section stars Regina Hall and Sterling K. Brown in the lead roles of First Lady and Pastor. "Honk for Jesus is a fun film, another one that has marquee names in it," Tsiokos says. "It's a comedy, it's a mockumentary. So again, dealing with genre in a different way. And again, dealing with some serious subject matter, absolutely, but taking a lighter spin on it in the way it's telling the story. It's a fun film, and it's an enjoyable adventure to go on with these characters."
La Guerra Civil — Also in the Premieres section is this documentary on the 1996 "ultimate glory" match between Oscar De La Hoya, the charismatic boxer from East LA, and Mexican-born boxing legend Julio César Chávez. It is the feature directing debut of well-known actress Eva Longoria Bastón. A strong film, with recognizable characters attached, "It's also a Latinx story by a Latinx director about Latinx subject matter. [La Guerra Civil] really interrogates and looks at these questions around Mexican identity and Mexican American identity."
Marte Um (Mars One) — This World Drama entry is about a family with two children: Deivinho, who follows his father's ambitions despite secretly aspiring to study astrophysics and colonize Mars, and older daughter, Eunice, who falls in love with a free-spirited young woman. "We rarely see stories like this on camera, which are the stories of a lower-income Black Brazilian family," says Tsiokos. "They are not subservient to others in the story. It is all about them. And it's by an Afro-Brazilian director, as well. And so that is something that was very important. Not just reflecting diversity on screen, but also behind the camera was very important for several of the venues."
Sirens — Sirens is a World Documentary about the first (and only) all-woman thrash metal band in the Middle East. Tsiokos and his programming team loved this film. "There's a lot going on in this film," he says. "It's a coming-of-age story about two young women. It is about creative expression in a repressive environment… It's also a female director of Middle Eastern descent, Middle Eastern background, who is also telling the story of other Middle Eastern women."
All of the Satellite Screens plan in-person screenings January 28–30, with strict safety precautions including that attendees be fully vaccinated and masked. The Satellite Screens are Amherst Cinema in Amherst, Massachusetts; a/perture cinema in Winston-Salem, North Carolina; Digital Gym Cinema in San Diego, California; Indie Memphis in Memphis, Tennessee; mama.film in Lawrence, Kansas; Northwest Film Forum in Seattle, Washington; and SNF Parkway Theatre, home of the Maryland Film Festival in Baltimore, Maryland.